How to Buy an Engagement Ring Online
Ad Disclosure: This article contains references to products from our partners. We may receive compensation if you apply or shop through links in our content. You help support CreditDonkey by using our links.
(read more)
Buying a diamond ring online is perfectly safe. As long as you look for the right things. Here is the ultimate guide to buying an engagement ring online.
Online shopping for an engagement ring may sound risky. But with the right information, it doesn't have to be.
It's scary to make such an important purchase sight unseen. Luckily, the online engagement ring shopping experience has really improved. And it's no longer such a gamble.
In this guide, you'll learn:
Should You Buy a Diamond Engagement Ring Online?
First, should you be making this important purchase online? It could be the right choice if you:

Want to save money. Online jewelry stores offer prices up to lower 50% than traditional big-box engagement ring retailers.
Want to custom design your own ring on your own time.
Don't like the high-pressure environment of a jewelry store or pushy salespeople.
Let's answer some of your biggest concerns.
Is It Safe to Buy a Diamond Ring Online?
Buying a diamond engagement ring online is completely safe. As long as you purchase from a reputable jeweler.
When looking for a safe online jeweler, make sure they have:

No-questions-asked full-money-back return policy

Free fully insured shipping

All diamonds are conflict-free

All diamonds are lab certified

Free resizing and warranty
If the jeweler offers all of these above, then you can trust that it's a safe company to buy from. You're fully protected in case something goes wrong (your ring doesn't arrive or you just don't like it).
Diamond retailers depend on their good reputations too. So they're not out to scam you. Just use your best judgment and don't go to a sketchy website without clear policies. And of course, make sure it's BBB accredited with good ratings.
Some trustworthy online diamond retailers include:

A lot of online diamond retailers do actually have a physical showroom. Even if you're not able to visit the showroom, that's still a sign that it's a legit company.
Can You Buy a Quality Diamond Online?
Yes, you can absolutely buy a good quality diamond online.
The quality of a diamond depends on its characteristics - the 4C's (carat, cut, color, and clarity).
The important thing is that the diamond has a lab certification. This verifies the quality and you know that you're getting the real deal. This is true whether you're buying online or in-store.
It is recommended to get diamonds certified by GIA (Gemological Institute of America) or AGS (American Gem Society). These are the two leading authorities with the best grading system. If a retailer has GIA or AGS-certified diamonds, they're most likely serious about their products.
Some online vendors will even include a free appraisal as part of your purchase documents. This is another certification that confirms the quality and value of your diamond ring.

Can You See Real Photos?
Online diamond shopping has changed a lot. In the past, you had to buy a diamond blind only based on the 4C's.
But now, a lot of online stores provide HD photos and/or videos of the diamonds. The photos are enlarged so you can see the details of each stone. This makes it easy to judge if a diamond is eye clean.
James Allen and Blue Nile both have HD videos of their diamonds. Some retailers go beyond just photos. Whiteflash provides diamond light performance imagery with each diamond (which shows you how well it reflects light).
What if I Need to Return the Ring?
You may need to return the ring.
It's important to look for an online vendor with a "no questions asked" full refund policy. Make sure it's a money-back return, not in-store credit.
Usually, you can return it within 30 days of when it was shipped. This gives you plenty of time to receive it, propose, and even appraise the ring if you wish.
Trustworthy online retailers will offer free insured return shipping. So you don't need to pay to send it back. Ritani will even arrange to have it collected at your door at no cost.
We
bought a ring from James Allen
and returned it, and it was completely hassle-free. They didn't ask any questions and it was all handled in a very timely manner.
How Does Shipping Work?
A credible online vendor will offer free fully insured shipping. If your package gets lost or stolen, you won't have to pay anything.
Your order is usually shipped by overnight mail and will require a signature upon delivery.
The package will arrive in an unmarked box, so no one will know what's inside. This way, you can keep the proposal a secret.
What if the Ring Doesn't Fit?
If you're buying a ring as a surprise, there is a chance you got the wrong size.
A good online retailer should provide one free ring resizing. The terms may vary depending on the vendor.
James Allen and Blue Nile and Ritani all offer one free resizing within 1 year of purchase. Brilliant Earth's free resize policy is within 60 days.
What About Online Customer Service?
A lot of sites have 24/7 customer support so you can reach someone at any time. Sites like Blue Nile, James Allen, and Whiteflash all offer live chat to get questions answered quickly.
James Allen even offers free instant consultations with an expert gemologist. You can screen share with the rep and compare diamonds together. Similarly, Brilliant Earth offers a complimentary, 50-minute Zoom consultation.
Another pro point is that the reps aren't motivated by commission. So you won't be getting the hard sale. A lot of people even prefer this kind of no-pressure, online support.
Now that your top concerns are answered, let's go over where to buy a diamond ring online.
Best Places to Buy Engagement Ring Online
Let's go over the top retailers to buy engagement rings online.
All listed retailers have a good diamond selection, competitive prices, and clear, generous policies.
James Allen: Low Prices and Huge Selection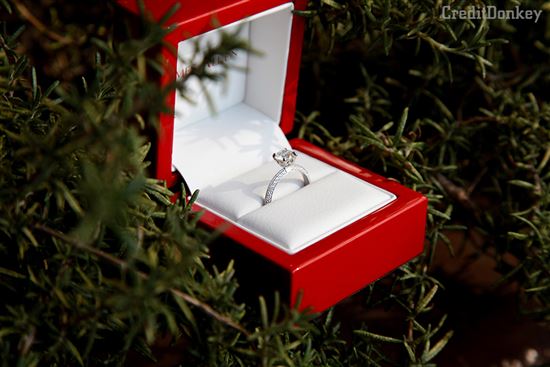 © CreditDonkey
James Allen offers some of the best prices. All their diamonds are certified and conflict-free.
It offers a huge selection of natural diamonds, lab diamonds, color diamonds, and gemstones. There's something no matter what you're looking for. All stones come with an HD 360-degree video. You can even request a super-zoom for 5 stones to really see them in close detail.
One of the best features is that you can get free expert consultations with no appointment needed.
You can also find designer rings, wedding rings, and pre-set gemstone engagement rings.
Blue Nile: Competitive Pricing and High-Quality Diamonds
Blue Nile also has a huge inventory and similarly competitive prices. But it doesn't offer lab diamonds or gemstones. All their diamonds are certified by GIA.
Blue Nile offers a
Diamond Price Match
guarantee. If you find a lower-priced diamond of the same quality and specs graded by GIA, Blue Nile can match the price.
Their customer service team is available 24/7 via phone and messaging. You can also book a virtual appointment with an expert.
Ritani: Convenient Shopping Experience
Ritani knows buying an engagement ring online is nerve-wracking. That's why it offers a Free In-Store Preview feature. You can preview your loose diamond or engagement ring for free at a jewelry store near you. There's no obligation to buy at all.
We also like Ritani's best value page. These are diamonds that have been evaluated by their gemologists to be superb value in terms of beauty and price.
You can also schedule a free one-on-one virtual gemologist consultation.
Whiteflash: Super Ideal Cut Diamonds
If you're looking for top-notch quality, check out Whiteflash.
Whiteflash is all about maximum sparkle. It focuses on diamonds with the best cut. Whiteflash's signature A Cut Above diamonds have perfect ratings in light performance, symmetry, and polish. In simple terms, this means the diamond is super-sparkly.
It gives you an insane amount of details for each diamond. You get real photos, brilliance & sparkle videos, and light performance images.
Did you know?
86% of women say that a diamond's quality is more important than the size.
[1]
Brilliant Earth: Ethically Sourced Diamonds
Brilliant Earth is the leading jeweler for ethically sourced diamonds. All their diamonds come from ethical mines with fair wages, safe working conditions, and no human rights abuse. It also offers more budget-friendly lab diamonds.
The ring metals are from recycled parts. Everything, down to the wooden ring boxes, is responsibly sourced. Plus, they have a great social mission in mining areas of Africa. It's a great choice for eco-conscious shoppers.
Brilliant Earth offers complimentary one-on-one Zoom consultations if you need help through the shopping process.
Leibish & Co.: Fancy Colored Diamonds
If you're looking for something that will definitely stand out, consider a color diamond. Leibish & Co. is the place to go for this.
This jeweler specializes in fancy colored diamonds and has one of the largest online collections. You can find diamonds in all colors of the rainbow.
Each diamond has its own special color, hue, and intensity. The ring settings are also custom crafted to bring out the diamond's color. This makes each ring truly one-of-a-kind.
If you need help, a dedicated rep will work with you for the entire shopping journey.
How to Buy an Engagement Ring Online
Here's a step-by-step guide on how to buy an engagement ring online.
1. Set a Budget
The first step is to figure out how much you want to spend. This can be quite hard because an engagement ring is such an emotional purchase.
A good budget is what you can reasonably afford without going into debt. It's best to have an open discussion with your partner. You can come up with a price range that works.
With an engagement ring budget, you know what kind of ring you can afford.
In 2019, Americans spent an average of $7,750 on an engagement ring. But in reality, brides don't expect a ring to cost that much.
36% of women think an engagement ring should cost less than $1,000.

3 in 5 women don't expect a ring over $3,000. [1]
2. Find the Right Ring Style
An engagement ring needs to fit the personal style. 86% of brides care more about the overall design of the ring than the diamond carat size.[2]
The ring design includes:

Type of center stone: Not everyone wants a diamond. Someone with more unique tastes may want a sapphire, emerald, ruby, or another gemstone.
Diamond shape: Round is the most popular shape, but it's not for everyone. Your partner may want something different, like princess, oval, or pear. People have different opinions on diamond shapes.
Setting style: Would your partner prefer a simple, classic solitaire? Or a more flashy halo? Or maybe a unique, vintage style? You have a myriad of different setting styles.
Metal color: The ring color is also important to express style. Would she prefer luxurious-looking platinum and white gold, warm yellow gold, or romantic rose gold?
Most women already have their dream ring in mind. If you really want to keep the proposal a surprise, it's best to get help from family/friends. Instead of just trying to guess.
3. Learn About the 4C's
The 4C's are a good place to start learning about diamonds. These determine how much a diamond costs.
Pro tip
: You only need a diamond that
looks
white and has no visible flaws. For best value, we recommend
H color
and
VS2 clarity
. You'll get more bang for your buck, and the diamond will still be beautiful.
4. Figure Out the Ring Size
Even though online retailers offer one free resizing, it's best to get the size right the first time. If you're not discussing the engagement ring with your partner, then you'll have to secretly figure it out.
You can also request a free ring sizer from one of the above retailers. Or you can use their virtual sizer to help you out.
5. Plan When to Buy the Ring
After choosing the ring, you need to plan when to buy it. Based on when you want to propose.
This part needs a bit of planning because it's not entirely predictable. Unlike a physical store, you can't just arrange to pick up the ring on a certain date.
Before you check out, the website should give you an estimated delivery date. Usually, you can get your engagement ring in about 2 weeks. Since the rings are made to order, the time depends on the style of ring you selected.
If you're concerned about shipping delays, you can place your order a little earlier. About a month before your planned proposal date. This should still give you enough time to:

Receive the ring

Propose

Return within 30 days if you need to
6. Design and Order Your Engagement Ring
This is the fun part. You can custom design a ring by picking out a loose diamond and setting.
When shopping online, it's easy to filter your selection to look for the specs you want. We'll show you the process using screenshots from James Allen. Other sites have a similar shopping process.
To find a diamond, set your search filters to what shape you want and the 4C specs. Or you can filter according to your budget.
You can even select advanced filters, like table percentage, depth percentage,
fluorescence level
, symmetry, and polish.
Next, select your engagement ring setting. Select the style of ring and metal color. You can do this vice versa too.
When you've picked both the diamond and ring, you'll see a preview of the final design. As well as the final price.
If you don't love it, just start all over. You can try out lots of different designs from the comfort of home.
Bottom Line
Buying an engagement ring online is perfectly safe. As long as you go to a trustworthy vendor. This can help you get a more affordable price, too.
Make sure the retailer sells all certified diamonds and insured free shipping. Also, full money-back return policies and a lifetime warranty. So you're fully protected in case something goes wrong.
Overall, the online engagement ring buying process is easy and safe. The real diamond photos and videos allow you to shop with confidence. With competitive prices, you don't need to worry about getting ripped off.
References
Anna G is a contributing writer at CreditDonkey, a diamond jeweler comparison and reviews website. Write to Anna G at feedback@creditdonkey.com. Follow us on Twitter and Facebook for our latest posts.
Note: This website is made possible through financial relationships with some of the products and services mentioned on this site. We may receive compensation if you shop through links in our content. You do not have to use our links, but you help support CreditDonkey if you do.