Beginner's Guide to Airline Miles and Points
A guide for navigating the miles and points systems
Editorial Note: This content is not provided by the card issuer. Opinions expressed here are author's alone, not those of the issuer, and have not been reviewed, approved or otherwise endorsed by the issuer.
This article contains references to products from our partners. We receive compensation if you apply or shop through links in our content. You help support CreditDonkey by reading our website and using our links.
(read more)
---
Learn how airline miles work and the 10 steps to get started with collecting travel rewards. Before long, you'll be redeeming miles for flights and hotel rooms.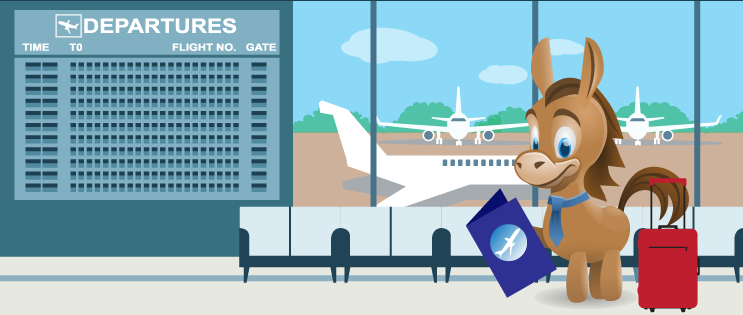 © CreditDonkey
Lost on where to begin?
Hold on for a quick ride through our miles-for-beginners guide.
What Are Airline Miles
Airline miles, also known as frequent flyer miles, are the way airline loyalty programs try to reward you for being a frequent flyer with them. You can also earn lots of airline miles by signing up for the right credit card promotions.
When used correctly, airline (or frequent flyer) miles can save you thousands of dollars on travel. You can get tickets, upgrades, and other perks at huge discounts.
Where would you go?
But getting started can seem overwhelming. Airlines and credit card programs have all these different programs that can seem all over the map. And it can easily cost more money than you might save if you get lost in all the terminology. Points or miles? We'll explain.
How Do Airline Miles Work

© CreditDonkey
Every time you fly with an airline's loyalty program, you earn airline miles. How many miles will vary by airline. Sure, it would make sense if you earned 1 airline mile for every 1 mile you fly on an airline. But airlines are more concerned with making profits than sense, so earning miles isn't that simple.
What matters is that once you collect enough miles, you can redeem them to save on tickets or other purchases.
Keep reading to learn all the ways to earn airline miles that you might not know about.
How to Earn Airline Miles
Back in the golden days of airline travel, earning miles was as straightforward as enjoying a calming, in-flight cigarette. Take a long flight — even to a spot that was not in demand — and you'd get a lot of miles in return. The airlines eventually realized, however, that they were giving more in rewards than the cost of the flight.
As a result, many discount carriers and major airlines prefer mileage programs based on how much you spend. Now, the only "miles" that often matter are how far your dollars go. In return for their generosity, airlines hook your loyalty with these miles and send you lots of information on how to redeem them.
These programs definitely benefit business travelers who often make pricey, last-minute purchases. The economy traveler, however, will find it increasingly more expensive to earn the same amount of points.
Still, regardless of the system, this is an effortless way to collect frequent flier miles. All you have to do is join, fly, and let those points pile up.
Besides racking up frequent flyer miles by flying, you can also:
Read on for tips and tricks to earn miles without boarding a plane.
Airline Miles Credit Card Technique

© CreditDonkey
How to Use Credit Cards to Earn Airline Miles and Points
Credit cards are another popular way to save on travel, and their rewards programs are easier for thrifty travelers to use to their full potential.
In fact, you can use credit cards to get closer to a dream vacation without even leaving your house. With credit cards, you'll usually earn points based on how much you spend. Just like with miles, the value of your points varies from card to card.
Related: Hot Credit Card Deals and Promotions
How to Earn Airline Miles and Credit Card Points Fast:
Several credit cards offer sign-up bonuses if you spend a certain amount in a specific period of time. These cards can either be an airline-branded credit card (like the Citi AAdvantage MasterCard) or a general travel credit card (like the Barclaycard Arrival Plus or Chase Sapphire Preferred).

For example, if you sign up for Barclaycard Arrival Plus, you'll get 50,000 points (worth $500 in travel) after you spend $3,000 in the first three months of owning the card.

Besides the introductory bonus, some credit cards will give you miles (or points) when you use them. For example, the Sapphire Preferred lets you earn 2X points on travel and dining at restaurants & 1 point per dollar spent on all other purchases worldwide. In comparison, the Arrival Plus gives you double miles for each dollar, no matter what you buy.
You can earn even more points by using your card at an online shopping portal. Almost every credit card, airline, and hotel has their own website that you can use to make purchases and get extra miles or points. This is a simple way to boost your miles from purchases you were already planning to make.
Truly savvy travelers will sign up for more than one travel credit card to get the maximum rewards possible. We recommend starting out with one and get used to seeing how the system works. When you apply for more, be aware of how multiple credit inquiries can affect your credit score — you may want to be especially careful if you are about to apply for a loan around the same time.
We've given you the basics; now let's get into the nitty-gritty of how to really get started with racking up and redeeming travel rewards.
BUT BEFORE WE GET TO THAT POINT: BEWARE
Miles are a great way to reach your bucket-list travel goals, but they do have a caveat. If you usually have trouble paying your bills on time, you're probably better off focusing on improving how you manage debt than potentially getting yourself deeper into it by getting enamored with rewards programs.
Ideally, these programs should be reserved for people with good to excellent credit who pay off their balances and who are organized to the point that they can keep track of details like when introductory offers end, when annual fees are due, and minimum requirements for getting points or miles.
10 STEPS TO GETTING STARTED WITH TRAVEL REWARDS

© CreditDonkey
1. DETERMINE YOUR TRAVEL PROFILE
Decide what kind of traveler you are. I'm not saying you need to go on a vision quest or anything, but questions like "Do I like to fly?" or "Do I have time to fly?" will be helpful in setting your goals.
If you're a frequent traveler: Someone who spends thousands of dollars with an airline every year can greatly benefit from an airline-branded credit card (such as Delta and AA) as part of your strategy. You should also come up with an end goal. If you know you want to fly to Germany for Oktoberfest at a deeply discounted cost, consider whether you should stick to one airline or whether any have blackout dates around that time.
If you don't currently fly much: Tailor your strategy around a travel rewards credit card (such as Barclaycard Arrival Plus) that lets you lean on your everyday spending to build up travel points. Before you know it, those shopping trips will result in a hard-earned weekend getaway.
2. SIGN UP FOR LOYALTY PROGRAMS
You could take the shotgun approach to loyalty programs and join everything. But you'll just end up with a scattered mix of points, miles, and lots of junk e-mail.
Instead, try a more simple route. Take a look at your closest airport and see what airline options you have. Sign up with the airlines and hotels you'll actually use. Ideally, the ones you choose will be part of a travel alliance that can give you access to a bunch of companies at once. For example, if you sign up for United's MileagePlus, you're also joining the Star Alliance family of airlines.
And if you've already been on some flights this year, there's a chance you can still get credit for them on your new account. Some airlines have a grace period, but it differs from carrier to carrier.
If you have not already signed up for your favorite airline's frequent flyer program, here are the links for your convenience:
Tips:

(AMEX MR): American Express Membership Rewards (Amex MR) points can be transferred to over a dozen frequent travel programs associated with popular carriers like Delta and JetBlue, or to hotel chains like Hilton, Best Western, and Starwood.
(Chase UR): With Chase Sapphire Preferred, you can transfer Chase Ultimate Rewards (Chase UR) points to participating frequent flyer programs at full 1:1 value. Participating programs include Transfer points to participating frequent travel programs at full 1:1 value - that means 1,000 Chase Ultimate Rewards points equal 1,000 partner miles/points. Travel programs include United MileagePlus®, Southwest Airlines Rapid Rewards®, British Airways Executive Club, Virgin Atlantic Flying Club, Korean Air SKYPASS, Singapore Airlines KrisFlyer, Hyatt Gold Passport®, Marriott Rewards®, Priority Club® Rewards and Ritz-Carlton Rewards®.
(SPG): With the Starwood Preferred Guest Credit Card from American Express (a CreditDonkey advertiser), you can transfer Starwood Preferred Guest (SPG) points to more than 30 airline frequent flyer programs, mostly on a 1:1 basis. Plus, if you transfer 20,000 starpoints to a frequent flyer program, you get 5,000 bonus points.
Did you know: Most major hotel chains let you earn airline miles from your eligible hotel stays with their participating partner airlines. You may want to sign up for hotel and car rental loyalty programs too. Here are some links for your convenience:
3. Research Airline Miles Credit Cards

© CreditDonkey
To help you choose between an airline-branded card and a general travel card, CreditDonkey has a list of some of the best travel rewards cards.
When researching credit cards, you should consider:
Restrictions: Are there blackout dates or peak periods when points cannot be applied towards air travel?

Point values: Are the point values consistent throughout the system, or do they vary by destination and travel dates?

Expiration: Will you lose the points if you don't use them after a period of time?

Limited seating availability: Is seating limited to those using airline miles?

Redemption fees: Can you redeem airline miles for free, or does a fee apply?

Cancellation policy: Do you forfeit points on canceled flights, or are they automatically credited back to your account?

Perks: Will you have access to additional benefits as a cardholder, such as lounge entry, pre-boarding, waived baggage fees and complimentary beverages?

Annual fee: How much is the annual fee? Will you gain more from the card than it actually costs to possess it?

Redemption options: Are you limited to airfare, or can airline miles be redeemed for cash back and gift cards?

Interest rates: Unless you plan to pay the balance in full each month, will the APR result in an exorbitant amount of debt due to the accumulation of interest?
For travelers who value bargains more than airline loyalty, a card like Barclaycard Arrival Plus would be best. However, if you have some connection to a specific carrier, like Delta or American Airlines, then you have options with a branded card as well.
If you want to split the difference, Chase Sapphire Preferred is an example of a card that works both as an airline card and a rewards card. The points you earn transfer full 1:1 value to a number of leading frequent travelers program. Just know that, like most airline rewards cards, it has an annual fee.
Read our guide on how to choose an airline credit card that is right for you.
Airline Miles Delta Tip: Do you like to fly Delta? Below is a credit card to help you earn Delta miles.



Earn 30,000 bonus miles after you make $1,000 in purchases on your new Card within your first 3 months and a $50 statement credit after you make a Delta purchase with your new Card within your first 3 months.
Earn 2 Miles per dollar spent on purchases made directly with Delta. Earn 1 mile for every dollar spent on all other eligible purchases.
Check your first bag free on every Delta flight - that's a savings of up to $200 per round trip for a family of four.
Settle in sooner with Priority Boarding.
Enjoy a $0 introductory annual fee for the first year, then $95.
Terms and Conditions apply.

Intro APR for Purchases
Intro APR for Balance Transfer
Regular APR
Annual Fee
None
None

16.24% - 25.24% Variable

$0 intro annual fee for the first year, then $95
4. SIGN UP FOR THE CREDIT CARD

© CreditDonkey



Earn 50,000 bonus points after you spend $4,000 on purchases in the first 3 months from account opening. That's $625 toward travel when you redeem through Chase Ultimate Rewards®
Named Best Credit Card for Flexible Travel Redemption - Kiplinger's Personal Finance, July 2016
2X points on travel and dining at restaurants worldwide & 1 point per dollar spent on all other purchases.
Earn 5,000 bonus points after you add the first authorized user and make a purchase in the first 3 months from account opening
No foreign transaction fees
1:1 point transfer to leading airline and hotel loyalty programs
Get 25% more value when you redeem for airfare, hotels, car rentals and cruises through Chase Ultimate Rewards. For example, 50,000 points are worth $625 toward travel
No blackout dates or travel restrictions - as long as there's a seat on the flight, you can book it through Chase Ultimate Rewards

Intro APR for Purchases
Intro APR for Balance Transfer
Regular APR
Annual Fee
N/A
N/A

16.49% - 23.49% Variable

Introductory Annual Fee of $0 the first year, then $95
Now that you have the information in front of you, it's time to make a decision and fill out an application.
If you get approved, then you can start earning rewards. If your application is denied, then you'll probably need to build up your credit before trying another rewards card.
Related: Airline Credit Card Promotions
5. USE THAT CARD (RESPONSIBLY)
Let's say you're the proud new owner of a Chase Sapphire Preferred card, which lets you earn 50,000 bonus points after you spend $4,000 on purchases in the first 3 months from account opening. That's $625 toward travel when you redeem through Chase Ultimate Rewards®.
Because you did your research, you know that the only thing standing between you and those sweet, sweet 50,000 bonus points is 3 months and $4,000.
Now, this is not an excuse to go on a $4,000 spending spree just to earn what amounts to $625 toward free travel (when redeem through Ultimate Rewards for travel). I did the math and trust me, it doesn't work out.
The trick is to use that card to cover existing expenses, not to create new ones. We're talking about costs like utilities, groceries and gas. Any opportunity to use that card on your normal spending will get you that much closer to discounted travel.
Related: 23 Ways to Meet Your Credit Card Minimum Spending Requirements
6. PAY OFF THAT CARD
Since you're only using the card for existing expenses (right?), you should have no problem paying the card off as early as possible. The most successful strategy with rewards cards is to have no balance, because that means no interest fees. Letting the interest pile up will make your rewards pretty much useless.
Being organized will literally pay off: Staying on top of your balance will save you in charges and maximize your rewards.
Related: How to Pay Off Credit Cards
7. KEEP TABS ON ONLINE SHOPPING PORTALS

© CreditDonkey
Accumulating as many points and miles as possible requires a change in your shopping habits. If you make it a habit to always check the online shopping portals associated with your favorite airline and credit cards, you increase your chances of being able to take advantage of bonus rewards.
Retailers will partner up with a credit card company, for example, and provide special deals to cardholders who go through an online shopping portal (versus going straight to their homepage and adding items to your shopping cart or shopping in a physical store). Think of it as a virtual mall that you have to walk through (or click through) to get rewarded for your purchases. The deals on these portals change frequently, but you should check them out before you go shopping.
Here are popular online shopping portals from airlines to check the next time you make a purchase:
Tip: Credit card issuers also offer online shopping portals:
Related: Best Credit Cards for Online Shopping
8. GO ONLINE BEFORE YOU EAT

© CreditDonkey
You can also get airline miles for eating out. The more you dine at participating restaurants, the more you can earn in miles.
Before you go out to your next restaurant, sign up with these programs:
Tip
: Some credit cards also offer higher rewards for dining purchases, so it's worth revisiting the details of your cards before you go out to eat to make you use the one that will give you the most benefit when it's time to pay the bill. Compare
credit cards with restaurant rewards
.
9. GET FREE TRAVEL

© CreditDonkey
Redeeming your points is where all your organization pays off. But cashing in those miles can be just as complicated as collecting them, and some methods are better than others.
For the most part, how you redeem your points will be based on how you earned them. If you racked up a lot of miles by flying with an airline, then you can use those miles to purchase a ticket with that airline or, possibly, any of its partners.
With credit cards, the easiest redemption action is to use travel points as a statement credit for travel expenses. But, with a card like the Sapphire Preferred, you'll get more for your points if you use the Chase Ultimate Rewards program to transfer your points to a partner airline or hotel. The same is true with some American Express cards and the Amex Membership Rewards program.
You'll also have to deal with restrictions that will vary from carrier to carrier. Some airlines only offer a limited number of awards seats during specific times. Your best bet is to plan ahead and book as early as possible.
10. KEEP EARNING MILES

© CreditDonkey
An effective way to keep earning miles and points is to keep using your credit card. Don't shop in a store if you can use an online portal that will give you more back in rewards. If a large purchase comes up, use your card for it but be sure you can pay off the balance as soon as you get the bill.
While a credit card should be your main strategy, you can also earn miles using your debit card. For example, if you register your debit card with United's MileagePlus Dining Program, you'll get up to 5 miles for every dollar you spend at participating restaurants. Most airlines have a similar program.
This list is meant to help you get started with airline miles. How deep you choose to go depends on how much time and energy you're willing to spend. But for most people, a basic points strategy will be plenty to get that free trip. Just don't forget the champagne. I know I won't.
(with additional writing by Allison, Charles, and Sarah)
Ross Frasier is a research analyst at CreditDonkey, a credit card comparison and financial education website. Write to Ross Frasier at ross@creditdonkey.com. Our data-driven analysis has been recognized by major news outlets across the country and has helped travelers make savvy financial and lifestyle decisions. (read more)
Editorial Note: Any opinions, analyses, reviews or recommendations expressed in this article are those of the author's alone, and have not been reviewed, approved or otherwise endorsed by any card issuer. This site may be compensated through the Advertiser's affiliate programs.
Disclaimer: The information for the Citi® / AAdvantage® Platinum Select® World Elite™ MasterCard® has been collected independently by CreditDonkey. The card details on this page have not been reviewed or provided by the card issuer.
More from CreditDonkey:
---