Best Time to Buy Tickets to Hawaii
---
What better way to relax, release and enjoy a magnificent view of the sunset than a trip to Hawaii?
Unfortunately, this is wishful thinking for many because a plane ticket to the breathtaking islands can be as much, if not greater, than a mortgage payment. But there are ways to shave a few dollars off the exorbitant cost of airfare. The main one is timing.
We've done the investigation and can now tell you the best times to book airfare. We'll also throw in a few tips for you to have a relatively affordable trip.
When is the Best Time to Buy Tickets to Hawaii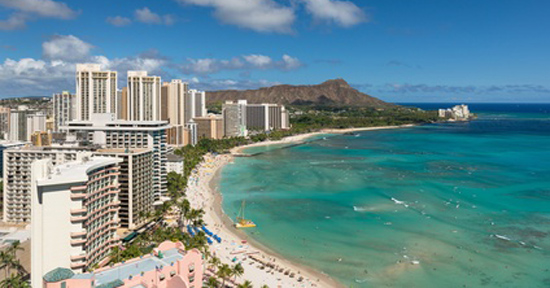 Book at least a month in advance
For starters, the sweet spot for purchasing airfare to Hawaii is around 54 days prior to travel, with a booking window between 29 and 104 days, notes CheapAir.com. Doing so could save you hundreds of dollars.
Travel during the fall
Not only is the weather especially appealing during the fall season, but the crowds begin to die down. And with decreased demand come lower ticket prices and the opportunity to enjoy the island without all the hustle and bustle that goes on during busy season. You can swim in the hotel pool without rubbing elbows with someone else, and you can have a serene hike with just you and your traveling companion. In fact, according to Sally Black, founder of Vacationkids.com, a website focused on family travel, September through mid-December is considered a "low season" for Hawaii, except around Thanksgiving when military folks who live there make their travel arrangements to visit with family.
Be on the constant lookout for deals
Hawaii is a dream destination for most people, but there are some times of the year when it's not at the top of everyone's mind, and you can take advantage when everyone is distracted with other activities. For actually booking flights, according to Beat of Hawaii, this means if you're looking to travel during the fall, August through October is the best time to buy. For spring travel, deals begin to appear from August until February. And for holiday travel, book as early as possible to secure the best rates, or test your luck and see if seats remain closer to the date of departure.
Stay home in April
Humpback whales are a big draw for tourists, and the season for watching them comes to an end in May. With April vacations and the whales, you can be sure that April is not a cheap month to visit. In fact, according to HikersBay, a website that tracks travel prices on a daily basis, it's the most expensive time to go to Hawaii.
How to Save Money on Tickets to Hawaii
Fly during the week
The demand for flights during the week is significantly lower than weekend travel, which equates to more money in your pocket.
Sign up for alerts from flight search engines
Fare search engines offered by websites, such as Beat of Hawaii and Airfarewatchdog.com, will notify you when ticket prices to Hawaii on the dates of travel you prefer are within your price range.
Be flexible
Willing to adjust your departure and arrival dates? If so, you can save yourself a nice wad of cash. Also, look into the various options that may be available in terms of both inter-island and domestic flights. A short commute to the less busy airport near you for departure may be much more affordable. However, warns Black, be sure to pay attention to connections and figure out if you're really getting a deal in the end.
Don't drag your feet
If you run across an irresistible deal on a flight to Hawaii, don't delay the purchase or it may slip away from your fingertips, never to return again. And remember, promotional fares are limited in quantity, so purchase them while they're available.
More from CreditDonkey: