Top 10 Financial Mistakes Moms Make
---
There's no doubt about it: being a mom involves juggling all sorts of issues and wearing about a hundred hats a day. You're a chauffeur, a cook, a coach, a teacher, an organizer, a housekeeper, and, if you're like many modern moms, you have a day job to boot! It's no wonder then, that many moms let their own financial lives become disorganized and even a little scary.
Whether you're a stay at home mom or a single mom who works full time, you're likely to make similar financial mistakes to other moms out there. Here are ten financial mistakes moms tend to make and how you can avoid them: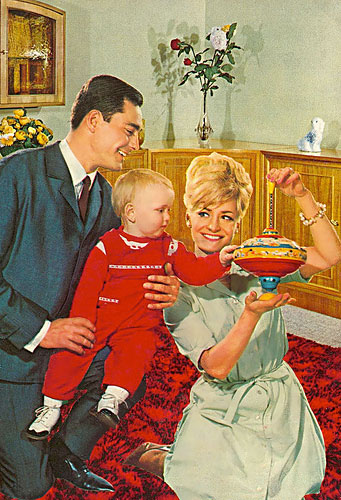 Mom Playing with Child

© James Vaughan
Not building their own credit.

This is often a problem for married women, whether they're moms or not. Don't let everything be in your husband's or partner's name and fail to build your own credit. If something happens, you need to be able to strike out on your own, and you need a good credit score to do that!

Failing to plan for short-term items.

Many moms forget to budget for yearly expenses like birthdays and Christmas. Then, they end up using credit to pay for these events, and it can take years to pay off the expenses of a single holiday. Set up a separate savings account for annual events, and put a little money into them each month. When the time comes, you'll have the cash you need!

Mom Cooking for Christmas

© James Vaughan

Failing to plan for long-term events.

Planning for the short term is necessary, but planning for the long-term is, too. Don't put off saving for retirement or your child's college education, thinking you have plenty of time. The earlier you save, the more compound interest will kick in for you. Even if you can only scrape together a few bucks here and there, every little bit counts.

Skimping on retirement in favor of the kids' college savings.

More and more moms are finding themselves without money to save for both retirement and college. When in doubt, choose retirement. On the surface, it sounds selfish, but it really isn't. Your kids can take out loans for college - loans that you can help them pay back! You, on the other hand, can't take out loans for retirement. If you don't save enough for your retirement, your kids may end up footing the bill in the long run!

Not being involved in the finances.

Many moms allow their more numbers-oriented husbands to care for the finances. While it sometimes makes sense for one partner to have more responsibility for the budgeting and bills, both partners should be involved in all decisions. Plus, you should set a monthly budget meeting to make sure you're on track for your mutual goals.

Forgetting to have a back-up plan.

Even stay at home moms need to have a way to make money on their own just in case. What happens if death or divorce takes away your support? You don't like to think about that possibility, but you've got to be prepared! Make sure you know how you would support yourself if you suddenly found yourself raising kids on your own.

Over-reliance on credit cards.

It's easy for busy moms to start using plastic for everything simply because it's more convenient. However, you really need to be careful about how you use credit. It's not a bad idea to use credit once in a while, especially to keep your credit score up. On the other hand, using it too much can make you over-spend and can even teach your kids money habits. One good idea is to use your credit card at the gas pump but to use cash for just about everything else. You'll be able to pay the credit card in full every month, and you won't have to mess with getting the kids out of the car just to pay for gas!

Under-valuing themselves.

This is a problem many working moms face. You're practically superwoman, and you can get more done than your colleagues in less time. For some moms, this means a more flexible work schedule. That schedule, though, shouldn't necessarily by accompanied by a pay cut. If you're still as productive as everyone else, you should be assertive about getting paid what you're worth.

Not taking out life insurance policies.

This is yet another financial mistake we don't like to think about. Even if you're a stay at home mom, you need to have a life insurance policy for the sake of your family. Sure, you may not bring in any income, but think how much you save your family by providing full time childcare, cooking the meals, and cleaning the house. If your children's father was left to take care of that while continuing to work, it would get really expensive really fast. Talk to a financial advisor about the type of life insurance policy you should invest in for yourself.

Failing to have a basic budget.

It's so easy for moms to get too busy to budget. Don't make this huge mistake, though. An organized budget will help you save for a rainy day, invest for retirement and college, and even save for fun things for your family - like vacation. You'll be amazed at how much you can make from even a small income if you budget strictly!
I love you mom! =)
Abigail H is a contributing writer at CreditDonkey, a credit card comparison and reviews website. Write to Abigail H at abigail@creditdonkey.com. Follow us on Twitter and Facebook for our latest posts.