23 College Job Fair Mistakes
---
Job fairs are like dating in a crowded bar. You have seconds to make a good, first impression surrounded by a lot of people who want a job as much as you do. Here are 23 mistakes to avoid so you can stand out.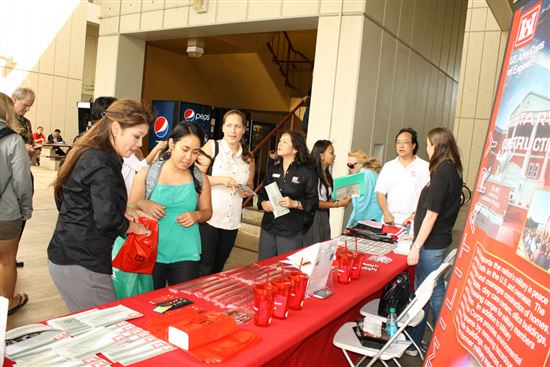 © U.S. Army Corps of Engineers (CC BY 2.0) via Flickr
Before You Go
1. Misunderstanding the definition of a job fair
A job fair may remind you of those college fairs you attended a few years ago. But the difference is employers need a lot less bodies to fill their positions than a college admissions office. They may be looking for a very particular set of skills that are hard to find, or they may just be participating at the fair to promote the business in general. Others may be constantly looking out for candidates but may not have an opening at the moment. It's highly unlikely you'll be meeting with anyone who you'll actually be working with directly, unless you're going into human resources. Be realistic about your expectations — you won't be getting a job on the spot — but be prepared to be at your best in front of these recruiters. What you're hoping to get out of this is: a) experience talking about your skills and b) a call for an interview.
2. Failing to do your homework
You can easily waste time at a job fair by not doing research ahead of the event. Read over the list of companies that will be there, and decide which you definitely want to visit and which would just be nice to see if you still have time. Really get to know the ones on your "A" list so that you can avoid asking very basic questions like "What does the company do?" and instead ask more thoughtful queries like "What type of person would be the best fit for this role?" You want to come across as prepared.
3. Not practicing your elevator pitch
An elevator pitch is a 30-second pitch that sums up who you are and what you bring to the table. Talk too long and the recruiter's likely to lose interest. Cut it too short and the odds are good that you're going to leave out some key information. At the same time, you want to come across as personable and not sound like you've repeated this pitch in front of your bathroom mirror a dozen times (even if that's true). Practice with a friend before the big day.
4. Forgetting to polish your resume
Anytime you're about to share your resume, give it another look to see that it's updated, free of typos, and accurately reflects your abilities. This can be challenging when you're in college and your experience is minimal. This is the one time in your career when you can play up your volunteer work. Also include part-time or internship work as well. You want to show you're willing to work hard and earn your stripes.
Tip: 23 Words to Delete from Your Resume
5. Neglecting your grooming
Even though you're not on an actual job interview, you don't want to show up looking like you just rolled out of bed. That will make you look like you belong in the unemployment line and not in a cubicle. You want to look employable, as if you are about to commute to the office. This means no T-shirt or frayed jeans. Opt for professionalism over the casual college student look.
6. Know your goals
Have answers at the ready for some of the questions you'll likely get. There's no time for hesitation when other job candidates are waiting behind you in line. If your instinct at this point is to just shrug your shoulders when someone asks, "What are your career goals?" it's time to do some soul searching or make up an answer that at least sounds good.
While You're There
7. Not having a game plan
By the time you arrive at the fair, you should have identified at least a handful of companies you want to visit. Find a map of the job fair floor (you'll usually get one when you register), and consider how you'll work your way to those tables. Depending on your comfort level with meeting new people, you may want to visit a few employers on your "B" list to warm up to the "A" companies. Or you may want to go straight to the "A" recruiters in the beginning, when your energy level is at its highest.
8. Getting there late
Job fairs can be taxing on recruiters, who may have few, if any, breaks or chances to get food and water. They may have very little enthusiasm toward the end of the event to hear yet again another eager job candidate. If you arrive on the early side, you could get their attention at their best time.
9. Not asking questions
Not asking questions when you're talking to recruiters is one of the easiest ways to tank your college job fair experience. You need to get information out of this event, even if it's just to cross a few employers off your list. Posing a couple of queries will give you practice as you continue on your job search, and it makes you seem prepared and interested. Go beyond the "Where are you located?" (you should already have looked at the company's website before the fair) and ask questions along the lines of "I noticed your company emphasizes the corporate culture on its website. What is it about the culture that made you want to work there?"
Tip: 23 Common Interview Mistakes
10. Talking about the wrong things
This isn't the time to tell the recruiter how the company could be improved. Skip any talk about anything that could be borderline controversial, including any negative news the business has been hit with recently. It's also not the time to talk about salary and benefits — save those juicy topics for when you get the interview (if you get an interview).
11. Giving generic answers
When you're asked a question, providing a cookie-cutter response won't do you any favors as far as helping you to stand out in the crowd. Any answer you give should be tailored to the specific employer, which is where all that time you spent reading up on the different companies really pays off.
12. Not bringing enough resumes
Some recruiters may not accept hard copies of your resume, preferring you to fill out a digital form instead, but you should still have some at the ready for companies that do collect them. You should bring enough to hand out to the companies you're most interested in, along with a few extras in case you end up connecting with some employers you may have overlooked.
13. Hanging back
If you're introverted by nature, going to a college job fair may seem overwhelming, but wallflowers won't be remembered. Yes, recruiters are looking for skills and talent, but they also want people who work well with others. You may need to step outside of your comfort zone to get through the first entranceway of your dream employer. The overly outgoing recruiter may be standing in your way.
14. Being rude
Even if you don't like the personality of the recruiter, you have to put on your nice, respectful behavior. The recruiter will meet many other job candidates who think they're better than her, and she'll remember them for the wrong reasons. You want to be remembered for the right reasons, not because you made an off-color joke, you cut in line, or you took jabs at the company even in a misguided attempt to be lighthearted. There's just not enough time at a job fair for rudeness.
Tip: 23 Ways to Remember Names
15. Oversharing
Would-be employers don't want to hear about the problems you're having with your significant other or what a terrible roommate you're stuck with. Offering a small piece of background information is okay if it's relevant to something involving the company or what you want to do, but your best bet is to curtail talk about your personal life as much as possible.
16. Having a bad attitude
Your attitude really speaks for itself. If you're overly negative, acting like a know-it-all or wearing a bored expression, recruiters are going to pick up on it. Whether you're a pessimist by nature or just having a bad day, you have to set those feelings aside so you don't end up alienating the people you meet.
17. Being too casual
A job fair differs from an interview in the sense that it's not as formal. The pressure is not as high as when you're in a closed room with a manager. Still, this is not the time for high-fives to the recruiter or hollering out to other job candidates across the crowded room. Don't try look cool by playing games on your phone while waiting in line. Be patient and professional the entire time; you don't know who is looking.
18. Avoiding eye contact
When you meet someone for the first time, a solid handshake and good eye contact are a must. This goes for recruiters too. If you're spending most of your time staring at your feet or looking at everyone else around you, the person you're talking to may think you're distracted or just not interested in hearing what they have to say. Recruiters are looking for compatability with other employees as much as they are looking for credentials.
19. Not taking notes
Just as recruiters can easily forget all about you the second you walk away, you might forget about them. Bring along a pen and notebook and jot down some quick notes when you can. You may need them to reference if you do get any callbacks, or the notes could help you as you follow up with potential employers after the event.
20. Missing out on networking opportunities
Job fairs are social events and you should use it as an opportunity to expand your network. Collecting business cards and exchanging email addresses with recruiters and other attendees are great ways to connect. Putting some effort into developing those professional relationships while you're still in school can be a huge checkmark in your favor when you're ready to enter the workforce.
21. Forgetting to follow up
If a recruiter gives you their phone number or email and tells you to stay in touch, you're only hurting yourself if you don't follow-up. Even if they don't extend that kind of invitation, it's still worth your time to send out thank-you notes once the job fair is over. The impression you make going out is just as important as the one you make when you're meeting a recruiter for the first time.
22. Filling your pockets with freebies
One of the things that employers usually do to attract students to their tables is to offer up lots of free swag, like tote bags, coffee mugs and water bottles. While it's okay to nab one or two things here and there, you shouldn't be shuffling out the door loaded down with the stuff. Again, you don't know who's watching, and you don't want to be remembered as the grabby attendee.
23. Not going at all
While the 22 things we've listed up to this point are some pretty big errors, perhaps the very worst thing you can do is not attend job fairs at all. Sure, it might take up most of an afternoon but in the end, it can be a valuable experience. It can get you accustomed to job searching, perfecting your questions and answers during interviews, and it could actually help you land a job.
Rebecca Lake is a journalist at CreditDonkey, a credit card comparison and reviews website. Write to Rebecca Lake at rebecca@creditdonkey.com. Follow us on Twitter and Facebook for our latest posts.
Note: This website is made possible through financial relationships with some of the products and services mentioned on this site. We may receive compensation if you shop through links in our content. You do not have to use our links, but you help support CreditDonkey if you do.
Read Next: