Survey: Financial Literacy Statistics
Young adults learn about borrowing concepts the hard way
---
Most respondents to a recent CreditDonkey.com survey said they learned key finance concepts in high school. Despite all the reports about poor financial literacy buzz among adults and debates over when teens should learn money management skills, our survey of over 1,000 adults revealed that while in high school:
72.1% learned about saving

70% learned about earning

63.8% learned about spending
But there's more to financial literacy than just saving, spending, and earning. The Jump$tart Coalition defines financial literacy as "the ability to use knowledge and skills to manage one's financial resources effectively for lifetime financial security." However, the majority of respondents to the CreditDonkey.com survey did not learn about borrowing or protecting their finances during their formative years.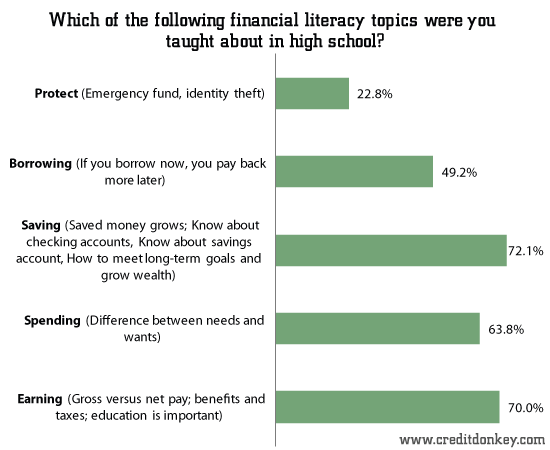 Which of the following financial literacy topics were you taught about in high school?

© CreditDonkey
Indeed, these items were last on the list even though they're just as important in today's uncertain economic times of little savings and high unemployment. In our survey, only 22.8% of our respondents were taught about protecting themselves from identity theft or saving cash for an emergency, such as a sudden medical issue, job loss, or car repair. If those issues are not taught in high school, people will have to learn them the hard way, at the moment, leaving families at risk for financial destruction.
Less than half learning borrowing basics in high school…
For the majority of our respondents, it's too bad their finance lessons did not address borrowing since high school often leads to one of the most costly financing agreements most of us ever have to make. And today's young adults are getting into trouble with borrowing money for college at unprecedented rates: In a February 2013 analysis on student debt, Federal Reserve Bank of New York economist Donghoon Lee said, "Student debt is the only kind of household debt that continued to rise through the Great Recession." He also says it is the "second largest balance after mortgage debt."
These young adults are then left to make uneducated choices when they are on their own, and often that plays out in ballooning credit card bills. A 2009 Sallie Mae report found undergraduates are carrying record-high credit card balances. Sixty percent of undergrads experienced surprise at how high their balance had reached, and 40% said they have charged items knowing they didn't have the money to pay the bill.
Just less than half, 49.2% of our survey respondents, said they have been taught the basics of borrowing in high school. Unless their parents stepped in or they found out some other way, the other half missed out on the critical lesson that when you borrow money, you have to pay back more than the original amount and that you have to be able to earn enough money for basic living expenses plus enough to pay back the debt. Again, that lesson is being left to learn the hard way, again leaving families at risk and shrinking future earning power as so much of it is earmarked for debt.
(CreditDonkey.com surveyed 1,062 Americans, age 18 and over between April 1 and April 10, 2013.)
Naomi Mannino is a contributing writer at CreditDonkey, a credit card comparison and reviews website. Write to Naomi Mannino at naomi@creditdonkey.com. Follow us on Twitter and Facebook for our latest posts.
Note: This website is made possible through financial relationships with some of the products and services mentioned on this site. We may receive compensation if you shop through links in our content. You do not have to use our links, but you help support CreditDonkey if you do.