23 Financial Aid Mistakes to Avoid
---
Taking out loans is about as stressful as applying for college. By now, you're committed to going to college, but you have this one stumbling block in front of you: Money. Mess this up and you'll be sorry.
Fortunately, we've narrowed down the most common financial aid errors students make — so that you can avoid them. Check out our list below.
Before You Apply
1. Underestimating your need
Before you even start looking at financial aid forms, you need to have a clear idea of what college is actually going to cost. For private schools, the average tuition and fees in the 2014-2015 school year is $31,381. That is just for one year. You could be in for a nasty surprise if your award package doesn't cover the total expense. At the very least, take a look at the current tuition rates for each school you've applied to so you know what kind of cash you'll be coughing up, and build in some room for those rates to increase.
2. Not researching all the options
Loans are by no means the only way to pay your way through college. If you're not exploring scholarships or grants, you're basically turning down free money. The financial aid office at your high school or the college you've been accepted to are good places to start your search, but also look for opportunities online. Figuring out how to pay for college is sort of like cramming for a test; you need to know what you're doing so you can set yourself up smartly in a financial sense.
"Unfortunately, even at the graduate level, students are not aware of the terminology and don't understand how loans work," says Joseph Nicolini, director of admissions and student finance for Hofstra North Shore-LIJ School of Medicine. As it is, college graduates carry an average of $29,000 in student loan debt. Any way you can reduce that number will bode well for your financial future.
3. Overlooking assets
If you're trying to keep student loans to a minimum, it pays to scrounge up every penny you can to cover the cost. Maybe you've got some savings bonds your grandparents bought you when you were little or a piggy bank you forgot about long ago. You could have a garage sale and get rid of anything you're not planning to take to school, or even sell your car if you're going to live on campus. Every little bit counts when it comes to keeping your debt level down. Even that piggy-bank batch of coins could pay for a few lunches.
4. Assuming there's no way you'll get any aid
We've all heard stories of people who got turned away from their applications because their parents make too much money. But this is a myth, according to Rachelle Burns, director of TRIO-Student Support Services at Pensacola State College. "I think this myth still exists because there are many middle-class families who see financial aid as only an option for those from a low socioeconomic status," she says. This is a case of "you don't know until you try," and huge tuition bills will be waiting for you — every semester — if you don't bother trying.
5. Being disorganized
Before you apply for federal or private financial aid, you'll need to have all the appropriate paperwork in order. That includes tax forms for you and your parents, records of any untaxed income (such as child support), bank account and investment statements, and any records relating to unusual circumstances that could affect your aid package (such as excessive medical bills or dependent care costs). Getting everything together before you start working on your application reduces the odds that you'll overlook a key piece of information.
Federal Aid Basics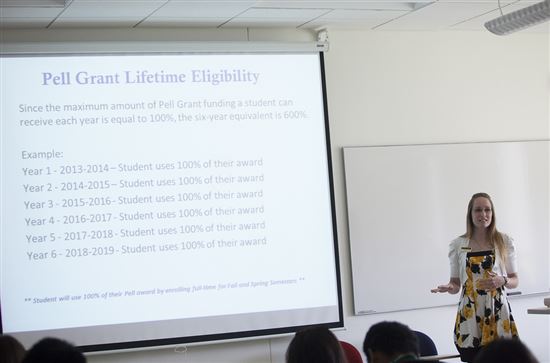 New Student Orientation Fall 2013 112 © COD Newsroom (CC BY 2.0) via Flickr
6. Not filling out the FAFSA
The Free Application for Federal Student Aid is what you need to complete if you're interested in taking out student loans; however, some students mistakenly skip this step. "Students don't realize that filing the FAFSA is often the key to a lot of other grants and scholarships from their state or private sector, even if they are not eligible for much or any federal financial aid, they still might be eligible for other grants and scholarships," Burns says. The FAFSA can be submitted online or you can request a paper version if you prefer to go old-school. Either way, you can't qualify for federal, state, or college-sponsored aid without it, so you're committing a serious blunder if you don't apply.
7. Waiting to apply
For federal aid, the application period for FAFSA begins on January 1 of each year, and you have until the end of June to get yours in. States and colleges have different deadlines for form submission. The mistake that first-time students often make is waiting until right before the deadline to apply. Most aid is doled out on a first-come, first-served basis, so the longer you wait to submit your application, the more the money pool shrinks.
8. Leaving blank spaces
It might not seem like a big deal to just leave a question blank if you don't know the answer or it's not relevant to your situation, but that can actually have a negative impact on your application. If you come across something on the FAFSA form that doesn't apply, your best bet is to enter "0" or "Not Applicable" so you can avoid a potential delay in the processing of your application.
9. Entering incorrect information
There's no room for error when you're applying for federal aid, so keep your eyes open for inaccuracies. That means making sure that personal information is entered correctly for yourself and your parents, especially their legal names, their Social Security numbers, and their addresses. Check that you're reporting tax information correctly and that all your decimal points are in the right place.
10. Underreporting income
The Department of Education looks at adjusted gross income when making financial aid determinations, but that's not the only dollar amount considered. The amount you're eligible to receive is also affected by any state or federal benefits you or your family receives, such as disability or Social Security benefits, child support payments, pensions and retirement income. Leaving something out, even unintentionally, could land you in hot water with the federal government later on.
11. Listing assets incorrectly
In addition to income, your ability to get federal financial aid is also partly based on assets you or your parents own. While the money sitting in a 401(k) or IRA doesn't count and neither does home equity, any cash they've socked away in a college savings account does count. When you're filling out the FAFSA, you always want to list 529 or Coverdell accounts as parental assets even if you're the beneficiary. You can do this if your parents took out the 529 with one or both of them as the account holder. Claiming these accounts as your own can work against you for award calculation purposes.
12. Not being truthful about home life
This is not the time to get shy about a dysfunctional family — we all have them. Lenders want the true size of your household, including stepchildren if one of your parents is providing more than half of those children's support and that setup will persist while you're getting aid. Similarly, the marital status of the applicants should be included and be true on the day of the loan application.
13. Passing on work-study
One of the questions you'll be asked when completing the FAFSA is whether you're interested in doing a work-study program. Taking a job on campus at the library, for example, is one way of working off some of your higher education costs. If you automatically check the "No" box for work-study, you could be missing out on a valuable source of funding. Depending on where you go to school, you may have a difficult time finding a part-time job off campus. The truth is, "students must find ways to earn some money while in college, budget, and cut costs," Nicolini says. "Living like a college student while in college significantly decreases the likelihood of continuing to live like a college student after graduation."
Getting Private Loans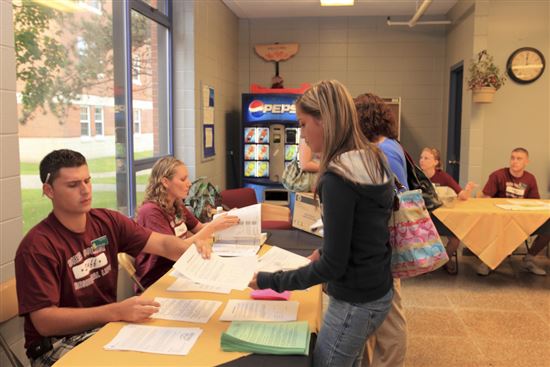 2009 Freshman Move In Day 016 © Siena College (CC BY 2.0) via Flickr
14. Private loans without maxing out federal eligibility
When the amount of federal aid you qualify for isn't enough to cover the full cost, private loans can fill the gap. The trap that many students fall into is taking out private loans before they've reached their federal loan limit. Private loans typically come with a much higher interest rate and tighter repayment terms, so you should put off applying for them as long as possible.
15. Not comparing private lenders
A number of private lenders issue student loans, so you don't need to rush to accept the first one you're offered. Compare the rates, fees and payment schedules before you sign on the dotted line to ensure that you snag the best deal available.
16. Forgetting to complete the CSS Profile
If you're going to a pricey private school, you may have to fill out a CSS Profile in addition to the FAFSA. This is a financial aid application used by a handful of select colleges and universities to determine whether you apply for institutional funding. Forget about it and you could be seriously shortchanging your aid package.
17. Neglecting your credit score
Federal loans don't take your credit score into account, but that's not the case with private lenders. If your score is low because you got into some trouble with credit cards or you just haven't had time to build up a significant credit history (which is totally understandable when you're young), you won't be able to qualify for a private loan without a co-signer on board. This is common.
18. Choosing the wrong co-signer
Asking someone to be a co-signer on a private student loan isn't something either party should take lightly. You're effectively sharing the responsibility of repaying the debt. Choosing someone with a solid credit history and a steady income can work in your favor in terms of the interest rate you'll get. You should also take that person's age and health into account, since some lenders may require that you pay the loan in full if your co-signer passes away.
19. Not understanding repayment terms
With most federal student loans, you have a six-month grace period between the time you graduate and the time you actually have to start making payments on what you owe. With private loans, that's not always the case. In fact, some private lenders may require that you start paying while you're still in school. This is something you need to be aware of before you borrow.
After You're Approved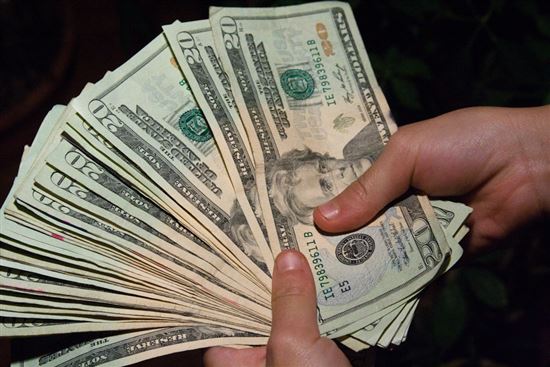 Money Hand Holding Bankroll Girls February 08, 20117 © Steven Depolo (CC BY 2.0) via Flickr
20. Skimming over the fine print
Once your financial aid application gets the green light, your lender should send you information outlining the loan's terms. It will include a breakdown of the interest rate, your repayment options, an amortization schedule and an outline of penalties that apply if you default. Read everything carefully to make sure you understand exactly what you're agreeing to.
21. Accepting the full aid package
Borrowing more than you actually need to is one of the worst financial aid mistakes you can make. Your lender charges you interest on every penny, regardless of whether you're using it to pay for your tuition or cover your everyday expenses. Unless you're comfortable taking on unnecessary debt (and you may not realize your comfort level until years from now), it's wiser to take only what's required to meet your education costs.
22. Choosing the wrong repayment plan
How you choose to pay back student loans plays a big part in determining the actual price of borrowing. Going with a standard 10-year plan means your monthly payments will be higher, but you'll shell out less in interest. Opting for a graduated or income-based repayment plan makes your monthly payments more affordable if you don't earn a lot when you graduate, but the interest cost is higher. Similar options are available with private loans, and some lenders may even let you just pay the interest for the first few years. Reading up on the different repayment choices can help you decide which one is the right pick.
23. Forgetting to reapply for aid
Financial aid isn't something you can apply for once and forget about. If you take out federal loans, you'll need to complete a new FAFSA every year to maintain your eligibility. Students who borrow through private lenders also have to reapply annually. The other big problem you can run into is assuming your aid package will be the same from year to year. You could be in for a shock if the size of your award is drastically reduced because of changes in your financial situation.
Rebecca Lake is a journalist at CreditDonkey, a credit card comparison and reviews website. Write to Rebecca Lake at rebecca@creditdonkey.com. Follow us on Twitter and Facebook for our latest posts.