Does Homeowners Insurance Cover Mold
---
Mold is bad for your health and expensive to remove. Find out when homeowners insurance will—and won't—cover the cost.

© CreditDonkey
You don't want mold in your home. According to the Institute of Medicine (IOM), healthy individuals living in homes with mold can experience:

Upper respiratory tract symptoms

A persistent cough

Wheezing
Healthy children are also at risk for developing asthma from living in homes with mold.
Most homeowners insurance policies cover mold removal only if there is a connection between a covered peril and the mold. A covered peril is any loss listed in your homeowners policy that the insurance company will pay for up to the policy's limits.
Topics Covered in This Article:

When Home Insurance Covers Mold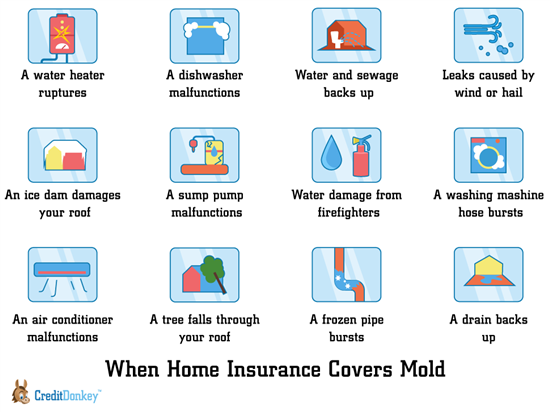 © CreditDonkey
Mold is the direct result of water damage. Home insurance policies generally pay to remove mold if any of these situations apply:

A pipe suddenly and accidentally freezes and bursts

Water damage from firefighters putting out a fire

A hose bursts on a washing machine that has been regularly maintained

A water heater ruptures

Water overflows from a regularly maintained air conditioning unit that suddenly malfunctions

A regularly maintained dishwasher malfunctions and water flows out

Water entering your home from openings caused by wind or hail damage

A tree falls through your roof during a rainstorm and causes interior water damage

An ice dam damages your roof and water enters your home

A drain backs up and soaks your floor or carpeting (if your policy includes backup of sewer, drain, and sump pump coverage)

Water and sewage backs up into your home (if your policy includes backup of sewer, drain, and sump pump coverage)

A sump pump malfunctions (if your policy includes backup of sewer, drain, and sump pump coverage)
In all these instances, the covered peril—water damage—caused the mold. So, its removal is covered. On the flip side, if these perils are not covered under your homeowners policy, then removing the mold is not covered either.
Does Home Warranty Cover Mold?
A home warranty covers major appliances and systems in your home. Some examples are your refrigerator and stove, washer and dryer, dishwasher, plumbing system, electrical system, and heating and air conditioning system.

Mold in a Bathroom
Homeowners insurance covers mold removal in a bathroom if the mold is caused by a covered peril under your policy. Some examples are a plumbing issue, a ceiling leak, or water overflowing from a sink or tub.
Homeowners insurance does not cover bathroom mold removal if it's due to a lack of proper ventilation or preventive maintenance.
Mold coverage differs among home insurance policies. To find out if you're covered, check your policy or call your agent or insurer.

Mold in Ductwork
Some homeowners insurance policies cover mold removal in ductwork. Refer to your policy or call your home insurer for limitations.
Usually, a home insurance policy covers ductwork mold removal under certain situations. Here are two examples when it would be covered:

Water from a burst pipe enters the ductwork

A well-maintained central air conditioning unit suddenly malfunctions
Mold removal in ductwork is usually not covered if the mold is from certain causes. Some examples are:

Humidity

A leaking pipe that was not immediately fixed

A lack of preventive maintenance
Mold Removal in Walls
Homeowners insurance covers mold removal in walls if it was caused by a sudden and accidental circumstance. Some examples are:

You have a fire in your home. The water used by firefighters to extinguish it gets into the fire-damaged walls.

Your water heater ruptures and the water it contains gets into the nearby walls.

An ice dam on the roof causes water to leak into your ceiling and walls.
Mold removal in walls is generally not covered under a homeowners insurance policy if it's a result of:

A flood

Neglect

A lack of preventive or basic home maintenance
Mold in a Crawl Space
Homeowners insurance policies only cover mold in crawl spaces if it's caused by a peril listed on your policy. For example, if a burst pipe caused the mold, then it's covered.
On the other hand, if the mold is caused by humid conditions in the crawl space, it's not covered.
When Home Insurance Doesn't Cover Mold
Many insurance companies view mold as a home maintenance issue. As a rule, mold is not covered under a home insurance policy if the mold is due to:

Humidity

Naturally damp basements

A lack of preventive maintenance

Leaky pipes not repaired in a timely fashion

Windows not properly sealed

Failure to fix a leaky roof

Cracks in the foundation that are not fixed

Negligent home maintenance

An overflowing sewer, which is covered separately by sewer backup insurance

Damage from floodwaters, which is covered separately under flood insurance
In these instances, most standard homeowners insurance policies exclude coverage for mold damage and mold remediation and restoration.
Home insurance also doesn't cover mold if it existed before the covered peril occurred. Here's an example:
Joe has mold growing on a basement wall in his home due to damp conditions. He takes no action to treat the mold, like removing it or installing a dehumidifier.
One cold winter, a pipe froze and burst, flooding his basement. Joe submits a claim to remove the water, replace the damaged personal property, and remove any mold.
In this situation, the insurance company will not cover the existing mold on the wall. It will, however, cover any new mold that grows in other areas in the basement due to the burst pipe.

How Much Does It Cost to Remove Mold From a House?
Mold removal costs can range from $2,000 to $50,000. The high cost of mold removal may make it worthwhile to buy mold insurance.
But it's also important to compare the cost to remove mold to the cost of the added insurance. For instance, the yearly cost for mold insurance could be more than the cost to remove a one-time mold problem.
Consider your home's mold history and its risk for mold before purchasing mold coverage.

Does homeowners insurance cover dry rot?
Homeowners insurance covers dry rot when it is caused by a covered loss. Some examples of a covered loss are:
A roof leak after a storm

A burst pipe

Water damage from firefighters putting out a fire
Dry rot is not covered under a home insurance policy if it is the result of:
Long-term neglect

Lack of basic home maintenance

Improper ventilation

Leaks that are not fixed in a timely manner
Is There Mold Insurance and Should I Buy It?
Mold insurance is available either as a rider or endorsement to your homeowners insurance policy. A rider adds coverage to your policy, while an endorsement enhances coverage already provided by the policy. Both result will raise the cost of your policy.
Mold coverage limits typically range from $2,000 to $250,000. Some break down the limits further.
For example, some policies provide up to $10,000 in coverage for mold remediation and repair. Personal property losses due to mold have similar limits. Others provide up to $50,000 in coverage if a guest or other third party gets sick in your home due to mold exposure from a covered peril.
The cost of mold insurance varies, depending on such factors as:

Whether you live in a high humidity area

The age of your home

If the materials used to build the home are prone to mold

Whether mold risks exist in your home

If the home has a history of mold

The coverage limits selected, which typically range from $5,000 to $50,000
On average, the cost of adding a mold coverage rider or endorsement to your policy ranges from $500 to $2,000 a year.
The mold rider or endorsement adds mold damage as a covered loss. But, the damage must be caused by water damage or water discharge. It does not cover mold from a lack of home maintenance or prevention.

Should You Buy Mold Insurance?
Before considering mold insurance, check to see what your home insurance policy covers. Some policies may cover mold if it's caused by water damage from a covered peril. Others do not.
Many homeowners consider purchasing additional mold insurance when:

Their policy does not cover mold at all

The policy only covers certain services

The policy has limited coverage, such as $10,000 or less
How to Submit Mold Insurance Claims
If a mold situation arises as a result of a covered peril under your homeowners policy, you can submit a mold insurance claim. If approved, the insurance company pays for the loss, up to the policy's limit. You'll first have to pay your policy's deductible, however.
When filing a claim under your homeowners policy or mold damage rider or endorsement, keep these guidelines in mind:

If safe to do so, try to stop the leak or water flow.

Call the insurance company immediately after the situation occurs for guidance on what to do.

Document what happened and why, as well as the date and time.

Take photos of the damage, if it is safe to do so.

Take inventory of what was damaged or permanently lost.

If possible, leave everything as is until the insurer's claims adjuster arrives.
In many cases, the covered peril claim and the mold damage claim are treated as one claim by your insurer. When a great deal of water is involved, the insurance company usually sends a mold remediation team to dry out your home to prevent mold.
However, mold can start growing months after the incident occurred. That's why it's important to take photos and document the damaged areas. Be sure to keep records of the repairs made, as well.
If mold appears after the claim is resolved, call your home insurance company to reopen the claim. Be sure the insurer doesn't open a new claim because that means you'll have to pay the deductible again.

How to Treat and Remove House Mold
If mold has already made an appearance in your home, it's important to nip it in the bud. Depending on the extent of the mold, you can either apply home treatments or hire a professional.
Before taking action, be sure to take pictures of the mold. This documentation is important if you plan to submit an insurance claim.
Do-It-Yourself Mold Removal
There are various mold-killing products available on the market. When working around mold, always wear long rubber gloves, goggles, and an N-95 respirator. For proper disposal, place moldy items and cleaning materials in an airtight plastic bag.
Here are tips for removing mold from certain areas:

For hard surfaces: Scrubbing with detergent and water should remove the mold.

For walls, showers, or windows: Clean off the mold first and then repaint or recaulk.

For porous or absorbent materials, like carpet or ceiling tiles: Remove the affected areas and throw them away.

For upholstery items, like furniture: Have a professional remove the material and reupholster.
When to Hire a Professional
If the mold is extensive, you should hire a mold remediation service. The EPA recommends hiring a professional if the moldy area is more than 10 square feet (3 feet by 3 feet).
Once you remove the mold, be sure to fix the problem that caused the mold. Otherwise, it will make a return appearance.
Can You Sell a House With Mold?
You can sell a house with mold, but expect fewer interested buyers and offers much lower than your asking price. As the seller, you are required to disclose the mold problem to potential buyers. It's best to hire a professional to remove the mold before selling.

Steps to Prevent Mold in Your Home
Home insurers put most of the responsibility for mold on the homeowner. In particular, they recommend that homeowners take preventive action to fight off mold.
In general, there are 6 steps homeowners can take to prevent mold growth.

Lower the humidity in your home. According to the EPA, moisture control is the key to mold control. Consider using a dehumidifier to regulate the humidity in your home.
Check for proper ventilation in your home. Exhaust fans that vent outside should be used when cooking in the kitchen, showering in the bathroom, and using the dryer in the laundry room.
Fix leaks in a timely fashion, especially those related to plumbing fixtures, pipes, and the roof.
Regularly clean and repair roof gutters.
Regularly clean and maintain heating, ventilation, and air conditioning systems, including the duct work where mold can grow.
Immediately dry any carpets and furnishings that get wet. If they can't be sufficiently dried, remove and replace them.
Facts About Mold in Homes
The Centers for Disease Control and Prevention (CDC) has some pretty interesting facts about mold and mold in your home. For instance:

Wooded areas, compost piles, and cut grass are areas most likely to have mold.

Some people can have severe reactions to molds, others nothing at all.

Mold spores are in house dust and float through the air, but they won't grow if moisture is not present in your home.

Mold gradually destroys whatever it grows on.
If your home has mold, it's not alone. According to the U.S. Environmental Protection Agency (EPA), more than 30% of new homes contain some type of mold.
Black mold is the most dangerous type of mold. It is toxic and hazardous to your health. Mold remediation methods should be used to get rid of mold as soon as it appears.

Bottom Line
Mold coverage is one of those gray areas of a home insurance policy. Some home insurance policies cover mold if it is a result of a peril covered under your policy. Some insurers do not cover it at all, while others place limits on the coverage.
Usually, mold is covered by home insurance if it's a result of water damage. But, some water damages, like those caused by floodwaters or sewer and sump pump backup, are not covered.
With all policies, mold is not covered if it could have been prevented with basic home maintenance.
When buying or renewing a home insurance policy, check to see how it addresses mold. Read through the policy or ask your agent or customer service representative.
Write to Maryellen Cicione at feedback@creditdonkey.com. Follow us on Twitter and Facebook for our latest posts.