Study: Average Cost of Homeowners Insurance
---
Homeowners insurance rates are seeing an all-time high. Check out our report to learn the truth about the rates.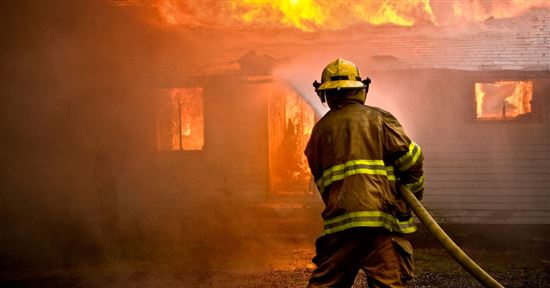 How much is homeowners insurance?
Expect to pay around $3.50 for every $1,000 of your home's value. On a $250,000 home, this equals $875 per year. The location and age of your home affect your premium. High risk factors, such as pools, dangerous dogs, and trampolines, increase those rates even more.
How much is the average homeowners insurance per month?
The average homeowner pays $94.33 per month for homeowners insurance. This was a 3.3% increase over the previous year. That's $1,131 per year.
What is the average homeowners insurance deductible?
The average homeowner has a deductible between $500 and $1,000. If costs are an issue, choose a higher deductible. This often provides a lower premium.
How much can you save by taking a higher deductible?
A $1,000 deductible, instead of a $500 deductible, can save you up to 25%. This doesn't include separate policies. Flood insurance or floating policies increase your cost. For example, windstorm, hail storm, and earthquake policies all have individual deductibles.
What's the average increase in homeowners insurance premium after 1 claim?
One claim might not seem like much, but it can increase your premium as much as 9%. If you live in Wyoming, prepare yourself. You could pay an average of 32% more. Texas residents luck out, though. One claim rarely has an impact on their premium.
Which states have the highest homeowners insurance rates?
Florida holds the top spot for the highest homeowners insurance rates. With 13% of the country's catastrophic losses, it doesn't surprise us.
Which states have the least expensive homeowners insurance rates?
Oregon has the lowest homeowners insurance rates. With an average premium of $574, they are 71% less than Florida's premiums.
How much more do people with poor credit pay for homeowners insurance?
A poor credit score could increase your premiums as much as 91%. Credit-based insurance scores are legal in most states. In the U.S., 85% of agencies use the score to determine premiums.
How much does a security alarm decrease your homeowners insurance premiums?
A monitored security alarm can save you up to 20% on insurance premiums. Even unmonitored alarm systems may save you up to 5%.
How likely is it that a security alarm can prevent a burglary?
60% of burglars ignore homes with a security system. It might not prevent 100% of burglaries, but the odds are in your favor.
How much does a single claim on your homeowners insurance increase your premium on average?
The national average premium increase after 1 claim is 9%. But, if you live in Maryland or Connecticut, plan on a 21% increase. Conversely, Texas policies rarely increase. Even New York policies only increase an average 1%.
What's the largest reason for homeowners insurance claims?
Weather-related claims top the charts for homeowners insurance claims. Wind damage takes the number 1 spot, though. It accounts for 25% of property damage. The next highest claim is for non-weather related water damage (leaking pipes).
How much do insurers lower your premium for remaining with them for 3-5 years? 6 years?
Stay with the same insurance company for 3-5 years and you may get a 5% premium discount. Stay 6 years or more and you may save as much as 10%.
How much can you save on average by bundling your homeowners insurance with auto insurance?
Bundling auto insurance and homeowners insurance saves you an average of 16%. But you won't save quite as much bundling renters insurance and auto insurance. Your savings are cut in half at just 8%.
Are floater policies worth the increase in homeowners insurance premium?
Many personal items, such as jewelry, have low liability limits. Jewelry theft often has a maximum liability limit of $1,500. You may increase the lability limit for less than the cost of a floater policy. However, it might not benefit you. The insurance company can still impose a limit. Your best bet is to pay for the pricier floater policy and get better protection.
What is the average cost of flood insurance?
Flood insurance costs an average of $700 per year. Around 12% of homeowners hold a flood insurance policy. Of that 12%, 14% insure homes in the South. It's not very surprising that the homes in greatest danger are in Florida.
Which states have the highest flood insurance premiums?
Rhode Island tops the charts with the highest flood insurance premiums. It's not unusual to pay $1,200 per year for flood insurance.
Which states have the lowest flood insurance premiums?
Maryland offers some of the lowest flood insurance premiums. Low-risk areas cost as little as $129 per year. Higher risk areas may cost up to $540 per year.
What is the average price of renters insurance?
Only 41% of renters carry renters insurance. With an average of $190 per year, it is an inexpensive way to protect your belongings.
Which states have the highest renters insurance premiums?
The most expensive state for renters insurance is Mississippi. The least expensive is South Dakota.
What is the average renters insurance deductible?
Renters insurance deductibles can vary based on what you want to pay. However, the average deductible ranges between $500 and $1,000 per year.
How much is the average homeowners insurance on a condo?
Homeowners insurance on a condo may cost between $100 and $400 per year. The amount depends on the same factors as a home, such as location and the age of the condo. A larger factor, though, is what the condo association's policy covers. Oftentimes, you only need to cover the interior portion of your condo.
Who are the top rated homeowners insurance companies?
Amica Mutual is the highest ranked homeowners insurance provider. The Hartford topped the charts for the best renters insurance.
Bottom Line
Homeowners insurance is costly, but worth it. The right policy can protect you against some of the most unpredictable dangers. Shopping around is your best defense against the highest rates. Ask your agent about bundling and loyalty discounts. But always make sure you have the coverage you need. You want the right protection without overpaying. You must find that delicate balance to save the most while remaining protected.
Sources and References:
More from CreditDonkey: