Best Credit Card for First-Time Applicants
Editorial Note: This content is not provided by the card issuer. Opinions expressed here are author's alone, not those of the issuer, and have not been reviewed, approved or otherwise endorsed by the issuer.
This article contains references to products from our partners. We may receive compensation if you apply or shop through links in our content. You help support CreditDonkey by reading our website and using our links.
(read more)
---
Choosing your first credit card is a major decision not one be taken lightly. Your credit history has a huge impact on your ability to rent an apartment, buy a house, get a car loan, or even land a job. How you use a credit card can make the difference between starting your credit history off on the right foot or making a bad first impression.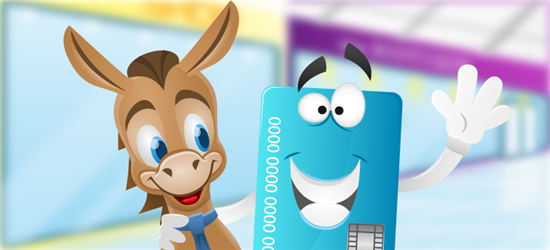 © CreditDonkey
Top Credit Cards for First-Time Applicants
What You Need to Know About First Time Credit Cards

© CreditDonkey
What credit cards can I get with no credit?
Even when you have no credit whatsoever, there are still some kinds of credits cards you can be eligible for:

Apply for a secured credit card. A secured credit card requires a deposit, which will become your credit line. You do not need any credit history.

How do you get a secured credit card?

Apply. Fill out the application. For secured cards, you just need to be 18 and don't need a co-signer.

Deposit Money for the security deposit.

Use Card Responsibly. You use a secured card like a normal credit card. Pay off your charges on time each month to build credit.

Get a cosigner. A cosigner is someone who agrees to be responsible for your debt if you don't make payments.
Become an authorized user on someone's credit card. You'll get a credit card with your name that you can use for purchases. But the main account holder will be responsible for payments. You will also build credit as long as the cardholder makes timely payments.

How do I go about getting a credit card?
Take these steps for a more successful credit card application:

Know your credit history. First know if you have history or not. If you have had cosigned a loan, been an authorized user, or are paying off student loans, then you most likely have some credit. If you have done none of these, then you probably have no credit. If that's the case, then a secured credit card (or student card if you're still in school) are the best ways to go.

Tip

: If you have done any of the above mentioned, then it's a good idea to know your credit score. You can buy your score on the FICO website. Or you can get a free credit score through

Discover

(even if you are not a customer). Knowing where you stand will let you know what kind of credit cards you're eligible to apply for.

Research and compare. Compare different cards and see which has features or terms more suited for you. See our top recommended starter cards. Target just one card at once. You don't want to apply to a bunch at once because each application will make a small dent in your credit report.
List all your income. On your application, you want to make sure you list ALL your money sources. Having a steady income from a job is the best chance of getting approved. But here are other income that are acceptable: spouse's income, investment returns, trust fund distributions, alimony, and child support income.

Which credit card is easiest to get approved for?
Here are some unsecured credit cards that typically have lower approval requirements.

Surge Mastercard

Indigo Platinum Mastercard

Milestone Gold MasterCard

How to build credit without credit cards.
If you cannot get or don't qualify for any credit cards right now, don't worry. There are still some ways to build credit without a credit card.

Credit builder loan: This type of loan specifically helps you build credit safely. You are given a loan that is held in a CD account in your name. Every month, you make a set monthly payment to repay the loan. At the end of one year, you have paid off this loan and can get access to your money (including the interest earned!).
Student loan: You don't need a credit score or a parent co-signer to take out a federal student loan. As you start to pay back the loan, you'll start to build credit.
Co-sign a loan: Without credit, you'll need a co-signer for loans such as an auto loan. You will build credit as you make monthly payments.
Report your rent payments: Typically, landlords don't report your rent to credit bureaus. However, with a service like Rental Kharma or Rent Reporters, you can build credit for paying your rent. You report to one of these services, they verify with your landlord that you indeed have been paying rent on time, and then they will report your rent history to the credit bureaus.
Best Cards for First Time Holders (with No Credit)
As a new credit card customer, your options will be more limited than someone with an established credit history. Here are tips to determine which type of card is best for you.
Student Cards: Designed with college students in mind, these credit cards for first timers offer fewer perks and tend to have low credit limits. If you're under 21, you will likely need a co-signer, a requirement since the Credit CARD Act was signed in 2009. If you don't have a co-signer, be prepared to show you'll be able to cover your monthly bills.

What is the best credit card for students?

Here are our top recommended student credit cards:

Discover it Chrome for Students will match all the cash back you've earned at the end of your first year. This offer is only for new customers. This card earns 2% cash back at restaurants and gas stations (on up to $1k in combined purchases every quarter with no quarterly activation required). All other purchases earn 1%.

Plus, you can earn $20 statement credit each school year your GPA is 3.0 or higher for up to the next 5 years.*

Citi Thank You Student Card offers 2,500 bonus points after you spend $500 within the first three months of opening your account. This card earns 2 points per dollar spent on purchases for dining at restaurants and entertainment and 1 point on other purchases. There is no annual fee.
Capital One Journey offers 1% cash back on all purchases. If you pay on time, you can boost your cash back to a total of 1.25% for that month. After you make your first 5 monthly payments on time, you may get access to a higher credit line. There is no annual fee.

Secured Credit Card: This type of card helps people with no credit history at all and would have trouble getting approved for an unsecured card. Secured cards require you to set aside money in a bank account that is then used as collateral against any charges you make. For this reason, a secured card isn't ideal, but may be a place to begin.

What is the difference between a secured and an unsecured card?

A secured credit card requires a security deposit. You need to put in a cash deposit. This deposit will usually be your credit limit. This way, if you don't make payments, the card issuer can use your deposit to cover the defaulted amount.
An unsecured credit card requires no deposit. Your credit limit is based on your credit history. So usually, if you don't have any credit, you cannot be eligible for an unsecured card.

Store Cards: Credit cards tied to a retailer are known for low approval standards, so you might be able to get one, even if you have a limited credit history. Some of these cards are good only in the store that issues them, though, so you may be severely restricted in when, where, and how you use them.
First Time Applicants: What to Keep in Mind
Finding the right card will take some legwork. Do your research and keep the following points in mind as you consider signing up for a card:
Ease of approval for building credit: With a little or no credit history, you may not get approved for the first traditional, unsecured card you come across. While you may have better luck getting a credit card for college students, a secured card, or a store card, be prepared for rejection.
Future prospects: Chances are that your first card will come with some unfavorable terms. There's likely to be a fee attached, interest rates will probably be very high, and the terms and limits will be restrictive. After about a year of paying your bill on time and staying within your credit limit, you should be able to qualify for a credit card with rewards and better terms. So, keep your eye out for current credit card deals when your first year is about to wrap up.
Low limits for New Users: You don't need a credit limit of several thousand dollars on your first card. Something in the $500 to $1,000 range is probably plenty. It's low enough to keep you from getting into serious debt. Make a few purchases and pay off the balance in full each month to prevent interest from accumulating and establish a pattern of good credit behavior.
How old do you have to be to get a credit card?
Legally, you just have to be 18 to apply for a credit card. But at that young age, you will have a hard time becoming approved for one.
At less than 21 years old, you will most likely need a parent or guardian cosigner. UNLESS you can prove that you have an independent source of income (allowance from your parents doesn't count).
For secured credit cards, you just need to be 18 years old. You don't need a cosigner. All you need is the cash for the deposit.
If you're under 18, you can become an authorized user on an adult's credit card. You will get a credit card in your name.
First Time Credit: What to Avoid
The consequences of choosing the wrong card can be unpleasant if you end up with one that has one or more of the following qualities:
Excessively high fees: Most credit cards available to people with little or no credit history will come with some sort of fee attached, but don't let yourself get price gouged. An annual fee of more than $40 is probably too much.
Excessively high interest rates: Interest rates on cards for new credit card owners are higher because they're seen as high default risks. Fortunately, you can find a card with a reasonable rate just as easily as you can find one with a reasonable fee. Percents in the high teens to low 20s is the usual range for an annual percentage rate (APR) - avoid anything much higher than that.
Cards that don't report to credit agencies: The goal of any first time credit card owner should be establishing a good reputation. You can't do that if the company that issues your card isn't reporting your credit-card activity to the credit bureaus. Make sure this is the case.
The most important part of choosing your first credit card is doing your research. While you may think you want certain perks, such as travel rewards, you may never use them or you may find that some rewards programs aren't available to first-timers. You'll have more options the next time, after you get used to practicing good credit behavior with your first card.
Leah Norris is a research analyst at CreditDonkey, a credit card comparison and financial education website. Write to Leah Norris at leah@creditdonkey.com. Our data-driven analysis has been recognized by major news outlets across the country and has helped young adults make savvy financial and lifestyle decisions. (read more)
Editorial Note: Any opinions, analyses, reviews or recommendations expressed in this article are those of the author's alone, and have not been reviewed, approved or otherwise endorsed by any card issuer. This site may be compensated through the Advertiser's affiliate programs.
Disclaimer: The information for the Discover it® Cash Back, Capital One® Spark® Classic for Business, Capital One® QuicksilverOne® Cash Rewards Credit Card, Capital One® VentureOne® Rewards Credit Card, Journey® Student Rewards from Capital One®, Citi ThankYou® Preferred Card for College Students, Capital One® Platinum Credit Card, Discover it® Secured, and Discover it® Student chrome has been collected independently by CreditDonkey. The card details on this page have not been reviewed or provided by the card issuer.
More from CreditDonkey: