---
Shopping online can put your credit cards at risk. Can a virtual credit card help? Learn more about this unique way to protect your information when shopping.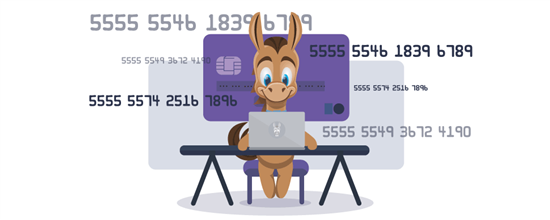 © CreditDonkey
Using a traditional credit card comes with security risks, especially if you use them often. Data breaches of online merchants can put your payment info in the hands of criminals.
But virtual credit cards can help. Read on to learn how.
What Is a Virtual Credit Card?
Virtual credit cards (VCC) are randomly generated card numbers that are linked to your credit card account. When you use a VCC, your actual credit card information is never used or stored.
That means a virtual card doesn't compromise your data. It helps keep your information secure when making purchases online or in-app.
When you create a virtual credit card, you aren't issued a physical credit card. Instead, you receive randomly generated credit card information, including a:

Card number

Security code

Expiration date
In many cases, you can easily cancel or lock virtual credit cards without having to cancel your physical card. And if your actual credit card is part of a data breach, many providers allow you to cancel it without reissuing all your virtual cards.
This makes data breaches much easier to deal with. You won't have to update your payment information on online payment profiles.
A virtual card is like a mask disguising your card. Transactions are still tied to the credit card. But the card number, expiration date, and CVV are all different from your real information.

Benefits of Using a Virtual Credit Card
Here are some unique VCC features that keep your finances secure:
Improved Security
Your physical card data is never stored when you use a VCC. Each virtual card has its own randomly generated card information to keep your physical card safe.
Reduce Impact of Credit Breaches
If one of your virtual cards is compromised, you can cancel or delete it without having to cancel your physical credit card in most cases. You won't have to get a new credit card—just generate a new VCC.
Expiration Dates
You can set unique expiration dates with certain virtual cards. That means no worrying if a data breach happens after that date since your card is already expired.
Single-Merchant Use
Some virtual cards are merchant-specific, meaning they can only be used for purchases with one merchant. If the virtual card is compromised, the hacker would need to use the exact merchant. Otherwise, the card number is useless.
Easy Creation
Setting up a virtual card only takes a few minutes (more on that below).
Digital Wallet Integration
Some virtual cards are compatible with digital wallets, making checkouts even more seamless.
Spending Limits
You can cap spending with some cards. That means you can be confident that any larger, unauthorized purchases are declined.
Some VCC providers may shut down all physical and virtual cards in the event of a data compromise. Always read the terms of your virtual cards to understand what each provider requires.

Downsides of Virtual Cards
More Difficult Returns
Merchants typically want to return funds to the original card that was used in the transaction. With virtual cards, that might not be possible since they may be single-use or have short expiration dates.
While providers say that returns aren't an issue, you may end up having to settle for store credit.
Shorter Expiration Dates
If you're looking to use a virtual card for subscription services or recurring expenses, the expiration dates could get in your way. You might have to update the credit card more frequently for seamless payments.
Not Accepted by All Vendors
Virtual credit cards won't work in cases where merchants require you to present a physical card during a transaction.
For online hotel reservation, you may be asked to present the card at check-in. Since a physical card wasn't used to make the reservation, that could present an issue.
Other reservations, like ticket sales and rental cars, could pose similar problems.
Just like with physical credit cards, virtual cards won't make you liable for fraudulent purchases. Most credit card companies have a
$0 liability
policy for cardholders.
That means you won't be held personally responsible for unauthorized transactions, either with a virtual or physical credit card. However, virtual cards don't offer additional protection on top of what is already offered by your credit card company.

Best Ways to Use Virtual Credit Cards
Here are some great everyday uses for virtual credit cards:
Subscriptions
Instead of keeping track of when you need to cancel subscriptions, set the expiration date of your virtual credit card. You can't be charged for renewal after that date.
Kids' Purchases
VCCs let you give your child a low-risk method for spending. Set a limit and maintain the integrity of your physical credit card number.
Budget Spending
You can set up a merchant-specific VCC with a spending limit to reign in unbudgeted spending. Once you've maxed that card out, you'll have to wait until the budget resets in the next budget period.
Spending Limits for Subscriptions
If you have a recurring subscription, say $13 for Netflix, you can set a specific card to only allow $13 for purchases each month. You won't have unexpected charges, since anything above $13 will be declined.
Unfamiliar Websites
Use a VCC for unknown merchants to protect your true credit card number.
Where to Get Your Virtual Credit Card

© CreditDonkey
Virtual credit cards offer extra security—and some neat perks. Currently, three banks—and some other providers—offer them for free.
Is there a catch? Read on for the details.
Capital One: Eno
You need to be active Capital One cardholder to create a virtual credit card using Eno, Capital One's virtual assistant.
It offers:

Merchant-specific virtual credit card numbers

Autofill payment information on the checkout screen, which reappears when you return to that site

Lock and delete virtual cards without closing your physical card

Automatically links your existing virtual cards to your static card if the static card is replaced
How to Use

Using the Chrome or Firefox browser, download Eno.

Open Eno at the checkout screen when shopping online.

Generate a merchant-specific virtual credit card.

Have Eno autofill the payment information for your transaction.

Eno will remember the payment information if you return to this merchant website.
Citibank's Virtual Cards
Many—but not all—Citi cardholders can take advantage of virtual credit cards. Check your Card Benefits section to confirm your eligibility.
Here are the available features:

Create merchant-specific virtual credit card numbers

Autofill payment information on the checkout screen

Setup custom spending limits per merchant card

Set your own expiration dates
Unlike with Bank of America and Capital One, Citibank will close all virtual card numbers if you report your physical card lost or stolen.

How to Use
There are two options for creating virtual credit card numbers:

The web-based option allows you to manage your virtual credit cards through the Citibank website.
A downloadable program is available for Windows users to manage virtual credit cards.
Non-Bank Virtual Card Providers
Some services allow you to use almost any existing account to create virtual credit card numbers for added security when shopping online.
Two common providers of this service are Pay With Privacy and Token.
Privacy.com
This service allows you to create a virtual credit card number using your checking account. Privacy automatically debits your account when you use one of your virtual cards. You don't have to prepay or load any money into a separate account.
Use this service the same way you would a debit or credit card online or over the phone. But you won't risk having your account information compromised.
Like other virtual credit cards, Privacy allows you a safer option for online and in-app shopping.
Here are some features you need to know:

Always free

No credit checks

Uses your checking account

Pause feature allows you to suspend transactions between uses

Set your own spending limits by day, month, year, or total balance

Create merchant-specific cards

Create single-use cards

Use their app or web-based option

Supports over 9,000 financial institutions

Autofill payment information on the checkout screen
Privacy doesn't offer credit card linking. You'll need to use a checking account to sign up.

Token
Token allows you to link any debit or credit card and create virtual credit cards. Here are the main features:

Always free

No credit checks—use your existing credit or debit card

Free app

Chrome browser extension coming soon
Virtual Credit Cards vs Digital Wallets
Digital wallets don't generate virtual credit card numbers. Instead, they encrypt your payment information.
That means during checkout, your information is "scrambled." Even if a hacker could gain access to that information, they wouldn't be able to read or use it.
Typically, these are apps or web-based platforms on your phone. Here are the common items you can store in a digital wallet:

Credit cards

Debit cards

Merchant loyalty cards

Coupons

Boarding passes

Movie tickets
Because digital wallets store your information, you can access it immediately to make in-app and online purchases. And unlike virtual credit cards, they can also be used for on-site transactions (if a merchant is equipped). You simply wave your mobile device over the card reader at checkout to pay.
There are several digital wallet options; the two most common are Google Pay and Apple Pay. Read on to learn what sets them apart.
Google Pay
This app can be used with both Apple and Android mobile devices as well as most internet browsers.
Google even features an option called . It allows you to locate, lock, and erase data on your phone when you've lost your device.
Apple Pay
This is only available on Apple devices, including its Safari browser. Apple claims that your payment information is never stored on any device or on Apple servers.
Instead, a device-specific number and unique transaction code are used when processing a payment.
Bottom Line
In a time of increased heightened data breaches, virtual credit cards can protect your credit card data. They allow you to make purchases without revealing your actual payment info.
As an additional security layer, you can use a digital wallet. A combination of those options can be a big step in the direction of secure online shopping.
Write to Kim Shackleton at feedback@creditdonkey.com. Follow us on Twitter and Facebook for our latest posts.