Death Infographic: Cheat Sheet to Consider Before Death
---
To help people begin the process of thinking about how they can leave their loved ones without a financial mess when they pass away, CreditDonkey.com put together a helpful infographic with facts and tips about items folks need to address so that they can avoid placing a financial burden on those left behind.
Whoever penned the adage "nothing is certain but death and taxes" must have lived before the era of credit cards, insurance, and other survivors' benefits. Today, spouses, parents, and other relatives need to put many parts of their financial lives in order before everyone can truly rest in peace.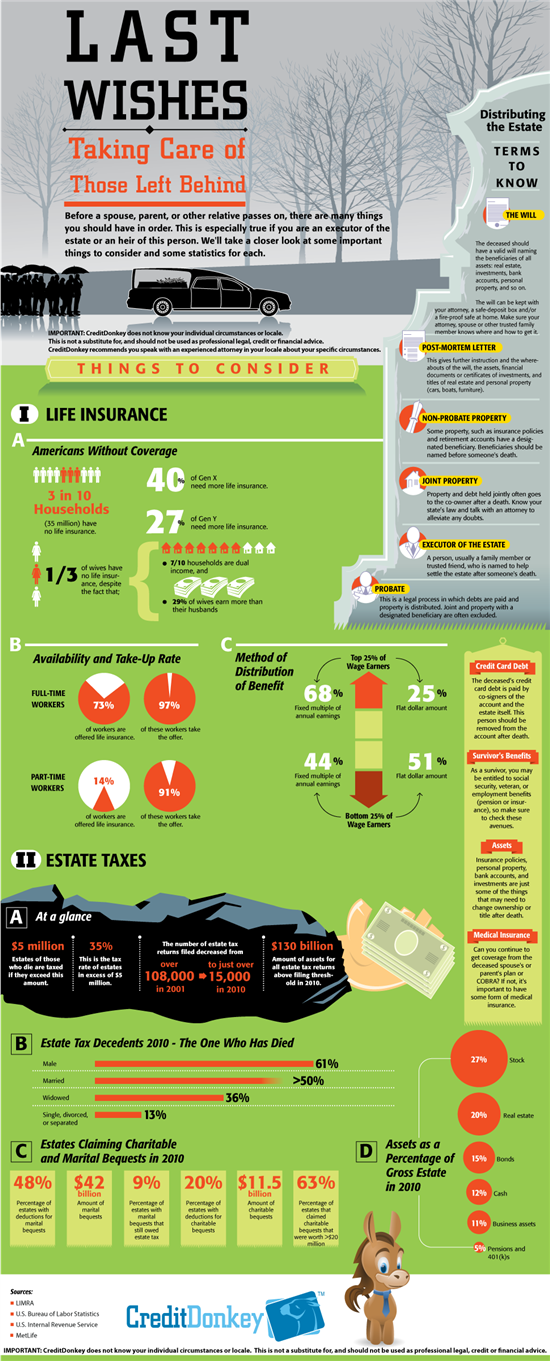 Infographic: Death

© CreditDonkey
Because people would rather not think about dying, many postpone the planning process until it's too late. Unfortunately, procrastination doesn't postpone death, so it's best to address these post-mortem matters while you're still very much alive.
Some of these matters include:
Writing a Will
Credit Card Debt: Death is no excuse for failing to pay credit card debt. The deceased's credit card debt must be paid by any co-signers of the accounts and the estate.
Survivor Benefits: Will your heirs be entitled to your Social Security, veteran, or employment benefits? Be sure the information about your beneficiaries is always up to date.
Medical Insurance: Will you be leaving the loved ones who rely on you with health insurance?
At CreditDonkey, we strongly advise people to hire an attorney to assist with this planning. While we hope the new infographic will inspire people to start the planning process, this information is not a substitute for competent legal counsel and professional financial planning advice.
(Research by Kelly; Graphic Design by Marcelo; Graphic Editing by Maria)
Kelly Teh is a contributing features writer at CreditDonkey, a credit card comparison and reviews website. Write to Kelly Teh at kelly@creditdonkey.com. Follow us on Twitter and Facebook for our latest posts.