Why Your Credit Score Affects Your Insurance Rates
---
One thing many people are finding out in the recent financial crisis is just how much their credit score affects their lives. A bad credit score can keep you from getting a good job or a great mortgage rate. It can also, though, affect your insurance rates. Car insurance, life insurance, homeowner's and renter's insurance – you name it, and your credit score probably has a pretty big effect on it. Here's what you need to know about why this is how it is:
The World of Risk Management
The world of insurance is all about risk management. Let's say you were going to offer insurance of some sort to three of your friends' iPods. Your goal is to make money, and their goal is to get your protection for their iPods. Friend #1 is a responsible fellow with an older iPod model that would only cost $100 to replace. Friend #2 keeps his brand new iPod touch on his person or in his house when he isn't using it – which is almost never. Friend #3, on the other hand, has lost two iPods in the last two years. He has a cheaper model, too, but he'll probably lose this one sometime in the near future.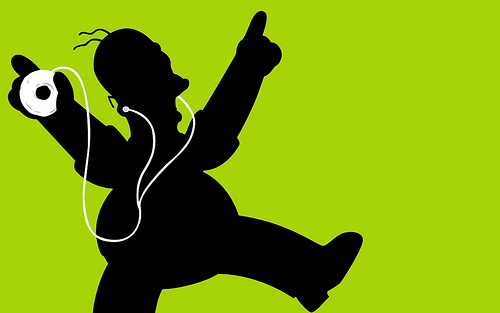 Homer Simpson © Dan Diemer
How are you going to decide what to charge these friends for a year of iPod insurance? Well, you're going to take into account the amount of risk that you'll have to actually pay out. Friend #1 is going to get the best rate because he's not going to cost you a lot if he does lose his iPod, which isn't likely to happen, anyway. Friend #2 isn't likely to cost you money, but if he does, he's going to cost you quite a bit more with his expensive iPod touch. Friend #3 is really likely to cost you money because he'll probably cash in on his policy, so you'll charge him the most.
You can probably see quickly from this simple illustration how you'd charge insurance premiums from these three friends. You're not likely to ever start an iPod insurance company, but it's not rocket science to understand how it would work. If you're going to make money, you've got to cover yourself. Ideally, you'll charge Friends #1 and #2 enough to keep them happy but to make money on their premiums. Friend #3, you'll just hope to charge enough that you don't actually lose money overall when you have to pay out for his new iPod.
Risk Management and Insurance
Real insurance companies think in much the same way. They want to make money on good customers and avoid losing money on less responsible customers. They take into account every number imaginable – the value of what they're insurance, your personal record of responsibility with that item, things that can protect that item from problem, statistics related to your particular gender, age group, and location that will mean more risk for them. For an insurance company, your credit score is a mark of responsibility or irresponsibility.
After all, if you can be responsible with your own money, you're more likely to take care of your home or be a responsible driver, right? While this doesn't always hold true, it is statistically relevant, which means insurers are going to take it into account.
So, next time you're ready to go car insurance shopping, check your credit score first. You might want to spend a couple of months boosting your credit score, and then you can see how much better your insurance rates could get!