23 Reasons Why North Carolina Might Just Be the Best State Ever
---
Thousands of new residents flock to North Carolina each year from all over the country and they don't leave. In fact, the state's population is growing at a faster rate than that of the U.S. People who live here know it's about way more than just miles of tobacco fields and dusty country roads. There are so many reasons to love it here. And we have 23 reasons why we think North Carolina might just be the greatest place in the nation.
1. One of those rare states where you can enjoy the mountains...
If you want to live in one of the most beautiful places on Earth, the Tar Heel State doesn't disappoint. The Appalachian, Blue Ridge and Great Smoky Mountains all thread their way through the western part of the state, and it's where you'll find some of the highest peaks east of the Mississippi. If you've got a daredevil spirit, a walk along the Mile High Swinging Bridge at Grandfather Mountain is sure to get your pulse racing.
2. ...and the beach
Geographically speaking, North Carolina really is the best of both worlds. It's one of the few states where you can start your day off in the mountains and end it with a sunset stroll along the coast. If you're wondering where the best places are to sink your toes in the sand, Wrightsville Beach and the Cape Hatteras National Seashore are two spots you won't want to miss.
3. North Carolina was first in flight (no matter what Ohio says)
On December 17, 1903, Orville and Wilbur Wright sailed into the history books after launching their homemade gas-powered flying machine at Kitty Hawk. Ohioans have tried to muck up the matter by pointing out that the Wright brothers actually built their plane in the Buckeye State. Still, there's no disputing that North Carolina is where they first took wing, changing the face of American ingenuity forever.
Related: How to Get Free Airline Tickets
4. It's the place that brought you Krispy Kreme
When Vernon Rudolph moved to North Carolina in the 1930s, he was just a man with a top-secret, yeast-raised doughnut recipe and a dream. He began peddling his sugar-glazed creations to local grocery stores, but the heavenly scent soon had customers lined up around the block. Today, you can find Krispy Kreme in hundreds of locations around the world, but the headquarters are still located in Winston-Salem, where all that deliciousness first began.
Tip: How to Save Money on Groceries
5. North Carolina's college basketball rivalry is better
From periwinkle to cobalt, the color blue comes in dozens of different shades, but North Carolinians know that there are only two that really matter. When it comes to college basketball rivalries, it doesn't get much more epic than the enduring love/hate affair between "Dookies" and Carolina boosters. While the odds are slim that the two teams (or their fans) will kiss and make up any time soon, it makes for some great basketball in the meantime.
6. Even pirates love it here
From the Cape Fear Inlet to the Outer Banks, North Carolina was a pirate's treasure trove during the 1700s. Some of the most infamous outlaws of the high seas dropped anchor here, including Calico Jack Rackham, Stede Bonnet and the notorious Edward Teach, better known as Blackbeard. It's said that folks around Ocracoke Island can still hear the swashbuckler's ghost calling out on stormy nights in search of his lost head.
7. In Asheville, they like their houses big…
At more than 178,000 square feet, George Vanderbilt's Biltmore Estate is the largest privately owned home in the nation. After visiting Asheville with his mother, Vanderbilt fell in love with the area's stunning natural beauty and decided to make it the backdrop for his architectural masterpiece. The estate has been open to the public since 1930, and thousands of visitors stream in each year to get a peek at its fabled opulence.
8. …and their burgers "all the way"
Forget all that lettuce, tomato, onion and pickle nonsense. When it comes to a burger, the only way to have one around these parts is all the way. That means piling it high with chili, cole slaw, mustard and onions. This messy but mouth-watering treat is a Carolina tradition, and the ones served at the Diamond Restaurant in Charlotte are slap-your-mama good. If you want to tempt your taste buds even more, don't forget the pimento cheese.
9. The barbecue can't be beat
North Carolinians debate where the best barbecue comes from the way people in other states debate the presidential election. If you're from the eastern neck of the woods, you probably prefer the vinegar-based version, but in the central and western part of the state, it's all about Lexington style. Whichever one you choose, you'll want to snag a side of onion rings to wash it down.
10. North Carolinians know how to take the lead
Not only were they first in flight, North Carolina residents have proven themselves to be real go-getters over the years. In fact, Roanoke Island was the site of the first English settlement in the New World. Three U.S. presidents were born here, including Andrew Jackson, and the Civil Rights Movement got a major push when four NC A&T State students staged a sit-in at the Woolworth's in Greensboro.
11. There are bright lights and big cities
Dubbed "Wall Street South," Charlotte is North Carolina's largest city and a major financial hub along the Eastern seaboard. So what makes it such a great place to live? Well for starters, it's got a bustling economy, which is ideal for job seekers. There are also plenty of places to shop and a vibrant arts scene. Weekends are perfect for taking in a Hornets game or checking out the latest downtown hotspot, so you'll never have a chance to be bored.
12. But North Carolinians are still small-town at heart
Mt. Airy is best known as the birthplace of beloved actor Andy Griffith, and this native son's memory continues to linger in the hearts of North Carolina residents. "The Andy Griffith Show" introduced us to colorful characters like bumbling deputy Barney Fife and the good-hearted Gomer Pyle, but most importantly, it showcased everything there is to love about small-town life.
13. You can wear flip-flops practically year-round
North Carolina weather is about as unpredictable as the future, but it's not something you'll hear people complain about too much. The temperature starts heating up as early as March, and the warm days can stretch into early November. Wintertime brings the occasional freeze, but you won't have to worry about battling six-foot deep snowdrifts when you head out the door.
14. Calabash style is the only kind of seafood that matters
The tiny little town of Calabash bills itself as the seafood capital of the world, and once you've had a sample of this cornmeal battered, deep-fried goodness, we think you'll agree. If you head out for dinner at Ella's or stop by Beck's for lunch, you won't be disappointed. Just be sure to ask for extra slaw and hush puppies on the side.
15. It's sweet potato heaven
Whether you prefer them slathered with butter and cinnamon sugar, baked in a casserole dish and covered with marshmallows or sliced up french-fry style, you won't find a shortage of sweet potatoes here. North Carolina produces more of these taste-bud tempting vegetables than any other state, harvesting about 4 billion pounds of them annually.
16. There's no better place to buy furniture
High Point, N.C., is known far and wide as the furniture capital of the world, and it's got over 1.6 million square feet of furniture stores to prove it. Twice a year, the city hosts the High Point Market, where new furnishings are rolled out for professional buyers, but the average Joe is welcome here anytime. Just remember that a visit to the city isn't complete without stopping to take a look at the world's largest chest of drawers.
Tip: Best Time to Buy Furniture
17. The hockey team's not too shabby
Hockey's not just for northerners anymore, thanks to the arrival of the Carolina Hurricanes in 1997. If you're a diehard hockey fan, you might know them better by their previous name, the Hartford Whalers, but their winning track record is what really sets them apart. After coming off one of the best seasons in franchise history, the 'Canes went on to defeat the Edmonton Oilers in the 2006 Stanley Cup Championship.
18. North Carolina technically started the gold rush
Before people caught gold fever and prospectors started heading the west, North Carolina was the first to get in on the action. In 1799, Conrad Reed was playing by a creek in Cabarrus County when he found a shiny "rock" that weighed a whopping 17 pounds - and turned out to be gold. A year later, it was followed by the discovery of a 28-pound nugget on the same property, leading to the country's first gold rush.
19. You can't beat the view at Whitewater Falls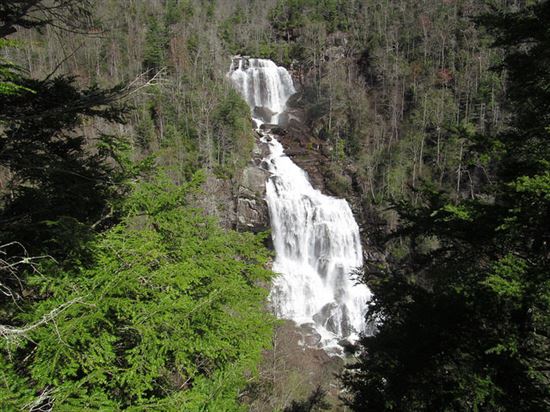 © Doug Kerr
Whitewater Falls is tucked away in the Jocassee Gorge in Jackson County, just before you get to the South Carolina state line. It's the highest waterfall east of the Rockies, plunging an astonishing 411 feet into the Whitewater River. Whether you're honeymooning or just out for a morning hike, there's no better place to soak up some of North Carolina's natural beauty.
20. Your favorite band is probably from North Carolina
From bluegrass to gospel to contemporary pop, North Carolina has spawned some of the most renowned musical acts ever to hit the airwaves. You probably know that American Idol alums Clay Aiken and Kellie Pickler hail from here, but that's just the tip of the iceberg. Singers James Taylor, Randy Travis, Ben Folds, Roberta Flack and Nina Simone can all trace their musical roots to the Old North State, along with The Avett Brothers and The Charlie Daniels Band.
21. All the best soft drinks were invented here
In 1893, Caleb Bradham invented a bubbly concoction of carbonated water, sugar, pepsin, kola nut extract, vanilla and rare oils he dubbed "Brad's Drink." Five years later, he changed the name to Pepsi-Cola, and a soft drink empire was born. As if that wasn't reason enough to love North Carolina, it's also the birthplace of Cheerwine, better known to locals as the cherry-flavored nectar of the gods.
22. The drivers are great at turning left
Although NASCAR officially got its start in Florida, legend has it that North Carolina is where the first seeds of stock car racing took root. Charlotte is heralded as NASCAR central, and you can take in the action up close and personal at the Charlotte Motor Speedway. The nearby NASCAR Hall of Fame celebrates the life and times of the sport's greatest racers, including the late, great Kannapolis native Dale Earnhardt.
Related: Gas Credit Cards
23. The tea is sweet and so are the people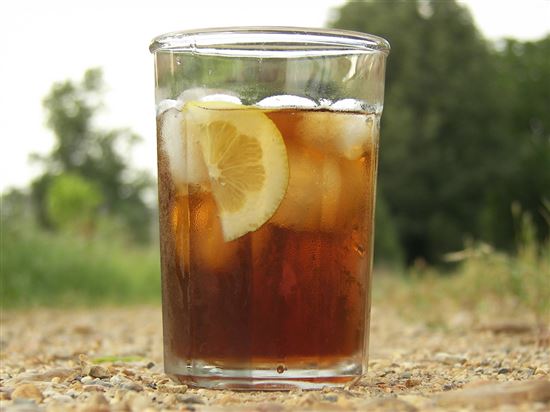 © MzScarlett A.K.A. Michelle (CC BY 2.0) via Flickr
Ask for unsweetened tea in a restaurant anywhere in North Carolina and you're likely to be greeted with a blank stare. A glass of tea without plenty of sugar and a slice of lemon is just brown water as far as people around here are concerned. Speaking of North Carolina residents, you'll be hard-pressed to find a friendlier, more polite group of people south of the Mason-Dixon Line.
Rebecca Lake is a journalist at CreditDonkey, a credit card comparison and reviews website. Write to Rebecca Lake at rebecca@creditdonkey.com. Follow us on Twitter and Facebook for our latest posts.
Note: This website is made possible through financial relationships with some of the products and services mentioned on this site. We may receive compensation if you shop through links in our content. You do not have to use our links, but you help support CreditDonkey if you do.
Read Next: