Best in Vacation Rentals: Top Travel Experts
---
Ready for your next vacation? Smart travelers know they can make the most of their vacation dollars by going through vacation rental services. Read on for the best ones.

Best Vacation Rentals © CreditDonkey
Top Vacation Rentals You're Missing Out On
If you have a favorite region to visit or you like only one type of environment (Ocean view only, please! City life or bust!) when you vacation, then you'll want to see the winners of the CreditDonkey Best in Vacation Rentals award. These sites, apps, and services make planning and managing (if you're a property manager) vacation rental properties easier and fun.
The hard part is figuring out where to look and which of the many vacation rental services out there are worth your time. Your search through all the vacation rental services and booking sites can end now. We have the definitive list of the very best in vacation rentals right here.
It's always fun to plan out a vacation, but we think what's even more fun is saving money while doing it. The folks at CreditDonkey are experts in saving up for and spending wisely on trips. Renting a place for a week is often more cost efficient than staying at a hotel, especially if you are taking along family members and are committed to cooking during some of the time you're away.
The vacation rental services and sites we list below save you valuable time by narrowing your rental search, and could save you money too by steering you away from pricey hotel chains. Ready to start planning your next vaca? You'll be well on your way once you've reviewed our list of the Best Vacation Rentals.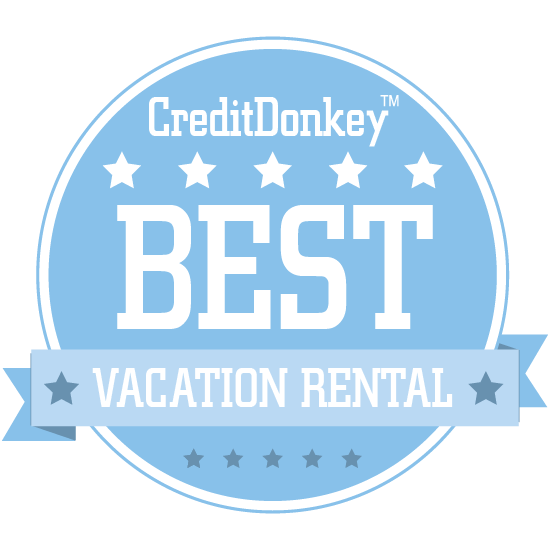 Best Vacation Rental © CreditDonkey
HomeAway


HomeAway allows you to deal with vacation rental owners and property managers to book the home where you want to stay during your next excursion. Whether you are an owner or traveler, it's a great way to safely and securely connect property managers and renters so that you can stay in an excellent alternative to a hotel. Brian Sharples and Carl Shepherd started HomeAway in 2005.

Why HomeAway is a Top Vacation Rental Resource: Explore more than 2 million places to stay in 190 places . Find options around the world and book online safely and securely, or list your vacation rental if you are an owner or property manager. They are based out of Austin, TX.

Read: Chance to Win Eiffel Tower Fast Pass Tickets
Follow @homeaway

Vacasa
Vacasa brings together the best aspects of staying in a vacation rental with the strongest parts of staying in a hotel. Through Vacasa, you can book unique vacation rentals across dozens of countries, but you also get a standard of excellence and familiarity that comes with every Vacasa rental. It's the great option of vacation rentals with the familiar care and attention to detail that you get from a hotel. Vacasa was started by Eric Breon (CEO) and Cliff Johnson (CDO) in 2009.

Why Vacasa is a Top Vacation Rental Resource: You can rent Vacasa homes across the U.S., Europe, South America, Central America, Caribbean and Africa. They are based out of Portland, OR.

WeNeedaVacation


A gentle breeze dances along the New England shore into your vacation cottage. You enjoy the warm water and soft sand and have the exact Cape Cod vacation you're trying to find. Whether it's Cape Cod, Martha's Vineyard or Nantucket, WeNeedaVacation lists over 4,000 vacation rentals in the region that have the amenities and price you're trying to find. Joan and Jeff Talmadge started WeNeedaVacation in 1997.

Why WeNeedaVacation is a Top Vacation Rental Resource: They offer flexible payment plans and membership benefits along the Cape and New England islands. They are based out of Brewster, MA.

Read: Win a dream vacation on Cape Cod
Follow @weneedavacation

All Star Vacation Homes


When it comes to your next trip to Florida, All Star Vacation Homes sets itself apart for comfort and luxury. With top-of-the-line rentals in Orlando, Sanibel and Captiva Islands, you will find unbeatable value for great vacation rentals. If you are looking for heated pools, car rentals, amenities, game rooms, screening rooms and spas, then All Star Vacation Homes is the place to start. All Star Vacation Homes' founder and CEO is Steve Trover.

Why All Star Vacation Homes is a Top Vacation Rental Resource: They offer 24/7 guest services, free Wi-Fi, free pool heat, easy payments and even car rentals for stays that are seven days or longer. You can book an All Star Vacation home in Orlando, Sanibel and Captiva, FL.

Read: Compete for Vacation Glory in the Inaugural Frozen Games
Follow @allstarvh

RENTALSCOMBINED.net


There are many choices when it comes to vacation rentals, but RENTALSCOMBINED.net stands out from the pack by specializing in rentals that work just as well for business. If you have a corporate-related trip, you can search through RENTALSCOMBINED.net's hundreds of thousands of properties to find a personable and professionally-managed business and vacation rental. RENTALSCOMBINED.net was started by Nico Nicholas and Elkie Nicholas.

Why RENTALSCOMBINED.net is a Top Vacation Rental Resource: They offer the best price guaranteed, no added fees and over 670,000 professionally managed properties. They are based out of London, UK, and have properties all over the world.

Read: Properties in Spain
Follow @RentalsCombined

Twiddy


The warm ocean winds and waves lap at the beach. You enjoy the gorgeous view from the patio of your vacation rental and spend a day packed with outdoor activities. The Outer Banks region of North Carolina has some of the best beaches in the country, and you can stay there in top-of-the-line vacation rentals thanks to Twiddy's offerings in the area. Twiddy was founded by Doug Twiddy in the northern Outer Banks.

Why Twiddy is a Top Vacation Rental Resource: They have over 1,000 rentals in the Outer Banks area of North Carolina. They are based in North Carolina.

Read: Sound to Sea Beach Club
Follow @TwiddyOBX

Blue Sky Luxury


When you think of one of the best places in the world for a beach vacation, the Caribbean islands are the near the top of almost any list. Whether you want to stay comfortably in a beautiful vacation rental on Barbados, Jamaica, St. Barts, St. Martin, St. Lucia or Dominica, Blue Sky Luxury manages over 300 Caribbean homes and villas to ensure the best stay possible. Sam Mahon started the company that became Blue Sky Luxury over 30 years ago in Barbados.

Why Blue Sky Luxury is a Top Vacation Rental Resource: They have properties in Barbados, Dominica, Jamaica, St. Maarten/St. Martin and St. Barts. They are part of the Terra Caribbean company that specializes in Caribbean real estate and rentals.

Read: Easter Availability
Follow @BlueSkyLuxury

Railey Mountain Lake Vacations


Western Maryland is a gem along the Eastern part of the U.S. and when it comes to lakeside vacations, Railey Mountain Lake Vacations offers some of the best. Whether you want a summer getaway or you want to take in the radiant foliage in the fall, Deep Creek Lake is one of the best places to relax, hike, or get in the water on your next getaway. Railey Mountain Lake Vacations was founded by Garrett County local Nancy Railey.

Why Railey Mountain Lake Vacations is a Top Vacation Rental Resource: They offer over 300 homes and over 150 employees to help with your stay. It's less than three hours from Baltimore, Fairfax and Pittsburgh. Their offices are based out of McHenry, MD.

Read: Deep Creek Lake Summer Specials
Follow @DCLvacations

Newman-Dailey Resort Properties


The warm ocean winds and waves lap at the beach. You enjoy the gorgeous view from the patio of your vacation rental and spend a day packed with outdoor activities. Newman-Dailey Resort Properties was cofounded by Jeanne Dailey in 1985, and she became sole owner in 1988.

Why Newman-Dailey Resort Properties is a Top Vacation Rental Resource: You can find beach house rentals, condos, homes with a pool and pet-friendly accommodations. They are based in Destin, FL.

Read: Dolphins Cottage from Newman-Dailey
Follow @newmandailey

La Maison Marigny
Classic charm, a gracious host, tasteful rooms and a local experience are just the start of what you'll experience at La Maison Marigny. A premier guest house and vacation rental in New Orleans, you get the best of a unique and private place to stay while being a short distance from the Bourbon Street attractions. John Ramsey, a New Orleans resident since 1991, is your helpful host at La Maison Marigny.

Why La Maison Marigny is a Top Vacation Rental Resource: The house is lauded on TripAdvisor, B&B and vacation rentals and provides classic charm in New Orleans. It is located at 1421 Bourbon Street in New Orleans.

Follow @lamaisonmarigny

Beach Properties of Hilton Head


Hilton Head Island, SC, has something for everyone. Whether you want a serene and quiet beach, fun town and community, or a large and luxurious vacation rental with a pool and beach access, Beach Properties of Hilton Head has professionally managed properties that reach the highest standards of the island. Beach Properties was founded in 1995 and is staffed with a team of reservationists and property management specialists.

Why Beach Properties of Hilton Head is a Top Vacation Rental Resource: They have rentals at Sea Pines, Palmetto Dunes, Sea Crest and Forest Beach. They are located in Hilton Head Island, SC.

Read: Sea Pines Home Rentals
Follow @beachPropHHI

GO-Cottage


Beautiful snow-capped peaks, endless hiking, reflecting lakes, history and activities all surround these tasteful bungalow cottages. GO-Cottage offers a two-bedroom and studio cottage and they have been recognized for their design in Country Living and Domino Magazine and on HGTV. GO-Cottage Founder and Designer, Sharon Middendorf has been featured in Country Living as Entrepreneur of the month.

Why GO-Cottage is a Top Vacation Rental Resource: You can book a 2-bedroom and studio cottage in Adirondack Park's high peaks district. They are located in Lake Placid, NY.

Follow @GoCottage

Luxury Retreats


If you want to take a first-class vacation, that means staying at a luxury villa with every possible amenity, a 24-hour concierge and prime location during your stay. Luxury Retreats offers beachfront escapes, mountain retreats, and ski slope getaways in every corner of the world for the highest class vacation of your life. Joe Poulin founded Luxury Retreats in 1999 to offer personalized villa vacation rentals.

Why Luxury Retreats is a Top Vacation Rental Resource: They offer over 4,000 professionally inspected villas, 24/7 guest support, a personal concierge, and a price match guarantee. Their offices are in Montreal, Canada.

Read: We Talk to Miss Malini
Follow @luxuryretreats

Onion House
One-of-a-kind architecture, history, tropical paradise, a swimming pool, privacy and accommodations unlike anywhere else. These are the things that await you at The Onion House, an architectural standout in Kona, Hawaii. With space for up to six people, a distinct design and flair and paradise as the backdrop, there is nothing else like it on the island. The Onion House is owned by Beth McCormick. The building was designed by Kendrick Bangs Kellogg.

Why Onion House is a Top Vacation Rental Resource: It has three bedrooms, two baths, sleeps up to six, pool and gardens. It is in Kona, Hawaii.

Vacation Palm Springs
Whether you want to search for pet-friendly homes, celebrity houses, luxury homes, midcentury modern designs or you're looking to purchase one for yourself, Vacation Palm Springs has any rental you're trying to find. The desert playground just two hours from Hollywood has architecturally-famous homes along with hiking, pools, nature and nightlife. The team at Vacation Palm Springs specializes in reservations, management and marketing.

Why Vacation Palm Springs is a Top Vacation Rental Resource: They let you book rentals that have anywhere from one to eight bedrooms in Palm Springs, Indio, Rancho Mirage. Palm Springs is just over two hours from Los Angeles, CA.

Fort Myers and Sanibel Vacation Rentals


The west coast of Florida offers some of the best locations in the country when it comes to beaches, warm water, boating, canoeing, kayaking, fishing and then enjoying a vibrant town, nightlife, art and culture on land. The official Fort Myers and Sanibel Vacations site allows you to book from 50 vacation rentals that offer direct access to the best that southwest Florida has to offer. You can search through 50 vacation rentals through the Fort Myers and Sanibel Vacations site.

Why Fort Myers and Sanibel Vacation Rentals is a Top Vacation Rental Resource: The vacation rentals offer access to beach activities, water fun, golf, arts, entertaining, dining and museums. They are located in Fort Myers, on the southwestern corner of Florida.

Read: The 3 Quirkiest Restaurants on the Beaches of Fort Myers & Sanibel
Follow @FtMyersSanibel

Evolve Vacation Rental Network


Owning a vacation rental is an excellent source of secondary income, but it can quickly turn into a full-time job. That's where Evolve comes into play. Their goal is to make property owners' lives easier by taking the heavy lifting of marketing and managing properties off their hands. They are dedicated to boosting bookings for a lower fee than competing property managers. CEO and founder Brian Egan oversees the company's goal of making property management easier and more profitable for owners.

Why Evolve Vacation Rental Network is a Top Vacation Rental Resource: They help you get more bookings, require lower fees for property management and offer flexibility with their services. Their headquarters are in Denver, CO.

Read: Which Listing Site is Best for Vacation Rental Owners?
Follow @evolveVRN

Sanibel Moorings
Over half of Sanibel Islands is a wildlife refuge, which makes Sanibel Moorings a pristine getaway for any kind of vacation. There are all types of vacation rentals to book, from a cozy home for you and a loved one or a large homestay for the whole family. You can explore the gardens, sign the kids up for sea school or get out on the water to explore everything the marine life has to offer from this one-of-a-kind vacation rental getaway. Sanibel Moorings' vacation rentals can be individually owned for your own side income or as a second home.

Why Sanibel Moorings is a Top Vacation Rental Resource: They have a waterfront location that is great for weddings, family trips, and romantic getaways. They are located on Sanibel Island, Florida.

Read: Gardens


Watershed Cabins


Great Smoky Mountains National Park is the most visited national park in the country. And one of the best ways to stay on your next visit is in the luxury rentals of Watershed Cabins. Whether it's a couple's getaway or a family trip, you can find these log and stone cabins with every amenity possible just a short trip from a wealth of activities and adventures. Tim Goodwin, President of Watershed Cabins, founded the company in 1998.

Why Watershed Cabins is a Top Vacation Rental Resource: They have lakefront, mountain, and motorcycle-friendly lodging options near the Great Smoky Mountains. Their offices are located in Bryson City, NC.

Read: Watershed Cabins Sunset View Lodge
Follow @watershedcabins

Accomable


Accomable features over 1,100 listings in over 60 countries and offers rentals to people who need accessible vacation rentals. Whether you have mobility difficulties or you are traveling with someone who does, you can find a stay that will make your next trip easier and accommodating in almost any corner of the globe. The company was founded by Srin Madipalli and Martyn Sibley, who met when they were children in a support group for kids with Spinal Muscular Atrophy.

Why Accomable is a Top Vacation Rental Resource: They let you search by location, filter depending on your needs, and book online. They are based out of the UK.

Read: Accessible hot tubs
Follow @Accomable

Straus Home Ranch


The Straus Home Ranch in Tomales Bay has everything that you would want from a Northern California getaway. This newly-renovated, 150-year-old home on 166 acres by the beautiful waters of Tomales Bay goes even further than your average rental by offering every amenity that you'll need, along with yoga gear, a library and games to chill out with friends, family or a loved one. The Straus Home Ranch was purchased by William Straus back in 1941.

Why Straus Home Ranch is a Top Vacation Rental Resource: The home sleeps up to 10 people, has a 1910 Steinway piano, outdoor patio and BBQ, along with a fully-equipped kitchen. It is located in Marshall, CA.

Read: Farm Tours
Follow @StrausHomeRanch

Boutique Homes
Many vacation rental options are listed online by owners or property managers. Boutique Homes sets itself apart by offering a curated list of amazing places to stay. They put the architecture, home, design and living history first. Their collections of vacation rentals span the world but remain consistent to offering an eye on design and taste wherever you stay. Boutique Homels was founded by Heinz Legler and Veronique Lievre in 2010.

Why Boutique Homes is a Top Vacation Rental Resource: You can use Boutique Homes to book vacation homes, chic and cheap hideaways, beach houses, glamping, large houses and beach homes. They are based in Los Angeles, CA, with rentals available around the world.

Vail Residences at Hotel Talisa
You finish a full day of skiing down some of Colorado's best slopes. You make your way to your private vacation rental replete with multiple bedrooms and fully-equipped kitchen. You get to warm up and sip on a beverage while enjoying the gorgeous views. You can get a personalized experience with all the conveniences and resort amenities within Hotel Talisa and Vail Residences at Hotel Talisa in the heart of Colorado ski country. Hotel Talisa is part of the Marriott International Luxury Brands and is owned by Laurus Corporation.

Why Vail Residences at Hotel Talisa is a Top Vacation Rental Resource: They offer daily housekeeping, shuttle to Lionshead Village and Vail Villages, private garage parking and access to all resort amenities and privileges. They are located in the ski town of Vail, CO.

Read: Laurus Corporation Announces New Name of Vail Cascade Condominiums


CéBlue Villas & Beach Resort


The soft, pristine sand stretches across an empty shore and endless ocean. The warm breeze kicks off the coast and it's all steps from your own private villa. That is the experience you can get at CéBlue Villas & Beach Resort. With white sand beaches and translucent waters, you can have the perfect Caribbean vacation in one of the best places to stay on Anguilla. CéBlue Villa properties can be individually purchased and owners can get professional property management and furnished villas.

Why CéBlue Villas & Beach Resort is a Top Vacation Rental Resource: They offer rooms with one to five bedrooms and some with private pools, along with great dining options on the property. They have properties on Anguilla in the Eastern Caribbean islands.

Follow @Ceblueanguilla

New England Vacation Rentals


Cape Cod is one of New England's best summer playgrounds. Whether you want to spend the entire day at the beach or in the water, or you want to enjoy great food and nightlife, there is something for individuals, couples and families. New England Vacation Rentals manage and market properties that fit a range of budgets and interests throughout Cape Cod. Joanne Logie is the founder and managing director of New England Vacation Rentals.

Why New England Vacation Rentals is a Top Vacation Rental Resource: They offer homes with pools, pet-friendly rentals, and multiple bedroom home rentals on Cape Cod. They have offices in Harwich Port and Chatham, MA.

Read: 9 Wilfin Road South Yarmouth Cape Cod in Cape Cod
Follow @nevacrentals

Hawaii Beach Homes
For your next Hawaii vacation, consider getting away from the strip of hotels and stay in a crafted Hawaiian guest house or cottage on Oahu. With great access to the beach and everything the island has to offer, these professionally-managed properties mean you will have a distinct and memorable stay with the privacy and convenience that you wouldn't find at a larger chain resort. Hawaii Beach Homes is a family-owned business committed to providing the best Hawaiian experience for travelers.

Why Hawaii Beach Homes is a Top Vacation Rental Resource: You can stay in beautiful houses with easy access to the beach, mountains, shopping, restaurants, activities, golf and tennis. They are based out of Honolulu, Hawaii.

Read: E. Koi Pond Cottage


Wyndham Vacation Rentals


Wyndham Vacation Rentals offers the hospitality, service and standards you'd expect from a fine hotel, along with the uniqueness, convenience and comfort of a vacation rental. What sets their thousands of bookable vacation rentals apart is its Bill of Rights. This pledge promises to make your trip the best that it can be.

Why Wyndham Vacation Rentals is a Top Vacation Rental Resource: They offer beach vacations, snow and ski, fishing, golf, tennis, and mountain retreats. They are located all over the world, with their offices in Parsippany, NJ.

Read: Gather Together This Fall in the Smokies Deal
Follow @Wyndham_Rentals

Time And Place Luxury Vacation Rentals


Time And Place curates luxury vacations for travelers. That doesn't just mean some of the best vacation homes in every corner of the world. It means exotic adventures and experiences with 24-hour customer service and trips that are tailored to your interests. Whether you are on the water, ski slopes, restaurants or wineries, Time And Place offers one of the best, all-around experiences in the luxury travel sector. Time And Place was founded by Mitch Willey in 2001 with a love for real estate, hospitality and travel.

Why Time And Place Luxury Vacation Rentals is a Top Vacation Rental Resource: They offer curated luxury homes, villas, tailored travel and world-class experiences. They have rentals across North, Central and South America, the Caribbean, Europe and Southeast Asia.

Read: Top 10 ski in ski out vacation rentals in Park City
Follow @TimeandPlaceCo

Discover Vacation Homes
Whether you are thinking about owning a vacation rental, have questions, need advocacy, looking for a community of vacation owners, or are a traveler who doesn't know where to start, Discover Vacation Homes is the resource for you. They are a trusted advocacy group and valuable resource in the world of vacation rentals and can answer any question for travelers and property managers. Discover Vacation Homes got off the ground in 2006, initially by the top vacation rental management companies in Central Florida.

Why Discover Vacation Homes is a Top Vacation Rental Resource: They are a trusted voice and resource for vacation rental owners. Discover members own properties across the U.S., Canada, Mexico and Caribbean.

InvitedHome


InvitedHome's mission is simple: help owners of vacation rentals earn as many bookings as possible while improving the property management experience. With vacation rentals in some of the most desirable locations in the world, InvitedHome aims to ensure that guests receive hotel and resort treatment while enjoying all the comforts that come with a private rental. Invited Home was founded by Michael Joseph and Tom Feldhusen to improve the vacation home ownership experience.

Why InvitedHome is a Top Vacation Rental Resource: They help owners receive more bookings and visibility, property management and 24/7 customer service. They are based out of Boulder, CO.

Read: Above It All
Follow @InvitedHome

El Sol Villas


Ever thought of staying at a Spanish castle? How about a Tuscan villa or a private French chateau? El Sol Villas makes that a reality with their one-of-a-kind rentals in Spain, Italy, France and all across the world. You can live like a king or queen and make all your vacation and travel dreams come true with these villas that have been recognized by Condé Nast, The Wall Street Journal and Travel and Leisure. Mary Vaira founded El Sol Villas in 1999.

Why El Sol Villas is a Top Vacation Rental Resource: They have luxury vacation rentals that are great for business conferences, lavish weddings, or family retreats. They are based out of Wayne, Pennsylvania, near Philadelphia.

Read: SITGES VILLA
Follow @ElSolVillasRent

Anna Maria Island Home Rental


Anna Maria Island Home Rentals got its start when two friends and their families fell in love with vacationing on the island. Their purchase of their first home got the business off the ground and today they share their enjoyment of the getaway with guests who stay at those vacation rentals. Anna Maria Island is a slice of Florida island paradise on the west coast of the state, and these three properties have everything that families and friends will need for their vacation. Anna Maria Island Home Rentals was founded by Nancy McAleer and Terri Mason, whose families loved to vacation on the island.

Why Anna Maria Island Home Rental is a Top Vacation Rental Resource: They oversee and manage three different properties just steps from the beach on Anna Maria Island. It is located just south of St. Petersburg, Florida.

Read: Waterfront Vacation Rentals
Follow @beachblisslivin

Red Cottage Inc.
With a great combination of rustic, natural and tasteful, Red Cottage oversees properties that make for great getaways. With access to bountiful hiking, biking, lakes and rivers, you can take the whole family or group of friends to one of their properties and quickly fall in love with the houses and region so much that you won't want to go back at the end of your trip. Red Cottage Inc. was founded by Jennifer Grimes in 2007.

Why Red Cottage Inc. is a Top Vacation Rental Resource: They allow you to find vacation rentals based on group size, location, available dates, and location services. They are based out of Grahamsville, New York.

Kozaza


Kozaza is a home rental and booking site that specializes in places to stay across South Korea. Instead of booking a hotel, Kozaza allows travelers to receive a more authentic stay in traditional houses across the country. Whether you are going to Seoul, Jongjo, Myeong-dong, Busan or any other Korean city, there is a unique place to stay that will make your trip more memorable. Founder and CEO Sanku Jo brings over 25 years of experience to Kozaza.

Why Kozaza is a Top Vacation Rental Resource: With Kozaza, you can experience real Korean homes, traditional Hanok, and receive the best price guaranteed. They are based in Seoul, Korea.

Read: Feel and enjoy the scent of tradition
Follow @kozazaCom

Stay Alfred


Stay Alfred understands that business travelers, solo adventurers and families want a level of consistency in the places they stay. That means professional cleaning, amenities, activities and management on par with the best hotels. Stay Alfred offers that level of service with vacation rentals located in the heart of 14 major cities across the country. You get the best of a hotel and vacation rental while enjoying the best of every city where they have a rental. Jordan Allen is the CEO of Stay Alfred, with the mission of providing the best of hotels and vacation rentals for urban travelers.

Why Stay Alfred is a Top Vacation Rental Resource: They offer vacation rentals in downtown locations with consistent standards across their locations. They are based out of Spokane, Washington.

Read: Our Newest Downtown San Diego Vacation Rentals
Follow @StayAlfred

Cleveland House Hotels


Whether you are taking a vacation to Cleveland, Ohio, in town for business, or want to put in an extended stay to Northeastern Ohio, Cleveland House Hotels manages any type of short-term and vacation rental you're looking for. With pet-friendly, furnished, and comfortable options that work for a range of budgets, Cleveland House Hotels' owners are excited to share their love for the city with the guests who visit. Billy Fronimo and Nick Semertsidis are managing partners of Cleveland House Hotels.

Why Cleveland House Hotels is a Top Vacation Rental Resource: They offer space for small and large groups, rentals for varying lengths that are fully furnished, pet-friendly and near public transportation. They oversee properties in Cleveland, Ohio.

Follow @CleHouseHotels

Wilton House


There aren't many parts of the country where you can stay in a rental that is a piece of living history. At Wilton House, you can experience history and the past in this 250-year-old former plantation that has been preserved to appear as it did when it was first constructed. Whether you want to stay for a week, month or season, you can make one of Tidewater Virginia's oldest buildings home. Preservation Virginia helped preserve the Wilton House, which was originally built in 1763.

Why Wilton House is a Top Vacation Rental Resource: The house has eight furnished rooms with 18th and 19th century antiques, 19th and 20th century paintings, and elegant china. The house holds up to six guests in three bedrooms. It is located in Harfield, Virginia.

Follow @WiltonHouseVirg

Creamhotel
Creamhotel not only manages exquisite properties in the U.S., Mexico, Rio and Europe, but they are a brand and lifestyle company as much as vacation rental management. That is because they believe in connecting people, building experiences, and sharing that passion for design and travel that brings us to seek out unique homes and vacations around the world. Their eye-catching properties around the world represent the creativity that goes into every one of their homes. Cream was founded by Stephan Blanc and Virginia Villari in 2011.

Why Creamhotel is a Top Vacation Rental Resource: They offer property management and marketing along with travel experiences, but they are also a brand and way of life built around creativity, travel and connections. They are based out of New York City.

MadeComfy


One of the trickier aspects of running a short-term rentals such as Air BnB is the property management side of things. MadeComfy solves that by offering a full service company for renting and managing the place you list on Airbnb. That can mean everything from handling bookings through ensuring your place is ready for guests, rate optimisation, and managing cleaning. MadeComfy was founded by Sabrina Bethunin (CEO) and Quirin Schwaighofer (COO).

Why MadeComfy is a Top Vacation Rental Resource: They ensure your home is ready for guests, offer insurance advice, supply linens and a welcome pack, and manage housekeeping. It is available in its home country of Australia.

Read: Home Page
Follow @MadeComfyau

The Inn at Newport Ranch


Located on 2,000 acres of coastline, the accommodations have been featured in Condé Nast and The Wall Street Journal. In addition to being pure luxury in California paradise, it is also located on a working cattle ranch. Will Jackson purchased the 2,000-acre ranch in 1986. It is located in Fort Bragg, CA.

Why The Inn at Newport Ranch is a Top Vacation Rental Resource: You can have one of the best views of the ocean from The Inn at Newport Ranch.

Read: Accommodations
Follow @newportranch

Elite Luxury Homes
Elite Luxury Homes pulls out every stop when it comes to providing the highest tier of luxury. Whether you are looking for a Malibu beach villa or private estate in Beverly Hills, they don't just stop at the highest quality rentals. They also provide every kind of personalized concierge service from private chefs, butlers and yoga instructors. Any amenity and luxury you can imagine is available at their properties around the world. CEO Martin Beaurivage oversees Elite Luxury Homes' mission to providing unparalleled upscale stays.

Why Elite Luxury Homes is a Top Vacation Rental Resource: In addition to luxury rentals, they provide an Elite Concierge where guests can request a maid or butler, bodyguard, chauffer, chef, baby nurse, massage therapist, assistant, shopper and yoga instructors. They are based in Los Angeles and have rentals all over the world.

Read: Home


GuestHouser


If you are traveling around India, GuestHouser offers a more personal and unique way of seeing the country. With a specialty in holiday homes and vacation rentals around India, you can use GuestHouser to find unique places to stay at affordable prices. They make the process easy with an intuitive app and 24/7 chat support. GuestHouser was founded by Dhruv Sharma and Braden Hanlon.

Why GuestHouser is a Top Vacation Rental Resource: You can book villas, guest homes, tree houses, cottages, houseboats and apartments across India through GuestHouser. They have offices in Gurugram and Goa.

Read: "Element-ary," My Dear Watson
Follow @GuestHouser

Surfcomber Vacation Rentals
San Diego is home to some of the best beaches, surfing and nightlife in the entire country. One of the best ways to enjoy everything that the city has to offer is by staying at a Surfcomber vacation rental. With 15 properties in Mission and Ocean Beaches, they have rentals from studios to over four bedrooms for a couple's getaway, trip with friends or family vacation to one of the nicest cities in California. Ryan Scott founded Surfcomber with his passion for real estate and property management.

Why Surfcomber Vacation Rentals is a Top Vacation Rental Resource: They have 15 rentable properties for different group sizes in Mission Beach and Ocean Beach, CA. They are based out of San Diego, CA.

Vaystays
One of the downsides with vacation rentals is that you don't always know what you're getting until you walk in the door. In many instances, quality can vary from place to place. Vaystays aims to give the excellence and standards you'd find at a hotel with the uniqueness of vacation rentals. All their properties reach the highest standards in property management, no matter where you travel. CEO Wes Smithe oversees Vaystays' commitment to high-quality vacation rentals around the world.

Why Vaystays is a Top Vacation Rental Resource: They offer over 25,000 rentals that are professionally managed and instantly bookable. They are based out of Chicago, IL.

Read: Careers at Vaystays


Surfbreak Rentals
You wake up in a beautiful beachside vacation rental. You throw on a wetsuit, grab your surfboard and hit the waves first thing in the morning. That's the beauty of Surfbreak Rentals, which specializes in vacation rentals with access to some of the best surfing in the world. Surfbreak Rentals was founded in 2013 by Matt Belden and Will Hutchinson.

Why Surfbreak Rentals is a Top Vacation Rental Resource: You can book over 1,800 houses, surf camps, hotels, and rooms with access to great surfing. They are based in Mill Valley, CA.

Escape to Northwest Florida
Midway between Tallahassee, Florida, and Mobile, Alabama, not far from Pensacola, is the beach paradise of Santa Rosa Island, Florida. Escape to Northwest Florida oversees vacation rentals on the beautiful and warm waters along the Gulf of Mexico. In addition to an upscale place to stay at an affordable price, you can enjoy all the nightlife and activities that the Florida panhandle has to offer. Managing Partner, Amy Wise-Coble, brings her extensive hospitality background to Escape to Northwest Florida.

Why Escape to Northwest Florida is a Top Vacation Rental Resource: In addition to great vacation rentals, they offer great deals on dining, recreation and shopping. They are based out of Santa Rosa Beach, FL.

The Paddle House
If your dream vacation involves staying at an amazing and luxurious cabin not far from some of the best hiking and whitewater rafting in West Virginia, then it's tough to beat The Paddle House. With unbelievable views, four bedrooms, two outdoor decks and a dining room with space for 14 guests, you can stay in a large and cozy house that will quickly feel like home. The Paddle House was designed by Class VI River Runner Bahlmann Abbot.

Why The Paddle House is a Top Vacation Rental Resource: The 3,000 square foot house features seating for 14, two outdoor decks, an outdoor hot tub, indoor gas fireplace, four bedrooms and four baths, a doghouse and fire pit. It is located in Lansing, WV.

Floating Farmhouse
You'll never want summer days to end and you won't want to leave the cozy winter confines when you visit the 5-star getaway Floating Farmhouse in the Catskills Mountains. With a mix of modern architecture and 19th century structure, these cathedral-like rooms are perfect for a group getaway, family vacation or wedding. There is nothing like it this close to New York, and the surrounding forest and endless activities will quickly make the farmhouse feel like home. Tom Givone is the owner and designer of Floating Farmhouse.

Why Floating Farmhouse is a Top Vacation Rental Resource: In addition to world-class design, it has a wood-fired oven, porch and gazebo, meadow, and forest surroundings. A personal chef and yoga teacher can also be arranged. It is located in Eldred, NY, in the Catskill Mountains.

Primland


The Blue Ridge Mountains seem to stretch endlessly into the horizon, and they are one of the best places to visit along the entire east coast of the U.S. Primland offers equally unique vacation rentals in these well-tended lodges. The mountain homes at Primland have sweeping views, relaxing patios, gas grills and room for a cozy couples' getaway or the entire family. Primland traces its history back over 250 years to 1747, when William Austin was granted 60,000 acres of land.

Why Primland is a Top Vacation Rental Resource: Options include well-appointed bedrooms, fully-equipped kitchens, high-speed internet, fresh linens and towels along with a gas grill. They are located in Meadows of Dan, VA.

Read: Blue Ridge Parkway Accommodations
Follow @primland

Pure Maui
Pure Maui redefines the idea of a luxury vacation. With mansions in paradise that can sleep all your friends and family, a dedicated team of gourmet chefs, yoga instructors, fitness trainers and adventure guides, they provide a Hawaiian experience unlike anything else. Their homes are architectural wonders and the experiences are unmatched in the world of luxury vacation rentals. Owner and CEO Phil Jones brings over 30 years of experience in the travel industry to pure Maui.

Why Pure Maui is a Top Vacation Rental Resource: They offer luxury accommodations across the island along with a dedicated staff of adventure guides, chefs, massage therapists, surf instructors, yoga teachers, and fitness trainers. They manage 13 locations on the island of Maui, Hawaii.

Park City Lodging


Whether you want to enjoy some of the best skiing in the country, take in the world-famous Sundance Film Festival, or enjoy the endless number of hiking and biking trails, Park City, Utah, is one of the best vacation spots in the country. Just as you can tailor any trip to your liking, Park City Lodging has a vacation rental that will fit any kind of interest, budget, group or activity with their professionally-managed properties throughout Park City and Deer Valley. Park City Lodging President Rhonda Sideris oversees a staff that's dedicated to providing the best Park City stay possible.

Why Park City Lodging is a Top Vacation Rental Resource: They have accommodations that are great for a couple's getaway, family vacation, groups and gatherings, business meetings, luxury options and homes that are private retreats or right near the action. They are based out of Park City, Utah.

Read: Couples Getaway
Follow @parkcitylodging

Paradise Point Estates


When President Barack Obama traveled with his family to Hawaii, they would stay at the luxurious Paradise Point Estate. With the opportunity to vacation like a president, you can stay in this gorgeous slice of paradise and it's all less than 30 minutes from the Honolulu airport. Whether you are looking for a business getaway or family retreat, the Estate at Paradise Point is one of the best luxury options on the island. The Paradise Point Estate is managed by Glenn Weinberg.

Why Paradise Point Estates is a Top Vacation Rental Resource: The 5-bedroom, 5.5-bath estate is only 25 minutes from Honolulu and offers every luxury amenity of a top-rated hotel in a vacation rental. It is located in Kailua, Hawaii.

Read: Obama Winter White House
Follow @ParadisePointHI

VeryUs


VeryUs allows people to take their Airbnb and vacation rentals even further by maximizing revenue from social and group trips. You can use the site in numerous countries around the world to increase occupancy within your rentals by opening up the world of group bookings using VeryUs' easy and intuitive platform. VeryUs was founded by Matthew Heady and Ryan Heinemeyer, who bring extensive backgrounds in hospitality and tech.

Why VeryUs is a Top Vacation Rental Resource: You can book social groups, accept partial bookings, boost profit margins and verify social identities. They have properties across North America, Spain, Canada, Thailand, Switzerland, Australia, the UK and Italy.

Follow @veryustravel

Oasis Collections


Oasis Collections is a great and luxurious middle ground between hotels and Airbnbs. After you receive an in-person greeting at check-in, fresh linens and free Wi-Fi, you can enjoy some of the best rentals that have been professionally cleaned and managed. In addition to beautiful homes, guests receive perks and exclusive access to gyms, spas, restaurants and boutiques near your stay. Oasis Collections was founded by William Bateman and Parker Stanberry in 2009.

Why Oasis Collections is a Top Vacation Rental Resource: They offer in-person check-ins, professional cleaning, free Wi-Fi and local perks for travelers. Based out of Miami, they have locations across the U.S., South America, Central America and Europe.

Read: 10 Reasons to Visit Cartagena for New Years
Follow @staywithoasis

Glacier Canyon Lodge at the Wilderness


The Glacier Canyon Lodge at the Wilderness has something for the entire family. Whether it's an endless amount of fun at their epic waterpark, a challenging golf course, a well-tended hotel room or a spacious condo, you get all the amenities of a private stay and vacation rental with the convenience of a family resort. The team, Tom Lucke, Pete Helland Jr., Tim Lucke, and Pat Helland can trace their heritage to Wisconsin Dells back to the 1800s.

Why Glacier Canyon Lodge at the Wilderness is a Top Vacation Rental Resource: They offer hotel rooms through two- and three-bedroom condos and an enclosed skywalk to the Wilderness Hotel. It is located in Baraboo, WI.

Follow @WildernessWI
More from CreditDonkey: