23
Cruise Ship Industry

Statistics That Will

Surprise You
---
Whether you're a seasoned cruiser or you prefer to keep your feet firmly on land, here are 23 things that might surprise you about the cruise industry.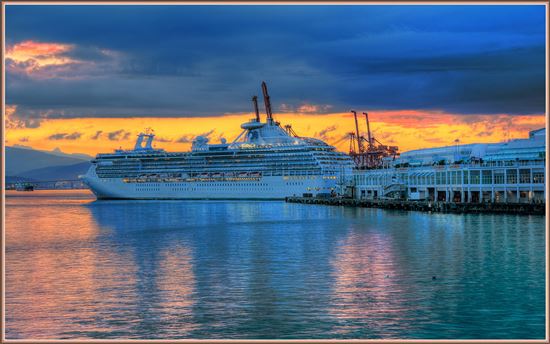 Cruise Ship Docking © tdlucas5000 (CC BY 2.0) via Flickr
1. Cruises aren't just for seniors
Cruises are certainly popular among the older crowd, but seniors are not the only ones who enjoy sailing the high seas. According to International Cruise & Excursions, a private company that specializes in providing branded leisure and cruise packages for business clients, the average cruiser is 46 years old. Kids are getting in on the action too; the Cruise Lines International Association (CLIA) puts the number of young cruisers at roughly 1.5 million each year.
2. Cruise ship travel is on the rise
The economy is slow to rise, but people are still boarding ships for leisure time. In 2013, approximately 20.3 million people took part in a cruise. By 2018, that figure is projected to hit 24 million people, according to Cruise Market Watch. Overall, cruising continues to be the leader of the leisure travel industry; in 2014, the cruise ship industry brought in more than $37 billion in revenue, a 2.3% increase over the previous year.
3. Price is more important than the destination
You might think that it's a particular place or the amenities that lead travelers to choose one cruise line over another, but their decision tends to always come down to dollars. According to the CLIA's 2014 Cruise Industry Update, nearly 87 percent of agents said price was the number one motivating factor for consumers when booking a cruise.
4. Florida is the cruise capital, but it's got some competition
From year to year, Florida remains the undisputed king of the cruise industry, with 6.1 million embarkations in 2012. That's not the only place, however, that sees heavy traffic from cruise passengers. Texas, particularly the city of Galveston, accounts for 6 percent of all departures and generates over $1 billion in revenue each year. Alaska also gives the Sunshine State a run for its money, receiving roughly 3.5 million cruise passenger visits annually.
5. And everyone wants to go to the Bahamas
Even though cruises to far-off places like Alaska and Australia are catching on, the Caribbean remains the destination of choice for the majority of travelers. The CLIA's 2014 industry report cited the Caribbean as the most popular cruise destination, accounting for just over 37 percent of bookings.
6. Americans are the most cruise-happy
Besides ranking the top destinations for cruise-goers, the CLIA also looks at which countries boast the largest number of passengers climbing aboard each year. The U.S. takes the largest slice of the pie with nearly 52 percent of travelers departing locally. Ireland, the U.K., and Germany also scored spots in the top 10.
7. Customer satisfaction is kids' stuff
An interesting finding from the J.D. Power Satisfaction Report centers on which cruise lines tend to have the most satisfied customers. While you might be thinking of heavy hitters like Carnival and Royal Caribbean, it was actually the Disney Cruise Line that put the most smiles on the faces of adults and children alike, earning a satisfaction score of 871 compared to the overall survey average of 824.
8. Tens of thousands of pounds of food for one excursion
One of the best parts of taking a cruise is enjoying some delicious meals, and ships are equipped to feed an army. For example, guests aboard Carnival Cruise Line's larger-than-life Dream consume 3,660 pounds of prime rib and 7,840 pounds of chicken during the course of a weeklong trip. That's not including the 37,000 gallons of soft drinks, tea, and cocktails they use to wash it down. The Queen Mary 2 takes on 150 tons of food every 10 days.
9. And that adds up to plenty of waste
Cruise ships produce a startling amount of waste — estimated at up to 25,000 gallons of sewage from toilets and another 143,000 gallons from sinks and showers per day. According to the Environmental Protection Agency, that all adds up to about 1 billion gallons of waste that enters the world's oceans annually.
10. Water pollution isn't the only problem
International and federal regulations have attempted to reduce the amount of air pollution generated by cruise ships, but there's still work to be done. The EPA estimates that in 2012, the Sapphire Princess, an Alaska Cruise Lines vessel, produced the same amount of sulfur dioxide as 13.1 million cars in a single day. That's not to mention the amount of soot it created, which is the equivalent of 1 million vehicles.
11. Being a cruise ship employee isn't always glamorous
Visiting exotic ports of call and meeting new people on a regular basis sure sounds exciting, but for some cruise ship workers, it's not all it's cracked up to be. Generally, crew members are required to work at least some part of every day that they're contracted to be onboard, and shifts can last 12 to 16 hours. When it comes to wages, the take-home pay can start as low as $700 for non-tipped employees.
12. Not every passenger makes the return trip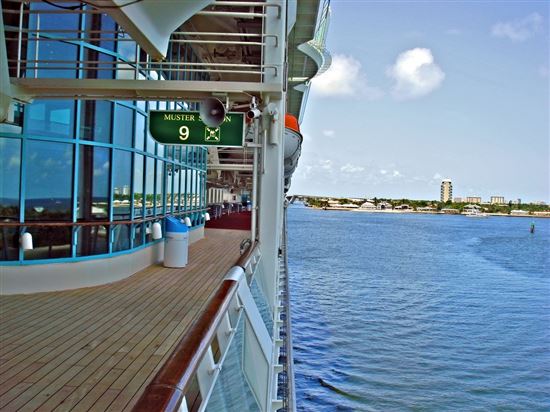 cruise ship edge © Chris Dlugosz (CC BY 2.0) via Flickr
What starts out as a dream vacation doesn't always end that way for some travelers. According to the calculations of Ross Klein, a professor at Memorial University of Newfoundland who is considered an expert on the cruise industry, approximately 200 people have gone missing during a cruise since the year 2000. Overall, Carnival Cruise Line and Royal Caribbean have experienced the highest number of disappearances.
13. Today's cruise ships make the Titanic look small
When it launched on its doomed maiden voyage, the Titanic was hailed as the juggernaut of its time, but among today's cruise fleet, it would be considered downright tiny. Royal Caribbean's Oasis of the Seas, one of the world's largest cruise ships, is 1,187 feet long, versus the Titanic's 890 feet, and it boasts a capacity that's roughly five times that of its smaller counterpart.
14. You'll need to practice your fire drills
You'd think that something like fire wouldn't be an issue aboard a cruise ship; after all, you're surrounded by water, so what could go wrong? According to Klein's website, CruiseJunkie.com, there were at least 100 incidents involving onboard fires between 1990 and 2013. Since 2006, the number of fires occurring each year has hovered around eight or nine.
15. And pack plenty of hand sanitizer
When you've got thousands of people sharing close quarters, it's inevitable that someone's going to get sick along the way. To date, the Centers for Disease Control and Prevention has recorded nine separate outbreaks of gastrointestinal illness on cruise ships in 2014, eight of which were attributed to a norovirus. A total of 1,547 cruisers experienced symptoms associated with norovirus, and the largest outbreak occurred aboard the Royal Caribbean Explorer of the Seas. More than 20 percent of the ship's passengers were sickened during a 10-day outing in January 2014.
16. Cruising can be addictive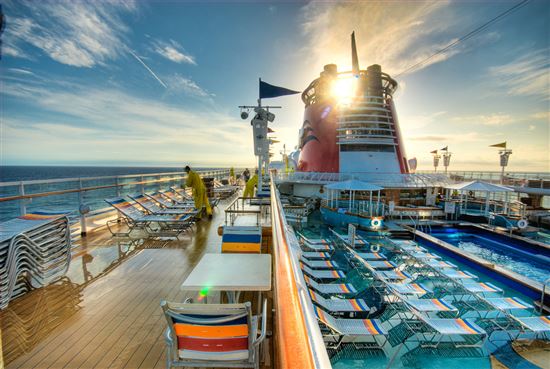 Good Morning Magic © Peter Dedina (CC BY 2.0) via Flickr
While there are plenty of first-timers embarking on cruises, more often than not, cabins are occupied by seasoned pros. According to the Florida-Caribbean Cruise Association's 2013 Cruise Industry Report, nearly 40 percent of trips lasting three days or longer booked in 2012 involved passengers who had been on at least one other cruise previously. Destination cruisers, those who travel with a specific location in mind, set out every 14 months on average.
17. Married couples cruise the most
Novices may view cruises as places to meet up with other singles, like The Love Boat, but the fact is most passengers are already hitched. Approximately 80 percent of cruisers travel with their spouse, and just 31 percent are bringing the kiddies along for the ride. A mere 2 percent prefer to travel solo.
18. But you can get a deal if you go in a group
It's actually less expensive to travel with a group of people versus going it alone. The J.D. Power 2013 Cruise Line Satisfaction Report found that the average cost for a single traveler was $1,628 compared to $2,330 for a group of two to four people.
19. Cruises aren't crime-free
Anytime you go on vacation, there's always the chance that you could become the victim of a crime, and cruise ships are no different. A 2013 congressional report found that 959 crimes involving passengers were reported to the FBI since 2011. While that may seem high, the cruise crime rate is still much lower than the national average.
20. You could spend one-third of the year on one trip
The Florida-Caribbean Cruise Association puts the average cruise length at 7.5 days, but longer trips are catching on. Silversea, for instance, is currently selling tickets for its 2015 and 2016 World Cruises, which are scheduled to last 115 days, stopping at 50 ports in 30 countries along the way. In addition to needing a big chunk of time off from work, you'll also need a big-time travel budget: the fares start at $59,000 per person.
21. River cruising is gaining ground
Cruises aren't just for exploring international waters; they're also a great way to see some of the sights right in your own backyard. A 2013 survey of 600 Cruise Lines International Association agents found that 61 percent of people who expressed interest in taking a cruise specifically mentioned river cruising as something they'd like to try. Over the past five years, the number of passengers taking river cruises has increased by 10 percent annually.
22. Cruise ships are anything but low-tech
Smart technology has seeped into just about every aspect of our world, and the cruise industry is no exception. The CLIA notes that ships are increasingly being outfitted with the latest and greatest in electronic conveniences. Royal Caribbean's Splendour of the Seas, for example, features iPads in every stateroom, and the Carnival Breeze offers a 5-D theater experience with sensory-driven special effects.
23. Shipwrecks aren't the norm
Statistically speaking, we all know this fact, but those who are new to cruising may not realize just how rare a mishap is. The 2012 sinking of the Costa Concordia received so much press attention and sparked concerns over the safety of cruises in general. In reality, incidents involving shipwrecks and sinkings are the exception to the rule. According to CruiseJunkie.com, just 16 vessels sank between 1979 and 2013. And on average, reports of ships running aground occur less than three times a year.
Rebecca Lake is a journalist at CreditDonkey, a credit card comparison and reviews website. Write to Rebecca Lake at rebecca@creditdonkey.com. Follow us on Twitter and Facebook for our latest posts.
Read Next: