Cell phone theft: how unprotected apps may give a thief more than just your smartphone
---
It used to be that when someone stole your phone you merely replaced it and worried about how many calls the thief placed on your dime.
Now, with phones getting smarter, a loss or theft raises the ante. All your financial records, plus any bank info or even payment mechanisms are in the thief's hands and he could drain your accounts. Now, losing a cell phone is even more devastating than losing your wallet.
A developing trend these days is using a handheld device to pay for transactions. While this nascent technology brings great convenience and may eventually allow you to leave the cash and plastic at home, this will make your phone even more valuable to thieves. Protecting your smartphone will become more critical as this trend becomes more mainstream.
In truth, though, it'll be a while before this mobile wallet technology takes off. Recently, 68 percent of more than 1,200 people surveyed by CreditDonkey said they weren't ready to replace their cash with a smartphone, and 67 percent said they'd rather hang on to their credit cards than use the technology.
Even if you haven't totally bought into the whole idea of using your phone instead of money, it's a safe bet you're using some smartphone tools to track your expenses and make transactions on the go, with enough information to make your phone valuable to someone who steals it.
Check your own phone. You might have a few financial apps installed; more if you actively bank online. Your arsenal may include a budget-tracking service such as mint.com, apps associated with your bank, Paypal or Square if you use them, and a few others. In addition, credit card companies offer apps that allow you to make transactions on your smartphone, and you might have one or two of those.
Convenient? Yes.
Secure? Not according to the 1,200-plus surveyed by CreditDonkey. A good 62 percent of respondents said carrying cash or credit cards was safer.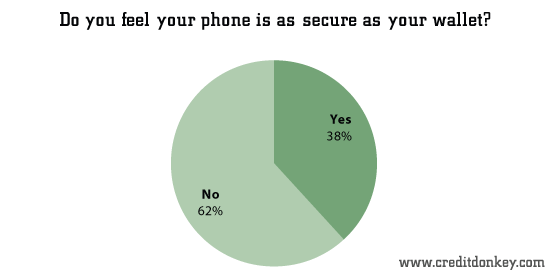 Do you feel your phone is as secure as your wallet?

© CreditDonkey
Although most financial apps are quite secure, all that goes out the window if your smartphone falls into the wrong hands -- especially if your passwords are easy to find.
Already there's an epidemic of smartphone thefts. According to the New York Police Department, electronic devices -- notably smartphones and tablet computers -- were taken in nearly half the 16,000 robberies reported there in the first 10 months of 2011. Other large cities report similar findings,
But the NYPD report puts more emphasis on a thief selling your phone and less on your financial apps.
So how do you protect your cell phone and the information it carries? There are several security measures, but most revolve around common sense.
Use your smartphone's recommended security features. An Android phone will let you set a keyboard combination or have you trace a design on the screen with your finger to access the main screen.
About passwords, please don't use some stupidly simple combination like 1234 or your spouse's name. Use different passwords to activate the phone and to use your financial apps, and change them often. Don't even consider having the phone save your passwords; if they're easily accessible to you they're equally accessible to some sketchy character.
Be careful about saving passwords into a cloud-based notekeeping service like Evernote or Catch; a quick run of their search tools will unearth that information in seconds.
Don't leave your phone or tablet computer unattended. Don't take it out of your pocket or holster unless you intend to use it. Have your wits about you when you use your smartphone in public -- police report that thefts are getting quite audacious, like the New York City bus rider who had her phone stolen while she was talking on it.
While it's one thing to be a good citizen and let someone use your phone in an emergency, be wary of anyone who asks to borrow or "hold" your phone.
Write down your phone's serial number and unique ID. These are most likely to be found underneath the battery, though with some phones you might have to go to the menu settings to find this information.
A surprisingly cheap but effective anti-loss tool is to attach a lanyard to your cell phone case. Any small lanyard, like the one you find on many handheld devices, will do. Hitch the small end onto your cell phone case somehow -- if the case has a metal lug or fabric loop on it, that should work. Use a small carabiner to attach the lanyard to a belt loop. This won't prevent all thefts, but it may deter a snatch-and-run artist. The lanyard will also protect your smartphone if it falls off your belt.
As soon as you discover your smartphone is gone and you make sure you haven't misplaced it somewhere or left it with a friend, you'll need to report it as stolen. Also, call your cell phone carrier and ask them to suspend service -- which would knock out voice and data transmissions and make it harder to get to your data.
Recently, the Federal Communications Commission and cell phone carriers bowed to pressure from law enforcement agencies to make it easier to remotely decommission a phone that is reported as stolen. There's a catch to this, though. The nuke-your-smartphone program won't start until late 2013. Currently, cell phone companies can only zap your SIM card, which is easily swapped out to bring the phone back to life.
Write to Eric P at feedback@creditdonkey.com. Follow us on Twitter and Facebook for our latest posts.