How to Get Better Gas Mileage
---
With gasoline prices perpetually on the rise, U.S. vehicle owners are always looking for ways to increase their gas mileage so their credit cards can take a break.
There are a lot of tips out there on how to accomplish better gas mileage but consumers should be careful. Sometimes the tips they find are from questionable sources and can do more damage than good.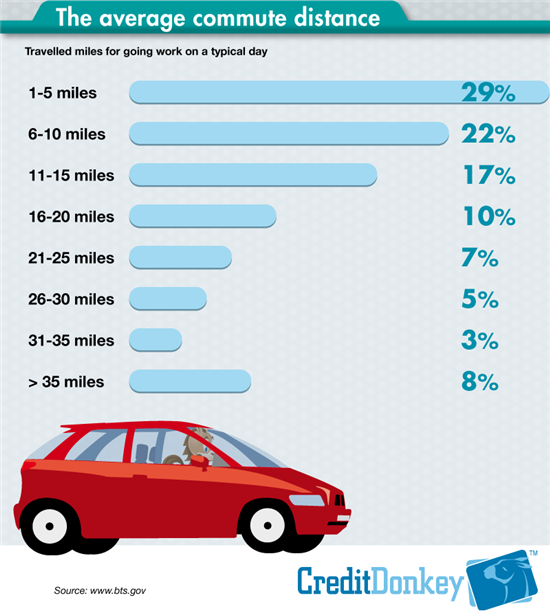 Average Commute Distances

© CreditDonkey
So, here are some trusted tips that were provided by the U.S. Department of Energy and Federal Trade Commission (FTC) that you can follow to accomplish your goal of increasing your gas mileage and decreasing your expenses.
Drive smart
Being a tailgater and aggressive driver can result in wasted gas. Between the speeding and the constant acceleration and braking, you are burning through your gas. Instead, the Department of Energy suggests sensible driving for an estimated gas mileage savings of 5 to 33 percent; this is a gas savings of $0.19 to $1.27 per gallon*!
The same is true of observing the speed limit. Each vehicle has its own optimal speed range when it comes to gas mileage but, according to the Department of Energy, this usually drops when you're driving at speeds in excess of 60 mph. They state that for each 5 mph greater than 60 mph is equal to paying an additional $0.24 per gallon. Of course, this is also safer, decreasing your chances of a collision which also can add up.
Another smart move is taking advantage of your vehicle's overdrive gears. When you drive with overdrive, your engine speed goes down, enabling for greater gas efficiency (it will also reduce engine wear!).
And, as reported by the FTC, use your air conditioner only when it's really needed. The AC can be a real gas guzzler. Instead, use the air setting that allows you to circulate unchilled air.
Shop smart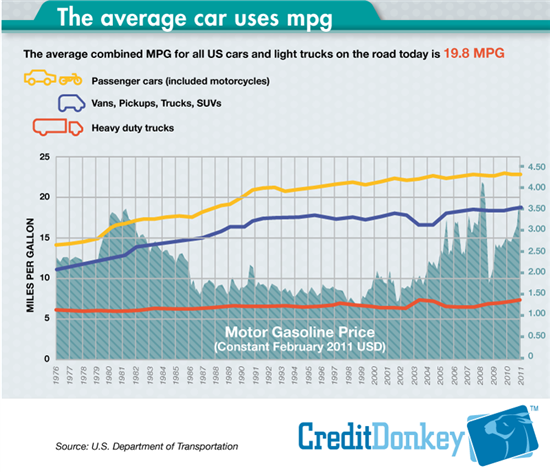 Average car uses MPG - Annual Trend

© CreditDonkey
Of course, when it's time for your next car purchase, you can always shop around for a vehicle that has better gas efficiency. But until that time comes, you can also be smart when it comes to purchasing your gasoline; these choices won't necessarily increase your gas mileage but will help out your budget.
The FTC recommends checking your vehicle manual to determine which octane level is best for your car. Typically, you don't need anything higher than regular; buying an octane level that is higher than the manufacturer's recommendations provides you no additional benefit and will just empty your pocket.
Consumers can also take advantage of smartphone apps and websites that help them find the cheapest gas prices. Of course, keep in mind that driving all the way across town might eat into any cost savings that you could get by choosing the cheapest station.
And, as is always recommended, take advantage of your rewards card program when buying your gas. The more you use your card, the more rewards you can accumulate. And many programs offer gas gift cards as a merchandise option for points redemption.
Watch your weight
No, the government isn't telling you to go on a diet. However, they are recommending that you unload some of your unnecessary items from your car or truck. According to the Department of Energy, and additional 100 pounds can reduce your gas mileage by up to 2 percent; with the affect being greater in smaller vehicles.
The cost savings from lightening your load can be from $0.04 to $0.08 per gallon for each 100 pounds*. This may not seem like much, but if you eliminate 200 pounds from your vehicle that holds 16 gallons, this could save you more than $130 annually if you fill up on a weekly basis.
Practice regular vehicle maintenance
Did you know that keeping your car maintained, using the correct motor oil and keeping your tires inflated can all help your gas mileage?
The Department of Energy estimates that keeping your car maintained can improve your mileage by an average of 4 percent when comparing it to vehicles that have failed an emissions test. You can get another 1 to 2 percent savings by using the oil that is recommended by your car manufacturer, and an additional 3 percent by keeping your tires inflated to the pressure that is also recommended by the manufacturer.
Altogether, this is an estimated savings of approximately $0.35 per gallon. Cost savings are based on an assumed fuel price of $3.85/gallon.

Meghan C is a contributing writer at CreditDonkey, a credit card comparison and reviews website. Write to Meghan C at meghan@creditdonkey.com. Follow us on Twitter and Facebook for our latest posts.