23 Reasons Why High Gas Prices are Good
---
High gas prices could save your life. We found 23 positive ways the higher price at the pump can actually benefit all of us.
Gas prices have taken a wild ride over the last few years, spiking to nearly $5 a gallon in some places before dropping back down. While Americans welcome some relief at the pump when prices drop, it's not always a good thing.
Here are 23 ways everyone benefits when gas prices start to rise.
HOW GAS PRICES AFFECT YOUR HEALTH
1. Higher gas prices encourage more physical activity
Rising gas prices can help get you in better shape. One research study found that when gas prices increased, people were more likely to engage in recreational exercise like walking, biking, or running
2. You tend to be a safer driver when gas prices go up
The more a tank of gas costs, the more likely you are to try to conserve it. A study from the University of Washington found that when gas prices rise, one of the ways drivers react is by reducing their speed on the roads.
3. Drunk driving accidents decrease
Drunk drivers cause one fatal car accident every 51 minutes in the U.S., resulting in $60 billion in damages annually. There's a silver lining, however, since research shows that drunk drivers tend to get behind the wheel less often when gas prices are inflated.
4. You may be less likely to die in an accident
When gas prices go up, fewer people are hitting the road, which translates to a drop in car accidents. A study from UC Davis found that a 20% increase in prices resulted in 2,600 fewer car accident deaths per year.
5. Paying more at the pump could help you lose weight
Obesity has reached epidemic proportions in the U.S., and researchers believe that lower gas prices may be partly to blame. One study suggests that permanently increasing gas prices by $1 per gallon would reduce obesity rates by 7% to 10%.

6. High gas prices may reduce the risk of a heart attack
If you're concerned about developing heart disease, high gas prices may be a blessing in disguise. Researchers followed a group of young adults from four major cities and found that a 25-cent increase in gas prices lead to a significant spike in cardiovascular activity.
7. They may lower the cancer risk among kids
There are some unexpected benefits for pregnant mothers when high gas prices keep drivers off the road. A study of children born in California found that when pregnant mothers were exposed to higher levels of carbon monoxide emissions, the risk of their child developing certain types of cancer increased by 17%.
8. High gas prices can also cut down on cancer in adults
Air pollution is also a major contributor to the occurrence of cancer in adults, and a 2005 study attributed 58,000 premature deaths to vehicle emissions. Higher gas prices generally mean less traffic, which can impact the amount of pollution the Average Joe is exposed to.
GAS PRICES AND YOUR WALLET
9. High gas prices make you a savvier shopper
Consumers issue a collective groan when gas prices go up because it usually translates to a spike in food prices, but there is a silver lining. Research has shown that when gas is putting the pinch on your budget, you're more likely to make smarter decisions at the grocery store to stretch your dollars further.
10. They also help polish your bargain-hunting skills
When you're combating higher gas prices, being vigilant about finding deals becomes second nature. In a 2013 survey, 34% of respondents said they'd make a left-hand turn across a busy street to save 5 cents per gallon.
11. You spend less when gas prices go up
Having to pay more for gas can be a good thing if it helps keep your budget in check. Retail sales as of April 2015 jumped 7.1% over 2014 figures, which is a sign that consumers are freely spending the money they're saving on gas.
GAS PRICES AND THE ECONOMY
12. Higher gas prices keep people on the job
The oil and gas industry is big business in the U.S.; the American Petroleum Institute predicts that the number of jobs in the sector will increase by 1.3 million through 2030. Higher gas prices guarantee that energy workers will continue bringing home a steady paycheck.
13. States also reap the benefits
According to the New York Times, one energy job offers 3 times the purchasing power of a non-energy job, so when prices are high, these workers have more money to put back into the economy. In states like Alaska and Texas, where the oil industry takes center stage, high gas prices keep the wheels turning smoothly.
14. Gas prices benefit the auto industry
The U.S. automotive industry suffered a major blow following the 2008 housing collapse, and high gas prices may play a part in its continued recovery. A study from researchers at MIT suggests that a $1 increase in gas prices could yield a 6.1% increase in revenues for companies that manufacture fuel-efficient vehicles.
15. Especially alternative fuel carmakers
Over the last few years, demand for hybrid and electric vehicles has closely paralleled the rise and fall of gas prices. As of April 2015, for example, sales of electric cars had dropped by 3.4% over last year's figures and gas was averaging $2.66 a gallon. An upward shift in prices means a boost in sales for manufacturers.
16. Gas prices can increase your home's value
Home values have been climbing steadily for the most part and in some areas, high gas prices are playing a role. A report from the Brookings Institute suggests that a 10% increase in gas prices can improve property values by as much as $13,500 in some areas.
17. An increase benefits the housing market as a whole
Just as higher gas prices can raise your home's value, a drop-off can have the opposite effect. A recent study of the Texas housing market, for instance, concluded that if gas prices remain low, it can throw off sales of existing homes and new construction by anywhere from 10% to 20%.
18. Online retailers see a payoff
Trips to the store come at a premium when gas prices are higher, but online retailers are picking up the slack. In one survey, 28% of shoppers said they are more likely to shop from home when gas prices climb.
19. High gas prices are good news for investors
Investing in energy stocks can yield some impressive returns when you buy while oil prices are low (and wait for them to soar). If you don't have a lot of cash to get started, it's possible to get your hands on some decent picks for $5 or less.
20. They help to stave off deflation
Inflation is a concept most people are familiar with, but deflation may be one you've never heard of. Basically, it's a severe downward spiral in the price of goods and services. Sounds good at first, but for various reasons it can have a devastating impact on the economy (for one thing, when people expect prices to keep going lower, they'll put off spending). Since energy prices have so much to do with the cost of the goods we buy, it has a deep effect on deflation. As long as energy prices remain high, deflation isn't able to wreak havoc on consumers' finances.
MEASURING THE ENVIRONMENTAL IMPACT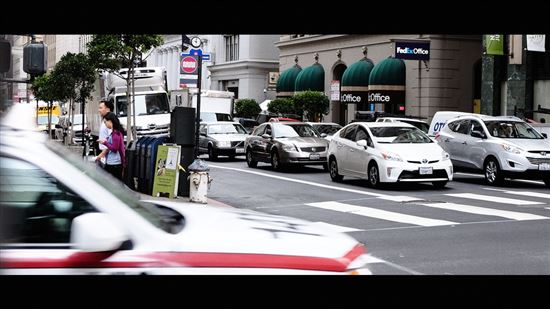 Streets of San Francisco © janitors (CC BY 2.0) via Flickr
21. Higher gas prices may reduce air pollution
The EPA estimates that the typical passenger vehicle pumps out 4.7 metric tons of carbon dioxide into the air each year. When gas prices increase by 10%, the number of people opting to travel by bus or rail also jumps by 4% and 8% respectively, which means fewer vehicles emitting greenhouse gases.
22. Drivers are more likely to avoid gas guzzlers
It doesn't take a rocket scientist to figure out that the bigger a vehicle is, the more gas it's going to use. Fortunately, research shows that when gas prices climb, car buyers tend to opt for smaller rides, which in turn has a positive impact on air pollution.
23. And they opt for the carpool lane more frequently
Carpooling is a great way to save some money on gas, not to mention wear and tear on your car. A 2013 study of Los Angeles commuting patterns found that a 10% increase in gas prices added 10 additional carpoolers to the road every hour.
FINAL WORD
Look on the bright side the next time gas prices go up and you're feeling sticker shock at the pump. If the prices were lower, you could end up paying in other ways, with your health or a hurting economy (which is never good for job security). We all pay the price for cheap gas in other ways.
Rebecca Lake is a journalist at CreditDonkey, a credit card comparison and reviews website. Write to Rebecca Lake at rebecca@creditdonkey.com. Follow us on Twitter and Facebook for our latest posts.
Note: This website is made possible through financial relationships with some of the products and services mentioned on this site. We may receive compensation if you shop through links in our content. You do not have to use our links, but you help support CreditDonkey if you do.
Read Next: