Average Cost of Moving Will Scare You
---
Moving can cost as much as $6,000 for the movers alone. This doesn't take into consideration packing supplies, moving a car, or heavy items.
Read this study and see just how much you should plan to pay for your next move.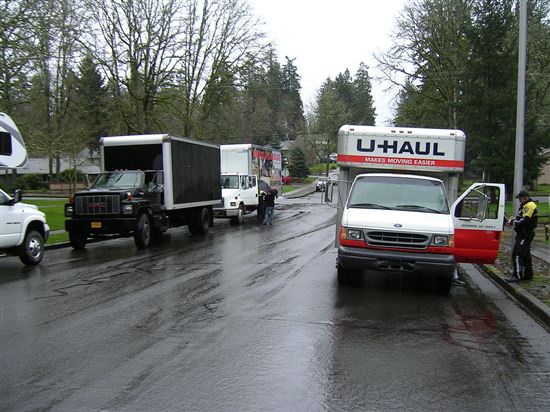 © Oregon Department of Transportation (CC BY 2.0) via Flickr
The Cost of Moving
How much does it cost to hire a moving company?
On average, it can cost between $1,100 and $6,000 to hire a moving company. The size of your home, distance of your move, and the number of movers determine your actual cost.
How much does it cost for a moving company to move you locally?
The average cost of moving locally is $1,170. This is an average of 4 movers and 7,400 pounds. This is the equivalent of a 3-bedroom home. If you have a smaller home, you will likely pay less.
How much does it cost to move out of state?
Paying for an out-of-state move depends on the distance rather than the hours. An approximate 1,220-mile move for a 2-3-bedroom home costs an average of $5,630.

The actual rates depend on not only mileage, but also the weight of your move. The heavier the load, the more it costs.

How much do movers charge per hour on average?
Local moves may cost you per hour. Any relocation less than 50 miles away qualifies. These movers charge $25 - $50 per hour. The size of your move and your location determine the rate.
How much does it cost for a full-service move?
If packing and unpacking are not something you have time for, you may consider a full-service move. On average, plan to pay $4,000 for a 100-mile move, $4,800 for a 500-mile move, and $5,600 for a 1,000-mile move.

These numbers are based on a two-bedroom home. For every bedroom beyond 2 bedrooms, add an average $1,500 - $2,000 per room.
Moving from an Apartment
How much does it cost to move a 2-bedroom apartment?
On average, it takes two movers approximately 5 hours to move a 2-bedroom apartment. At $50 an hour per mover, that's $500.

Of course, this varies based on the amount and weight of the items you move as well as the distance.

How much does it cost to move a 1-bedroom apartment?
It takes two movers approximately 4 hours to move a 1-bedroom apartment. This includes loading and unloading. At $50 per hour, this means around $400.
Moving from a House
What is the cost of moving a 4-bedroom house?
Living in a home often means you have more stuff to move. Generally, it takes four movers to move a 4-bedroom home. They can load and unload your home in around 8 hours. The average cost to move a 4-bedroom home is around $1,600.
How much does it cost to move a 3-bedroom house?
A 3-bedroom home may be able to get away with just three movers if it is a smaller home. Three movers can move a 1,500 square foot home in 7 hours for an average cost of $1,050.
Moving Cost Checklist
How much do movers charge for packing?
Packers generally charge $50 - $60 per hour. The time it takes and the number of packers provided will determine your average cost. It can take between 3 and 10 hours to pack a home depending on the size and the amount of stuff you have.
What is the cost of moving insurance?
Moving companies can offer you two types of moving insurance. Released value insurance is typically included in the cost of the move. This only covers $0.60 per pound for every item. If the moving company breaks an item that weighs 100 pounds, they only have to pay you $60, no matter what the item is worth.

They also offer full protection policies. This will vary based on the weight and value of your belongings. You can also purchase a separate policy from your insurance agent. Plans typically start at $200 and can cost as much as $2,000.

How much should you tip movers?
Flat rate tips are best. On average, movers receive $20 for local moves and $40 for long-distance moves. Of course, if you feel the job was superior, you are always welcome to tip more.
Moving Large Items
How much does it cost to move a piano?
The cost to move a piano depends on many factors:

Distance

Obstacles in moving (stairs, etc.)

Type of piano

Weight

On average, you can expect to pay a minimum of $150 for a local move and a maximum of $3,500 for an overseas move.

How much does it cost to move a car?
Shipping a car cross-country can cost anywhere between $600 and $2,000. The distance, type of car, and type of shipment determines the rate. For example, it costs less to ship a car on an open trailer than shipping it on a closed trailer.
Moving a House
How much does it cost to move a house?
The industry average to move an entire house is $12 to $16 per square foot. Moving a 2,000 square foot home could cost as much as $32,000. This doesn't include the cost of the new lot or foundation.
How much does it cost to move a mobile home?
Movers generally charge per mile when moving a mobile home. On average, expect to pay between $5 and $10 per mile.

Every company differs though, generally charging more for long distance moves versus local moves. Local moves may cost around $3,000. Long distance moves can cost as much as $15,000.
Paying for Storage
What is the average cost of storage per month?
A standard 10' x 20' storage unit costs an average of $150 - $200 per month. The amount varies based on location and the amenities you require, such as climate control.
DIY Moves
What's the average cost of renting a truck for the day?
If you have friends to help you move, renting a truck will cost just a fraction of hiring movers.

For a local move, you can rent a 10' to 26' truck for $20-$40 per day. You'll need to add the mileage rate onto this cost, typically $0.79 - $2.00 per mile, plus insurance costs.

What's the average cost of truck insurance for a truck rental?
You can usually get decent insurance for the truck rental for around $35/day. You should also check with your personal car insurance company to see if you have rental coverage.
Moving Help
How much does it cost to have a POD at your home?
If you need to move your belongings out before you leave your home, PODS can help. A 16' container, which holds 2-3 bedrooms, costs an average of $350 for a one-month rental, including delivery and pick-up. If you need it longer, they charge an average of $175 per month for rental.
Timing Your Move
When is the most expensive time of year to move?
11.2% of Americans moved last year. Many of them moved during the summer months. This is when kids are not in school and life is simpler. This is when moving companies charge the must. Demand is high, so prices soar.

On the other hand, moving companies don't have a lot of business during the winter months. Think Thanksgiving through New Year's. Not many people want to move then. If you can swing your move during this time, you pay rock-bottom rates for movers.

When is the most expensive time of the month to move?
Leases end and mortgages close at the end of the month in most cases. This makes it the most expensive time to move. Again, demand is high and so are prices. If you can move in the beginning or middle of the month, you'll likely score bigger savings.
The Bottom Line
You can save money on moving costs by timing your move in the middle of the month during the winter. If you move yourself, you can rent a truck and buy your friends pizza for a fraction of the price of movers. It all comes down to how much you want to pay for convenience.
Sources and References:
Write to Kim P at feedback@creditdonkey.com. Follow us on Twitter and Facebook for our latest posts.
Note: This website is made possible through financial relationships with some of the products and services mentioned on this site. We may receive compensation if you shop through links in our content. You do not have to use our links, but you help support CreditDonkey if you do.
Read Next: