5 Routes to Save Money on Cheap Airline Tickets
---
If you're planning a vacation, a big part of your budget is probably going toward airfare. With plane tickets on the rise, it's no wonder many people are sticking to driving-distance trips! However, you can save on airfare if you have the right tips and tricks. The internet has made shopping for airfare a whole lot easier and more streamlined, as long as you know how to use the tools that are out there. Here are just five ways you can start saving on airfare today:
Look at the aggregate websites. These sites let you search ticket prices from lots of different airports. They can often get you the lowest price. However, they also charge booking fees that can quickly add up. Instead of paying the booking fees, go back to the actual airline's website and buy your ticket from there. You can probably find the same flight at the same price without the booking fee!
Buy in the right time frame. Sometimes it's better to buy your plane tickets well in advance. About twenty-one days out, ticket prices tend to rise each week. The closer you get, the more expensive the tickets will be. For major trips where you absolutely have to leave at a certain day and time, buy well in advance.
On the other hand, some sites like Priceline can get you a better price close to the date of the flight. At the last minute, airlines just want to fill up their seats so they can at least break even on that space. Prices can drop pretty dramatically, but you may not be able to choose when you leave or get back.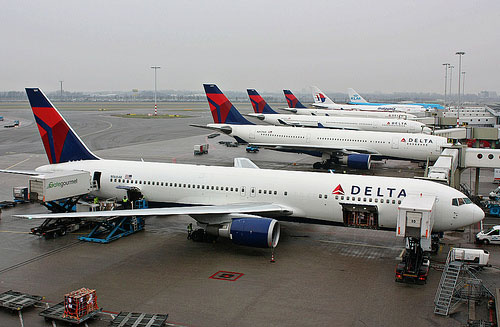 Delta Boeing 767-332/ER © eisenbahner
Try different days, departure times, and airports.
If you're at all flexible, you can often find a better price. Departing in the middle of the week often can save you money, and early morning and late night flights sometimes have better prices, as well. Also, most large cities have multiple airports to choose from. Check ticket prices going out of and into different airports to see if it makes much difference. Just remember that you need to be able to get from the airport to your destination for less than the difference between the tickets!
Use a credit card with airfare reward perks. This is one of the simplest ways to save on airfare that people seem to forget about these days. Use a card that allows you to build up points for airfare. Just make sure you check out all the details before you sign up, since some programs can have blackout dates and other inconveniences. As long as you're using your credit card responsibly, you can use it regularly to rack up points that you can use to save on airfare.
Sign up for frequent flyer miles. This isn't always the most cost-effective thing to do, but if you fly a lot, it can be helpful. The main problem with frequent flyer miles is that they restrict you to a single airline. However, if you sign up for miles with different airlines, you might be able to rack up mileage with different airlines a little more slowly. You have to fly a lot to make this worth your while, but in the end, you could get the best deal on airline tickets while you get frequent flyer miles, too.