23 Reasons Why Southern California Is Perhaps the Best Place to Live
---
Countless songs have been written about Southern California. It's served as the backdrop for hundreds of films, but the only way to really experience it is to see it for yourself. Roughly 60% of the Golden State's population lives here, and if you ask any one of them, they'll be glad to tell you what sets SoCal apart from every other place on Earth.
To outsiders, it may seem like all there is are movie stars and heavy traffic, but they're missing out on the bigger picture. Here are 23 reasons why we think Southern California is hands-down the best place to live.
1. The weather is gorgeous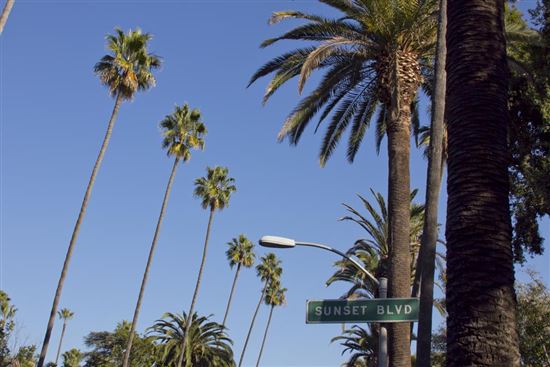 Sunset Boulevard - LA © Maju Rezende (CC BY 2.0) via Flickr
SoCal residents tend to look on the bright side, especially when it comes to the daily forecast. Temperatures hit their peak at around 85 degrees come August and the winters are fairly mild. There's an abundance of sun all year round, with only the occasional rainy day here and there. Sure, there are the Santa Ana winds to contend with in the fall and the occasional El Nino, but that doesn't seem to dampen residents' enthusiasm for staying here.
2. And so are the people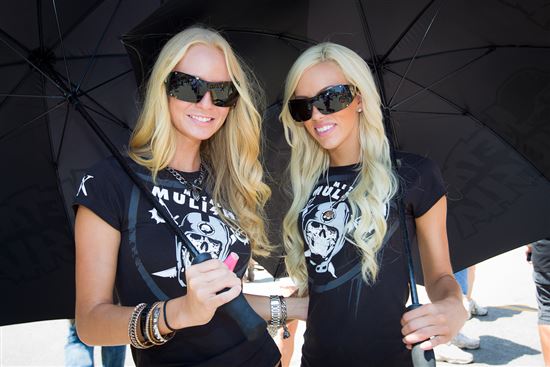 Metal Mulisha Girls © Gerald Geronimo (CC BY-SA 2.0) via Flickr
Hollywood is known for being where the beautiful people hang out, but it's not just the celebrities who turn heads around these parts. Both Los Angeles and San Diego have been recognized by Travel + Leisure magazine as having some of the most attractive populations in the country. Maybe it's all that sun they're soaking up, or maybe they're just reflecting the natural beauty of their surroundings.
3. SoCal's got all the good beaches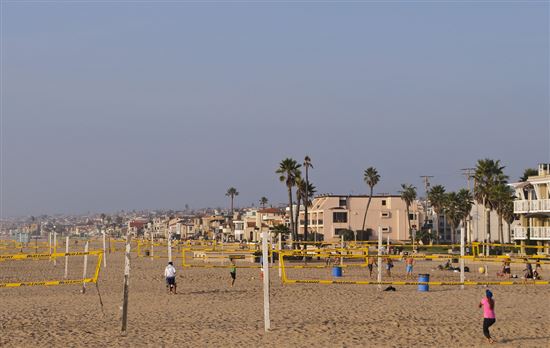 Hermosa Beach © InSapphoWeTrust (CC BY-SA 2.0) via Flickr
Life in Southern California is like an endless summer vacation, and there's no better place to soak up the sun than at the beach. If you're into people-watching, you're sure to get an eyeful at Venice Beach, and El Matador is perfect for a romantic stroll for two. The beaches at Coronado have been voted among the best in the world, whether you want to swim, surf or catch a glimpse of the California gray whale.
4. There are plenty of places to hang out with friends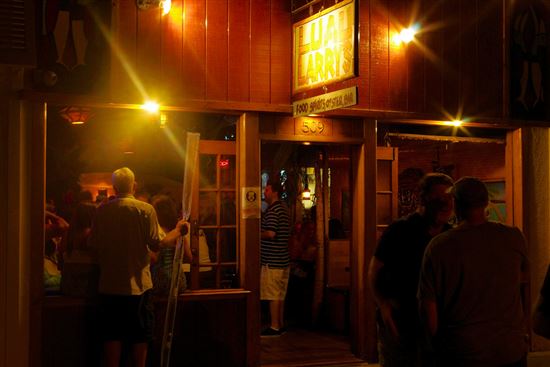 Catalina Bars at Night © David Prasad (CC BY-SA 2.0) via Flickr
SoCal's nightlife scene is constantly evolving as new hotspots emerge, but there are some tried and true places that you'll want to go back to again and again. The Yost Theater in Santa Ana is a popular pick for taking in a concert or dancing the night away. If it's not your cup of tea, hundreds of other bars, clubs and lounges have their doors open for your patronage.
5. But you can also spend some time alone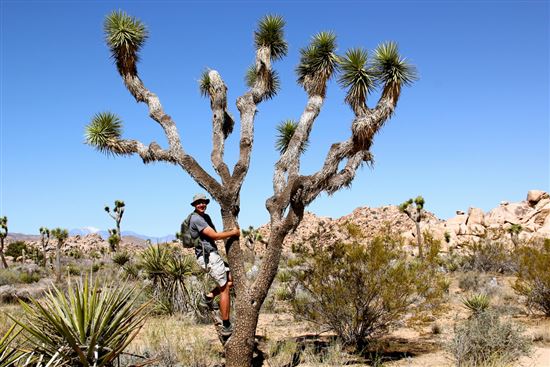 David and the Joshua Tree © daveynin (CC BY 2.0) via Flickr
Sometimes you just need to get away from all the noise and seek out a quiet place to think. If you want to get some fresh air and take in the scenery while you're at it, the Barker Dam Trail at Joshua Tree National Park is an ideal choice. When you need more of a challenge, check out the Kelso Dunes in the Mojave National Preserve. If you prefer to enjoy the solitude indoors, the Rancho Valencia Resort & Spa is great for a solo getaway.
6. Their produce is the best
farmer's market. © stella marine (CC BY 2.0) via Flickr
Fresh fruits and vegetables are a staple of Southern California foods, and just about everything under the sun is grown locally. Asparagus, cucumbers, peppers, spinach, tomatoes and squash are just a few of the healthy goodies you can pick up on your next stop at the farmer's market. If you're wondering where to find the best selection, a visit to the Pasadena farmer's market at Victory Park is a must.
7. Especially the avocados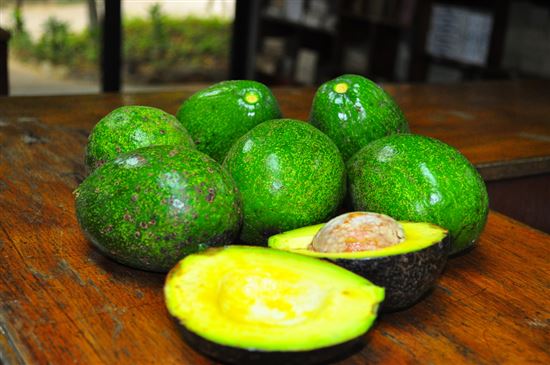 Organic avocado © whologwhy (CC BY 2.0) via Flickr
Avocados are big business for California, and they're generally grown in the region that extends between Morro Bay and San Diego. Whether you like them sliced over your salad or mixed with a little salt and lime, you'll want to join the thousands of people who pour in to Fallbrook each year to celebrate the Avocado Festival.
8. You could get discovered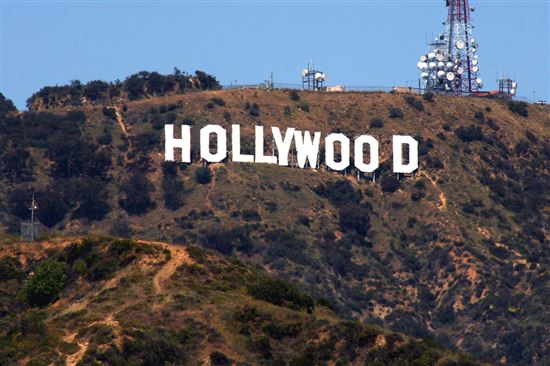 Hollywood! © Glen Scarborough (CC BY-SA 2.0) via Flickr
If you've been bitten by the acting bug, then you may have your sights set on Hollywood - and with good reason. Los Angeles is the epicenter of the television and film industry, home to the "Big Six" major film studios, and it's a mecca for wannabe actors and actresses who are hoping to land their big break. Think it can't happen? Just ask Charlize Theron and Will Smith, who vaulted to stardom after being in the right place at the right time.
9. The music scene is legendary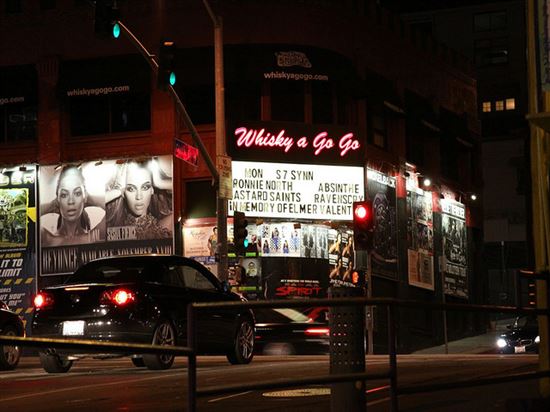 The Whiskey a Go Go © jondoeforty1 (CC BY 2.0) via Flickr
In the early 1960s, SoCal became synonymous with surf music, followed by psychedelic rock in the latter part of the decade. Classic rock groups like The Eagles got their start here in the 1970s, while the '80s saw the evolution of the punk and glam metal scenes. The styles keep changing, but one thing remains the same: Southern California continues to produce some of the greatest singers and musicians around.
10. It's a foodie's paradise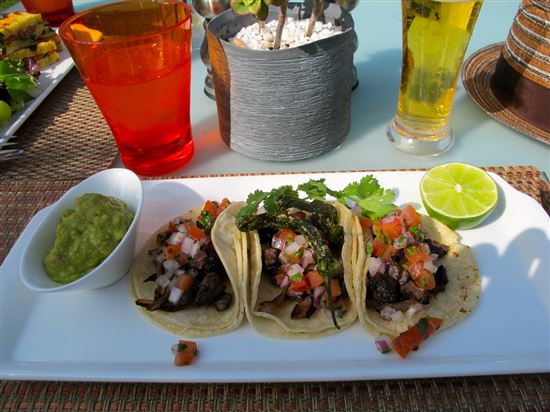 the taco plate on top of the world : los angeles (2011) © torbakhopper HE DEAD (CC BY 2.0) via Flickr
In its early days, California drew in immigrants from all backgrounds, and that diverse heritage is reflected in the heavenly cuisine served up at local restaurants. You'll find delicious Mexican, Korean and Vietnamese dishes here. And if you've got a craving for SoCal style pizza, Michael's Pizzeria in Long Beach is the place to go.
11. And surfing heaven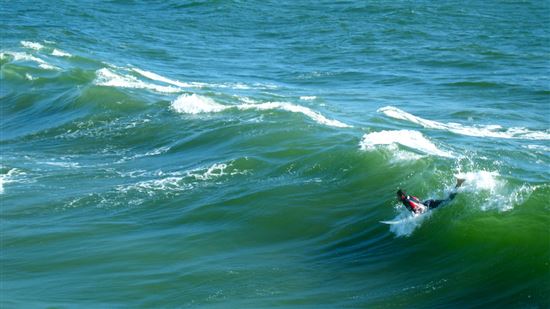 Venice Beach Surfer © jay8085 (CC BY 2.0) via Flickr
If the movie Point Break is the closest you've come to experiencing what's it like to surf along the southern Pacific coast, you don't know what you're missing, brah. Huntington Beach is the surf capital of the state, and you can always head to Hermosa Beach or Malibu to catch some sweet waves. If you're a newbie, you'll want to brush up on your surf etiquette before paddling out so you don't get labeled as a kook.
12. Sports fans can't complain (too much)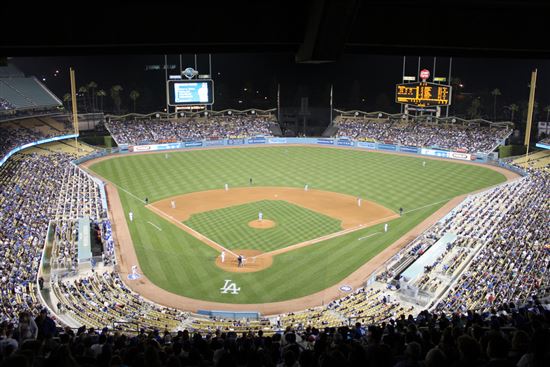 Dodger Stadium - April 29, 2011 © Brendan C (CC BY 2.0) via Flickr
Whether you're a baseball, basketball, football, soccer or hockey fan, Southern California has something for everyone. There are the Lakers and the Dodgers in Los Angeles, the Chargers and the Padres in San Diego and the Angels and Ducks in Anaheim. No matter who your favorite team is, there's always someone to cheer for pretty much year-round, which is a definite win-win.
13. Southern Californians aren't afraid to be weird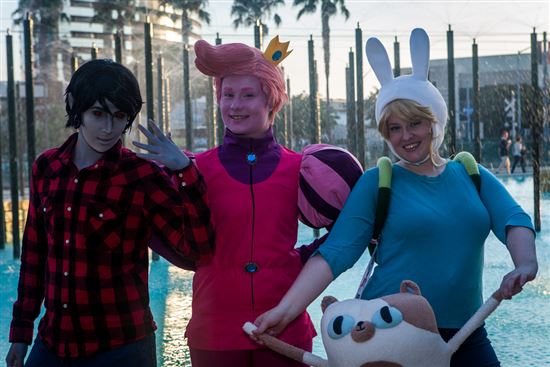 San Diego Comic-Con 2013-8197 © Mooshuu (CC BY-SA 2.0) via Flickr
Every year, San Diego is flooded with aliens, elves and fairy princesses, but there's no need to panic. That just means it's time for Comic Con, the city's largest annual get-together for fans of comics, sci fi and general geekery. The event seems to get bigger each year, so if you're planning to go, better start working on your costume now.
14. You can't beat the shopping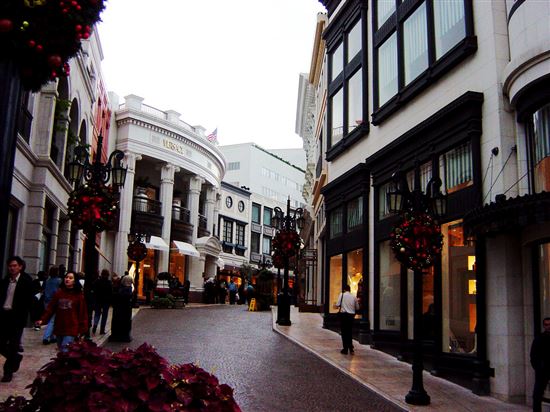 DSC00596 © Julie, Dave & Family (CC BY-SA 2.0) via Flickr
Rodeo Drive is probably Los Angeles' most famous shopping spot, but it's not the only place to indulge in a little retail therapy. The Irvine Spectrum offers up an outdoor shopping experience complete with some great restaurants for a midday break. South Coast Plaza in Costa Mesa has all the high-end stores you're looking for along with more than 30 dining spots.
15. You can see the stars up close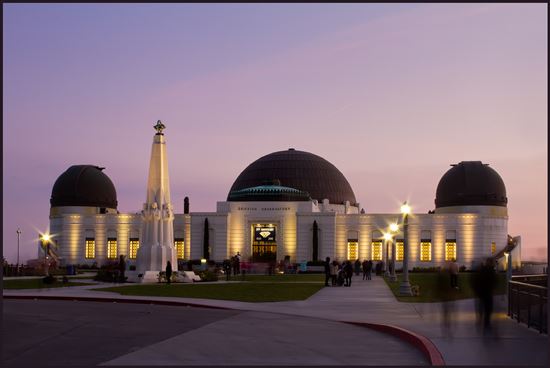 Griffith Observatory, Los Angeles © Pedro Szekely (CC BY-SA 2.0) via Flickr
No, we don't mean the A-listers who frequent the L.A. nightclub scene. We're talking about Orion, the Big Dipper and Cassiopeia. You can see all of them and more at L.A.'s Griffith Observatory, which stays open late to accommodate curious stargazers. Admission is always free, which is a great incentive to spend some time getting acquainted with the night sky.
16. It's a great place to raise a family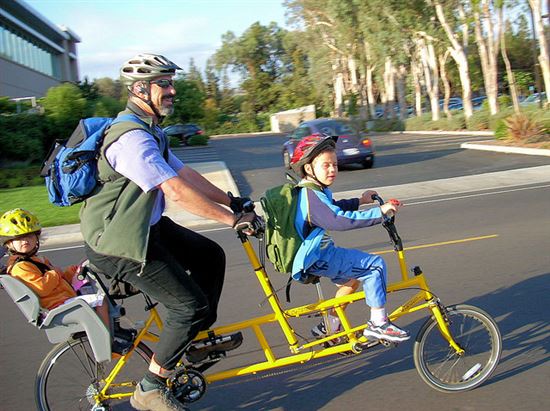 Kids Tandem © Richard Masoner / Cyclelicious (CC BY-SA 2.0) via Flickr
Southern California is an absolutely idyllic place to bring up children, with safe neighborhoods, excellent schools and an overwhelming number of things to see and do. If you're shopping around for a new hometown, we recommend taking a look at cities like South Pasadena, Rancho Palos Verdes, and Manhattan Beach, which are super-welcoming to families.
17. Or visit from out of town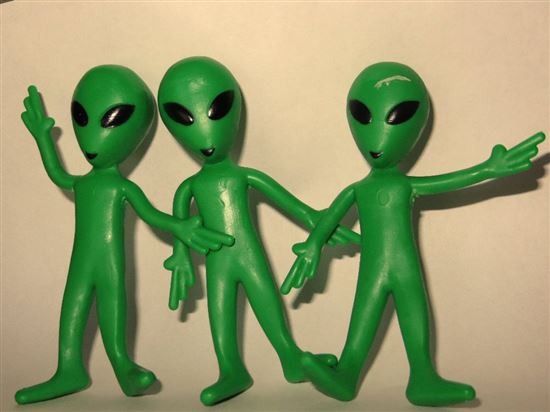 ET2485 3 aliens © Interdimensional Guardians (CC BY 2.0) via Flickr
Los Angeles and San Diego certainly see their fair share of visitors, but some visitors travel from a lot farther away than others. Residents in Orange County, Riverside County, and San Diego County routinely report seeing flickering lights in the sky at night. While no one's actually seen any little green men, it may be a sign of SoCal's universal appeal.
18. Living here is good for your health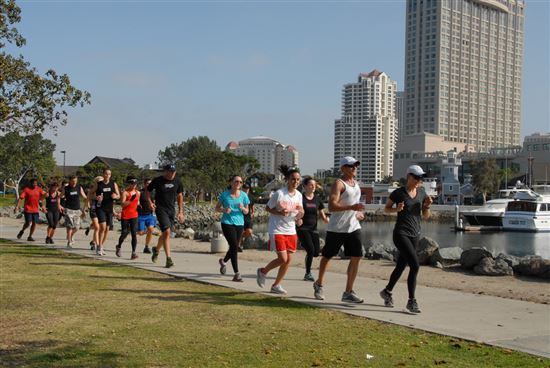 Big Bay Boot Camp 2012 © Port of San Diego (CC BY 2.0) via Flickr
People in Southern California place a high value on health and fitness, but even if you're not an exercise nut, you can still reap the benefits of living here. Between all the fresh food, cool ocean breezes and the seemingly endless days of sunshine, you're bound to feel better just by waking up in the morning. There are dozens of gyms to choose from if you're ready for a workout, like 220 Fitness in Santa Monica.
19. Unless you like to stuff your face at In-N-Out Burger
People who've never eaten at In-N-Out Burger may not understand why burger connoisseurs go nuts for its cheesy, spread-slathered deliciousness. When you're tired of eating salads and sushi, nothing hits the spot like a double-double animal style with fries on the side. If you want the complete In-N-Out experience, make sure you wash it down with a Neapolitan shake.
20. The college crowd loves it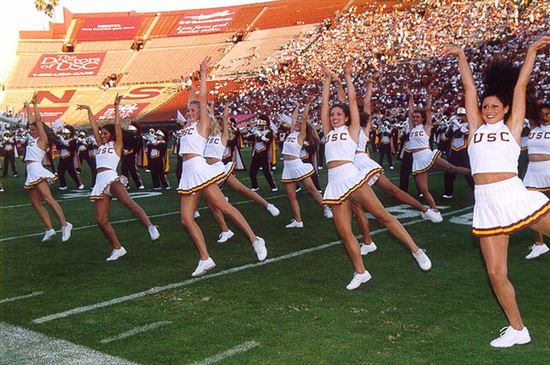 fball2002_15 © Geoffrey Chandler (CC BY 2.0) via Flickr
Southern California is where you'll find some of the nation's best colleges and universities, and students flock from all over the country to enter their hallowed halls. In addition to the University of Southern California, you've got esteemed schools like Pepperdine, Cal State, UCLA, Loyola Law School, and the Loma Linda School of Medicine. No matter what career path you're on, there's no shortage of places to earn your degree.
21. It's home to the happiest place on Earth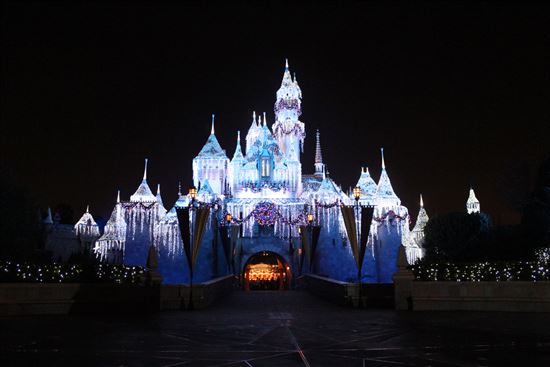 disneyland castle night time © Thank you for visiting my... (CC BY 2.0) via Flickr
Millions of people visit Anaheim each year to get an up-close look at Sleeping Beauty's castle and have their picture taken with their favorite Disney character. This 300-acre park has undergone a number of changes over the past few decades, but it still encompasses that same spirit of magical awe and wonderment as it did when its gates first opened in 1955.
22. Southern Californians embrace different cultures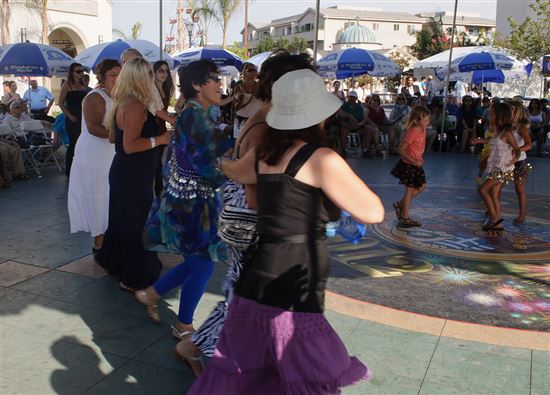 Los Angeles Greek Festival © InSapphoWeTrust (CC BY-SA 2.0) via Flickr
Pick a date at random on your calendar, and odds are in your favor that there'll be some kind of cultural festival or event going on somewhere in SoCal. In March, there's the Cherry Blossom Festival, which features all things Japanese. April is when folks gear up for the Scandinavian Festival, one of the largest Nordic-themed events in the U.S. The L.A. Greek Fest is the highlight of September, and you can fill up on bratwurst and German beer at the Alpine Village Oktoberfest.
23. And they're all pretty laid-back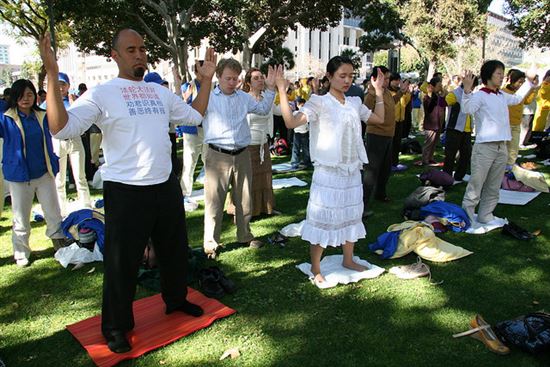 Falun Dafa second exercise, standing meditation © longtrekhome (CC BY 2.0) via Flickr
Southern Californians are all about inner peace, and the greatest setting for getting your Zen on is the San Jacinto mountains. The Yokoji-Zen Mountain Center is one of the most well-known Buddhist training centers in the world, and people from all over come here to get away from the hustle and bustle of every day life. A few days here will leave you feeling relaxed, renewed and ready to take on the challenges of the daily grind.
---
We could go on and on about what makes Southern California such a dreamy place, but if you live here, you already know what we're talking about. The 23 reasons we've outlined are just a sampling of why so many people prefer to make it their home.
Rebecca Lake is a journalist at CreditDonkey, a credit card comparison and reviews website. Write to Rebecca Lake at rebecca@creditdonkey.com. Follow us on Twitter and Facebook for our latest posts.
Note: This website is made possible through financial relationships with some of the products and services mentioned on this site. We may receive compensation if you shop through links in our content. You do not have to use our links, but you help support CreditDonkey if you do.
Read Next: