Study: Best Cities for Twenty Somethings
---
Maybe you just graduated from college and are thinking about what to do next, or maybe you've been working for a few years but need a change of scenery. Whatever your situation, if you're in your 20s and feel an itch to move, we've got a list for you: the top 10 U.S. cities for twentysomethings who are looking for a great place to fit in.
Study Methodology
We whittled down the list of the largest U.S. metropolitan areas to make our top 10 list, based on the following factors:
Percent of Population Ages 20-29

Fair Market Rent

Number of bars in relation to the city's population (bars per capita)

Population Growth

Unemployment Rate
First, we looked at the percentage of people in their 20s in each city, to narrow down which areas give you the best chances for finding people your age. Then we looked at the average fair market rent price based on a two-bedroom apartment. There's no point in moving somewhere if you can't afford it, right?
Using data from the U.S. Census Bureau, we also looked at each city's number of bars compared to the number of people who live there. Going to bars tend to be a fun social activity and an easy way to meet new people. If a city has a fair amount of them, then there's likely a lot of fun to be had.
And lastly, we looked at population growth and unemployment rates. A city that's experiencing an incline in residents is usually desirable and is experiencing a strong economy (in other words, it has jobs). Along the same line, the unemployment rate tells us how easy it may be to find a job in each location.
10 Best Cities for Twentysomethings
1. Austin, TX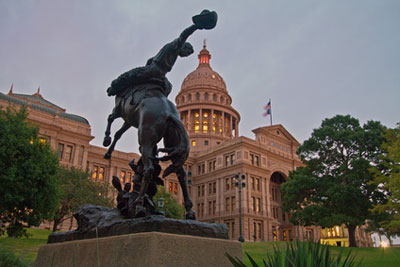 Austin, Texas
20-29 Year-Olds: 16.6%

Fair Market Rent: $1,050

Bars Per Capita: 14.63

Population Growth: 3%

Unemployment: 5.6%
Austin makes an appearance on a lot of "best cities" lists, and it's no surprise that it tops ours for twentysomethings. With the exception of its fairly high rent costs, Austin ranks in the top five for every other category, including first for population growth. People flock to the city for its warm weather, lively atmosphere, and strong job market. From live music to outdoor sports to food trucks, Austin has a lot to offer young adults.
2. Oklahoma City, OK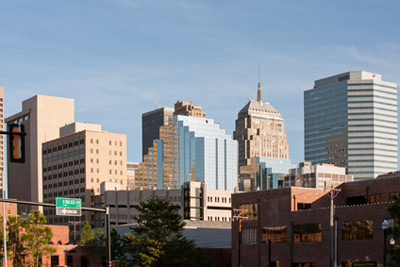 Oklahoma City, Oklahoma
20-29 Year-Olds: 15.5%

Fair Market Rent: $748

Bars Per Capita: 10.56

Population Growth: 1.6%

Unemployment: 4.8%
Oklahoma City continually exhibits low unemployment compared to the rest of the country, and it also has a large concentration of people in their 20s. With strong industries in energy, information technology, and health services, this Midwest city offers a lot of opportunities for young job seekers. And with low rent costs, you'll have plenty of money left over to enjoy some of those meetups at local bars.
3. Columbus, OH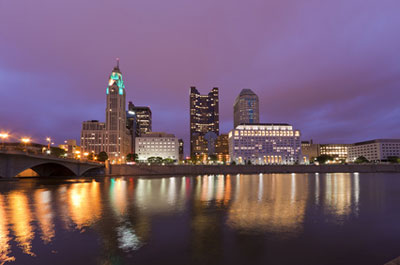 Columbus, Ohio
20-29 Year-Olds: 14.9%

Fair Market Rent: $782

Population Growth: 1%

Unemployment: 6.3%
Ohio's capital city is a hotspot for twentysomethings. Its population growth isn't significant, so Columbus could very well be one of the nation's best-kept secrets. Unemployment is more than a full point below the nation's 7.6%, and cool companies like The Limited and Abercrombie & Fitch are headquartered in the area. Plus, rent is less than $800 for a two-bedroom apartment. The city even offers a free app for both iOS and Android that features art walks, neighborhood walks, and an activities calendar. Convinced yet? Yeah, us too.
4. Nashville, TN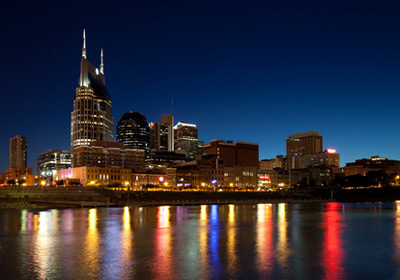 Nashville, Tennessee
20-29 Year-Olds: 14.7%

Fair Market Rent: $819

Bars Per Capita: 7.28

Population Growth: 1.7%

Unemployment: 6.8%
If you love music, especially country, then pack your bags for Nashville – plenty of other people already have, according to the city's population growth rate. Though the city's number of bars per person is not as high as that of its rivals on this list, the overall bar scene is thriving here. In fact, Bluebird Café, where many country stars have been discovered, is regularly featured on ABC's hit show Nashville.
5. San Antonio, TX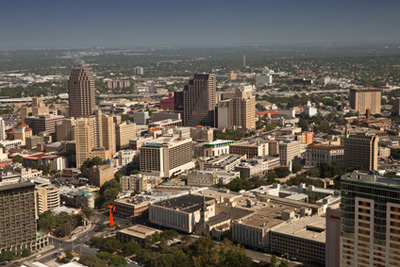 San Antonio, Texas
20-29 Year-Olds: 14.7

Fair Market Rent: $870

Bars Per Capita: 15.25

Population Growth: 1.9%

Unemployment: 6.5%
San Antonio is another Texas city with a youthful population and strong growth rate. And rent isn't too bad, either. There is also a strong military presence in the area, with several bases located here. However, the government isn't the only job provider in San Antonio; the city is also home to five Fortune 500 companies, including Clear Channel Communications and NuStar Energy. On the weekends, you can get your thrills at Sea World and Six Flags.
6. Seattle, WA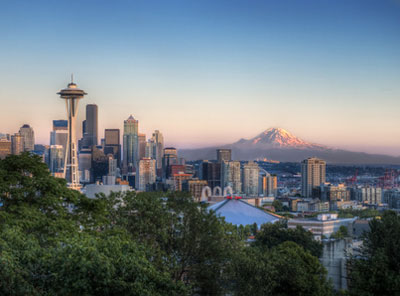 Seattle, Washington
20-29 Year-Olds: 14.6%

Fair Market Rent: $1,104

Bars Per Capita: 12.43

Population Growth: 1.6%

Unemployment: 5.8%
Seattle ranks well in terms of low unemployment and rivals other cities on this list for its bar metric. Best of all, it boasts quality drinking establishments: There are at least 30 breweries in and around the city. Many locals favor Fremont Brewing in Wallingford, but you can sign up for a tour of several breweries to pick your own favorites.
7. Phoenix, AZ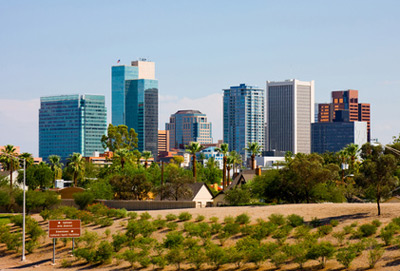 Phoenix, Arizona
20-29 Year-Olds: 14.2%

Fair Market Rent: $925

Bars Per Capita: 7.83

Population Growth: 1.8%

Unemployment: 6.9%
With high population growth in Phoenix, there is plenty of mingling to be had in the desert. Of course, to play hard, you have to work hard, and this city has strong employment options. PetSmart is headquartered in the city, accompanied by three other Fortune 500 companies. And the University of Phoenix and its parent company, Apollo Group, are also major employers in the area. When you do find time to go out, check out FilmBar for independent movies and a full bar, or try the Lost Leaf Bar for local drinks and live music.
8. Orlando, FL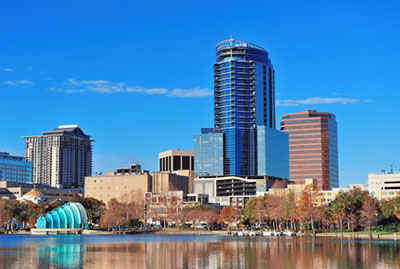 Orlando, Florida
20-29 Year-Olds: 15.5%

Fair Market Rent: $983

Population Growth: 2.2%

Unemployment: 6.9%
Orlando ranks second in the nation for population growth and fourth for percentage of twentysomethings, so if you're thinking about moving there, you better go soon! Rent is higher than a lot of cities on our list, as is its unemployment. But with warm weather year round and beaches not too far of a drive away, Orlando has a lot of perks (and we're not just talking about amusement parks). If you know where to look, you can find great food, in an unconventional way; follow @Ofoodtrucks on Twitter to find out where the best food trucks are headed each day, or go to one of their monthly roundups to try a bunch at once.
9. Houston, TX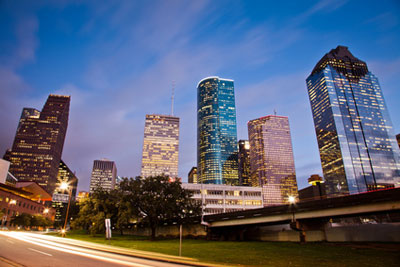 Houston, Texas
20-29 Year-Olds: 14.4%

Fair Market Rent: $945

Bars Per Capita: 10.07

Population Growth: 2.1%

Unemployment: 6.5%
There must be something in the Texas water, because Houston is the third city from the Lone Star State on our list. Though unemployment is higher than Austin's, the average rent is more than $100 cheaper in Houston – and the city is thriving. Check out outdoor performances nearly all year round at Discovery Green and Miller Outdoor Theatre. Houston even has its own bit of quirk to compete with Austin, including the Art Car Parade and an outdoor sculpture exhibit featuring giant heads of U.S. presidents.
10. Denver, CO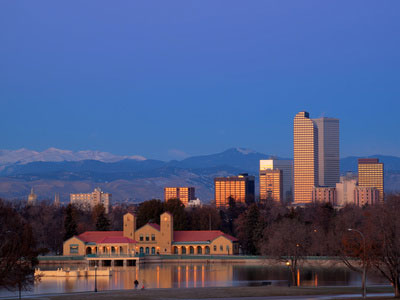 Denver, Colorado
20-29 Year-Olds: 13.9%

Fair Market Rent: $940

Bars Per Capita: 15.23

Population Growth: 1.8%

Unemployment: 6.8%
Denver exhibits significant population growth and lots of happy hours – much of which involve local brews from one of the area's many breweries. Check out the Denver Art Museum's Untitled Final Fridays, an evening program at the end of each month with offbeat activities organized throughout the museum, a cash bar, and live music. Another perk of living in Denver is the public library system's Fresh City Life, which puts on a variety of hip social events, cooking demos, and more. Oh, and did we mention the library's accordion flash mob?
---
Our top 10 list hits just the tip of the iceberg when it comes to the best cities for twentysomethings. We used data for the top 50 metropolitan statistical areas based on population figures. A lot of other factors should be considered before making the plunge; for example, just because unemployment is low doesn't mean there are jobs available in your field.
Sources:
U.S. Census Bureau: 2012 American Community Survey 1-Year Estimates (Age Groups)

Population Change for Metropolitan Statistical Areas and Rankings, July 1, 2011 to July 1, 2012

http://www.census.gov/econ/census/snapshots_center/7224.html

U.S. Department of Housing and Urban Development: 2013 Fair Market Rents

U.S. Bureau of Labor Statistics: July 2013 Unemployment Rates for Metropolitan Areas
Lauren Ward is a research analyst at CreditDonkey, a credit card comparison and reviews website. Write to Lauren Ward at lauren@creditdonkey.com. Follow us on Twitter and Facebook for our latest posts.