Study: Cities with Most Crime
---
Looking for a new place to live or a city to visit for your next vacation? One factor you may want to consider is the crime rate of your destination, to either prepare yourself for potential problems or consider another place to go. We took into account a number of different categories of crime when we compiled the following list of the 10 worst cities for crime.
Study Methodology
We considered several crime-related statistics, but we relied most heavily on the following three, based on national rankings:
Violent Crime (murder, forcible rape, robbery, and aggravated assault)
ID Theft
Fraud
Also factored into the rankings were other types of crimes, such as those involving properties, burglaries, thefts, arson, as well as Internet crime. We determined these crime rates either through city/metropolitan-level statistics, based on the number of people per 100,000 who were victimized by a major incident in the area or, in the cases of Internet-related crimes, the number of incidents per 100,000 people in each state.
Each category was given equal weight with the exception of violent crime, which was part of two statistics (violent crime and total crime) and therefore factored more heavily into the final order of the list.
The city's rankings in each category were combined to determine their overall rank on this list, with lower numbers indicating higher ranks. National rankings in the ID Theft and Fraud complaints categories were out of 380+ metropolitan areas, violent crime and total crime were out of 250+ cities, and the Internet crime statistics were out of 50 states.
10 Worst Cities for Crime
| | City | Violent Crime | Total Crime | ID Theft Complaints | Fraud Complaints | Internet Crime* | CreditDonkey Danger Score |
| --- | --- | --- | --- | --- | --- | --- | --- |
| #1. | ORLANDO, FL | 22 | 7 | 10 | 20 | 8 | 67 |
| #2. | ATLANTA, GA | 7 | 8 | 8 | 40 | 41 | 104 |
| #3. | MIAMI/POMPANO BEACH, FL | 16/21 | 22/30 | 1 | 59 | 8 | 106/119 |
| #4. | OAKLAND, CA | 4 | 5 | 33 | 72 | 13 | 127 |
| #5. | MEMPHIS, TN | 5 | 9 | 26 | 80 | 20 | 140 |
| #6. | CLEVELAND, OH | 13 | 23 | 55 | 60 | 6 | 157 |
| #7. | BALTIMORE, MD | 8 | 60 | 68 | 16 | 7 | 159 |
| #8. | LITTLE ROCK, AR | 12 | 3 | 96 | 132 | 42 | 285 |
| #9. | HOUSTON, TX | 31 | 15 | 41 | 170 | 31 | 288 |
| #10. | DETROIT, MI | 2 | 18 | 18 | 220 | 37 | 295 |
Lower number indicate a higher crime rate.
*Internet crime rates were based on state-level data; the other categories look at city-level information.
1. Orlando, FL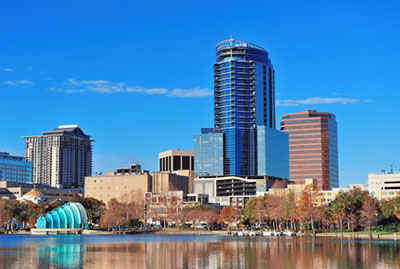 Orlando, Florida
Violent Crime: 22
Total Crime: 7
ID Theft: 10
Fraud: 20
Internet Crime: 8
Orlando is first on the list because it ranks near the top in incidents per 100,000 residents in each of the five crime categories we examined. It has the seventh highest total crime rate in the country and the 10th highest rate of ID theft. Plus, out of all the states, Florida has the eighth highest rate of Internet crime. The lowest Orlando ranked in any of the crime categories is 22nd in violent crimes; however, for a list that considered more than 250 cities, this category still puts Florida solidly in the top 10%.
2. Atlanta, GA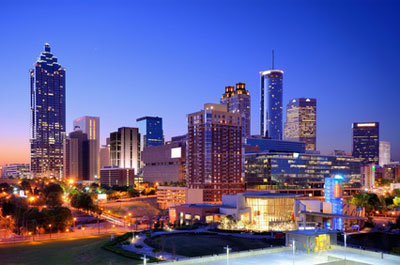 Atlanta, Georgia
Violent Crime: 7
Total Crime: 8
ID Theft: 8
Fraud: 40
Internet Crime: 41
Atlanta actually ranks higher than Orlando in violent crime and ID theft at seventh and eighth, respectively, but is ranked one spot below its southern peer because of its comparatively low incidence of fraud and Georgia's overall low incidence of Internet crime. Still, the city ranks in the top 10 in three of the five crime categories – a distinction shared only with Orlando.
3. Miami/Pompano Beach, FL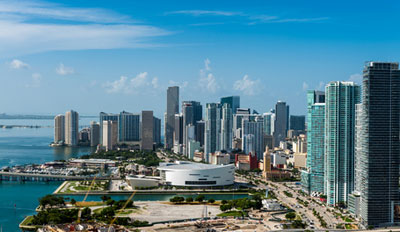 Miami, Florida
Violent Crime: 16/22
Total Crime: 22/30
ID Theft: 1
Fraud: 59
Internet Crime: 8
Florida has the distinction of two hits on this list: The Miami/Pompano Beach region has the highest ID theft rate in the country, topping a list of more than 300 cities. Miami ranks 16th in violent crime and Pompano Beach 21st – both impressive on lists of 250+ cities, but lower than more than half the cities in this top 10.
4. Oakland, CA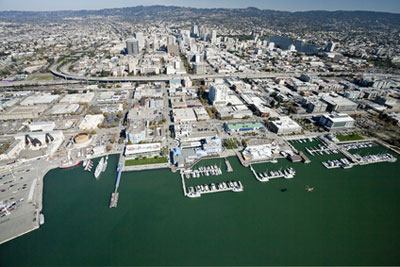 Oakland, California
Violent Crime: 4
Total Crime: 5
ID Theft: 33
Fraud: 72
Internet Crime: 13
Oakland has the fourth highest violent crime rate and the fifth highest total crime rate in the country. On this list, it is second only to Detroit in violent crimes and Little Rock in total crime. These two high rankings make it one of the more dangerous cities on the list in terms of traditional crimes like murder, theft, and assault.
5. Memphis, TN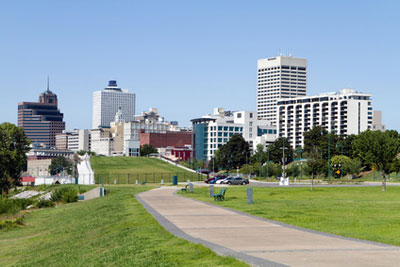 Memphis, Tennessee
Violent Crime: 5
Total Crime: 9
ID Theft: 26
Fraud: 80
Internet Crime: 20
Ranked just below Oakland in violent crime, Memphis is in the middle or even toward the bottom of the rankings in the other crime categories compared to the rest of the cities discussed here. It's still among the top 10 cities in the country for both violent and total crime rate, though, which is enough to get it the fifth spot on this list.
6. Cleveland, OH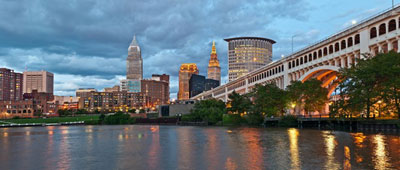 Cleveland, Ohio
Violent Crime: 13
Total Crime: 23
ID Theft: 55
Fraud: 60
Internet Crime: 6
Cleveland has the 13th highest violent crime rate in the country, which is an impressive ranking out of that category's 250+ cities but is only the seventh highest ranking posted by the cities in this top 10. It's also toward the middle of the pack in fraud and ID theft; its overall ranking was helped by Ohio's status as the sixth worst state in the U.S. for Internet crime.
7. Baltimore, MD
Baltimore, Maryland
Violent Crime: 8
Total Crime: 60
ID Theft: 68
Fraud: 16
Internet Crime: 7
Even though Baltimore has this list's lowest rate in total crime rate and second lowest in ID theft, its position as the city with the 16th highest fraud ranking – which puts it higher than the other cities on this list – means fraud is more likely here. Baltimore's violent crime rate is the eighth highest in the country – inside the top 10 nationally but only at the fifth highest rate on our list.
8. Little Rock, AR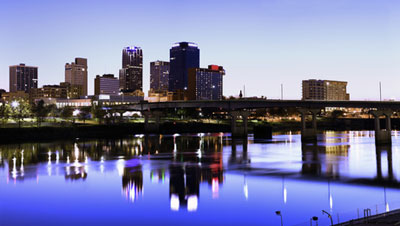 Little Rock, Arkansas
Violent Crime: 12
Total Crime: 3
ID Theft: 96
Fraud: 132
Internet Crime: 42
Little Rock's total crime rate is the highest on this list and the third highest nationally, which elevates it to the eight spot. However, its rate of ID theft is lower than all the other cities mentioned here, and its national ranking in the fraud category is well outside the top 100.
9. Houston, TX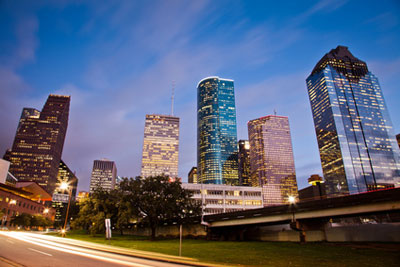 Houston, Texas
Violent Crime: 31
Total Crime: 15
ID Theft: 41
Fraud: 170
Internet Crime: 31
The crime rates posted by Houston in each category are lower than most of the other cities in the top 10. It makes the list in the ninth spot largely because its combined crime rate is the 15th highest nationally – well within the top 10% – while it ranks just outside the top 10% in ID theft and violent crime.
10. Detroit, MI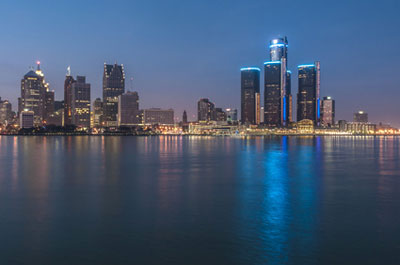 Detroit, Michigan
Violent Crime: 2
Total Crime: 18
ID Theft: 18
Fraud: 220
Internet Crime: 37
Detroit has the second highest violent crime rate in the country (as well as the highest on this list) and is 18th nationally in both total crime and ID theft. The only reason it's not higher in the top 10 is its relatively low fraud rate. A rank of 220 puts it in the lower half of the national rankings.
---
For the purposes of this list, we weighted all crime categories equally, but giving select categories more influence over the rankings would change the order and content of the list dramatically. Different people will place different levels of importance on each category – someone looking to relocate for a job may be more interested in the white collar crimes, while someone looking for a new place to live or for a vacation spot for their family may be more interested in the violent or total crime rankings.
Crime is an unpleasant but realistic part of life in urban areas. Knowing the statistics in your city can help you keep yourself protected from becoming a victim of a crime, either physical or financial. Keep in mind, each city may report crimes differently and some crimes may go unreported.
Don't forget to read our guide on how to protect against identity theft.
Sources:
Leah Norris is a research analyst at CreditDonkey, a credit card comparison and reviews website. Write to Leah Norris at leah@creditdonkey.com. Follow us on Twitter and Facebook for our latest posts.