Survey: Identity Theft Protection Statistics
Consumers are the most effective fraud finders
---
The power lies with consumers to stop identify theft, according to the results of a recent CreditDonkey.com survey. Two-thirds of consumers who have had fraudulent charges were the first to notice them – not their financial institution.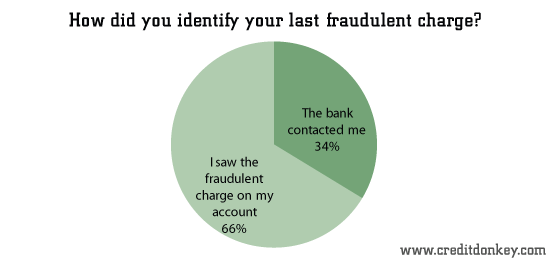 How did you identify your last fraudulent charge?

© CreditDonkey
This begs the question: Why aren't more people checking their monthly bills and statements? The Federal Communications Commission (FCC) reports that only about 5% of customers notice additional fraudulent charges because most of us do not check our bills. Our survey found that 56.3% do not even track their shopping receipts.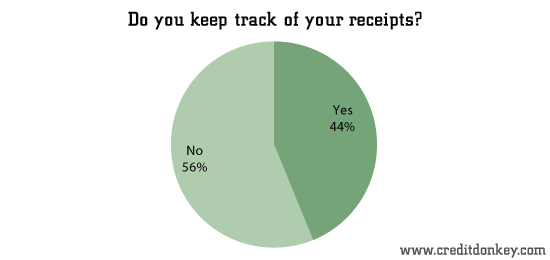 Do you keep track of your receipts?

© CreditDonkey
Clearly, there is large disconnect there and one we can all learn from:
Protect yourself from fraudulent charges and identity theft by checking your bills and account statements every single month to make sure they match your receipts and usage.
Your diligence can't end there, of course. In the same survey, we found 81.2% of consumers are very cautious when it comes to opening emails from unknown senders, and rightly so. "Phishing" is when scammers send a fake email disguised as one from your bank or credit card company. In the email, they claim your account has an urgent problem and direct you to click on a link and input your account information, Social Security number, driver's license number, passwords, or answer security questions. If you fall for it, the email can end up giving scammers access to all of your financial accounts.
The FireEye "Advanced Threat Report 2H 2011" reports that phishing scams spike during the holidays. Luckily, 79.9% of our survey respondents answered they would not open an email from an unknown sender.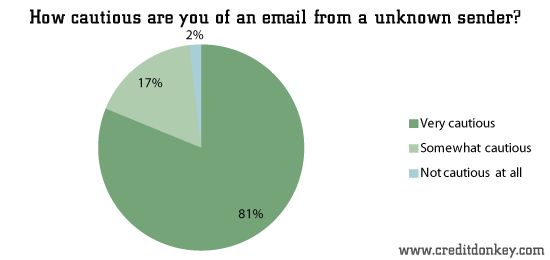 How cautious are you of an email from a unknown sender

© CreditDonkey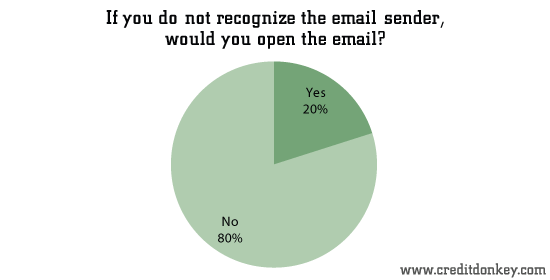 If you do not recognize the email sender, would you open the email?

© CreditDonkey
Still, it can be tempting when a lot of these emails that look legit flood your inbox. An alarming 33% said they receive at least one "phishing" email per day, and another 22.1% said they actually receive 2-5 scam emails per day. Our survey does show that if we are receiving them, we at least know how to identify them as scams before making clicks we'll regret later.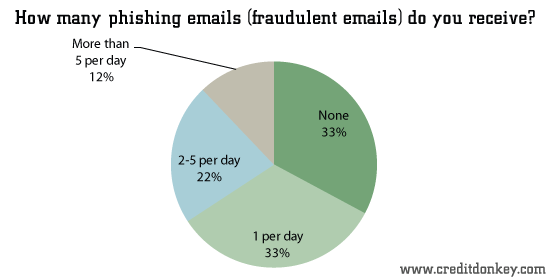 How many phishing emails do you receive?

© CreditDonkey
But the following warning bears repeating. The Federal Bureau of Investigation, FCC, and Federal Deposit Insurance Corp. all offer the same recommendation to prevent identity theft: If you did not ask for a personal email from an institution, don't click on any links and never provide any personal data. To verify an email is real, call the financial institution yourself at the main number listed on your card, your statement, or the company's official website. Never use the number listed on an email or a text message that appears to be from a business.
CreditDonkey.com surveyed 1,045 Americans, age 18 and over between November 19 and November 27, 2012 using multiple choice questions and short-answer questionnaires.
Naomi Mannino is a contributing writer at CreditDonkey, a credit card comparison and reviews website. Write to Naomi Mannino at naomi@creditdonkey.com. Follow us on Twitter and Facebook for our latest posts.