7 Life and Money Lessons Learned from Star Trek
---
"These are the voyages of the Starship Enterprise." Those are comforting words to anyone who has fond memories of the original Star Trek TV series.
We were simultaneously entertained by the exploits and wowed by the space age technologies onboard the Enterprise. But the show was more than just replicators and beaming technology. Star Trek offered some life and money lessons for us earthlings. Here are a few of our favorites.
1. Boldly go.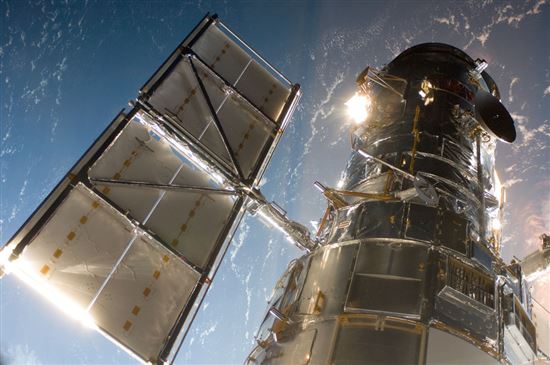 Hubble Space Telescope © NASA Goddard Space Flight... (CC BY 2.0) via Flickr
The familiar Star Trek mission statement claims, "to boldly go where no man has gone before." We tend to focus on the latter mystery and not on the word "boldly," but therein lies sound advice. Proceeding boldly, with confidence, can be a key factor in reaching your goals, whether that's making the first move in a relationship, asking your boss for a raise, or trying to win over sources of funding for a business venture. Even when you're not feeling fully secure in yourself, you can learn to be confident by taking a few steps.
2. Embrace logic and emotion as good things.
Dr. Spock is a brilliant study in the connection between logic and emotion. As half Vulcan, he strives to use reason and logic to the complete denial of emotion. While this sounds like a reasonable approach to making decisions while we're at work or, research by neuroscientists shows that there is value in using both logic and emotion, and that this can, in fact, lead to innovation. Without emotion, we would be unable to even make decisions. To move forward, we need both things.
3. When things get rough, beam out.
"Beam me up, Scotty." It's one of the most alluring concepts from Star Trek, the ability to disappear and materialize somewhere else when the pressure is on and a situation feels unbearable. There are very few cases when you're actually able to truly start over somewhere else. We can think of one where it does happen: the balance transfer of credit card debt. When used wisely (balance transfers tend to have a fee attached), it's an opportunity to catch up on a big balance if the new card has a low or even 0% interest rate. Use our balance transfer resources to beam up big savings.
4. Use your team effectively.
Even before our society embraced such things, the Star Trek team blurred gender and race lines. Captain Kirk masterfully employed this diverse team, with equally diverse skills, exploiting their strengths and mitigating their weaknesses. An effective business manager or head of household does the same thing, practicing basic skills to realize peak performance from their team or family.
5. Lean on good advisors.
Captain Kirk knew when to ask for advice – and he wasn't afraid to employ wise and talented people who challenged his own beliefs. Selecting a financial advisor you can trust requires that same finesse. Use a good vetting process to seek out an advisor who will not only act in your best interest but will not be afraid to tell you what you might not want to hear.
6. Know that peripheral people are expendable.
The most endangered species on the Starship Enterprise was the new guy on the away team. If we didn't know him very well, we knew he was going to die. It was not the core team members but the peripherals who were insignificant in the storyline. This expendability can be alarmingly true in the workplace. It pays to learn how to make yourself indispensable to your boss and your company as soon as possible.
7. Don't forget to have fun.
As hard as the Star Trek crew members went boldly exploring, they made time for recreation breaks, beaming down to attractive planets for some R&R. Studies show the importance of these recreational breaks that we call vacations. Even a brief respite can break the cycle of job-related stress. Use our tips for saving money on your next stress-relieving vacation.
Read Next: