NordVPN Free Trial: Beginner's Guide
Ad Disclosure: This article contains references to products from our partners. We may receive compensation if you apply or shop through links in our content. You help support CreditDonkey by using our links.
(read more)
NordVPN offers a 30-day money-back guarantee free trial with each of their plans. Find out how it really works.

© CreditDonkey
Thinking of trying NordVPN but not sure about committing?
You can try out NordVPN for a month with its 30-day money-back guarantee. However, you'd still have to actually sign up for a plan first. This may be a little scary as you'd have to make a payment upfront.
So just how sound is their refund policy? Is it really "no questions asked"?
We tested NordVPN's refund policy for you to see how well it works. And we can confirm that it's completely hassle-free. So don't be afraid to try.
Read on to learn how to try NordVPN for free and get your refund.
About NordVPN: NordVPN is one of the best all-around VPNs in terms of value and service. It offers top-notch security features, a wide network of worldwide servers, reliable connection, and fast speeds. In addition, it offers excellent P2P and Netflix streaming support.

OVERVIEW: NORDVPN FREE TRIAL
Unfortunately, NordVPN is no longer offering a 7-day free trial. However, NordVPN still stands strong with their 30-day full refund guarantee.
When you sign up for any one of NordVPN's plans, you are fully backed by the 30-day money-back guarantee. Even the month-to-month plan is bound by this policy.
Anytime within 30 days, if you are unsatisfied with NordVPN for any reason, you can contact customer support to request your refund. This is the only way to try NordVPN for "free" right now.
Unfortunately, there's no way to just cancel your subscription with one click of a button. You'll have to start a live chat or email customer support and tell them you'd like to cancel and get your money back.
HOW TO GET NORDVPN FREE TRIAL
To get your free trial, just simply sign up for one of the plans. Go to nordvpn.com and to the "Pricing" tab.
You'll see the four plans offered. Just pick one of the plans and proceed to payment. Whichever plan you choose, you will be required to pay the entire price upfront first. So if you pick the 3-year plan, you'll be paying for the full 3 years now.
We chose the month-to-month plan, as seen below.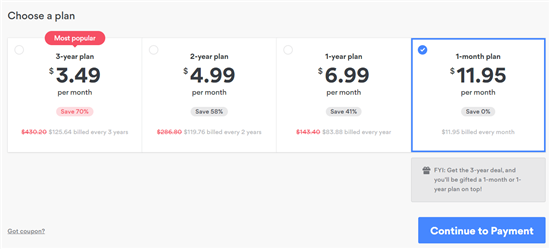 Screenshot of NordVPN
NordVPN accepts payment in the form of credit card and cryptocurrencies. Note that PayPal is no longer accepted.
And that's it. As soon as you've made your payment, you have 30 days to try NordVPN and request a refund.
After signing up, NordVPN will guide you to finish setting up your account. Just simply follow the instructions to install the VPN on your devices and start using it.
NordVPN's Plans are:
Month-to-month: $11.95 per month

One Year: $83.88 billed annually ($6.99 per month)

Two Years: $119.76 billed every 2 years ($4.99 per month)

Three Years: $125.64 billed every 3 years ($3.49 per month)
HOW TO CANCEL NORDVPN AND GET A REFUND
Now let's go over how to cancel your NordVPN subscription and get a full refund. As mentioned before, there is no easy "Cancel Subscription" button that automatically triggers a refund. Instead, you'll have to do a two-step process.
Log into your account at nordvpn.com.

Next to your plan, select "cancel automatic payments."

Contact customer support either through live chat or email.

Explain you want to cancel and request a refund.

Receive your refund within 5-10 business days.
Remember that you must request your refund within 30 days of signing up.
Here's how it looks step by step:
Step 1:
Log into your account via the website nordvpn.com. Log in with your email and password.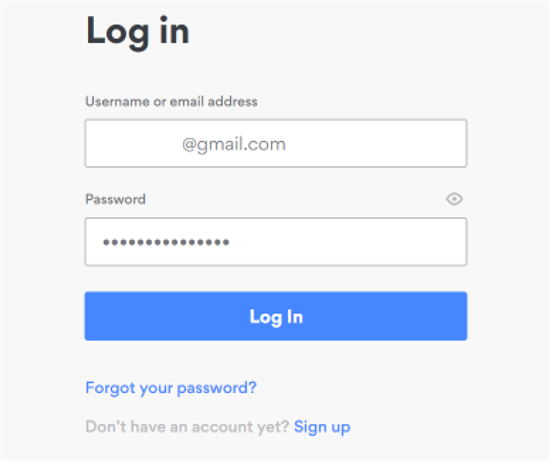 Screenshot of NordVPN
Step 2:
As soon as you log in, you'll see your dashboard, where your plan is displayed. Click on the 3 dots next to the blue "Change Plan" button. You'll see the option to "Cancel automatic payments." Click on that.

Screenshot of NordVPN
A pop-up will appear asking if you're sure you want to do that. Confirm the cancellation.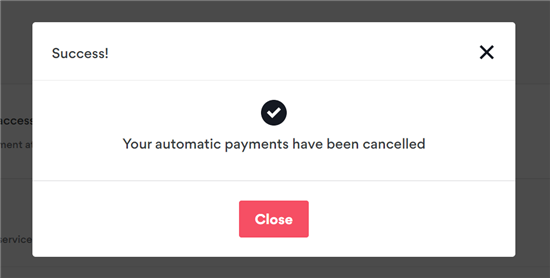 Screenshot of NordVPN
Now, this merely cancels auto-payments. Not your subscription. Next you'll need to chat with a customer support rep to actually cancel your subscription.
Step 3:
You'll now need to ask for a refund either through live chat or email. To do either one of these, click on the little "question" logo at the bottom of the right corner. A support box will appear. You'll see options to either email or chat.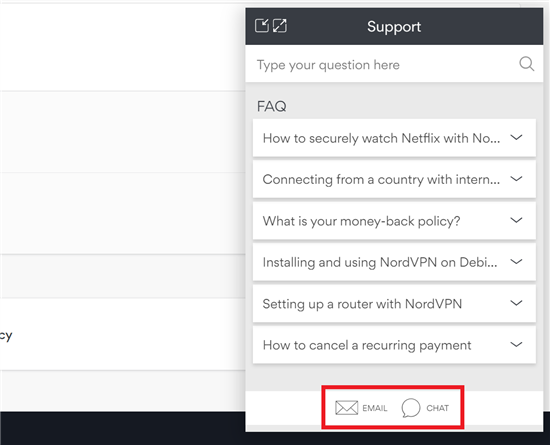 Screenshot of NordVPN
We chose the live chat option since the replies are instant. The email process is much the same, though.
Step 4:
Type out your message and start a chat.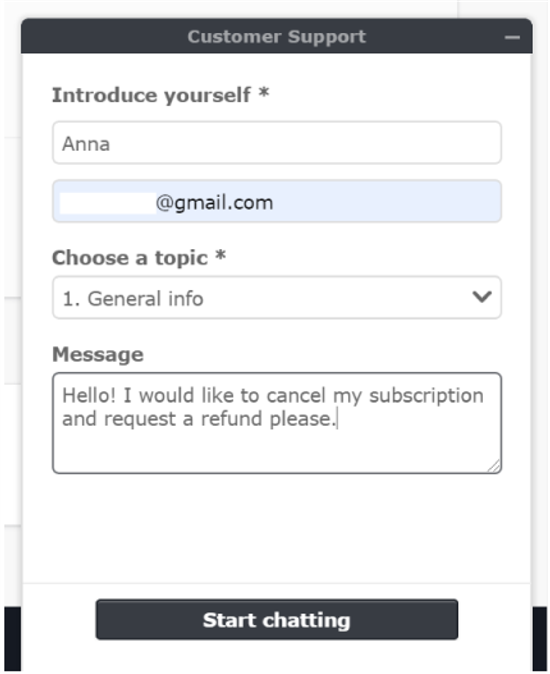 Screenshot of NordVPN
Now we'll show you our experience in getting a refund.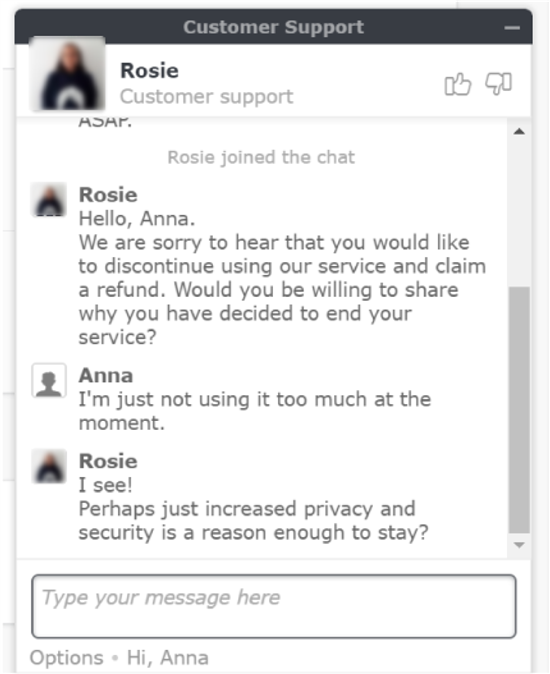 Screenshot of NordVPN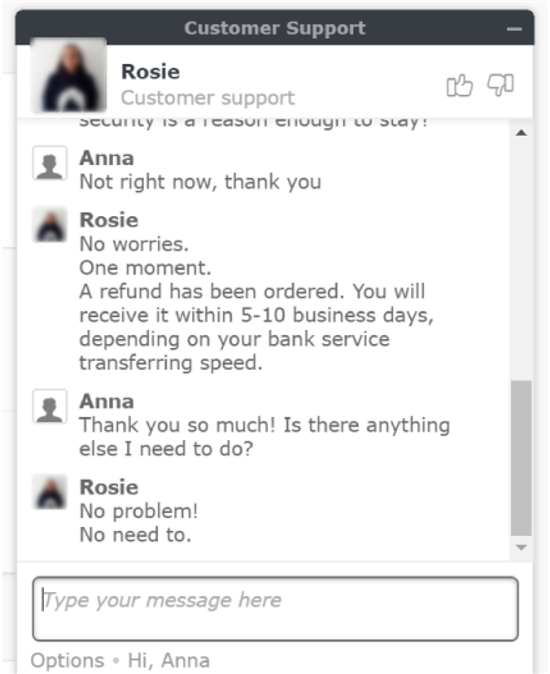 Screenshot of NordVPN
The process was very fast and easy. They do not try to pressure you to stay on as a customer. They don't ask what your specific issue is and try to troubleshoot it first before allowing you to cancel. It's pretty much no questions asked.
Some general answers you can give are:
I don't think I need it right now.

I'm not using it that much.

I don't find it very user-friendly.

I've decided to go with another provider.
Step 5:
Wait for your refund to arrive in 5-10 business days by the method you paid. And that's it.
WHAT TO KNOW ABOUT THE REFUND POLICY
Here is some fine print to know about the NordVPN refund policy. Not all purchases can be refunded.
If you made the purchase through the Apple's App Store, NordVPN will not be able to grant you a refund. You'll have to contact the App Store in that case.
Payments made using prepaid cards or gift cards will not be refunded.
If you purchased a subscription through a reseller (like Amazon and BestBuy), NordVPN cannot refund the purchase. Refunds will be based on the reseller's terms and conditions.
For payments made in cryptocurrency, the refund will be issued in the same cryptocurrency based on the current exchange rate.
NORDVPN PROS & CONS
Before you cancel NordVPN, think about whether you REALLY want to cancel or not.
Using a VPN is generally recommended to keep yourself safe while online. A VPN will change your IP address, hide your location, and encrypt all your data. It keeps your online identity and activities private.
If you're deciding whether NordVPN is the right provider for you, consider these pros and cons. Be sure to also read our in-depth review.
PROS:

Excellent security features

Over 5,800 servers in 59 countries

No logging policy

Supports Netflix streaming

Supports torrenting and P2P sharing

Protects up to 6 devices

Great value for longer plans
CONS:

Expensive if billed monthly

No phone support

Speed can be slow sometimes
What Experts Say
CreditDonkey assembled multiple industry experts to answer readers' most pressing questions:
Should people use VPNs in their homes?

What are the disadvantages of using a VPN?
Here's what they said:
BOTTOM LINE
NordVPN is one of the best VPNs if you're looking for security, reliability, and value. The 30-day money-back guarantee gives you a chance to try out the service for "free." Getting a refund is easy and hassle-free, so just because there's no longer a free trial, don't let that stop you from trying it out.
If you decide that NordVPN isn't right for you, it's best that you still protect your privacy with another VPN service.
Consider these alternatives below.
NORDVPN ALTERNATIVES
ExpressVPN
ExpressVPN is another highly rated VPN. It also supports torrenting and streaming, and can bypass China restrictions. NordVPN offers a Double VPN server option (giving you double security by encrypting your data twice), while ExpressVPN offers split tunneling (allowing you to choose what app traffic to route through the encrypted VPN).
ExpressVPN has 3,000+ servers in 94 countries (compared to NordVPN's 5,800+ servers in 59 countries). Having access to more countries is useful if you travel a lot or want to access a site from a specific country.
ExpressVPN is more expensive than NordVPN. But in general, it offers faster speeds, so if that's super-important to you, it may be worth the higher price.
If getting the best value is more important, then NordVPN's 3-year price can't be beat (if you're willing to make the commitment).
ExpressVPN also has a 30-day money-back guarantee, so you can try it out first too and see which you prefer.
IPVanish
IPVanish offers a lot of advanced features to protect your security, such as IP switching, port scrambling, and kill-switch.
Other features include "block LAN traffic." This stops your device from connecting to open Wi-Fi hotspots unknowingly. You can also enable "stealth mode," which stops ISPs from knowing your VPN use.
IPVanish VPN has over 40,000 IPs on 1,400+ servers in 75+ locations. It also offers 250GB of SugarSync encrypted storage and backup. You can have up to 10 simultaneous connections.
IPVanish only offers monthly, 3-month, and 1-year subscriptions. The 1-year rate is actually a little bit less than NordVPN's 1-year plan. So it's a good option to try if you don't want to make a longer commitment. IPVanish only offers a 7-day money-back guarantee.

Write to Anna G at feedback@creditdonkey.com. Follow us on Twitter and Facebook for our latest posts.
Note: This website is made possible through financial relationships with some of the products and services mentioned on this site. We may receive compensation if you shop through links in our content. You do not have to use our links, but you help support CreditDonkey if you do.
Compare: