Best Free VPN: Top Comparison List
Ad Disclosure: This article contains references to products from our partners. We may receive compensation if you apply or shop through links in our content. You help support CreditDonkey by using our links.
(read more)
How good can a free VPN really be? And can you find one without speed limits? Read our guide to find out if free VPNs are any good and which ones are worth checking out.
Why should I use a free VPN?
Even if you're not a regular user, there are times when using a VPN is important.

If you're on holiday, then you're most likely using a public Wi-Fi networks. These are unsecure and easily hacked by identity thieves who'll steal your information to commit fraud.
If you're doing sensitive research for work or school, you may want to keep your topic private.
If you're visiting a restrictive foreign country, you may want to access sites and services which are banned.
In these cases, you'd only need to use a VPN service temporarily. It wouldn't make sense to subscribe for a whole month or year.
The best solution would be a free VPN service. But with so many free VPN services out there, which one should you choose?
What to look for in a free VPN
With free VPNs, there's always a compromise. VPN services cost money to run. If you aren't paying then providers are. That means, free services usually have a hidden monetizing angle.
Some providers offer a free service which you need to pay to upgrade. This is usually the best-case scenario. Although limited, their free services are just as good as their paid version.
The only difference is, it comes with a data or speed cap. If you want more, you'll have to upgrade your service.
Other VPN providers insert ads into their service. And some sell your information to third-parties outright.
TIP:
Do your homework before choosing a free VPN.
Some VPN services practice unethical business practices. They could even use your device to conduct illegal activities. It's always wise to look online before settling on a free VPN. Make sure to read the reviews, too.

How to choose a free VPN

© CreditDonkey
Always be on the lookout for these three things:
How are they making money? Always consider how a VPN provider covers its costs.

Free services often come with ads. They also limit the speed or data you can use. Others may not have ads, but are limited. You'll have to pay to upgrade the service.

If they provide a service without limitations, then you should be suspicious. There's no such thing as a free lunch!

What is their privacy policy? Using a VPN service is basically trusting your data with the provider.

This includes:


Passwords

Credit card information

Personal details

Always review the logging policy to see what's being stored. Ideally, a VPN provider should have a zero-logs policy. The less information they store, the better.

How much data do they provide? Most free providers put a data cap on their services, so find out what the limit is.

Some provide great service for limited data. This means the service is good for browsing only. Others have a bigger data cap, but limited servers.

This means you can download or stream, but can't bypass location restrictions. Depending on your needs, the data cap will determine how suitable it is.
Best free VPN Service

© CreditDonkey
Here are the best free VPN service providers. Remember, each has its own advantages and limitations.
Best free VPN service for beginners: TunnelBear
If you're new to VPN, TunnelBear is a good choice. They've got a good, easy-to-understand privacy policy. The cute design and simple interface is very user-friendly too.
The free version comes with a 500MB data cap per month. You can get an additional 1GB data if you tweet about TunnelBear. This means altogether you can get 1.5GB for free, which is pretty good.
The downside is that 1.5GB isn't enough for anything other than browsing the web. It's not suitable for streaming or file sharing. If that's what you're after, we recommend upgrading to the paid service.
You Should Know
Despite its cute design, TunnelBear is a serious VPN provider. It's been around since 2011, so it's a company with experience.
It's also been endorsed by sites like Forbes, The Verge, and Lifehacker.

The free version has access to servers in 20 countries, except for their Australian network. That's for paying users only.
TunnelBear makes its revenue from its paid version.
We looked over TunnelBear's zero-log policy, and we love it. They explain all the data they store, and why. It's also explained in simple terms, which makes it perfect for beginners.
However, bear in mind that it is still a VPN service in the "Five-Eyes" nation. This means that TunnelBear may have to hand over their logs someday (little as it might be).
Still, the information they store is limited. We think TunnelBear is a dependable choice.
"You can trust TunnelBear for a few reasons. The first is that we make 100% of our revenue from paid subscriptions. We do give a little bit of data away for free, but our hope is that you'll fall in love and give your Bear a forever home!
Often, free VPN services will collect your personal/usage data and sell it to third parties in order to make money. TunnelBear will NEVER do this. TunnelBear has a fierce no-logging policy. At no point, and under no circumstances will TunnelBear log or sell your personal/usage data."
--Taken from TunnelBear's FAQ section

Their simple, user-friendly interface is great for beginners. It shows where you are, the tunnel you're using, and where you're appearing from. There are additional settings, but if you're new to VPN, you can leave this alone.
TunnelBear is also compatible with Mac, Windows, iOS, and Android.
TunnelBear is good if you're traveling for a holiday and just plan to surf the net. Having servers around the world means there's always a local server nearby. The design and interface is also great for beginners.
Best overall free VPN: Windscribe
Windscribe is a relative newcomer to the VPN scene. Like TunnelBear, it's a Canadian-based VPN.
You Should Know
Windscribe has been around since mid-2016. But it's already ranked as one of the top-rated free VPN services around.

The free version gives you 10GB of data per month. For a free service, that's a lot.
With that allowance, you can use it to stream content. It also supports P2P file sharing, so you can do that too. The free version also connects to any number of devices.
In terms of safety, Windscribe has a paid version, so we feel secure with its business model.
Of course, there are downsides.

1. They limit the speeds and server locations for free users. The free version has access to only 11 locations (the full list is 50).
2. They also slow down speeds to give way to paying users.
3. There is no live chat support. To report an issue, you'd have to use their ticketing system.
Windscribe is located in a "Five-Eyes" state. However, they had this to say about user data requests:
"Since we store the bare minimum for a customer to actually use our service, any request for user data would yield nothing of value. We do not store any logs on who used what IP address, so we cannot tie user activity to any single user."
That's a reasonable policy, so we feel that Windscribe is safe.
Best free VPN for P2P file sharing/torrenting: Windscribe
Because of its generous data allowance, Windscribe is a good choice for torrents and file sharing. However, it allows P2P only on servers in Netherlands, Spain, Mexico and Canada.

Windscribe has two parts to their services. There's a VPN client and a browser extension. The browser extension blocks ads and trackers.
It also blocks features such as Facebook "like" buttons. These features could reveal your activity to Facebook.
If you're looking for a free VPN service with a big monthly data cap, choose Windscribe. We don't like the slow speeds and limited server locations. Still, the generous data allowance makes up for it.
Best free VPN for Kodi: Windscribe
Because of its dedicated Kodi and Amazon Fire TV app, we feel Windscribe is the best free VPN for Kodi. The 10GB data cap also lets you watch a few movies before running out of data.

Best free VPN for speed: Hide.me
Hide.me is a Malaysian-based VPN provider that offers a free and a paid service.
The free service offers 2GB data per month and fast speeds.
Hide.me claims that it may limit free users' bandwidth in favor of paying customers. However, free users will always have a minimum bandwidth of 3 Mbit/s.
The downside is, Hide.me's free service only connects to Singapore, the Netherlands, and Canada.
You Should Know: Hide.me used to be ad-supported. However, they've since changed their business model. They no longer feature ads.

Hide.me claims that they've been audited by independent security analysts. The audit certifies that their system doesn't store user data. Just to be sure, we had a look at their privacy policy.
"To maximize your privacy we collect the minimum information required, and that is your email address. We do not request or store your name, IP address, physical addresses, phone number or any other personal information.
Payments are processed by Paymentwall Inc. and Cleverbridge AG and we are not saving any details about the payments in our system. The subscriptions are renewed or updated by Cleverbridge AG with a dedicated user id for each user account."
This shows effort in trying to protect your privacy, so we feel secure with Hide.me.
Hide.me is compatible with Android, iOS, Mac, Windows, Windows Phone, and the Microsoft Surface.
Best free VPN for Mac: Hide.me
Because of its ease of use, we recommend Hide.me for Mac. Apple software is known for simple, user-friendly designs. Hide.me's simple interface fits in right along with that.

Their interface is simple and easy to use. It shows where you're appearing from, your VPN server, and a connect/disconnect button. There's also a button for advanced options if you'd like to change them.
Hide.me does have limited server locations. However, their data allowance, simple interface, and solid performance wins us over.
Best Free VPN for Windows: ProtonVPN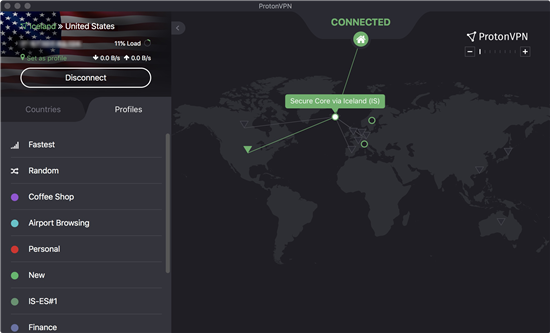 Image Courtesy of ProtonVPN
If the name sounds familiar, there's a good reason for that. Proton VPN was made by the same guys who made ProtonMail, the free encrypted e-mail service. That shows us the company cares about online privacy.
On top of that, ProtonVPN also has a paid service. This reassures us that ProtonVPN is a reliable VPN service.
We love that ProtonVPN's free service has unlimited data. We don't know any other VPN provider that gives that kind of allowance.
The downside is that the free service only lets you access three countries. Their servers are in the US, Netherlands, and Japan. However, we think most people will be able to find a server near them.
NOTE: P2P is not supported on free servers with ProtonVPN.
Another downside is their slow speeds. Various web and user reviews have commented on their slow connections. Still, for unlimited data, this is a reasonable trade-off.
We also like ProtonVPN's Windows client, which is well-designed.
The interface shows a world map which highlights all server locations. It also has a separate list for countries. For those who prefer simplicity, there's also a "Quick Connect" button.
iOS users, however, will need to use a third-party program to install ProtonVPN.
You Should Know: New users get the full version for seven days. The full version lets you access all 100+ servers across 14 countries.

In terms of security, we feel that ProtonVPN delivers on its promise. The business is based in Switzerland, which has some of the world's strongest privacy laws.
They also explain their "zero-logs" policy in their FAQ. They do keep a single timestamp of each account's login. However, this is overwritten when you start a new session. This log is to protect against brute-force attacks.
ProtonVPN is a good choice for Windows users who don't mind slower speeds. The free trial and the unlimited bandwidth make ProtonVPN viable, even in the long-term.
Best Free VPN for Android: Opera VPN
It's important to make a distinction with Opera VPN. The desktop app works ONLY with the browser. This makes it more like a proxy server instead of a true VPN.
However, the mobile app does work like a VPN. It protects all traffic going through your phone. We'll focus on the mobile version for Android.
Opera VPN is a free, simple VPN which works on Android and iOS. It's powered by Toronto-based developer SurfEasy, which also has its own paid VPN service.
The free version doesn't have as many features as SurfEasy's paid products. The app is ad-supported, which is how it covers its costs.
You Should Know:
Opera VPN doesn't have a data cap. You can also install as many copies on as many Android devices as you want.

It doesn't support P2P and file sharing. You won't be able to download or share large files with it. Also, the VPN app for Android only has five server locations to choose from.
You can connect to the USA, Canada, Germany, Singapore, and The Netherlands. However, many have reported good speeds and performance with the app.
The app's interface is straightforward and simple. Installation and connection is easy. You can choose a region, or tell Opera to connect to the closest server. Just tap the "connect" button and you're protected.
It has some features like a Wi-Fi Security Check and "Guardian" feature. However, the features are optional and not that important.
NOTE:
In terms of privacy, Opera VPN is less secure. It collects statistics on its users and their online behaviors.
This includes things such as device type, browser, OS type and IP address. They also log the date and time of your activity.

Still, the service doesn't connect this information with your name, email address, or other personal details. They're building browsing histories. However, it's anonymous and hard to connect.
All in all, Opera VPN's Android app is good for casual VPN seekers. It's free, easy to use, and have decent download speeds with no data cap.
The downside is that it doesn't have many locations to choose from. It's not as private as other paid services either. However, for basic protection, it's a decent choice.
Another Option
VPN Gate began as a research project by the University of Tsukuba Graduate School in Japan. The research was to test their SoftEther VPN software.
It's a free, open-source VPN client. It can be used across different platforms and with different protocols.
You Should Know:
Being a research project makes them different from commercial VPN providers. Unlike commercial VPN services, VPN Gate doesn't have blocks of IP addresses from the same ISP.
Their network is made up of random user IP addresses from all over the world.

Basically, VPN Gate works like a VPN service. The difference is, instead of connecting to a dedicated server, you're connecting to other volunteers. The volunteers act as the VPN server instead.
This means your privacy could be compromised. Anyone can volunteer to be a server. It's possible that some of these servers are potential traps.
"It is necessary to avoid abusing users who exploit VPN Gate to hide their IP address for wrongdoing. An in case of such abusing were occurred, it is necessary to trace the source IP address of such illegal user.
Analyzing VPN Connection Log is helpful to investigate the source global IP address of him. We will disclosure the VPN Connection Logs to a policeman, a prosecutor, a lawyer or a court who is authorized by applicable laws."
--Taken from VPN Gate's privacy policy

If you care about privacy, VPN Gate is not exactly on your side. However, VPN Gate was meant to protect you from hackers and bypass censorship. It was not intended as a privacy tool.
They do store connection logs (not usage logs), which include information such as:
Date and time

ID, IP address and hostname of destination VPN server

Type of action (connect or disconnect)

Raw IP address and hostname of the source VPN client computer

Type of VPN protocols (SSL-VPN, L2TP, OpenVPN or SSTP)

VPN client software-name, version and ID (if available)

Number of packets and bytes during a VPN connection, and debug information of communication errors
It's not exactly clear if you can use VPN Gate for torrenting. In theory, you could. However, it might get the host VPN in trouble. They'll presumably report your IP if it ever comes to that.
Also, another downside is its slow speeds. Many reviews and users report slow speeds while using the service.
Since it's not a commercial service, there's no support either. They do have a forum. However, you'd need to be tech-savvy to understand the discussion. It's certainly not a place for beginners.
All in all, the slow speeds and privacy issue means VPN Gate isn't for everyone. Still, it's not a bad choice for a free service.
Common questions:
Are free VPNs safe?
Most of the free VPN providers we reviewed have a paid version or are ad-supported. They've also been around for a while. Plenty of users and sites have reviewed them.

However, VPN providers can be dangerous. Since they have access to your private information, they could use this against you.

They could sell your information to third-parties. They could include spyware or malware with their products. They could even use your IP address for criminal purposes.

With free VPNs, it's best to go with providers who have been around for a while. Also check to see if they have a good reputation in the business. You don't want your private information in the wrong hands.

With so many free options, why should I pay for VPN?
Although there are plenty of free options, each of them comes with a limitation. Either they have ads, or there's a data cap, or slow speeds. These limit the things you can do online.

Also, the problem with free VPNs is that it's hard to know which ones you can trust. VPN providers have access to your personal information and online behavior. T
hese are valuable to advertisers and other third-parties. In exchange for free service, they could be selling your information for a profit.

Remember, VPN services cost money to run. Even free VPN providers need to make money somehow. Without paying customers, they're more likely to make money off your personal information or privacy.
Bottom Line
With free VPNs, there's always a limitation to deal with. Whether its speed, privacy, or data caps, it's highly unlikely to find a free provider that's as good as a paid one.
When choosing a free service, pick one that best suits your needs. While traveling, you may just need protection, so speed and server locations aren't a priority.
But if you're using it at home, you may need a bigger data allocation. Depending on what you intend to do, privacy and security could be important too. In that case, you'll need to compromise on speed or having to deal with ads.
In short, you can't have it all with free VPN services. You'll have to compromise on something. Also check to see if the provider is safe.
Choose a company with a solid reputation, one who's been around for a while. If a provider offers a service that's too good to be true, it most likely is.
Write to Khairie A at feedback@creditdonkey.com. Follow us on Twitter and Facebook for our latest posts.
Note: This website is made possible through financial relationships with some of the products and services mentioned on this site. We may receive compensation if you shop through links in our content. You do not have to use our links, but you help support CreditDonkey if you do.