Ad Disclosure: This article contains references to products from our partners. We may receive compensation if you apply or shop through links in our content. You help support CreditDonkey by using our links.
(read more)
Avoid overpaying for a diamond. Use this free online calculator to quickly estimate the fair price of a diamond given its shape, carat, color, cut, and clarity.
How do I know how much a diamond is worth?
To calculate the value of a diamond, you need to know it's color, cut, and clarity as well as its shape and carat size. Looking at similar diamonds will help give you an estimate of how much the diamond is really worth.
It's important to look at current prices because pricing changes depending on supply and demand trends.
This diamond price calculator helps you do comparative market analysis in one click. After using our calculator, you'll have a better idea of what to expect and avoid wasting money.
Diamond Price Calculator
This diamond price calculator calculates the range and average current retail price of diamonds being sold today, based on the 4Cs and other specs.
Don't Get Ripped Off. Compare Diamond Prices
We have the default set to H color and VS2 clarity. These are our recommended settings for the best value diamonds in terms of price and beauty.
Our diamond price calculator estimates are based on the current market prices of top online diamond retailers.

Guide to Diamond Price Calculator

Here's an explanation of the different factors. If you're not sure what settings to choose, you can follow our tips to get the best value for your money.
Carat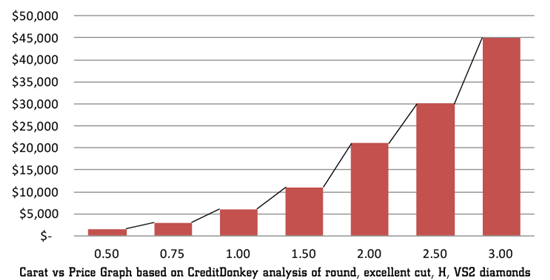 Diamond Price vs Carat

© CreditDonkey
Carat is the weight of the diamond, which directly relates the size. Diamond price increases exponentially as you go up in carat weight, because larger diamonds are harder to find.
Pro tip: For the best value, look for a carat weight just below the magic numbers. Half and whole carats (such as 1.0, 1.5, 2.0, etc.) are considered magic numbers because the price jumps significantly.
To save up to 20%, choose a carat like 0.9 instead of a 1.0 carat. Visually, the face-up size difference is so small that you can't tell.
A 1-carat round diamond is 6.4-6.5 mm in diameter. A 0.9-carat round diamond is 6.2-6.3 mm in diameter. This is literally just a difference of 0.2 mm - the thickness of a piece of paper.

Search 0.9 carat diamonds
Search 1 carat diamonds
Color
Color refers to how much of a yellow tint is in white diamonds. For engagement ring diamonds, the color grades are:

D, E, F (Colorless): These diamonds are very rare and thus most expensive.

G, H, I, J (Near Colorless): An expert gemologist can detect a light yellow tint, but most people cannot.

K (Faint): A yellow tint is more apparent even to the casual observer.
Pro tip: If you're buying a platinum or white gold ring, an H diamond is great value because it's cheaper but still looks white. If the ring is yellow or rose gold, you can even choose a J or K diamond because it'll look white against the ring.
With larger diamonds, color will be more noticeable. If your diamond is 2 carats or larger, you'll want to upgrade the color by one grade.
See H diamond prices
Cut

Diamond Cut Scale

© CreditDonkey
Cut is the most important factor. It refers to the proportions, symmetry, and polish of a diamond (NOT shape). This determines how brilliant a diamond is.
A well-cut diamond will reflect a lot of light back and look super sparkly. A poorly cut diamond will leak light and look dull.
Pro tip: Cut is definitely an area you don't want to compromise on. Go for Ideal cut if you can. A well-cut diamond can be so sparkly that it looks bigger and hides flaws.
Clarity
Clarity refers to how many flaws are in the diamond. The grade is given based on how many flaws can be seen under 10x magnification. The grades are:

F, IF (Flawless / Internally Flawless): No imperfections. These diamonds are super rare.

VVS1, VVS2 (Very very slightly included): Almost perfect; very tiny flaws that can barely be seen under 10x.

VS1, VS2 (Very slightly included): Flaws slightly more noticeable under magnification, but the naked eye can't see them.

SI1, SI2 (Slightly included): Flaws pretty easily seen under magnification, and possibly to the naked eye.

I1 (Included): Larger, visible flaws to the naked eye.
Pro tip: Likewise, most people can't see tiny imperfections with the naked eye. So you only need a diamond that's eye-clean. Choose VS2 clarity for best value.
See VS2 diamond prices
Shape

© CreditDonkey
The shape of the diamond also plays a huge role in how much the diamond costs.
Round diamonds are the most expensive - as much as 40% more than other shapes. This is because it takes more skill and precision to cut a round diamond, and more rough diamond is lost during cutting.
Here are some special considerations for shapes:

Round: This brilliant cut is good at hiding color and flaws, so you can get away with lower color and clarity grades.
Oval, pear, and marquise: These shapes have elongated tips, where they can trap yellow tints. Choose H color if the diamond is at least 1 carat.
Emerald and asscher: These shapes have a large window into the depth of the diamond, so flaws can be more easily seen. Choose VS1 or VS2 clarity.
Round is the most popular shape for engagement rings. After that, princess, cushion, and oval are the most popular.

Fluorescence
Fluorescence is a natural effect that causes a diamond to have a blue glow under UV light.
This is usually seen as a bad trait, so diamonds with fluorescence will be priced a little lower. But fluorescence typically doesn't have a negative visible effect, except in some cases. You can read more here.
Pro tip: Because of the blue glow, it can make slightly yellow diamonds appear whiter (like an I diamond can look like an H). So you can actually save 3% - 15% by picking a lower-color diamond with fluorescence.
Anna G is a contributing writer at CreditDonkey, a diamond jeweler comparison and reviews website. Write to Anna G at feedback@creditdonkey.com. Follow us on Twitter and Facebook for our latest posts.
Note: This website is made possible through financial relationships with some of the products and services mentioned on this site. We may receive compensation if you shop through links in our content. You do not have to use our links, but you help support CreditDonkey if you do.
Read Next: