Survey: Many Americans Believe Common Credit Card Myths
---
While most Americans haven't been duped by popular credit card myths, some people certainly have.
The blogosphere has long buzzed with reports that Americans have fallen prey to certain myths about credit cards and personal finance—from the notion that checking your credit report will lower that score to the belief that federal bankruptcy law now prohibits individuals from filing for Chapter 7. But how many people actually believe these falsehoods?
Surprisingly, our recent survey shows that on certain topics, sizeable numbers of Americans believe that fiction is fact.
On the bright side: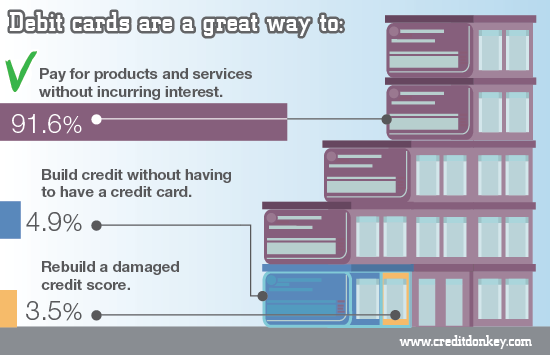 Infographics: Debit cards are a great way to

© CreditDonkey
Almost 92 percent of those surveyed knew that debit cards cannot help build a credit history or rebuild a damaged credit score.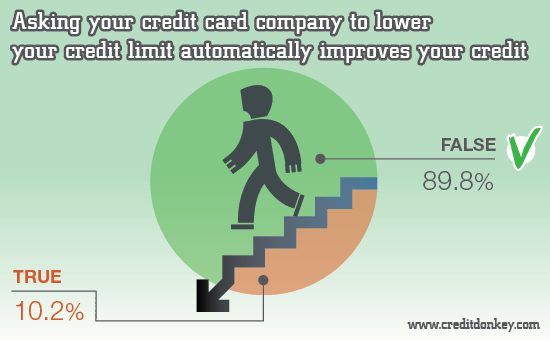 Infographics: Lower your credit limit

© CreditDonkey
89.8 percent of those polled also knew that asking a credit card company to lower your credit limit doesn't automatically improve your credit score.
On the darker side: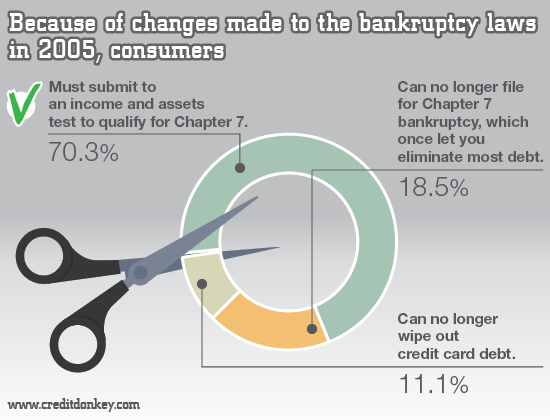 Infographics: Bankruptcy law changes

© CreditDonkey
Almost 30 percent of respondents thought that credit card debt could no longer be eliminated through Chapter 7 bankruptcy or that the option hasn't been available to individuals since 2005. In truth, individuals can still file for Chapter 7, but must pass a "means test" to qualify.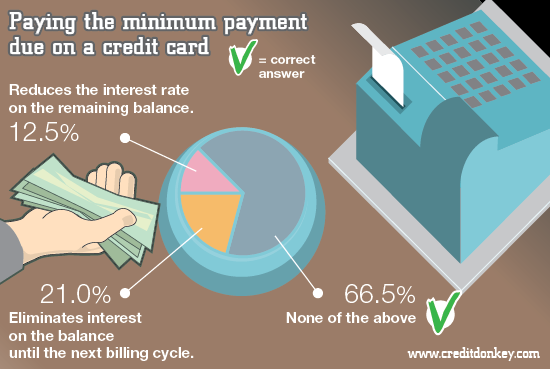 Infographics: Paying the minimum payment due

© CreditDonkey
33.4 percent believed the myth that
making the minimum payment on a credit card
reduces the interest rate on the balance, or stops interest from accruing on the principal until the next billing cycle.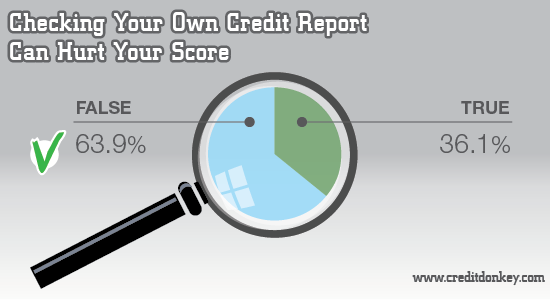 Infographics: Checking your own credit report

© CreditDonkey
One pervasive myth—that self-checking your own credit report can hurt the score—generated the second-highest number of wrong answers in the survey: 36.1 percent of people thought this fallacy was a fact.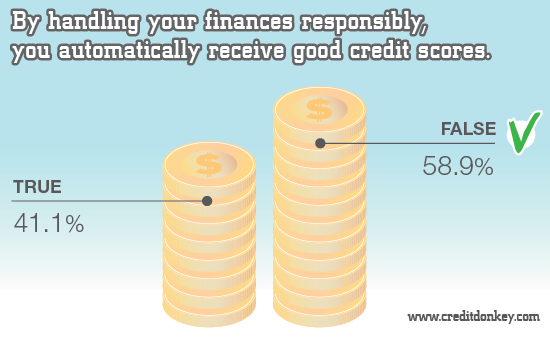 Infographics: Automatic receive good credit score

© CreditDonkey
The highest number of mistaken answers came in response to the question, "By handling your finances responsibly, you automatically receive good credit scores," with 41.1 percent believing this was true. While handling one's finances responsibly (e.g., paying credit card bills on-time and minimizing amounts owed) is a great start, consumers should regularly check their credit reports to
monitor for identity theft
and errors that may negatively affect credit scores.
Overall, we were pleasantly surprised at how many people knew their stuff when it came to credit cards.
We were especially gratified by the number of people who knew you should check your credit with more than one bureau—84.4 percent. We'd like to think that CreditDonkey has played a role in helping educate consumers, but obviously we still have work to do. Too many people are still operating under false assumptions.
From May 2 to May 6, 2012, CreditDonkey conducted the survey of 610 Americans using seven multiple choice and true-false questions based on widely reported credit card and personal finance myths.
(Graphic Design by Marco)
Charles Tran is the founder of CreditDonkey, a credit card comparison and reviews website. Write to Charles Tran at charles@creditdonkey.com. Follow us on Twitter and Facebook for our latest posts.