Survey: Buyer's Remorse Statistics
Buyer's Remorse Dampers Holiday Season
---
How often do we waste money shopping and suffer buyer's remorse because of it? A lot, according to a recent CreditDonkey.com survey. More than 50% of survey respondents said they often or sometimes feel guilty about purchases. Just over 40% said they rarely feel that urge to return their purchases, and the rest never feel nagging guilt.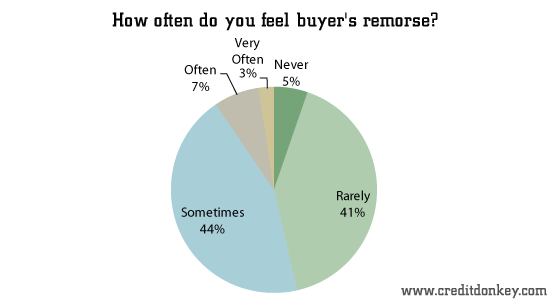 How often do you feel buyer's remorse?

© CreditDonkey
Buyer's remorse can happen for a lot of reasons but the most popular are:
You bought it on credit because you didn't have enough cash (think: big ticket)

A better version of it just came out (think: technology upgrades)

It was an unnecessary purchase and expense (think: fashion splurges)

It was on sale (think: Black Friday)
Take heart the next time you regret a purchase, you may have more than yourself to blame. Retailers are bombarding us constantly via smartphone apps, texting, and emails with reasons to buy now that are hard to resist, according to Gary Belsky, co-author of "Why Smart People Make Big Money Mistakes … And How to Correct Them." In his book, he explains that the time limit imposed on a deal or a deep discount can affect your ability to think clearly.
With this reality in mind, watch out for flash sale emails, daily deal emails, sales, promotions, and coupons this holiday season to avoid buyer's remorse. Personal finance experts overwhelmingly advise using the tried-and-true holiday shopping list. Don't stray from it, no matter what.
What About Lending Money?
Respondents are not much more careful with their money when it comes to lending. Much like Sheldon on "Big Bang Theory," when he offered Penny to take as much money as she wanted from his snake-can stash of cash when she cried about her debt, 66% of our survey respondents said they also would lend money to a friend. The majority, 81%, said they would lend money to a family member.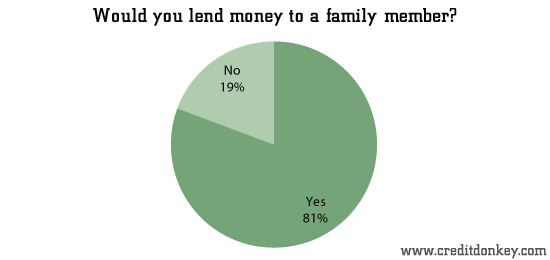 Would you lend money to a family member?

© CreditDonkey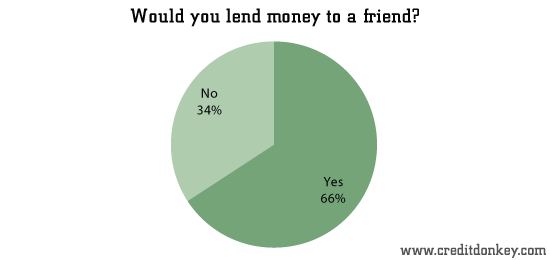 Would you lend money to a friend?

© CreditDonkey
Both lending scenarios can also lead to buyer's remorse. Even though Sheldon never minded, the relationship became weird as Penny felt judged and pressured to pay back the money (which she did), no thanks to Leonard's bravery (all you "Big Bang Theory" fans know what we mean!).
(From November 19 to November 27, 2012, CreditDonkey.com surveyed 1,045 Americans, age 18 and over using multiple choice questions and short-answer questionnaires.)
Naomi Mannino is a contributing writer at CreditDonkey, a credit card comparison and reviews website. Write to Naomi Mannino at naomi@creditdonkey.com. Follow us on Twitter and Facebook for our latest posts.