Survey: What Women Want for Christmas
What Women Want for the Holidays (Hint: It's Not Jewelry)
---
Just when you think you know what women want, bam. A CreditDonkey.com surveys finds the opposite. While traditionally, jewelry has been a go-to holiday gift item, this year, it came in near the bottom of everybody's gift lists. According to our recent holiday shopping survey, only 49.2% of women still want jewelry. More women want homemade gifts (63.9%), books (57.6%), or even household goods (62.7%).
So what do women really want? Topping the list with 84.8% of the vote was gift cards, followed by clothing (71.3%), and electronics (64.6%). So there's the proof: One can actually never go wrong with a gift card for most women. Even better, get her a gift card to a favorite fashion store or electronics retailer. For those who really have no clue, opt for a Visa, MasterCard, or American Express gift card (and get one with no usage or activation fees).
On the other hand, be aware of what women really don't want. Don't get her sporting goods (only 13.9% of the female respondents picked this), music (30.1%), or movies (33.5%) unless she is fanatic in any one of those categories. And then again, a gift card in any of those categories can't hurt.
And, what do men want? Duh: 82.9% of men answered that they want electronics. Additionally men also want gift cards (75.6%) and clothing (66.6%). Men really do not want jewelry. Only 12.7% of men want to receive jewelry, according to our survey.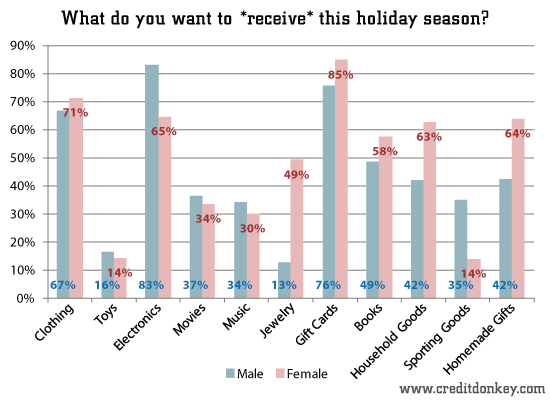 What do you want to receive this holiday season?

© CreditDonkey
It's interesting that when asked what they want to give this season, the overwhelming choice is also not jewelry. Our survey found that only 33.3% want to give jewelry, a result only slightly above sporting goods. 67.6% want to give gift cards, which is about even with electronics and clothing.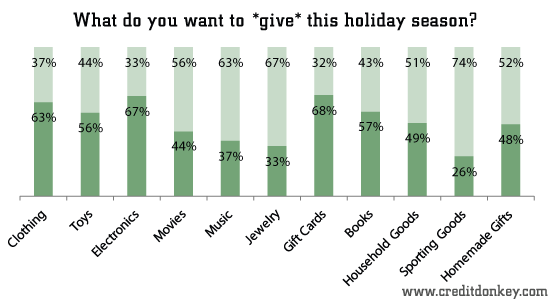 What do you want to give this holiday season?

© CreditDonkey
People say they would rather give personal gifts that show thought behind them, right? But now that we know what people really want is a gift card, we don't have to feel bad about giving them what they really want.
From October 9 to October 23, 2012, CreditDonkey.com polled 1,125 Americans, age 18 and over, about their holiday shopping plans using multiple choice questions and short-answer questionnaires.
Naomi Mannino is a contributing writer at CreditDonkey, a credit card comparison and reviews website. Write to Naomi Mannino at naomi@creditdonkey.com. Follow us on Twitter and Facebook for our latest posts.