23 Reasons Why You Should Live in Manhattan Beach
---
Think Manhattan Beach is just another stereotypical Southern California beach spot? There's a lot more to love here than just sandy beaches. Read on to find out what makes Manhattan Beach one of the best places to live on the West Coast.
1. The beaches are breathtakingly beautiful
Unlike other beach towns, you won't have to worry about being overrun with tourists here. The 2.1 square miles of beachfront are some of the cleanest on California's coast, and The Strand is a hotspot for cyclists and joggers.
2. The residents aren't bad to look at either
One thing most people assume about Southern California is that everyone's a real head-turner, and that's more or less true for Manhattan Beach. The city was named the 9th Sexiest Beach on Earth by the Travel Channel in 2008.
3. People of all ages love it here
Unlike some SoCal beaches that cater to a specific age group, Manhattan Beach is home to a wide blend of people. About a third of the population is aged 35 to 54, 40% is 34 and under, and seniors aged 55 and over round out the pack.
4. You'll catch plenty of waves
Dave Velzy put Manhattan Beach on the map as a mecca for surfers when he opened the first surf shop in the U.S. here back in 1950. Today, the city is considered one of the best spots for beginners to catch a wave.
5. You can try your hand at a new sport
There's a lot of debate over whether Manhattan Beach or Santa Monica is the true birthplace of beach volleyball but either way, the sport remains immensely popular here. Every August, pros flock to the city to compete in the Manhattan Beach Open, one of the oldest professional volleyball tournaments around.
6. You've got a great shot at finding true love
The city's population is roughly a 50-50 split of men and women, and it's got a reputation for attracting the most well-to-do members of the 45-and-under crowd. In fact, CNN Money went so far as to rank it as the best city to be rich and single in 2011.
7. Or spotting a celebrity
Manhattan Beach is a haven for the wealthy. More than a few A-listers have called it home at one point or another; some of the celebs who've owned property here include Vince Vaughn, Maria Sharapova and Michael Strahan.
8. You might even get discovered
If you've been bitten by the acting bug, you may not need to trek to L.A. to get noticed by a director or casting agent. Several major motion pictures have been filmed or produced here, including Iron Man 2 and Thor.
9. There's no lack of intelligent conversation
Manhattan Beach attracts the best and brightest in terms of education. Seventy-four percent of the population holds a bachelor's degree or higher, and the city ranks fifth overall among the most educated locales in California
10. You won't be disappointed with the size of your paycheck
Manhattan Beach residents have a reputation for being high earners. The median household income is just over $131,000, and nearly 33% of residents bring home $200,000 or more annually.
11. The commute isn't a killer
Nobody likes being stuck in traffic, especially after a long day at work. The typical commute here lasts just over 27 minutes, which is pretty decent compared to other SoCal cities like Palmdale, where the drive to work stretches over 40 minutes.
12. The schools come highly rated
If you've got kids, you can rest assured that they will get the best education possible. The Manhattan Beach Unified School District consistently ranks as one of the best in L.A. County and in the country, with Mira Costa High School earning particularly high marks.
13. It's one of the safest cities in SoCal
Manhattan Beach is known for being exceptionally safe, and crime is rare compared to nearby Los Angeles. In 2013, for example, there were just 34 robberies and 25 assaults. Larceny is the most commonly reported property crime.
14. The houses are spectacular
Owning a home here doesn't come cheap: the median home price is just shy of $2.8 million. If you prefer upscale digs, you won't be disappointed - you'll find plenty of luxury properties up for grabs, especially if you take a trip to The Hill section.
15. Something good is always on the menu
Manhattan Beach's restaurant scene is known for offering some of the most eclectic choices around. Indeed, GQ named it the best beach for food in 2014. Locals love the craft brew selection at Simmzy's and the high-end fare served up at M.B. Post.
16. It's easy to satisfy your sweet tooth
If it's dessert you're after, there's no better place than Manhattan Beach Creamery. There are 28 homemade ice cream flavors on tap every day, not to mention the most mouthwatering selection of handcrafted cupcakes around.
17. It's convenient to L.A.
If you want to be close to Los Angeles but you're not interested in living near the city's hustle and bustle, Manhattan Beach offers a quiet escape. The two cities are less than 30 miles apart, so you're a fairly short drive away.
18. Sunsets on the pier can't be beat
The Manhattan Beach Pier, the oldest concrete standing pier on the West Coast, is a picture-perfect place to watch the sun go down. The Roundhouse Aquarium located at the end of the pier is free to the public, so you can get up-close and personal with some of the local marine life.
19. There's always something to do
There's a never dull moment here, and it's impossible to be bored when there's so much going on. Some of the most anticipated events include the annual Manhattan Beach Hometown Fair and the World Famous Pumpkin Race Festival that takes place along the pier each October.
20. It's good for your health
Research has shown that living the near ocean has a positive impact on your physical and psychological being, and that's something Manhattan Beach takes to heart. In 2011, the city launched a joint initiative with Redondo Beach and Hermosa Beach to encourage residents to be more health conscious.
21. There's no shortage of places to shop
If you're interested in doing some retail therapy, you'll find plenty of trendy boutiques to choose from. For books, you'll want to head to Pages but if it's designer clothes you're after, locals rave about Waverly Boutique.
22. It's not overcrowded
Although Southern California is packed with people, Manhattan Beach manages to maintain a small-town feel. The city is home to just over 35,000 permanent residents, so you don't have to worry about feeling like a sardine.
23. It's the ideal spot for a staycation
When you want to get away from it all but you don't want to stray too far from home, a visit to the Shade Hotel is a must. Suites feature personal spas and chromatherapy lighting so you have everything you need to kick back and relax.
The Bottom Line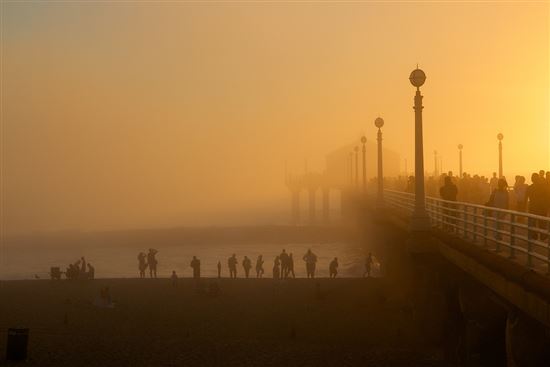 Manhattan Beach pier with a touch of fog © Ryan Vaarsl (CC BY 2.0) via Flickr
Manhattan Beach embodies the best of SoCal culture, and it's no wonder that residents love it here. Between the food, the shopping and the eye-catching scenery, there's something to make everyone feel right at home.
Rebecca Lake is a journalist at CreditDonkey, a credit card comparison and reviews website. Write to Rebecca Lake at rebecca@creditdonkey.com