23 Reasons Why You Should Live in Chapel Hill
---
Chapel Hill, NC, is more than just a college town. Read on to see why residents of all ages are passionate about their hometown and wish to be nowhere else.
If you're in the market for a new place to call home, read on to find out why Chapel Hill, NC, is known as the "Southern Part of Heaven."
1. Getting to work won't take half the day
The prospect of a short commute is dreamy, but it's just a fantasy for most city dwellers. In Chapel Hill, the mean travel time to work is just 19.3 minutes, according to the U.S. Census Bureau. That's more time for enjoying life and less time at the gas pump.
2. And you have a good chance of getting a decent job here
Chapel Hill is part of the Research Triangle Park area, which also includes Durham and Raleigh. More than 170 companies have offices here, including corporate giants with loads of employees, like Fidelity Investments, Lenovo, and Cisco. It's a prime spot for job seekers.
3. Especially if you're a woman
Climbing the corporate ladder when you're female is tough enough, and it's harder to move up in some locations than others. Fortunately, Chapel Hill ranks third among the cities that are the friendliest to female executives.
4. Workers aren't earning chump change
Although Chapel Hill's population is a fraction of what Durham and Raleigh boast, residents here bring home a bigger paycheck at the end of the day. The median household income is just under $61,000, which is approximately $10,000 more than what workers in the other two Triangle cities earn.
5. You'll see stars
Well, the constellations, that is. The Morehead Planetarium, which famously trained astronauts for the Gemini and Apollo space missions, is one of the best places around to do some stargazing.
6. And plenty of fireworks too
People tend to flock to the beach once summer rolls around, but you'll want to stay in town for the July 4th celebrations. According to Travel + Leisure, Chapel Hill is the 10th best place in the country to spend your Independence Day, as it appeals to the bar-scene crowd and those looking for family-friendly activities (like a watermelon-eating contest).
7. Got kids? A college degree won't break the bank
Footing the bill for college tuition is no easy task these days. If you're looking for a reasonably priced public university with a solid reputation, UNC Chapel Hill consistently offers the best value for your money.
8. The rest of the school system is pretty great too
Chapel Hill has lots of students and the local public school system is a major draw for families. Chapel Hill High, for example, is the 7th best ranking high school in the state.
9. You might spot a ghost
Every city has a ghost story or two somewhere in its history, but Chapel Hill is one of the few places that boasts a haunted castle. Built in the 1920s, the grounds around Gimghoul Castle are said to be haunted by the ghost of a UNC student who was allegedly killed in a duel nearly a century earlier.
10. Your taste buds will be thrilled
If you're looking for a variety of food along with fresh, local ingredients, you'll find what you want here, from great restaurants to access to many local farms (be sure to check out the Carrboro Farmers' Market on Saturdays year-round). In 2008, Chapel Hill was named the "foodiest" small town in America by Bon Appetit. One Restaurant is the place to go for an upscale dining experience. For good old-fashioned barbecue, you can't go wrong with a visit to The Pig.
11. You can travel to Asia without leaving home
If you're into fine art, check out the Ackland Art Museum on the UNC Chapel Hill campus. The museum features a variety of contemporary and classic art from around the world, and the Asian collection is considered one of the best in the southeastern United States. It recently made a concerted effort to acquire a range of Japanese art, including a 1700s vase, a 19th century scroll painting, and ornamental prints from the 1930s.
12. You can have pride in the home team
UNC Chapel Hill's college basketball program is legendary, and former coach Dean Smith ranks among the top 10 all time for wins. The highlight of every season is when the Duke Blue Devils come to town to fan the flames of its longstanding historic rivalry.
13. You'll want to stop and smell the flowers
The University of North Carolina at Chapel Hill sponsors the North Carolina Botanical Garden, which encompasses more than 1,000 acres of natural areas around the Piedmont region. One of the garden's oldest tracts is located at the Coker Arboretum on the UNC campus.
14. You can come up with a long-term plan for staying here
Nearly 10% of the city's population is aged 65 or older, and they show no signs of slowing down. Chapel Hill is ranked one of the nation's best cities for staying young, with high marks for staying in shape by keeping their cholesterol and blood pressure at good levels and their minds sharp from their jobs at the Research Triangle.
15. There's also a place for the forever young
Creative play is the goal of the day if you have little ones you can take with you to the Kidzu Children's Museum. Be prepared for some hands-on fun yourself amid the 8,500-square-foot play area where kids can explore the arts, science and technology.
16. You can satisfy your sugar craving
Sugarland is the place to go when you're in the mood for something sweet. The award-winning bakery is known across the state for its scrumptious cupcakes, mouth-watering gelato, and one-of-a-kind wedding cake creations.
17. Sampling the local spirits is a must
The Top of the Hill (or TOPO) is a hotspot for locals who want to eat, drink, and be merry in a laidback atmosphere. The microbrewery was one of the first to open in the state, and the distillery produces 100% organic vodka, whiskey, and gin.
18. There are plenty of places to jam
Chapel Hill is home to a number of live music venues; some of the most popular singers and bands around got their start in the Triangle area. The city was the inspiration for some of James Taylor's greatest hits, and alt-rock band Ben Folds Five got their start here in 1993.
19. It's convenient to just about everything
Getting where you need to go is a breeze, especially since Durham is so close by and Raleigh is just 28 miles away. If you want to get out of town for the weekend, Carolina Beach is about three hours to the southeast while the mountains of Asheville are roughly the same distance to the west.
20. It's an ideal spot for a starter home
Buying a home, a major investment of your time and money, is all about location. Realtor.com named Chapel Hill one of the 10 best markets for first-time buyers in 2014, based on factors such as house prices and the area's popularity.
21. You'll be surrounded by super brainy people
Chapel Hill residents know the value of a solid education. Nearly 74% of those aged 25 and older have a bachelor's degree or higher, which is three times the rate for the entire state as a whole.
22. You may even meet your match
Trying to make a love connection in a bigger city is daunting, but your odds of finding that special someone tend to improve in a smaller town. Chapel Hill came in 15th on CNN Money's list of the best places to be rich and single in 2012, which is an encouraging sign if you're tired of flying solo.
23. It's just plain cool
Life in a college town is anything but boring, and Chapel Hill has many hip places to hang out. Between the nightlife, the arts scene and the eclectic eateries, it ranks as the third coolest college town in the country.
Bottom Line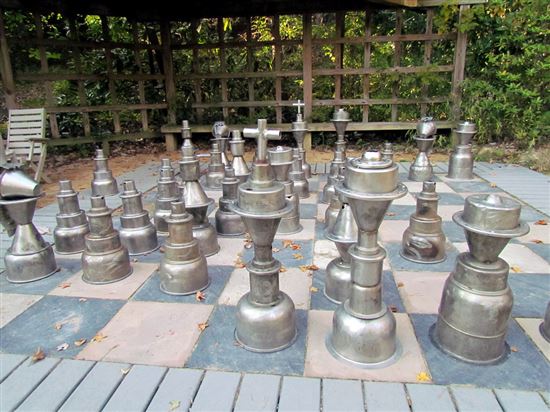 Chess Set NC Botantical Garden Chapel Hill NC 4528 © bobistraveling (CC BY 2.0) via Flickr
If you want a small town feel with big city amenities, Chapel Hill offers the best of both worlds.
The pace here is a little slower compared to its larger neighbors, but that's something you'll appreciate when you're after a little less hustle and bustle.
Rebecca Lake is a journalist at CreditDonkey, a credit card comparison and reviews website. Write to Rebecca Lake at rebecca@creditdonkey.com. Follow us on Twitter and Facebook for our latest posts.
Note: This website is made possible through financial relationships with some of the products and services mentioned on this site. We may receive compensation if you shop through links in our content. You do not have to use our links, but you help support CreditDonkey if you do.