Hotel Industry Statistics: 23 Facts and Trends to Know
---
Kick back and relax for some fun facts about the hotel industry and the people who work in it. The answer to #23 will probably be a complete shock!
There are that many hotels in the world? Read on for a list of eye-opening figures about hotels and insights into the people who work at them.
Staying in a hotel is one of the big pleasures in life. It's a joy to unwind after a day of sightseeing or working away from home — and not having to worry about cooking or cleaning up after yourself. There's also a whole world within the hotel industry of fun facts and interesting trivia.
HOTEL INDUSTRY BY THE NUMBERS
How many hotels are there worldwide?
More than 700,000 hotels and resorts are scattered around the globe. The total number of rooms for the various properties comes to 15.5 million.
How many hotels and motels are there in the U.S.?
It's pretty easy to find a place to crash for the night in the U.S. As of 2013, there were 52,887 lodging properties open for business nationwide.
How many guest rooms are available?
From mom-and-pop motels to five-star digs, you've got a lot of variety when it comes to rooms. There are approximately 4.9 million guest rooms to choose from in the U.S. market.
What's the average occupancy rate for U.S. hotels?
Checking the occupancy rate can help you gauge a particular hotel's popularity and reputation. On average, 62.2% of rooms in all U.S. hotels and motels are occupied at any given time.
Related: Best Hotel Credit Cards

HOTEL INDUSTRY REVENUE AND RATES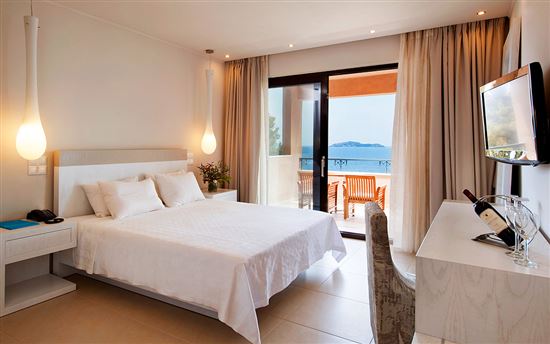 © Kassandra Bay Resort & SPA (CC BY 2.0) via Flickr
What's the average daily rate for a room in the U.S.?
Staying overnight at a hotel in the U.S. doesn't come cheap. As of October 2015, the average daily rate was $124.01.
How does the daily rate compare to the rest of the world?
With two exceptions, the daily rate for a hotel room in the U.S. is between $5 and $15 higher than other parts of the world. In Africa and the Middle East, the average daily rate is just over $157.
Which city has the highest average rate worldwide?
You might think New York City would top the list of the most expensive city for travelers, but it's actually Geneva, Switzerland, that takes the honor. A room there costs $308 per night on average.
Which U.S. city has the highest daily average?
Closer to home, you'll find that South Beach is a tough spot for finding an affordable stay. The average daily rate for a room in Miami is $245 a night.
Which U.S. city has the priciest rooms overall?
If you've got your heart set on a luxury suite in the Big Apple, you're going to pay for it. The Ritz-Carlton Central Park and the Mandarin Oriental tie for the most expensive rooms, with rates starting at $995 per night.
How much revenue does the U.S. hotel industry bring in?
Americans spend big bucks on lodging at hotels and motels each year. Annually, sales total a healthy $162 billion.
How much revenue does each room generate?
Take out the taxes, and hotels record an average of $81.43 in revenue for each room.
What about the global market?
While U.S. hotel industry revenues are nothing to sneeze at, they represent just a small piece of the pie. Worldwide, travelers spend roughly $830 billion a year for hotel stays.
HOSPITALITY INDUSTRY DEMOGRAPHICS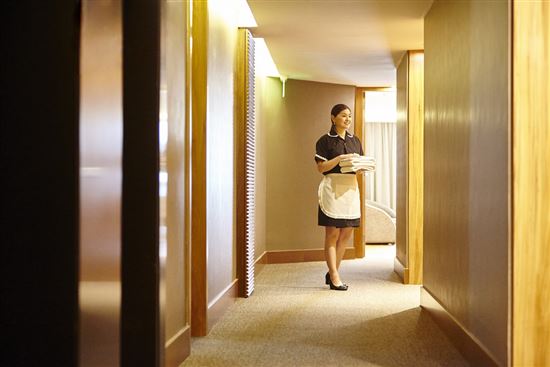 © PortoBay Hotels & Resorts (CC BY 2.0) via Flickr
How many people work in the hospitality industry in the U.S.?
The hospitality industry has increased steadily, growing by 17% between 2004 and 2014. According to the U.S. Bureau of Labor Statistics, 15.2 million people were employed in hospitality positions as of October 2015.
What's the hourly wage for hospitality workers?
On average, hotel and hospitality workers are bringing home roughly double the minimum wage. For October 2015, the average hourly rate came to $14.46.
How much do hotel managers make?
One reason to consider a career in hospitality is the potential to move into management. According to the BLS, the mean annual salary for lodging managers is a cool $57,230.
What percentage of hospitality employees are part of a union?
As of 2014, 3.2% of hospitality workers were members of a union. Another 3.8% were represented by a union.
What's the median age for a hotel employee?
Hotel and motel workers tend to be a little longer in the tooth compared to food and beverage employees. As of 2013, the median age for those working in the travel accommodations sector was 40.4 years.
Are men or women more likely to work in the hospitality field?
The International Labour Office estimates that 55% of the global hotel workforce is female. In the U.S., 16.1% of working women are employed in hospitality jobs, compared to 12.9% of men.
ODDS AND ENDS
Where will room service cost you the most in the U.S.?
If you're planning a trip to Las Vegas anytime soon, be prepared to pay big if you use room service. The average tab runs just over $68, with New York City not far behind at $67 and change.
What percentage of hotel stays is for business vs. pleasure?
Vacationers make up the majority of the traffic that hotels and motels see. Approximately 41% of travelers are booking rooms for business trips.
What does the average business traveler look like?
Overall, 64% of business travelers are men, with over half of them between the ages of 35 and 54. More than 60% of them work in a managerial position, and they earn an average household income of $127,000. Forty percent of business travelers stay just one night, paying $143 on average for their rooms.
What about the average pleasure traveler?
Fifty-four percent of leisure stays involve two adults, two-thirds of whom are over the age of 35. Half of leisure travelers stay just one night, but they get out a little cheaper where their room is concerned, with an average bill of $123.
What is the world's largest hotel?
With 7,351 rooms, Malaysia's First World Hotel holds the Guinness World Record as the planet's largest hotel. Rooms there are a bargain, running between $12 and $83 on average.
FINAL WORD
As long as people take vacations or travel for business, the hotel industry isn't going anywhere any time soon. While the outlook for growth through 2016 is overwhelmingly positive, demand is set to outpace supply, so be sure to book your room early the next time you're planning a trip.
SOURCES:
Rebecca Lake is a journalist at CreditDonkey, a credit card comparison and reviews website. Write to Rebecca Lake at rebecca@creditdonkey.com. Follow us on Twitter and Facebook for our latest posts.