Engagement Ring vs Wedding Ring:
What's the Difference

?
Ad Disclosure: This article contains references to products from our partners. We may receive compensation if you apply or shop through links in our content. You help support CreditDonkey by using our links.
(read more)
Is there a difference between an engagement ring and a wedding ring? How many rings do you need to buy? We'll show you how they are different in meaning and appearance.
Engagement ring, wedding ring, bridal set... What's the difference?
Are engagement rings and wedding rings the same? If not, do you really need both?
The difference between engagement ring and wedding ring is an engagement ring is given during the proposal, while wedding rings are exchanged at the wedding ceremony. An engagement ring typically has a diamond while a wedding ring is usually more plain. Engagement and wedding rings can be worn together depending on the brides preference.

Wedding jewelry terminology can be confusing. Read this article so you do not make the embarrassing mistake of getting the wrong kind of ring.
Engagement rings and wedding rings are both symbols of love, but they are different and cannot be treated as the same. They have different meanings, styles, and costs.

© CreditDonkey
You buy an engagement ring for the proposal, and you both exchange wedding rings during the wedding ceremony. Sounds simple, but many first-time ring shoppers fail to consider one crucial thing. Read on.
In this article:
What Is an Engagement Ring?
The engagement ring is given to the girl to when you ask, "will you marry me?"
Asking for someone to spend her life with you is a huge moment. Doing it with a ring shows that you have really thought about it and aren't just saying it for fun. The engagement ring is a promise of a future together. It's a special gift just for her to show your love and commitment.
Fun fact: Back in the old days, a man could be sued for Breach of Promise if he broke off the engagement. But the U.S. started doing away with this law in the 1940s. A verbal promise to marry wasn't good enough anymore. So engagement rings became insurance instead that the engagement won't be easily broken off.

Most girls dream of being swept off her feet and being proposed to with her dream ring. Because of this, engagement rings are more "flashy" and expensive (thanks to De Beers marketing).
You can build your own engagement ring with this tool.
Engagement rings usually have a diamond center (or another precious gemstone) and a gold or platinum band. Men will put a lot of effort into selecting a ring that matches her personal style and choosing the best diamond possible.
See the most popular
engagement ring settings
. Learn about the different styles, their advantages, and what kind of girl each is best for.
In 2016, men spent an average of $6,163 on the engagement ring. But don't let this number influence you. What's important is buying something you can afford.
Consider buying your engagement ring online. You can stretch your buying power because online retailers are around 40% cheaper than local jewelers. With low-cost, fully-customizable jewelers like James Allen, you are able to design your fiancé the perfect ring without creating financial stress on your marriage. Explore their Inspiration Gallery to learn how everyone else is doing it.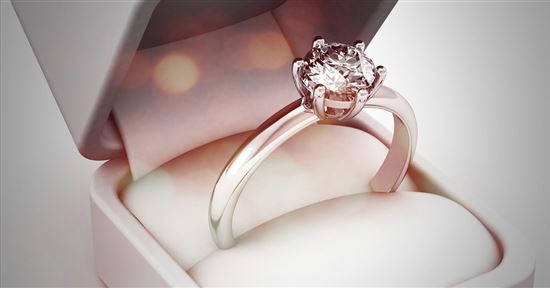 Do men get an engagement ring too? Usually, only the woman wears an engagement ring. But in some cultures, the man also sports a plain band until the wedding. Some American modern couples choose to purchase a "man-gagement" ring to show that he is also off the market.
Which finger to wear a ring? The ring is worn on the 4th finger of the left hand. The ancient Egyptians believed that this finger had a vein that led straight to the heart - the vena amoris, or literally "vein of love". This ancient belief influenced why our 4th fingers are known as the "ring finger."
Is an engagement ring the same as a promise ring? No. A promise ring is a "pre-engagement" ring. It could be given, because it's too soon or you're not financially ready to get engaged, but you want to show commitment. It's a promise to be engaged someday. So usually, promise rings are cheaper and smaller. And when the time for engagement comes, it's replaced with a real engagement ring.
What Is a Wedding Ring?
Wedding rings are exchanged during the marriage ceremony. This gesture says that the two of you are united forever from this day forward. Both the bride and groom will wear a wedding ring until... well, forever.
Wedding rings are simpler in design. The style is normally a continuous band that has no beginning nor end. This symbolizes eternal love and unity. It's usually made of a precious metal like gold or platinum.
Modern wedding rings are often more stylized. For example, many women choose a band with small diamonds all around (called an eternity ring). Men are even choosing bands with diamonds set into it. Many men also like more masculine bands made with
alternative materials
, such as tungsten, wood, or ceramic.
Many couples also get an engraving in their wedding rings, like the wedding date or a special phrase.

The average cost of the bride's wedding ring is $1,126. For grooms, the average price is $491.
Instead of overspending at a local jeweler, be sure to check prices online. At minimum, you should visit James Allen to get a better idea on how much wedding rings actually cost.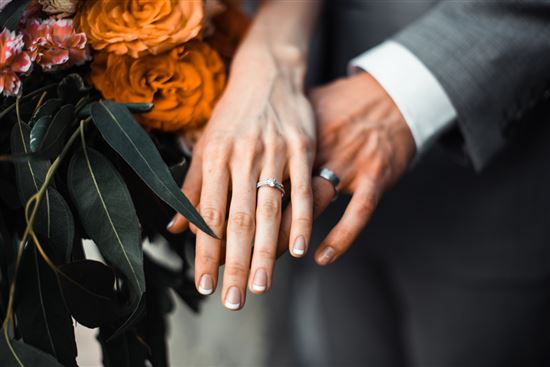 What does the wedding ring stand for? The tradition of exchanging wedding rings goes back 4,800 years to ancient Egypt. Back then, the rings were made of stuff like braided papyrus and reeds. The circle was a symbol of eternity and the hole was a symbol of a doorway to the future.
Is there a difference between a wedding ring and wedding band? Not really. Wedding rings can be thought of as a bit more intricate with small diamonds or stylized band. And a wedding band is typically more plain.
Should you buy a wedding ring or engagement ring first? Usually, it's better to just buy the engagement ring first, especially if you're not sure if the proposal will be successful. Or maybe you don't know what kind of ring she'll like, and there's a chance she won't love what you picked. Some girls also like to pick their own wedding ring later.

If you have discussed marriage or even looked at ring styles together, then you can buy the rings at the same time if you see a matching set.
And What is a Bridal Set?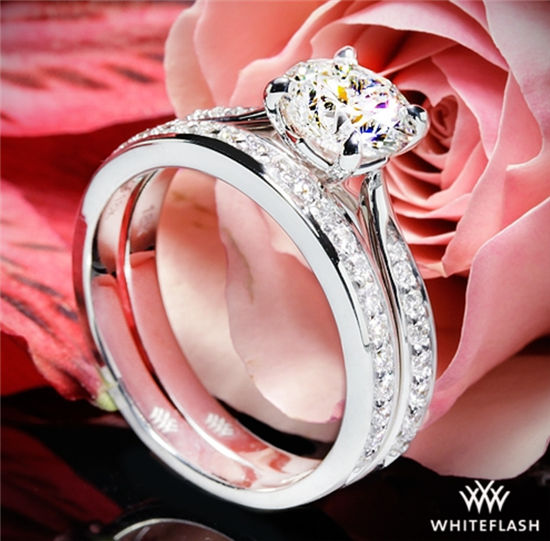 Legato Sleek Line Pave Diamond Wedding Set via Whiteflash
Also called a "wedding set," this is a set of matching engagement and wedding rings for the bride. Most jewelers will have some bridal sets to choose from.
To start, check out James Allen's Inspiration Gallery to help you choose the right setting and diamond for your ring. 
There are some advantages of choosing a bridal set:
The rings will look good next to each other. You wouldn't have to worry about finding a matching wedding ring later.

They will fit comfortably together. Sometimes, rings that don't match will pinch the skin or have an unsightly gap.

You only have to buy her wedding jewelry once. And oftentimes, it saves you a bit of money to buy a set of rings.
We recommend doing this if you and your sweetie have already discussed marriage or if you're planning on ring shopping together.
If you buy a bridal set all at once, then you would only propose with the engagement ring. After she said yes, you can surprise her again by telling her you already have the matching wedding ring too.
Watch out: Sometimes, a wedding set is designed in such a way that the rings only look complete when worn together. If this is so, then she wouldn't be able to wear the wedding ring alone or it'll look weird. Watch out for this if she may want to wear the rings separately from time to time.

How Many Rings Do You Wear After Marriage?
Usually, after getting married, the woman will wear the wedding ring on the same finger as her engagement ring. The wedding ring goes on the bottom, so it's closer to her heart, as it's a symbol of everlasting commitment.
Is the engagement ring or wedding ring more important to wear? Both are important for different reasons. During the engagement period, it's important for the woman to wear the engagement ring to show that she's off the market. After marriage, the wedding rings become more important as they're a symbol of being married. Most women do continue to wear their engagement rings above the wedding ring. This is really all up to personal choice.

If she receives an anniversary ring sometime later, she can replace the wedding ring with it, or wear all 3 rings on the ring finger of her left hand.
But there are no hard rules. Maybe she has a job where she can't wear a large engagement ring, so she'll wear just a wedding ring alone. Or sometimes, the engagement ring and wedding ring don't match or aren't comfortable together, so she may wear them on different fingers.
What is an Eternity Ring?
An
eternity ring
is a ring that has small diamonds (or gemstones) that go all around for a perfect continuous circle. Usually, it's given to the woman at a special moment, such as a wedding anniversary or birth of the first child. This says that the love is still everlasting. But many brides also choose this style as the wedding ring. The dainty, elegant style goes well with a lot of engagement ring designs.
Do the Rings Have to Match?
Most first-time shoppers forget to think about this. You don't need plan all your rings right from the start, but it's smart to know your options. It'll cause less headaches later.
Most women will wear the engagement and weddings rings together. Rings that match will create a nice, uniform look. If this is what she wants, then you should consider from the start whether it's possible to get a matching wedding band.
Intricate vintage rings, custom designs, and twist tension rings are all very hard to find a matching band that looks like they belong together. And some settings, like a halo with a wide bottom, won't be able to sit flush against a straight wedding band. Some girls don't like that gap.
But this is really up to personal preference. Some girls like a more unique, fashion-forward mismatched look. It's okay to get rings that don't exactly match, but still complement each other.
This is something to keep in mind as you're shopping for the engagement ring. If you want to just get matching rings and be done with it, then a bridal set is the best way to go. If you're not sure, then it's best to let her pick out her own wedding ring, but have an idea beforehand what the options are.
Does her wedding ring need to also match his?
Nope, there are no rules. Some couples get matching wedding bands to express unity, but what's more important is having rings that you both like. It could be hard to find matching bands that fit both your styles. Some brides want a wedding ring that matches her engagement ring, leaving the groom to pick one in whatever style he likes. A lot of men like to choose alternative materials that look more masculine, such as titanium, tungsten, or cobalt.
If one of you is intent on having matching bands, then you can get rings in the same metal. Or you can pick rings in a similar style. For example, if her ring is white gold with 3 small diamonds, he can get his in tungsten with 3 small diamonds.

Who Buys the Rings?
The engagement ring is a special gift for the girl to show the groom's commitment, so he would usually foot the bill. Most grooms make the decision alone, but even if the girl wants to be part of the shopping process, he still usually pays for it with his own money.
Did you know?
Some modern couples are also splitting the cost of the ring. About
20% of brides
pick up (at least a portion of) the tab for their own engagement ring.
As for the wedding rings, the tradition is that he buys her wedding ring, and she buys his. But for many modern day couples, they buy the rings together out of a joint wedding fund. Most likely, since your finances will merge soon anyway, you both pay for them.
Most couples enjoy shopping for the wedding rings together as a pre-nuptials bonding activity. 30% of couples buy both wedding rings at the same place they got the engagement ring.[1]
Engagement Ring vs Wedding Ring Price
An engagement ring is usually the most expensive wedding jewelry because of the larger diamond centerpiece. Wedding rings usually cost much less because they are simpler.
The average cost of an engagement ring was $6,163 in 2016.

A wedding ring, on the other hand, averages about $1,126 for the bride and $491 for the groom.[2]
But don't let these numbers influence you. How much you spend is a very personal choice that depends on your budget.
How Much Should the Rings Cost?
The engagement ring should show that you are serious about your relationship, without going into debt. Find a balance between what you can afford and what she wants.
From a woman's point of view, if you only spend $100 on a ring, that's not much of an investment. You can easily lose $100 and not be too heartbroken. While you shouldn't go broke buying the ring, it should still be an amount that you have worked hard for.
For example, let's say you already have $1,000 put aside and you're able to save $300 a month. After 5 months, you'll have $2,500 for the ring. That might be a good budget for you.
Wedding rings are usually a joint financial decision since couples shop for them together. A lot of couples choose to save on the wedding rings by going with cheaper options.
Have a smaller budget? Here are the best engagement rings for every budget: $500, $1,000, $2,000, $3,000, and $5,000.

Bottom Line
An engagement ring symbolizes commitment and promise to marry. A wedding ring symbolizes love and unity from your wedding day forward.
Hopefully you understand more about the different meanings and styles. But of course, the rules are not set in stone. I know a couple who chose to get tattoos on their ring fingers instead of wedding rings. And I also know a bride who chose to get two diamond rings (and wears them alternatively) simply because she didn't like the style of a wedding band.
The rings should reflect your personalities and style. Take time to find rings that you'll both enjoy wearing. Good luck and have fun.
References
Write to Anna G at feedback@creditdonkey.com. Follow us on Twitter and Facebook for our latest posts.
Note: This website is made possible through financial relationships with some of the products and services mentioned on this site. We may receive compensation if you shop through links in our content. You do not have to use our links, but you help support CreditDonkey if you do.
Read Next: