23 Alarming Burglary Statistics: Is Your House Safe?
Ad Disclosure: This article contains references to products from our partners. We may receive compensation if you apply or shop through links in our content. You help support CreditDonkey by using our links.
(read more)
Must-read statistics on burglary, including the surprising trend on home break-ins. Are you safe? Read on.
Burglary is a serious crime that has the potential to affect its victims in a number of ways, including financially, emotionally and physically. Keep reading to learn just how common this crime is and how deep its impact goes.
Here's some quick facts before we get started:
How often does a burglary occur? There's a burglary happening right now. One in every 15 seconds.

When do most burglaries occur? Broad daylight.

The most common point of entry is the front door, so remember to lock it. The next common areas are the back door and a first floor window.

The first place burglars look is the master bedroom.

$2,230 is the average lost for homeowners. That includes cash, valuables and damages to their property.

The typical profile of a burglar is a young male living in your neighborhood looking for quick cash to fund a drug habit. But that has changed in recent years as many young-would-be burglars are opting instead for internet and drug related crimes.

An alarm system reduces the chance you'll get burglarized. See why burglars single you out.
BURGLARY BY THE NUMBERS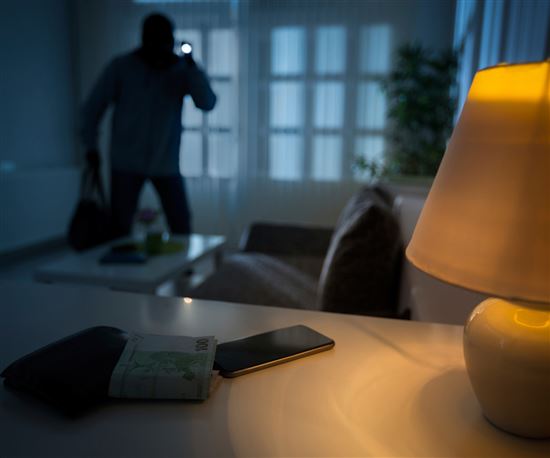 How many homes are burglarized each year?
Pinning down the exact number of burglaries that occur each year is difficult, but according to the most recent data from the FBI, roughly 2.1 million break-ins were reported in 2012.
How many burglaries occur each day?
When you do the math, the total number of burglaries comes to roughly 5,800 per day. That's approximately 1 burglary every 15 seconds.
Is burglary becoming more or less common in the U.S.?
Surprisingly, burglary is on the decline in America, with 5.6% fewer burglaries reported in 2012 compared to 2008.
How often does burglary occur compared to other property crimes?
While the number of burglaries has slowed down somewhat in recent years, they still account for 23.4% of all property crimes committed in the U.S.
What percentage of burglaries involves forcible entry?
The vast majority of burglars make their way into their victims' homes by using strong-arm tactics. Nearly 60% of all burglaries committed in 2012 involved some degree of forcible entry.
What percentage of burglaries involved trespassing?
Close to 34% of burglaries that were reported in 2012 were categorized as unlawful entries. Another 6.3% were classified as attempted forcible entry.
Where do the majority of burglaries occur?
Overwhelmingly, burglars target private homes versus businesses or commercial properties. In 2012, 74.5% of burglaries took place in residential areas.
CALCULATING BURGLARY LOSSES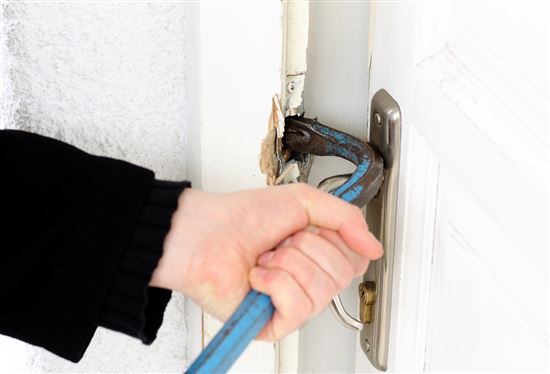 How much does burglary cost its victims on average?
Some burglary victims experience larger financial losses than others, but on average, the typical thief makes off with $2,230 in property, cash, or other valuables.
How does the total financial cost add up?
Collectively, burglars rake in a pretty decent payday for their criminal acts. In 2012, the overall cost of property losses reported following a break-in came to $4.7 billion.
How many guns do burglars steal each year?
According to the Bureau of Justice Statistics, 1.4 million guns were reported missing in connection with a burglary between 2005 and 2010. That averages out to 232,400 guns that were stolen annually.
What percentage of burglaries involves the theft of a gun?
Only a small fraction of burglaries overall involve the loss of a firearm. A gun theft was reported in just 4% of burglaries that occurred between 2005 and 2010.
What items are most likely to be stolen in a burglary?
In 34% of the burglaries reported in 2011, electronic devices and household appliances were targets of theft. That represents a 6% increase over 2011 figures.
How often do burglars cause physical harm to their victims?
Between 2003 and 2007, approximately 7% of burglaries involved acts of violence against the victims. Altogether, there were more than 266,000 reports of assaults during a burglary.
What percentage of violent burglaries involves serious injury?
In burglaries where the victim suffered a physical attack, a serious injury was reported 9% of the time. In 36% of such cases reported between 2003 and 2007, the victim's injuries were considered minor.
BURGLARY TRENDS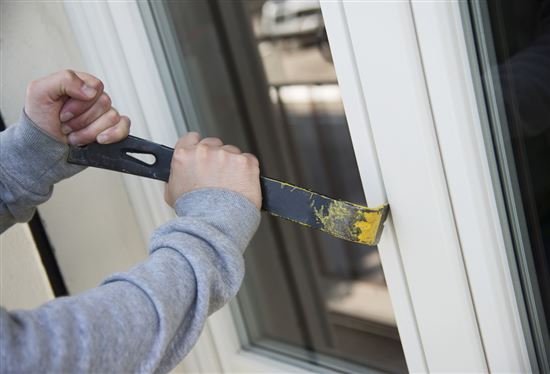 How often do burglary victims know the perpetrator?
In 65% of household burglaries, the person who was victimized knew the person who committed the break-in. Only 28% of victims said the burglar was a stranger.
How likely are burglars to use a weapon?
For burglaries occurring between 2003 and 2007, burglars were unarmed 61% of the time. In burglaries involving violence, offenders carried a firearm 12% of the time.
Which state reports the highest burglary rate?
By and large, the Golden State experiences the highest number of burglaries. Californians reported nearly 246,000 burglaries in 2012.
Which state has the fewest burglaries?
Crimes of all kinds are relatively rare in Wyoming, and burglary is no exception. In 2012, there were just 2,125 incidents reported.
How often do burglars target empty homes?
Between 2000 and 2007, the burglary rate for unoccupied homes dropped from 26 to 21 victimizations per 1,000 households. Approximately 8 out of every 1,000 households experienced a burglary while someone was home.
What time of day do most burglaries occur?
Interestingly, the majority of burglaries take place in broad daylight. In 2012, approximately 732,000 burglaries occurred during the day, which is double the amount reported after dark.
ARREST AND PROSECUTION
How many people are arrested for burglary each year?
FBI statistics suggest that the majority of burglars get away with their crimes. There were just under 194,000 arrests for burglaries made in 2012.
How many juveniles are arrested for burglary?
Most burglary suspects are adult males but in 2012, 36,000 of those arrested for burglary were under the age of 18.
What percentage of burglary cases are cleared each year?
The Uniform Crime Reporting program considers a burglary case to be cleared when someone is arrested, charged, and turned over to the courts for prosecution. In 2012, 12.7% of all burglary offenses were officially cleared.
FINAL WORD
While the decline in burglary rates is definitely good news, it remains a serious problem in the U.S. These statistics offer some eye-opening perspective on how common it really is, what burglars are after, and who they tend to be (usually someone the victim knows).
SOURCES AND REFERENCES:
Bureau of Justice Statistics

FBI
Burglary Statistics by City
State
City
Population1
Total # of Property Crimes2
Total # of Burglaries
Property Crime Per 1,000
Burglary Per 1,000
Alabama
Abbeville
2,643
85
22
32.2
8.3
Adamsville
4,430
373
43
84.2
9.7
Alabaster
31,568
612
68
19.4
2.2
Albertville
21,655
756
230
34.9
10.6
Alexander City
14,887
716
165
48.1
11.1
Aliceville
2,403
43
9
17.9
3.7
Anniston
22,567
1711
650
75.8
28.8
Arab
8,369
567
140
67.8
16.7
Ardmore
1,332
22
2
16.5
1.5
Argo
4,200
38
13
9.0
3.1
Ashford
2,164
57
12
26.3
5.5
Ashland
1,967
52
9
26.4
4.6
Ashville
2,262
68
26
30.1
11.5
Athens
24,521
751
82
30.6
3.3
Atmore
10,093
280
73
27.7
7.2
Auburn
59,854
1654
257
27.6
4.3
Bay Minette
9,087
321
58
35.3
6.4
Bear Creek
1,047
25
8
23.9
7.6
Birmingham
212,115
13929
3750
65.7
17.7
Blountsville
1,712
69
24
40.3
14.0
Brent
4,878
81
7
16.6
1.4
Brewton
5,445
239
45
43.9
8.3
Brighton
2,885
161
50
55.8
17.3
Brookwood
1,835
60
16
32.7
8.7
Butler
1,829
35
16
19.1
8.7
Cedar Bluff
1,835
135
30
73.6
16.3
Centre
3,662
191
51
52.2
13.9
Cherokee
1,025
26
12
25.4
11.7
Chickasaw
5,989
323
87
53.9
14.5
Citronelle
3,868
158
44
40.8
11.4
Clanton
8,773
658
69
75.0
7.9
Coaling
1,664
75
25
45.1
15.0
Collinsville
1,972
61
26
30.9
13.2
Cordova
2,053
46
14
22.4
6.8
Creola
1,922
45
7
23.4
3.6
Crossville
1,850
27
7
14.6
3.8
Cullman
15,086
676
85
44.8
5.6
Dadeville
3,178
107
22
33.7
6.9
Daleville
5,159
97
13
18.8
2.5
Daphne
24,111
477
64
19.8
2.7
Dauphin Island
1,239
55
3
44.4
2.4
Decatur
55,836
2451
434
43.9
7.8
Demopolis
7,161
283
37
39.5
5.2
Dora
1,982
113
28
57.0
14.1
East Brewton
2,436
45
12
18.5
4.9
Eclectic
1,008
67
14
66.5
13.9
Elba
3,899
108
25
27.7
6.4
Elberta
1,621
8
4
4.9
2.5
Enterprise
28,031
954
194
34.0
6.9
Eufaula
12,874
478
84
37.1
6.5
Eutaw
2,845
114
42
40.1
14.8
Evergreen
3,827
210
48
54.9
12.5
Fairhope
17,914
564
111
31.5
6.2
Fayette
4,527
79
11
17.5
2.4
Flomaton
1,422
62
11
43.6
7.7
Florence
40,236
1476
250
36.7
6.2
Foley
16,101
783
98
48.6
6.1
Frisco City
1,246
31
4
24.9
3.2
Fyffe
1,029
26
5
25.3
4.9
Gadsden
36,455
2806
733
77.0
20.1
Gardendale
13,697
562
84
41.0
6.1
Geneva
4,467
186
40
41.6
9.0
Georgiana
1,664
82
28
49.3
16.8
Glencoe
5,193
127
38
24.5
7.3
Greenville
7,863
336
32
42.7
4.1
Gulf Shores
10,927
665
127
60.9
11.6
Guntersville
8,404
560
92
66.6
10.9
Hamilton
6,782
147
38
21.7
5.6
Hanceville
3,227
125
37
38.7
11.5
Hartford
2,647
74
19
28.0
7.2
Hartselle
14,519
331
33
22.8
2.3
Headland
4,769
74
14
15.5
2.9
Helena
17,700
145
12
8.2
0.7
Henagar
2,343
41
12
17.5
5.1
Homewood
25,900
1034
163
39.9
6.3
Hoover
84,843
2257
270
26.6
3.2
Hueytown
15,809
593
86
37.5
5.4
Huntsville
187,624
9161
1912
48.8
10.2
Irondale
12,387
403
95
32.5
7.7
Jacksonville
12,462
460
143
36.9
11.5
Jasper
14,182
1116
135
78.7
9.5
Lafayette
2,999
82
15
27.3
5.0
Lanett
6,484
491
114
75.7
17.6
Leeds
11,934
522
82
43.7
6.9
Leesburg
1,027
51
12
49.7
11.7
Level Plains
2,033
50
11
24.6
5.4
Lincoln
6,345
350
95
55.2
15.0
Linden
2,021
76
35
37.6
17.3
Lineville
2,304
23
8
10.0
3.5
Lipscomb
2,162
42
17
19.4
7.9
Livingston
3,519
81
33
23.0
9.4
Luverne
2,855
64
12
22.4
4.2
Madison
46,441
943
151
20.3
3.3
Margaret
4,519
17
4
3.8
0.9
Midland City
2,429
112
21
46.1
8.6
Millbrook
15,221
679
108
44.6
7.1
Mobile
250,655
11603
2847
46.3
11.4
Monroeville
6,242
416
54
66.6
8.7
Montevallo
6,641
154
40
23.2
6.0
Montgomery
200,194
9025
2548
45.1
12.7
Moody
12,549
221
39
17.6
3.1
Morris
1,903
33
6
17.3
3.2
Moulton
3,388
70
26
20.7
7.7
Moundville
2,472
86
17
34.8
6.9
Muscle Shoals
13,584
786
138
57.9
10.2
New Brockton
1,152
33
9
28.6
7.8
New Hope
2,796
53
23
19.0
8.2
Newton
1,481
55
6
37.1
4.1
Northport
24,765
992
218
40.1
8.8
Odenville
3,687
47
13
12.7
3.5
Ohatchee
1,146
23
12
20.1
10.5
Oneonta
6,701
208
24
31.0
3.6
Opelika
29,201
1622
289
55.5
9.9
Opp
6,699
121
31
18.1
4.6
Owens Crossroads
1,777
26
3
14.6
1.7
Oxford
21,208
1040
134
49.0
6.3
Ozark
14,845
900
184
60.6
12.4
Pelham
22,501
413
35
18.4
1.6
Pell City
13,530
286
48
21.1
3.5
Phenix City
38,673
2250
600
58.2
15.5
Piedmont
4,750
207
63
43.6
13.3
Prattville
35,530
1274
227
35.9
6.4
Priceville
3,021
32
9
10.6
3.0
Prichard
22,344
1327
581
59.4
26.0
Ragland
1,691
17
7
10.1
4.1
Rainbow City
9,668
148
49
15.3
5.1
Rainsville
5,030
136
16
27.0
3.2
Red Bay
3,122
64
18
20.5
5.8
Reform
1,650
27
5
16.4
3.0
Riverside
2,310
77
29
33.3
12.6
Roanoke
6,029
130
31
21.6
5.1
Robertsdale
5,765
264
44
45.8
7.6
Rogersville
1,236
32
8
25.9
6.5
Russellville
9,798
415
85
42.4
8.7
Samson
1,922
85
17
44.2
8.8
Saraland
13,735
530
57
38.6
4.1
Sardis City
1,744
43
5
24.7
2.9
Satsuma
6,156
66
15
10.7
2.4
Scottsboro
14,846
597
96
40.2
6.5
Selma
19,705
2070
556
105.0
28.2
Sheffield
9,123
473
151
51.8
16.6
Slocomb
1,979
26
11
13.1
5.6
Southside
8,564
119
29
13.9
3.4
Springville
4,230
128
10
30.3
2.4
Steele
1,081
6
1
5.6
0.9
Stevenson
2,013
40
19
19.9
9.4
Sulligent
1,882
59
10
31.3
5.3
Sumiton
2,454
59
7
24.0
2.9
Sylacauga
12,722
734
169
57.7
13.3
Sylvania
1,847
21
1
11.4
0.5
Talladega
15,799
1033
315
65.4
19.9
Tallassee
4,833
278
78
57.5
16.1
Tarrant
6,259
399
120
63.7
19.2
Taylor
2,414
9
0
3.7
0.0
Town Creek
1,075
19
7
17.7
6.5
Trinity
2,147
41
11
19.1
5.1
Troy
19,097
942
217
49.3
11.4
Tuscaloosa
96,412
4138
1042
42.9
10.8
Tuscumbia
8,574
334
80
39.0
9.3
Tuskegee
8,842
473
175
53.5
19.8
Valley
9,508
555
119
58.4
12.5
Vance
1,529
38
14
24.9
9.2
Vestavia Hills
34,009
456
74
13.4
2.2
Warrior
3,199
64
21
20.0
6.6
Weaver
3,118
123
35
39.4
11.2
Wetumpka
7,573
339
35
44.8
4.6
Winfield
4,605
172
41
37.4
8.9
Woodstock
1,478
45
10
30.4
6.8
York
2,422
60
30
24.8
12.4
Alaska
Anchorage
301,306
11531
1375
38.3
4.6
Bethel
6,431
151
37
23.5
5.8
Cordova
2,293
29
4
12.6
1.7
Craig
1,264
20
1
15.8
0.8
Dillingham
2,416
47
12
19.5
5.0
Fairbanks
32,477
1247
155
38.4
4.8
Haines
2,599
43
12
16.5
4.6
Homer
5,378
241
18
44.8
3.3
Juneau
32,988
872
103
26.4
3.1
Kenai
7,533
369
30
49.0
4.0
Ketchikan
8,246
290
22
35.2
2.7
Kodiak
6,495
270
14
41.6
2.2
Kotzebue
3,289
143
30
43.5
9.1
Nome
3,844
57
9
14.8
2.3
North Pole
2,235
69
19
30.9
8.5
North Slope Borough
9,691
111
32
11.5
3.3
Palmer
6,583
166
22
25.2
3.3
Petersburg
2,912
74
9
25.4
3.1
Seward
2,767
28
7
10.1
2.5
Sitka
9,051
239
37
26.4
4.1
Soldotna
4,431
185
22
41.8
5.0
Unalaska
4,308
45
1
10.4
0.2
Valdez
4,032
94
3
23.3
0.7
Wasilla
8,807
593
44
67.3
5.0
Wrangell
2,409
24
5
10.0
2.1
Arizona
Apache Junction
37,274
1221
404
32.8
10.8
Buckeye
58,126
1141
195
19.6
3.4
Bullhead City
39,337
1603
391
40.8
9.9
Camp Verde
11,055
273
76
24.7
6.9
Casa Grande
50,207
1795
361
35.8
7.2
Chandler
252,369
5643
954
22.4
3.8
Chino Valley
10,979
294
57
26.8
5.2
Clarkdale
4,130
42
12
10.2
2.9
Coolidge
11,841
501
81
42.3
6.8
Eagar
4,917
84
28
17.1
5.7
El Mirage
33,307
1015
244
30.5
7.3
Eloy
17,001
498
127
29.3
7.5
Flagstaff
69,490
3020
215
43.5
3.1
Florence
25,068
150
22
6.0
0.9
Fredonia
1,302
10
4
7.7
3.1
Gilbert
235,430
3473
580
14.8
2.5
Globe
7,361
391
106
53.1
14.4
Holbrook
4,982
243
62
48.8
12.4
Kingman
28,526
1471
248
51.6
8.7
Lake Havasu City
52,892
1109
222
21.0
4.2
Mammoth
1,490
8
2
5.4
1.3
Mesa
462,092
12940
2358
28.0
5.1
Miami
1,787
73
34
40.9
19.0
Nogales
20,382
539
122
26.4
6.0
Page
7,328
464
36
63.3
4.9
Payson
15,238
376
112
24.7
7.4
Peoria
164,722
3299
607
20.0
3.7
Phoenix
1,529,852
56977
14316
37.2
9.4
Pima
2,487
36
4
14.5
1.6
Pinetop-Lakeside
4,296
130
25
30.3
5.8
Prescott
40,992
1229
179
30.0
4.4
Prescott Valley
40,035
928
107
23.2
2.7
Quartzsite
3,635
120
45
33.0
12.4
Sahuarita
27,207
393
51
14.4
1.9
San Luis
32,059
457
114
14.3
3.6
Snowflake-Taylor
9,683
144
49
14.9
5.1
Somerton
15,145
215
63
14.2
4.2
South Tucson
5,707
1025
101
179.6
17.7
Springerville
1,968
47
13
23.9
6.6
St. Johns
3,508
88
38
25.1
10.8
Surprise
125,049
2099
350
16.8
2.8
Tempe
169,812
8044
1177
47.4
6.9
Thatcher
5,049
106
16
21.0
3.2
Tolleson
6,807
703
209
103.3
30.7
Wellton
2,914
35
15
12.0
5.1
Wickenburg
6,657
143
33
21.5
5.0
Williams
2,994
112
26
37.4
8.7
Yuma
92,075
3334
855
36.2
9.3
Arkansas
Alma
5,535
290
60
52.4
10.8
Arkadelphia
10,721
312
68
29.1
6.3
Ashdown
4,552
238
37
52.3
8.1
Ash Flat
1,072
24
5
22.4
4.7
Atkins
3,049
95
20
31.2
6.6
Austin
2,992
42
14
14.0
4.7
Bald Knob
2,906
112
20
38.5
6.9
Barling
4,762
99
6
20.8
1.3
Bay
1,811
23
8
12.7
4.4
Beebe
8,045
374
61
46.5
7.6
Bella Vista
27,913
167
31
6.0
1.1
Benton
33,758
1456
381
43.1
11.3
Berryville
5,488
238
49
43.4
8.9
Blytheville
15,009
1254
518
83.5
34.5
Bono
2,157
28
10
13.0
4.6
Booneville
3,961
166
25
41.9
6.3
Brinkley
2,964
77
23
26.0
7.8
Brookland
2,720
33
12
12.1
4.4
Bull Shoals
1,962
29
9
14.8
4.6
Cabot
25,819
741
143
28.7
5.5
Camden
11,552
504
137
43.6
11.9
Caraway
1,265
2
1
1.6
0.8
Carlisle
2,201
56
23
25.4
10.4
Cave City
1,880
41
6
21.8
3.2
Cave Springs
2,265
27
8
11.9
3.5
Centerton
10,815
96
16
8.9
1.5
Charleston
2,535
23
10
9.1
3.9
Cherokee Village
4,639
68
25
14.7
5.4
Clarendon
1,539
19
9
12.3
5.8
Clarksville
9,359
356
38
38.0
4.1
Clinton
2,557
54
20
21.1
7.8
Conway
64,895
3008
501
46.4
7.7
Corning
3,196
55
8
17.2
2.5
Crossett
5,339
375
197
70.2
36.9
Danville
2,375
13
4
5.5
1.7
Dardanelle
4,680
166
48
35.5
10.3
Decatur
1,771
58
11
32.7
6.2
De Queen
6,748
151
44
22.4
6.5
Dermott
2,762
38
23
13.8
8.3
Des Arc
1,636
33
28
20.2
17.1
De Witt
3,247
159
37
49.0
11.4
Diaz
1,281
7
0
5.5
0.0
Dover
1,389
39
9
28.1
6.5
Dumas
4,500
101
46
22.4
10.2
Earle
2,317
72
31
31.1
13.4
El Dorado
18,461
874
337
47.3
18.3
Elkins
2,865
38
11
13.3
3.8
England
2,783
90
24
32.3
8.6
Eudora
2,147
76
29
35.4
13.5
Eureka Springs
2,099
92
20
43.8
9.5
Fairfield Bay
2,287
60
28
26.2
12.2
Farmington
6,384
361
305
56.5
47.8
Fayetteville
80,263
3394
544
42.3
6.8
Flippin
1,332
65
7
48.8
5.3
Fordyce
4,184
173
64
41.3
15.3
Fort Smith
87,989
4672
866
53.1
9.8
Gassville
2,143
51
8
23.8
3.7
Gentry
3,397
44
11
13.0
3.2
Glenwood
2,205
84
25
38.1
11.3
Gosnell
3,363
84
48
25.0
14.3
Gravette
3,236
53
11
16.4
3.4
Greenbrier
5,209
6
0
1.2
0.0
Green Forest
2,788
84
16
30.1
5.7
Greenland
1,368
14
3
10.2
2.2
Greenwood
9,358
50
15
5.3
1.6
Gurdon
2,168
28
12
12.9
5.5
Hamburg
2,794
30
14
10.7
5.0
Hampton
1,285
15
8
11.7
6.2
Harrisburg
2,308
97
27
42.0
11.7
Harrison
13,296
656
123
49.3
9.3
Heber Springs
7,148
324
69
45.3
9.7
Helena-West Helena
11,411
705
264
61.8
23.1
Highland
1,060
6
1
5.7
0.9
Hope
10,100
524
96
51.9
9.5
Hoxie
2,704
15
7
5.5
2.6
Jacksonville
28,836
1293
281
44.8
9.7
Jonesboro
72,569
3172
681
43.7
9.4
Judsonia
2,035
31
18
15.2
8.8
Kensett
1,665
35
5
21.0
3.0
Lake City
2,241
22
7
9.8
3.1
Lake Village
2,464
144
37
58.4
15.0
Lamar
1,666
51
11
30.6
6.6
Lavaca
2,379
22
9
9.2
3.8
Leachville
1,897
29
9
15.3
4.7
Lepanto
1,844
78
28
42.3
15.2
Lewisville
1,212
21
8
17.3
6.6
Lincoln
2,388
29
11
12.1
4.6
Little Flock
2,740
25
8
9.1
2.9
Little Rock
198,217
14253
3068
71.9
15.5
Lonoke
4,223
186
27
44.0
6.4
Lowell
8,096
125
28
15.4
3.5
Luxora
1,118
6
2
5.4
1.8
Magnolia
11,519
330
145
28.6
12.6
Marianna
3,921
149
57
38.0
14.5
Marion
12,309
537
117
43.6
9.5
Marmaduke
1,175
37
12
31.5
10.2
Marvell
1,083
55
14
50.8
12.9
Maumelle
17,859
400
63
22.4
3.5
Mayflower
2,335
80
18
34.3
7.7
McCrory
1,667
38
13
22.8
7.8
McGehee
4,019
153
48
38.1
11.9
Mena
5,717
271
48
47.4
8.4
Mineral Springs
1,182
23
8
19.5
6.8
Monette
1,498
33
14
22.0
9.3
Monticello
9,876
388
119
39.3
12.0
Morrilton
6,808
328
43
48.2
6.3
Mountain Home
12,240
484
31
39.5
2.5
Mountain View
2,890
135
19
46.7
6.6
Mulberry
1,623
70
28
43.1
17.3
Murfreesboro
1,629
12
1
7.4
0.6
Nashville
4,562
185
26
40.6
5.7
Newport
7,729
565
122
73.1
15.8
North Little Rock
67,031
2846
517
42.5
7.7
Ola
1,256
21
7
16.7
5.6
Osceola
7,332
374
134
51.0
18.3
Ozark
3,662
107
23
29.2
6.3
Paragould
27,301
1994
417
73.0
15.3
Paris
3,488
165
64
47.3
18.3
Pea Ridge
5,079
136
26
26.8
5.1
Perryville
1,453
31
1
21.3
0.7
Piggott
3,691
100
35
27.1
9.5
Pine Bluff
45,402
2656
991
58.5
21.8
Pocahontas
6,514
291
45
44.7
6.9
Pottsville
3,074
37
10
12.0
3.3
Prairie Grove
4,889
93
20
19.0
4.1
Prescott
3,209
135
81
42.1
25.2
Redfield
1,495
19
4
12.7
2.7
Rison
1,322
26
14
19.7
10.6
Rogers
61,105
1777
218
29.1
3.6
Russellville
28,620
1317
247
46.0
8.6
Salem
1,652
29
4
17.6
2.4
Shannon Hills
3,573
33
10
9.2
2.8
Sheridan
4,861
177
39
36.4
8.0
Sherwood
30,159
1166
161
38.7
5.3
Siloam Springs
16,047
503
167
31.3
10.4
Stamps
1,590
38
11
23.9
6.9
Star City
2,243
35
17
15.6
7.6
Stuttgart
9,219
375
104
40.7
11.3
Texarkana
30,027
1816
412
60.5
13.7
Trumann
7,122
551
108
77.4
15.2
Tuckerman
1,801
7
2
3.9
1.1
Van Buren
23,117
807
231
34.9
10.0
Vilonia
4,326
52
18
12.0
4.2
Waldron
3,510
122
51
34.8
14.5
Walnut Ridge
4,735
93
15
19.6
3.2
Ward
4,545
139
33
30.6
7.3
Warren
5,855
94
58
16.1
9.9
West Fork
2,503
33
11
13.2
4.4
West Memphis
25,370
1466
400
57.8
15.8
White Hall
5,254
68
19
12.9
3.6
Wynne
8,279
532
155
64.3
18.7
California
Adelanto
31,213
790
422
25.3
13.5
Agoura Hills
20,767
234
66
11.3
3.2
Alameda
77,048
1723
236
22.4
3.1
Albany
19,350
478
105
24.7
5.4
Alhambra
84,931
1743
316
20.5
3.7
Aliso Viejo
50,671
273
45
5.4
0.9
Alturas
2,615
89
32
34.0
12.2
American Canyon
20,379
568
98
27.9
4.8
Anaheim
346,956
8196
1301
23.6
3.7
Anderson
10,176
617
100
60.6
9.8
Antioch
108,223
4190
1317
38.7
12.2
Apple Valley
71,329
1654
573
23.2
8.0
Arcadia
57,950
1159
276
20.0
4.8
Arcata
17,748
702
144
39.6
8.1
Arroyo Grande
17,829
356
82
20.0
4.6
Artesia
16,788
294
86
17.5
5.1
Arvin
20,541
483
165
23.5
8.0
Atascadero
29,268
448
102
15.3
3.5
Atherton
7,221
75
31
10.4
4.3
Atwater
28,961
1024
240
35.4
8.3
Auburn
14,042
295
65
21.0
4.6
Avalon
3,784
89
25
23.5
6.6
Avenal
13,914
154
53
11.1
3.8
Azusa
48,224
1065
270
22.1
5.6
Bakersfield
367,406
14595
4065
39.7
11.1
Baldwin Park
76,933
1342
317
17.4
4.1
Banning
30,699
619
248
20.2
8.1
Barstow
23,349
781
328
33.4
14.0
Bear Valley
5,379
129
8
24.0
1.5
Beaumont
41,323
974
171
23.6
4.1
Bell
36,059
718
156
19.9
4.3
Bellflower
77,830
1623
411
20.9
5.3
Bell Gardens
43,089
710
107
16.5
2.5
Belmont
26,947
372
75
13.8
2.8
Belvedere
2,135
36
6
16.9
2.8
Benicia
27,766
484
145
17.4
5.2
Berkeley
117,753
5102
932
43.3
7.9
Beverly Hills
34,788
1071
251
30.8
7.2
Big Bear Lake
5,148
262
103
50.9
20.0
Biggs
1,701
22
6
12.9
3.5
Bishop
3,860
128
33
33.2
8.5
Blythe
19,669
748
189
38.0
9.6
Bradbury
1,084
9
4
8.3
3.7
Brawley
25,695
1020
223
39.7
8.7
Brea
41,359
1124
171
27.2
4.1
Brentwood
55,826
1250
177
22.4
3.2
Brisbane
4,482
133
26
29.7
5.8
Broadmoor
4,343
48
17
11.1
3.9
Buellton
4,997
71
11
14.2
2.2
Buena Park
83,414
2030
341
24.3
4.1
Burbank
105,041
2426
296
23.1
2.8
Burlingame
30,161
750
240
24.9
8.0
Calabasas
24,325
252
81
10.4
3.3
Calexico
39,572
1630
393
41.2
9.9
California City
13,168
481
249
36.5
18.9
Calimesa
8,238
259
94
31.4
11.4
Calistoga
5,277
73
23
13.8
4.4
Camarillo
66,272
965
154
14.6
2.3
Campbell
40,872
1388
313
34.0
7.7
Canyon Lake
10,987
128
18
11.7
1.6
Capitola
10,134
627
25
61.9
2.5
Carlsbad
112,297
1731
331
15.4
2.9
Carmel
3,871
104
33
26.9
8.5
Carpinteria
13,654
197
49
14.4
3.6
Carson
92,838
2116
460
22.8
5.0
Cathedral City
53,368
1194
386
22.4
7.2
Central Marin
34,450
682
264
19.8
7.7
Ceres
46,903
1584
314
33.8
6.7
Cerritos
49,867
1525
293
30.6
5.9
Chico
88,562
3213
483
36.3
5.5
Chino
81,600
1816
418
22.3
5.1
Chino Hills
76,972
1030
262
13.4
3.4
Chowchilla
17,079
332
139
19.4
8.1
Chula Vista
259,894
4524
613
17.4
2.4
Citrus Heights
85,758
2691
459
31.4
5.4
City of Angels
3,716
48
21
12.9
5.7
Claremont
36,042
853
205
23.7
5.7
Clayton
11,646
111
48
9.5
4.1
Clearlake
14,914
681
282
45.7
18.9
Cloverdale
8,766
171
36
19.5
4.1
Clovis
100,705
3064
791
30.4
7.9
Coachella
43,633
1152
273
26.4
6.3
Coalinga
16,445
315
78
19.2
4.7
Colma
1,503
271
16
180.3
10.6
Colton
53,485
1575
381
29.4
7.1
Colusa
5,942
105
33
17.7
5.6
Commerce
13,033
965
85
74.0
6.5
Compton
98,224
2619
542
26.7
5.5
Concord
126,744
5196
832
41.0
6.6
Corcoran
23,057
292
105
12.7
4.6
Corning
7,569
309
84
40.8
11.1
Corona
161,128
3440
541
21.3
3.4
Coronado
23,385
545
59
23.3
2.5
Costa Mesa
112,709
3462
573
30.7
5.1
Cotati
7,424
70
22
9.4
3.0
Covina
48,681
1108
243
22.8
5.0
Crescent City
7,090
191
68
26.9
9.6
Cudahy
24,175
332
52
13.7
2.2
Culver City
39,561
1693
249
42.8
6.3
Cupertino
60,564
1026
263
16.9
4.3
Cypress
49,370
752
136
15.2
2.8
Daly City
105,628
1685
304
16.0
2.9
Dana Point
34,244
463
61
13.5
1.8
Danville
43,685
439
108
10.0
2.5
Davis
66,360
1455
277
21.9
4.2
Delano
52,224
1486
365
28.5
7.0
Del Mar
4,305
137
30
31.8
7.0
Del Rey Oaks
1,683
52
8
30.9
4.8
Desert Hot Springs
28,086
1160
483
41.3
17.2
Diamond Bar
56,665
722
263
12.7
4.6
Dinuba
23,815
933
251
39.2
10.5
Dixon
19,103
428
60
22.4
3.1
Dos Palos
5,081
155
60
30.5
11.8
Downey
113,595
2897
479
25.5
4.2
Duarte
21,817
352
69
16.1
3.2
Dublin
53,795
798
184
14.8
3.4
Dunsmuir
1,569
17
8
10.8
5.1
East Palo Alto
29,377
574
193
19.5
6.6
Eastvale
55,504
929
206
16.7
3.7
El Cajon
102,838
2252
496
21.9
4.8
El Centro
43,532
2095
406
48.1
9.3
El Cerrito
24,485
926
158
37.8
6.5
Elk Grove
162,957
3072
626
18.9
3.8
El Monte
116,220
2213
462
19.0
4.0
El Segundo
16,990
538
161
31.7
9.5
Emeryville
10,972
1603
129
146.1
11.8
Encinitas
62,071
908
181
14.6
2.9
Escalon
7,281
171
41
23.5
5.6
Escondido
149,839
3026
500
20.2
3.3
Eureka
26,843
2176
476
81.1
17.7
Exeter
10,524
305
87
29.0
8.3
Fairfax
7,647
104
22
13.6
2.9
Fairfield
110,300
3873
656
35.1
5.9
Farmersville
10,752
165
46
15.3
4.3
Ferndale
1,360
17
8
12.5
5.9
Fillmore
15,311
122
31
8.0
2.0
Firebaugh
8,238
299
79
36.3
9.6
Folsom
73,329
1305
244
17.8
3.3
Fontana
204,532
3710
686
18.1
3.4
Fort Bragg
7,245
256
51
35.3
7.0
Fortuna
11,752
496
73
42.2
6.2
Foster City
32,836
366
81
11.1
2.5
Fountain Valley
57,024
1023
196
17.9
3.4
Fowler
6,032
158
55
26.2
9.1
Fremont
227,575
3910
899
17.2
4.0
Fresno
513,187
21101
4721
41.1
9.2
Fullerton
139,895
3206
521
22.9
3.7
Galt
24,671
574
162
23.3
6.6
Gardena
60,233
1389
335
23.1
5.6
Garden Grove
176,106
3098
646
17.6
3.7
Gilroy
52,415
1486
236
28.4
4.5
Glendale
197,079
3073
511
15.6
2.6
Glendora
51,292
1241
176
24.2
3.4
Goleta
30,669
422
121
13.8
3.9
Gonzales
8,459
86
27
10.2
3.2
Grand Terrace
12,405
248
53
20.0
4.3
Grass Valley
12,777
676
130
52.9
10.2
Greenfield
16,986
319
100
18.8
5.9
Gridley
6,558
167
45
25.5
6.9
Grover Beach
13,497
324
95
24.0
7.0
Guadalupe
7,260
68
13
9.4
1.8
Gustine
5,667
161
69
28.4
12.2
Hanford
54,824
1857
259
33.9
4.7
Hawaiian Gardens
14,490
183
35
12.6
2.4
Hawthorne
86,670
2588
537
29.9
6.2
Hayward
153,319
4873
985
31.8
6.4
Healdsburg
11,569
238
44
20.6
3.8
Hemet
82,412
3357
912
40.7
11.1
Hercules
25,026
286
60
11.4
2.4
Hermosa Beach
19,873
543
104
27.3
5.2
Hesperia
92,592
2303
821
24.9
8.9
Hidden Hills
1,915
12
2
6.3
1.0
Highland
54,559
1309
421
24.0
7.7
Hillsborough
11,382
103
55
9.0
4.8
Hollister
36,967
498
191
13.5
5.2
Holtville
6,030
86
23
14.3
3.8
Hughson
7,089
143
50
20.2
7.1
Huntington Beach
199,152
4238
643
21.3
3.2
Huntington Park
59,064
1806
181
30.6
3.1
Huron
6,792
145
26
21.3
3.8
Imperial
16,535
46
6
2.8
0.4
Imperial Beach
27,234
416
76
15.3
2.8
Indian Wells
5,211
120
40
23.0
7.7
Indio
84,540
2210
549
26.1
6.5
Inglewood
111,997
2740
582
24.5
5.2
Ione
6,773
60
13
8.9
1.9
Irvine
242,971
3045
575
12.5
2.4
Irwindale
1,426
169
36
118.5
25.2
Jackson
4,534
113
30
24.9
6.6
Jurupa Valley
98,684
2586
445
26.2
4.5
Kensington
5,281
46
16
8.7
3.0
Kerman
14,538
458
132
31.5
9.1
King City
13,336
243
120
18.2
9.0
Kingsburg
11,762
318
88
27.0
7.5
La Canada Flintridge
20,627
306
121
14.8
5.9
Lafayette
25,355
439
96
17.3
3.8
Laguna Beach
23,371
462
98
19.8
4.2
Laguna Hills
31,035
441
92
14.2
3.0
Laguna Niguel
65,033
554
100
8.5
1.5
Laguna Woods
16,480
118
9
7.2
0.5
La Habra
61,964
1049
152
16.9
2.5
La Habra Heights
5,451
49
19
9.0
3.5
Lake Elsinore
58,665
1662
405
28.3
6.9
Lake Forest
79,748
682
127
8.6
1.6
Lakeport
4,763
335
69
70.3
14.5
Lake Shastina
2,506
18
3
7.2
1.2
Lakewood
81,382
1737
320
21.3
3.9
La Mesa
59,005
1584
272
26.8
4.6
La Mirada
49,277
635
125
12.9
2.5
Lancaster
160,190
3661
1140
22.9
7.1
La Palma
15,977
247
86
15.5
5.4
La Puente
40,583
440
88
10.8
2.2
La Quinta
39,753
1324
314
33.3
7.9
La Verne
32,067
820
169
25.6
5.3
Lawndale
33,340
398
118
11.9
3.5
Lemon Grove
26,332
516
142
19.6
5.4
Lemoore
25,080
660
110
26.3
4.4
Lincoln
45,792
463
124
10.1
2.7
Lindsay
13,300
243
85
18.3
6.4
Livermore
86,147
1501
269
17.4
3.1
Livingston
13,690
245
73
17.9
5.3
Lodi
63,601
2095
474
32.9
7.5
Loma Linda
23,798
689
171
29.0
7.2
Lomita
20,677
355
83
17.2
4.0
Lompoc
43,809
854
186
19.5
4.2
Long Beach
471,123
12438
3482
26.4
7.4
Los Alamitos
11,708
204
57
17.4
4.9
Los Altos
30,256
322
118
10.6
3.9
Los Altos Hills
8,408
73
49
8.7
5.8
Los Angeles
3,906,772
83139
15070
21.3
3.9
Los Banos
37,011
900
207
24.3
5.6
Los Gatos
30,614
616
181
20.1
5.9
Lynwood
71,812
1424
235
19.8
3.3
Madera
63,495
1686
472
26.6
7.4
Malibu
12,912
312
81
24.2
6.3
Mammoth Lakes
8,033
111
21
13.8
2.6
Manhattan Beach
35,872
878
218
24.5
6.1
Manteca
73,055
2100
314
28.7
4.3
Marina
20,530
463
120
22.6
5.8
Martinez
37,416
974
189
26.0
5.1
Marysville
12,242
507
143
41.4
11.7
Maywood
27,833
250
40
9.0
1.4
McFarland
12,346
230
79
18.6
6.4
Mendota
11,480
287
43
25.0
3.7
Menifee
84,843
1501
339
17.7
4.0
Menlo Park
33,321
565
125
17.0
3.8
Merced
81,603
2632
605
32.3
7.4
Mill Valley
14,411
188
49
13.0
3.4
Milpitas
70,568
2131
351
30.2
5.0
Mission Viejo
97,124
864
147
8.9
1.5
Modesto
205,820
9113
1754
44.3
8.5
Monrovia
37,225
718
91
19.3
2.4
Montague
1,398
13
7
9.3
5.0
Montclair
38,347
1506
249
39.3
6.5
Montebello
63,737
1449
501
22.7
7.9
Monterey
28,512
1022
166
35.8
5.8
Monterey Park
61,284
1039
267
17.0
4.4
Monte Sereno
3,511
30
16
8.5
4.6
Moorpark
35,299
277
36
7.8
1.0
Moraga
16,953
150
33
8.8
1.9
Moreno Valley
202,911
6410
1638
31.6
8.1
Morgan Hill
41,585
612
119
14.7
2.9
Morro Bay
10,516
234
50
22.3
4.8
Mountain View
78,759
1608
263
20.4
3.3
Mount Shasta
3,267
62
12
19.0
3.7
Murrieta
108,376
1458
262
13.5
2.4
Napa
79,572
1315
290
16.5
3.6
National City
60,130
1589
238
26.4
4.0
Needles
4,944
164
80
33.2
16.2
Nevada City
3,055
95
36
31.1
11.8
Newark
44,467
971
246
21.8
5.5
Newman
10,742
157
57
14.6
5.3
Newport Beach
87,759
1880
357
21.4
4.1
Norco
26,933
642
154
23.8
5.7
Norwalk
106,838
2001
360
18.7
3.4
Novato
54,756
770
182
14.1
3.3
Oakdale
21,651
822
182
38.0
8.4
Oakland
409,994
24367
4006
59.4
9.8
Oakley
38,851
469
134
12.1
3.4
Oceanside
174,102
3984
615
22.9
3.5
Ojai
7,607
120
20
15.8
2.6
Ontario
168,278
4654
780
27.7
4.6
Orange
140,767
2241
366
15.9
2.6
Orange Cove
9,704
151
44
15.6
4.5
Orinda
18,904
187
62
9.9
3.3
Orland
7,511
123
29
16.4
3.9
Oroville
16,090
994
283
61.8
17.6
Oxnard
204,159
6382
1172
31.3
5.7
Pacifica
38,925
638
130
16.4
3.3
Pacific Grove
15,612
301
49
19.3
3.1
Palmdale
158,210
3219
875
20.3
5.5
Palm Desert
50,971
2178
560
42.7
11.0
Palm Springs
46,665
2722
795
58.3
17.0
Palo Alto
67,169
1299
257
19.3
3.8
Palos Verdes Estates
13,668
121
52
8.9
3.8
Paradise
26,306
516
257
19.6
9.8
Paramount
55,194
1408
224
25.5
4.1
Parlier
14,948
234
65
15.7
4.3
Pasadena
140,373
3469
826
24.7
5.9
Paso Robles
31,117
788
157
25.3
5.0
Patterson
20,977
626
199
29.8
9.5
Perris
73,223
1905
407
26.0
5.6
Petaluma
59,803
1074
167
18.0
2.8
Pico Rivera
63,970
1360
283
21.3
4.4
Piedmont
11,170
232
80
20.8
7.2
Pinole
19,034
632
78
33.2
4.1
Pismo Beach
7,910
387
162
48.9
20.5
Pittsburg
67,509
2362
570
35.0
8.4
Placentia
52,513
732
159
13.9
3.0
Placerville
10,486
273
58
26.0
5.5
Pleasant Hill
34,363
1738
276
50.6
8.0
Pleasanton
75,060
1244
169
16.6
2.3
Pomona
151,899
4403
677
29.0
4.5
Porterville
55,391
1204
343
21.7
6.2
Port Hueneme
22,247
347
96
15.6
4.3
Poway
49,786
436
98
8.8
2.0
Rancho Cordova
68,636
1644
321
24.0
4.7
Rancho Cucamonga
172,694
3668
1348
21.2
7.8
Rancho Mirage
17,926
677
165
37.8
9.2
Rancho Palos Verdes
42,645
472
181
11.1
4.2
Rancho Santa Margarita
49,558
203
39
4.1
0.8
Red Bluff
14,103
911
244
64.6
17.3
Redding
91,426
3924
802
42.9
8.8
Redlands
70,295
2837
512
40.4
7.3
Redondo Beach
68,075
1447
272
21.3
4.0
Redwood City
81,870
1728
477
21.1
5.8
Reedley
25,186
460
142
18.3
5.6
Rialto
102,540
2154
613
21.0
6.0
Richmond
108,464
4281
937
39.5
8.6
Ridgecrest
28,830
470
139
16.3
4.8
Rio Dell
3,358
57
19
17.0
5.7
Rio Vista
7,825
116
40
14.8
5.1
Ripon
14,859
258
31
17.4
2.1
Riverbank
23,690
688
216
29.0
9.1
Riverside
319,453
9864
1531
30.9
4.8
Rocklin
60,371
1039
243
17.2
4.0
Rohnert Park
41,535
735
110
17.7
2.6
Rolling Hills
1,896
18
9
9.5
4.7
Rolling Hills Estates
8,233
114
26
13.8
3.2
Rosemead
54,748
1186
249
21.7
4.5
Roseville
128,997
3070
470
23.8
3.6
Ross
2,476
21
9
8.5
3.6
Sacramento
482,767
15078
3238
31.2
6.7
Salinas
156,908
5227
1281
33.3
8.2
San Bernardino
214,588
9239
2370
43.1
11.0
San Bruno
42,787
1054
157
24.6
3.7
San Clemente
65,397
687
129
10.5
2.0
San Diego
1,368,690
26812
5115
19.6
3.7
San Dimas
33,953
631
135
18.6
4.0
San Fernando
24,362
406
96
16.7
3.9
San Francisco
850,294
45093
5237
53.0
6.2
San Gabriel
40,409
555
170
13.7
4.2
Sanger
24,771
549
168
22.2
6.8
San Jacinto
46,216
1875
478
40.6
10.3
San Jose
1,009,679
24577
5167
24.3
5.1
San Juan Capistrano
36,124
383
61
10.6
1.7
San Leandro
88,690
3757
599
42.4
6.8
San Luis Obispo
46,672
1439
206
30.8
4.4
San Marcos
90,799
1286
242
14.2
2.7
San Marino
13,371
221
79
16.5
5.9
San Mateo
102,082
1944
407
19.0
4.0
San Pablo
29,831
1162
402
39.0
13.5
San Rafael
59,292
1664
287
28.1
4.8
San Ramon
75,049
748
209
10.0
2.8
Santa Ana
336,462
5784
793
17.2
2.4
Santa Barbara
90,889
2389
454
26.3
5.0
Santa Clara
121,114
3268
577
27.0
4.8
Santa Clarita
206,930
2437
613
11.8
3.0
Santa Cruz
63,440
3270
420
51.5
6.6
Santa Fe Springs
17,254
1124
132
65.1
7.7
Santa Maria
102,885
3045
666
29.6
6.5
Santa Monica
93,151
3026
535
32.5
5.7
Santa Paula
30,269
447
74
14.8
2.4
Santa Rosa
172,991
3850
598
22.3
3.5
Santee
56,737
794
109
14.0
1.9
Saratoga
31,122
288
136
9.3
4.4
Sausalito
7,137
232
30
32.5
4.2
Scotts Valley
11,795
264
42
22.4
3.6
Seal Beach
24,727
494
88
20.0
3.6
Seaside
34,350
507
106
14.8
3.1
Sebastopol
7,646
124
48
16.2
6.3
Selma
24,404
986
225
40.4
9.2
Shafter
17,235
462
145
26.8
8.4
Sierra Madre
11,090
92
25
8.3
2.3
Signal Hill
11,411
500
63
43.8
5.5
Simi Valley
126,604
1618
348
12.8
2.7
Solana Beach
13,321
188
55
14.1
4.1
Soledad
25,807
232
88
9.0
3.4
Solvang
5,418
81
18
15.0
3.3
Sonoma
10,950
166
32
15.2
2.9
Sonora
4,786
335
85
70.0
17.8
South El Monte
20,465
647
162
31.6
7.9
South Gate
95,981
2687
419
28.0
4.4
South Lake Tahoe
21,379
516
147
24.1
6.9
South Pasadena
26,041
475
115
18.2
4.4
South San Francisco
66,793
1274
287
19.1
4.3
Stallion Springs
2,587
11
6
4.3
2.3
Stanton
38,791
684
127
17.6
3.3
St. Helena
5,978
56
17
9.4
2.8
Stockton
299,519
13148
3124
43.9
10.4
Suisun City
28,986
606
109
20.9
3.8
Sunnyvale
149,384
2356
511
15.8
3.4
Susanville
15,048
315
96
20.9
6.4
Sutter Creek
2,438
42
19
17.2
7.8
Taft
8,895
276
59
31.0
6.6
Tehachapi
12,997
309
117
23.8
9.0
Temecula
108,308
2535
656
23.4
6.1
Temple City
36,272
428
145
11.8
4.0
Thousand Oaks
129,175
1599
357
12.4
2.8
Tiburon
9,232
107
21
11.6
2.3
Torrance
147,971
2623
582
17.7
3.9
Tracy
85,078
2262
274
26.6
3.2
Truckee
16,161
164
66
10.1
4.1
Tulare
61,596
2054
547
33.3
8.9
Turlock
70,786
2510
518
35.5
7.3
Tustin
79,046
1356
193
17.2
2.4
Twentynine Palms
25,936
301
148
11.6
5.7
Ukiah
15,836
551
194
34.8
12.3
Union City
73,268
1602
332
21.9
4.5
Upland
75,790
2165
544
28.6
7.2
Vacaville
94,701
2587
310
27.3
3.3
Vallejo
119,504
4877
2258
40.8
18.9
Ventura
109,246
3867
663
35.4
6.1
Victorville
122,316
4374
1747
35.8
14.3
Villa Park
5,982
84
29
14.0
4.8
Visalia
128,488
3796
783
29.5
6.1
Vista
97,651
1686
292
17.3
3.0
Walnut
30,282
294
141
9.7
4.7
Walnut Creek
67,555
2439
434
36.1
6.4
Waterford
8,646
196
59
22.7
6.8
Watsonville
52,778
1489
190
28.2
3.6
Weed
2,894
84
13
29.0
4.5
West Covina
108,136
2832
454
26.2
4.2
West Hollywood
35,507
1325
210
37.3
5.9
Westlake Village
8,452
173
49
20.5
5.8
Westminster
92,217
2210
381
24.0
4.1
Westmorland
2,264
4
3
1.8
1.3
West Sacramento
50,152
1295
275
25.8
5.5
Wheatland
3,521
50
9
14.2
2.6
Whittier
86,952
2247
340
25.8
3.9
Wildomar
33,921
550
132
16.2
3.9
Williams
5,188
64
21
12.3
4.0
Willits
4,814
50
8
10.4
1.7
Willows
6,089
167
45
27.4
7.4
Windsor
27,350
254
52
9.3
1.9
Winters
6,962
155
44
22.3
6.3
Woodlake
7,700
122
34
15.8
4.4
Woodland
56,854
1756
425
30.9
7.5
Yorba Linda
67,702
702
139
10.4
2.1
Yountville
2,978
40
14
13.4
4.7
Yreka
7,558
298
75
39.4
9.9
Yuba City
65,525
1699
410
25.9
6.3
Yucaipa
52,794
978
317
18.5
6.0
Yucca Valley
21,228
533
165
25.1
7.8
Colorado
Arvada
113,008
2660
344
23.5
3.0
Aspen
6,744
286
19
42.4
2.8
Ault
1,587
1
1
0.6
0.6
Aurora
350,948
9962
1816
28.4
5.2
Avon
6,419
167
12
26.0
1.9
Basalt
3,859
78
6
20.2
1.6
Boulder
104,284
2777
481
26.6
4.6
Breckenridge
4,677
352
11
75.3
2.4
Brighton
36,185
1145
141
31.6
3.9
Broomfield
60,693
1036
114
17.1
1.9
Brush
5,509
32
18
5.8
3.3
Buena Vista
2,767
35
2
12.6
0.7
Burlington
3,946
72
11
18.2
2.8
Canon City
16,291
560
62
34.4
3.8
Centennial
107,485
1298
233
12.1
2.2
Center
2,221
45
12
20.3
5.4
Cherry Hills Village
6,393
85
26
13.3
4.1
Colorado Springs
444,949
16319
2759
36.7
6.2
Columbine Valley
1,334
8
3
6.0
2.2
Commerce City
50,754
1631
226
32.1
4.5
Cortez
8,588
323
5
37.6
0.6
Craig
8,864
221
41
24.9
4.6
Crested Butte
1,529
15
1
9.8
0.7
Cripple Creek
1,163
71
6
61.0
5.2
Dacono
4,425
1
0
0.2
0.0
Del Norte
1,646
20
6
12.2
3.6
Delta
8,860
399
93
45.0
10.5
Denver
665,353
22352
4555
33.6
6.8
Durango
17,710
503
53
28.4
3.0
Eagle
6,527
68
2
10.4
0.3
Eaton
4,716
1
0
0.2
0.0
Elizabeth
1,377
15
2
10.9
1.5
Englewood
31,813
1767
231
55.5
7.3
Erie
20,112
123
15
6.1
0.7
Evans
20,284
404
77
19.9
3.8
Federal Heights
12,096
634
92
52.4
7.6
Firestone
11,418
108
7
9.5
0.6
Florence
3,837
53
7
13.8
1.8
Fort Collins
154,015
3782
489
24.6
3.2
Fort Lupton
7,756
56
15
7.2
1.9
Fort Morgan
11,422
287
40
25.1
3.5
Fountain
27,567
690
115
25.0
4.2
Fowler
1,165
6
1
5.2
0.9
Fraser/Winter Park
2,072
56
3
27.0
1.4
Frederick
10,607
48
1
4.5
0.1
Frisco
2,854
73
7
25.6
2.5
Fruita
12,746
216
43
16.9
3.4
Georgetown
1,026
0
0
0.0
0.0
Glendale
4,558
480
26
105.3
5.7
Glenwood Springs
9,909
459
72
46.3
7.3
Golden
19,556
375
44
19.2
2.2
Granby
1,774
22
1
12.4
0.6
Grand Junction
59,972
2530
265
42.2
4.4
Greeley
97,406
3292
499
33.8
5.1
Greenwood Village
14,824
480
65
32.4
4.4
Gunnison
5,865
148
7
25.2
1.2
Hayden
1,801
24
5
13.3
2.8
Holyoke
2,249
20
8
8.9
3.6
Hudson
2,418
37
6
15.3
2.5
Idaho Springs
1,677
67
12
40.0
7.2
Johnstown
12,694
75
14
5.9
1.1
Keenesburg
1,195
20
10
16.7
8.4
Kersey
1,550
9
5
5.8
3.2
Lafayette
27,380
478
64
17.5
2.3
La Junta
7,068
387
122
54.8
17.3
Lakewood
148,236
6844
898
46.2
6.1
La Salle
2,048
20
9
9.8
4.4
Leadville
2,579
28
5
10.9
1.9
Limon
1,850
7
0
3.8
0.0
Littleton
44,859
983
232
21.9
5.2
Lone Tree
13,824
883
57
63.9
4.1
Longmont
90,813
2062
307
22.7
3.4
Loveland
72,465
1934
193
26.7
2.7
Mancos
1,367
2
2
1.5
1.5
Manitou Springs
5,300
148
24
27.9
4.5
Mead
4,129
77
18
18.6
4.4
Meeker
2,504
25
3
10.0
1.2
Milliken
6,002
29
8
4.8
1.3
Monte Vista
4,369
144
69
33.0
15.8
Montrose
18,985
741
83
39.0
4.4
Monument
5,880
140
15
23.8
2.6
Mountain Village
1,380
17
2
12.3
1.4
New Castle
4,595
15
3
3.3
0.7
Northglenn
37,909
1009
157
26.6
4.1
Ouray
1,015
12
4
11.8
3.9
Pagosa Springs
1,718
105
18
61.1
10.5
Palisade
2,634
42
11
15.9
4.2
Palmer Lake
2,566
0
0
0.0
0.0
Parachute
1,100
19
4
17.3
3.6
Parker
49,428
610
80
12.3
1.6
Platteville
2,588
44
11
17.0
4.3
Pueblo
108,591
7077
2002
65.2
18.4
Rangely
2,447
10
1
4.1
0.4
Rifle
9,534
167
23
17.5
2.4
Rocky Ford
3,899
6
4
1.5
1.0
Salida
5,454
173
30
31.7
5.5
Severance
3,447
13
3
3.8
0.9
Sheridan
5,923
426
46
71.9
7.8
Silt
2,996
48
6
16.0
2.0
Silverthorne
4,052
97
8
23.9
2.0
Snowmass Village
2,876
50
0
17.4
0.0
Springfield
1,411
22
11
15.6
7.8
Steamboat Springs
12,114
320
30
26.4
2.5
Sterling
14,584
446
60
30.6
4.1
Telluride
2,343
74
8
31.6
3.4
Thornton
129,442
3746
486
28.9
3.8
Timnath
1,946
42
3
21.6
1.5
Trinidad
8,329
363
100
43.6
12.0
Vail
5,316
264
22
49.7
4.1
Walsenburg
2,900
98
25
33.8
8.6
Westminster
112,100
3248
335
29.0
3.0
Wheat Ridge
31,096
1078
164
34.7
5.3
Windsor
20,861
228
27
10.9
1.3
Woodland Park
7,141
151
12
21.1
1.7
Wray
2,398
3
2
1.3
0.8
Yuma
3,589
10
3
2.8
0.8
Connecticut
Ansonia
18,964
372
62
19.6
3.3
Avon
18,441
170
20
9.2
1.1
Berlin
20,767
298
57
14.3
2.7
Bethel
19,425
164
22
8.4
1.1
Bloomfield
20,718
503
79
24.3
3.8
Branford
27,977
661
54
23.6
1.9
Bridgeport
147,822
4285
1129
29.0
7.6
Bristol
60,590
1513
335
25.0
5.5
Brookfield
16,957
162
19
9.6
1.1
Canton
10,372
72
11
6.9
1.1
Cheshire
29,120
240
40
8.2
1.4
Clinton
13,164
262
51
19.9
3.9
Coventry
12,403
133
36
10.7
2.9
Cromwell
14,223
294
26
20.7
1.8
Danbury
84,281
1352
230
16.0
2.7
Darien
21,473
191
24
8.9
1.1
Derby
12,776
331
72
25.9
5.6
East Hampton
12,902
71
14
5.5
1.1
East Hartford
51,185
1220
283
23.8
5.5
East Haven
29,093
717
110
24.6
3.8
Easton
7,645
30
10
3.9
1.3
East Windsor
11,462
400
50
34.9
4.4
Enfield
44,769
760
131
17.0
2.9
Fairfield
61,146
1167
196
19.1
3.2
Farmington
25,678
654
53
25.5
2.1
Glastonbury
34,850
297
80
8.5
2.3
Granby
11,333
90
6
7.9
0.5
Greenwich
62,676
469
76
7.5
1.2
Groton
9,338
157
9
16.8
1.0
Groton Town
30,339
564
62
18.6
2.0
Guilford
22,425
339
20
15.1
0.9
Hamden
61,599
1355
257
22.0
4.2
Hartford
124,943
5280
888
42.3
7.1
Madison
18,302
119
11
6.5
0.6
Manchester
58,204
1581
189
27.2
3.2
Meriden
60,352
1414
306
23.4
5.1
Middlebury
7,569
56
9
7.4
1.2
Middletown
47,256
859
96
18.2
2.0
Milford
53,222
1387
146
26.1
2.7
Monroe
19,916
157
37
7.9
1.9
Naugatuck
31,668
617
77
19.5
2.4
New Britain
72,864
2118
553
29.1
7.6
New Canaan
20,302
130
29
6.4
1.4
New Haven
130,882
5167
990
39.5
7.6
Newington
30,803
747
125
24.3
4.1
New London
27,526
846
180
30.7
6.5
New Milford
27,681
326
6
11.8
0.2
Newtown
28,243
172
65
6.1
2.3
North Branford
14,339
191
26
13.3
1.8
North Haven
23,901
556
74
23.3
3.1
Norwalk
88,232
1597
219
18.1
2.5
Norwich
40,296
848
210
21.0
5.2
Old Saybrook
10,249
154
8
15.0
0.8
Orange
13,951
355
32
25.4
2.3
Plainfield
15,186
101
5
6.7
0.3
Plainville
17,844
477
84
26.7
4.7
Plymouth
12,002
172
45
14.3
3.7
Portland
9,445
63
20
6.7
2.1
Putnam
9,436
164
31
17.4
3.3
Redding
9,348
41
13
4.4
1.4
Ridgefield
25,288
65
3
2.6
0.1
Rocky Hill
19,964
377
49
18.9
2.5
Seymour
16,579
158
47
9.5
2.8
Shelton
41,353
388
97
9.4
2.3
Simsbury
23,903
153
33
6.4
1.4
Southington
43,786
806
121
18.4
2.8
South Windsor
25,877
351
60
13.6
2.3
Stamford
127,385
2033
275
16.0
2.2
Stonington
18,541
315
46
17.0
2.5
Stratford
52,279
1310
224
25.1
4.3
Suffield
15,790
75
18
4.7
1.1
Thomaston
7,732
84
19
10.9
2.5
Torrington
35,432
629
101
17.8
2.9
Trumbull
36,701
595
76
16.2
2.1
Vernon
29,158
331
99
11.4
3.4
Wallingford
45,137
608
95
13.5
2.1
Waterbury
109,495
4591
460
41.9
4.2
Waterford
19,504
430
37
22.0
1.9
Watertown
22,161
479
72
21.6
3.2
West Hartford
63,360
1395
200
22.0
3.2
West Haven
54,917
1520
289
27.7
5.3
Weston
10,417
33
6
3.2
0.6
Westport
27,529
344
51
12.5
1.9
Wethersfield
26,470
372
65
14.1
2.5
Willimantic
17,826
301
56
16.9
3.1
Wilton
18,807
61
13
3.2
0.7
Winchester
10,960
160
31
14.6
2.8
Windsor
29,154
460
59
15.8
2.0
Windsor Locks
12,590
241
49
19.1
3.9
Wolcott
16,734
307
44
18.3
2.6
Woodbridge
8,945
136
29
15.2
3.2
Delaware
Bethany Beach
1,138
89
8
78.2
7.0
Bridgeville
2,190
49
7
22.4
3.2
Camden
3,518
311
11
88.4
3.1
Cheswold
1,433
18
6
12.6
4.2
Clayton
3,065
38
15
12.4
4.9
Delaware City
1,732
60
30
34.6
17.3
Delmar
1,676
68
8
40.6
4.8
Dover
37,671
1874
74
49.7
2.0
Elsmere
6,173
125
31
20.2
5.0
Felton
1,377
31
5
22.5
3.6
Georgetown
6,847
403
90
58.9
13.1
Greenwood
1,038
39
10
37.6
9.6
Harrington
3,753
137
22
36.5
5.9
Laurel
3,960
231
64
58.3
16.2
Lewes
2,933
84
21
28.6
7.2
Middletown
19,763
470
58
23.8
2.9
Milford
10,262
749
136
73.0
13.3
Millsboro
4,102
202
20
49.2
4.9
Milton
2,750
77
39
28.0
14.2
Newark
32,813
745
100
22.7
3.0
New Castle
5,399
258
20
47.8
3.7
Newport
1,058
33
5
31.2
4.7
Ocean View
2,066
34
16
16.5
7.7
Rehoboth Beach
1,416
150
11
105.9
7.8
Seaford
7,419
531
77
71.6
10.4
Selbyville
2,347
97
39
41.3
16.6
Smyrna
11,170
324
48
29.0
4.3
Wilmington
71,713
3765
900
52.5
12.6
Wyoming
1,429
14
6
9.8
4.2
District Of Columbia
Washington
658,893
33027
3463
50.1
5.3
Florida
Alachua
9,456
226
54
23.9
5.7
Altamonte Springs
42,301
1349
178
31.9
4.2
Apalachicola
2,266
32
8
14.1
3.5
Apopka
46,572
1507
161
32.4
3.5
Arcadia
7,621
198
65
26.0
8.5
Astatula
1,844
20
12
10.8
6.5
Atlantic Beach
12,955
315
70
24.3
5.4
Atlantis
2,069
67
14
32.4
6.8
Auburndale
14,447
785
219
54.3
15.2
Aventura
37,537
1979
79
52.7
2.1
Bal Harbour Village
2,636
106
25
40.2
9.5
Bartow
18,167
947
184
52.1
10.1
Bay Harbor Islands
5,907
55
7
9.3
1.2
Belleair
3,949
125
23
31.7
5.8
Belleair Beach
1,594
21
3
13.2
1.9
Belleair Bluffs
2,070
39
5
18.8
2.4
Belle Glade
17,927
983
367
54.8
20.5
Belle Isle
6,507
160
38
24.6
5.8
Belleview
4,600
163
53
35.4
11.5
Biscayne Park
3,205
34
11
10.6
3.4
Blountstown
2,546
37
7
14.5
2.7
Boca Raton
90,496
2066
346
22.8
3.8
Bonifay
2,766
45
15
16.3
5.4
Bowling Green
2,910
95
24
32.6
8.2
Boynton Beach
71,801
2879
524
40.1
7.3
Bradenton
52,350
2009
416
38.4
7.9
Bradenton Beach
1,220
13
2
10.7
1.6
Brooksville
7,708
313
63
40.6
8.2
Bunnell
2,755
73
20
26.5
7.3
Cape Coral
168,712
3271
679
19.4
4.0
Carrabelle
2,796
69
19
24.7
6.8
Casselberry
26,645
1102
160
41.4
6.0
Center Hill
1,070
2
2
1.9
1.9
Chattahoochee
3,048
35
11
11.5
3.6
Chiefland
2,215
274
122
123.7
55.1
Chipley
3,565
117
9
32.8
2.5
Clearwater
110,075
4283
755
38.9
6.9
Clermont
30,337
882
145
29.1
4.8
Clewiston
7,141
348
50
48.7
7.0
Cocoa
17,289
1089
298
63.0
17.2
Cocoa Beach
11,347
629
75
55.4
6.6
Coconut Creek
57,766
1268
250
22.0
4.3
Cooper City
35,676
440
69
12.3
1.9
Coral Gables
50,316
1987
312
39.5
6.2
Coral Springs
127,939
2481
355
19.4
2.8
Crescent City
1,555
60
24
38.6
15.4
Crestview
23,251
740
158
31.8
6.8
Cross City
1,692
53
7
31.3
4.1
Cutler Bay
44,080
1846
202
41.9
4.6
Dade City
6,624
270
72
40.8
10.9
Dania
30,996
1191
221
38.4
7.1
Davenport
3,040
71
31
23.4
10.2
Davie
98,010
3207
567
32.7
5.8
Daytona Beach
62,629
3974
628
63.5
10.0
Daytona Beach Shores
4,306
171
25
39.7
5.8
Deerfield Beach
78,773
2073
502
26.3
6.4
De Funiak Springs
5,689
311
75
54.7
13.2
Deland
28,551
1281
249
44.9
8.7
Delray Beach
64,917
2733
434
42.1
6.7
Doral
51,350
2070
180
40.3
3.5
Dunedin
35,779
698
131
19.5
3.7
Dunnellon
1,762
59
7
33.5
4.0
Eatonville
2,263
120
41
53.0
18.1
Edgewater
20,986
393
85
18.7
4.1
Edgewood
2,722
65
23
23.9
8.4
El Portal
2,409
94
34
39.0
14.1
Eustis
19,370
699
121
36.1
6.2
Fellsmere
5,370
95
28
17.7
5.2
Fernandina Beach
12,062
274
59
22.7
4.9
Flagler Beach
4,694
160
24
34.1
5.1
Florida City
12,158
1099
173
90.4
14.2
Fort Lauderdale
174,056
8933
1942
51.3
11.2
Fort Myers
69,718
2176
368
31.2
5.3
Fort Pierce
43,347
2160
529
49.8
12.2
Fort Walton Beach
20,881
693
96
33.2
4.6
Fruitland Park
4,289
160
51
37.3
11.9
Gainesville
128,185
4580
594
35.7
4.6
Graceville
2,226
27
13
12.1
5.8
Greenacres City
38,957
1523
347
39.1
8.9
Green Cove Springs
7,062
204
32
28.9
4.5
Gretna
1,393
34
21
24.4
15.1
Gulf Breeze
6,197
140
33
22.6
5.3
Gulfport
12,199
668
130
54.8
10.7
Haines City
21,717
658
115
30.3
5.3
Hallandale
39,000
1526
281
39.1
7.2
Havana
1,696
30
6
17.7
3.5
Hialeah
235,446
6536
723
27.8
3.1
Hialeah Gardens
22,855
834
100
36.5
4.4
Highland Beach
3,664
34
4
9.3
1.1
High Springs
5,582
119
28
21.3
5.0
Hillsboro Beach
1,981
20
6
10.1
3.0
Holly Hill
11,686
598
119
51.2
10.2
Hollywood
147,918
6385
1428
43.2
9.7
Holmes Beach
4,107
140
32
34.1
7.8
Homestead
64,938
2963
748
45.6
11.5
Howey-in-the-Hills
1,148
7
4
6.1
3.5
Hypoluxo
2,673
38
4
14.2
1.5
Indialantic
2,763
69
11
25.0
4.0
Indian Harbour Beach
8,308
128
21
15.4
2.5
Indian River Shores
4,050
12
3
3.0
0.7
Indian Rocks Beach
4,196
93
15
22.2
3.6
Indian Shores
3,600
25
5
6.9
1.4
Interlachen
1,361
37
8
27.2
5.9
Jacksonville
856,021
33732
6806
39.4
8.0
Jacksonville Beach
21,935
813
149
37.1
6.8
Jasper
4,163
146
56
35.1
13.5
Juno Beach
3,307
80
20
24.2
6.0
Jupiter
59,039
1049
167
17.8
2.8
Kenneth City
5,031
147
17
29.2
3.4
Key Biscayne
12,946
210
8
16.2
0.6
Key West
25,772
1315
229
51.0
8.9
Kissimmee
66,623
2816
623
42.3
9.4
Lady Lake
14,323
192
38
13.4
2.7
Lake Alfred
5,219
117
36
22.4
6.9
Lake City
12,121
946
131
78.0
10.8
Lake Clarke Shores
3,494
52
24
14.9
6.9
Lake Hamilton
1,303
100
26
76.7
20.0
Lake Helen
2,625
57
7
21.7
2.7
Lakeland
101,428
5285
1088
52.1
10.7
Lake Mary
15,067
295
80
19.6
5.3
Lake Park
8,409
793
89
94.3
10.6
Lake Placid
2,126
73
16
34.3
7.5
Lake Wales
15,092
669
189
44.3
12.5
Lake Worth
36,258
1985
597
54.7
16.5
Lantana
10,926
538
89
49.2
8.1
Largo
78,502
2876
564
36.6
7.2
Lauderdale-by-the-Sea
6,385
138
30
21.6
4.7
Lauderdale Lakes
34,403
1505
308
43.7
9.0
Lauderhill
70,506
2471
787
35.0
11.2
Leesburg
21,315
1065
264
50.0
12.4
Lighthouse Point
10,943
215
40
19.6
3.7
Live Oak
7,003
225
124
32.1
17.7
Longboat Key
7,129
87
21
12.2
2.9
Longwood
13,864
398
104
28.7
7.5
Lynn Haven
19,565
487
41
24.9
2.1
Madeira Beach
4,334
184
28
42.5
6.5
Madison
2,939
191
61
65.0
20.8
Maitland
16,643
433
138
26.0
8.3
Mangonia Park
1,951
210
30
107.6
15.4
Marco Island
17,343
118
20
6.8
1.2
Margate
55,982
901
226
16.1
4.0
Marianna
9,842
175
36
17.8
3.7
Mascotte
5,284
117
62
22.1
11.7
Melbourne
77,797
3102
460
39.9
5.9
Melbourne Beach
3,145
37
19
11.8
6.0
Mexico Beach
1,132
38
6
33.6
5.3
Miami
421,996
20394
3659
48.3
8.7
Miami Beach
91,771
9423
819
102.7
8.9
Miami Gardens
112,373
4524
1011
40.3
9.0
Miami Lakes
30,854
667
95
21.6
3.1
Miami Shores
10,729
532
141
49.6
13.1
Miami Springs
14,435
536
80
37.1
5.5
Midway
3,311
38
10
11.5
3.0
Milton
9,442
248
69
26.3
7.3
Minneola
10,183
181
58
17.8
5.7
Miramar
132,352
2750
722
20.8
5.5
Monticello
2,417
26
14
10.8
5.8
Mount Dora
13,067
460
98
35.2
7.5
Naples
20,779
541
86
26.0
4.1
Neptune Beach
7,145
184
26
25.8
3.6
New Port Richey
15,132
689
183
45.5
12.1
New Smyrna Beach
23,391
734
131
31.4
5.6
Niceville
14,407
175
51
12.1
3.5
North Bay Village
7,463
167
25
22.4
3.3
North Lauderdale
43,167
1107
261
25.6
6.0
North Miami
61,501
2806
548
45.6
8.9
North Miami Beach
43,657
1623
453
37.2
10.4
North Palm Beach
12,428
288
75
23.2
6.0
North Port
59,668
892
179
14.9
3.0
North Redington Beach
1,447
26
3
18.0
2.1
Oakland
2,751
53
14
19.3
5.1
Oakland Park
43,745
1792
362
41.0
8.3
Ocala
57,740
3003
494
52.0
8.6
Ocean Ridge
1,853
45
8
24.3
4.3
Ocoee
40,029
1411
262
35.2
6.5
Okeechobee
5,592
270
32
48.3
5.7
Oldsmar
13,842
467
71
33.7
5.1
Opa Locka
16,146
1175
329
72.8
20.4
Orange City
10,940
840
93
76.8
8.5
Orange Park
8,605
205
25
23.8
2.9
Orlando
259,675
16515
3342
63.6
12.9
Ormond Beach
38,782
1555
259
40.1
6.7
Oviedo
37,467
461
124
12.3
3.3
Pahokee
6,010
163
44
27.1
7.3
Palatka
10,469
551
107
52.6
10.2
Palm Bay
105,287
2226
478
21.1
4.5
Palm Beach
8,706
155
39
17.8
4.5
Palm Beach Gardens
51,210
1447
204
28.3
4.0
Palm Beach Shores
1,188
55
9
46.3
7.6
Palmetto
13,040
448
90
34.4
6.9
Palmetto Bay
24,558
836
118
34.0
4.8
Palm Springs
21,011
1146
297
54.5
14.1
Panama City
37,204
2581
451
69.4
12.1
Panama City Beach
12,186
1102
159
90.4
13.0
Parker
4,503
144
43
32.0
9.5
Parkland
27,164
173
31
6.4
1.1
Pembroke Park
6,208
347
75
55.9
12.1
Pembroke Pines
164,372
3775
569
23.0
3.5
Pensacola
52,873
2390
451
45.2
8.5
Perry
7,087
187
47
26.4
6.6
Pinellas Park
50,213
2927
417
58.3
8.3
Plantation
91,549
2755
476
30.1
5.2
Plant City
36,425
1448
220
39.8
6.0
Pompano Beach
105,523
4568
1004
43.3
9.5
Ponce Inlet
3,086
31
4
10.0
1.3
Port Orange
57,359
1136
204
19.8
3.6
Port Richey
2,694
315
22
116.9
8.2
Port St. Joe
3,433
48
20
14.0
5.8
Port St. Lucie
172,453
2498
511
14.5
3.0
Punta Gorda
17,305
287
39
16.6
2.3
Quincy
7,911
319
92
40.3
11.6
Redington Beaches
1,452
17
3
11.7
2.1
Riviera Beach
33,446
1556
392
46.5
11.7
Rockledge
25,785
507
102
19.7
4.0
Royal Palm Beach
36,846
885
97
24.0
2.6
Safety Harbor
17,204
303
64
17.6
3.7
Sanford
56,601
2982
641
52.7
11.3
Sanibel
7,023
107
33
15.2
4.7
Sarasota
53,620
2537
479
47.3
8.9
Satellite Beach
10,384
136
42
13.1
4.0
Sebastian
22,889
463
77
20.2
3.4
Sebring
10,312
478
100
46.4
9.7
Seminole
18,009
504
58
28.0
3.2
Sewall's Point
2,098
12
2
5.7
1.0
South Bay
4,991
144
45
28.9
9.0
South Daytona
12,288
442
101
36.0
8.2
South Miami
12,189
682
103
56.0
8.5
South Palm Beach
1,145
18
10
15.7
8.7
South Pasadena
5,032
106
10
21.1
2.0
Southwest Ranches
7,757
126
30
16.2
3.9
Springfield
9,249
268
58
29.0
6.3
Starke
5,387
161
10
29.9
1.9
St. Augustine
13,847
711
76
51.3
5.5
St. Augustine Beach
6,693
131
16
19.6
2.4
St. Cloud
42,113
864
166
20.5
3.9
St. Pete Beach
9,503
417
46
43.9
4.8
St. Petersburg
250,772
14150
2612
56.4
10.4
Stuart
16,199
645
86
39.8
5.3
Sunny Isles Beach
21,931
420
32
19.2
1.5
Sunrise
91,544
3054
474
33.4
5.2
Surfside
6,003
154
16
25.7
2.7
Sweetwater
20,719
642
40
31.0
1.9
Tallahassee
187,573
9080
2316
48.4
12.3
Tamarac
63,796
1255
361
19.7
5.7
Tampa
357,124
8670
1820
24.3
5.1
Tarpon Springs
23,965
668
114
27.9
4.8
Tavares
14,518
400
156
27.6
10.7
Temple Terrace
25,335
799
181
31.5
7.1
Tequesta
5,844
63
29
10.8
5.0
Titusville
44,310
1447
384
32.7
8.7
Treasure Island
6,816
206
32
30.2
4.7
Trenton
2,017
36
14
17.8
6.9
Umatilla
3,630
84
14
23.1
3.9
Valparaiso
5,275
48
22
9.1
4.2
Venice
21,378
396
74
18.5
3.5
Vero Beach
15,876
606
142
38.2
8.9
Village of Pinecrest
19,241
612
110
31.8
5.7
Virginia Gardens
2,481
29
6
11.7
2.4
Wauchula
4,948
182
60
36.8
12.1
Wellington
61,069
1210
216
19.8
3.5
West Melbourne
19,988
608
51
30.4
2.6
West Miami
6,306
134
25
21.2
4.0
Weston
69,129
380
62
5.5
0.9
West Palm Beach
103,028
4788
929
46.5
9.0
West Park
14,904
515
166
34.6
11.1
Wildwood
6,592
171
67
25.9
10.2
Williston
2,724
104
10
38.2
3.7
Wilton Manors
12,223
606
95
49.6
7.8
Windermere
3,164
20
8
6.3
2.5
Winter Garden
38,454
1113
194
28.9
5.0
Winter Haven
35,935
1351
284
37.6
7.9
Winter Park
29,526
1104
247
37.4
8.4
Winter Springs
34,021
369
73
10.8
2.1
Zephyrhills
14,178
900
162
63.5
11.4
Georgia7
Abbeville
2,869
17
6
5.9
2.1
Acworth
21,727
610
52
28.1
2.4
Adairsville
4,733
98
18
20.7
3.8
Adel
5,313
215
62
40.5
11.7
Albany
75,858
4196
1172
55.3
15.4
Alma
3,536
249
52
70.4
14.7
Alpharetta
63,478
1254
150
19.8
2.4
Americus
16,200
1295
626
79.9
38.6
Aragon
1,235
136
22
110.1
17.8
Arcade
1,755
31
5
17.7
2.8
Athens-Clarke County
121,511
3792
760
31.2
6.3
Atlanta
454,363
26114
5470
57.5
12.0
Auburn
7,202
103
22
14.3
3.1
Baldwin
3,302
43
2
13.0
0.6
Ball Ground
1,493
17
1
11.4
0.7
Baxley
4,474
199
45
44.5
10.1
Blackshear
3,569
137
33
38.4
9.2
Bloomingdale
2,739
75
24
27.4
8.8
Blue Ridge
1,259
110
34
87.4
27.0
Braselton
8,142
110
21
13.5
2.6
Bremen
6,294
166
29
26.4
4.6
Brookhaven
50,942
1348
253
26.5
5.0
Brooklet
1,393
32
5
23.0
3.6
Brunswick
15,912
1202
325
75.5
20.4
Butler
1,920
28
14
14.6
7.3
Byron
4,859
141
26
29.0
5.4
Cairo
9,845
370
72
37.6
7.3
Calhoun
15,956
746
113
46.8
7.1
Camilla
5,070
192
47
37.9
9.3
Canton
24,449
507
72
20.7
2.9
Carrollton
25,315
1204
162
47.6
6.4
Cave Spring
1,149
31
2
27.0
1.7
Centerville
7,663
460
120
60.0
15.7
Chamblee
16,053
1090
178
67.9
11.1
Chatsworth
4,284
155
14
36.2
3.3
Chattahoochee Hills
2,606
68
22
26.1
8.4
Claxton
2,358
70
17
29.7
7.2
Clayton
2,255
103
43
45.7
19.1
Cleveland
3,741
232
29
62.0
7.8
College Park
14,780
1644
307
111.2
20.8
Columbus
206,714
13378
3711
64.7
18.0
Commerce
6,553
117
15
17.9
2.3
Conyers
15,713
874
115
55.6
7.3
Cordele
11,202
684
155
61.1
13.8
Cornelia
4,193
233
35
55.6
8.3
Covington
13,535
929
141
68.6
10.4
Cumming
5,652
395
64
69.9
11.3
Dallas
12,621
360
67
28.5
5.3
Dalton
33,464
1242
203
37.1
6.1
Decatur
20,241
623
94
30.8
4.6
Demorest
2,032
16
1
7.9
0.5
Donalsonville
2,829
84
8
29.7
2.8
Douglas
11,924
1106
128
92.8
10.7
Douglasville
32,112
2055
174
64.0
5.4
Dublin
16,423
911
237
55.5
14.4
Duluth
28,849
597
93
20.7
3.2
Dunwoody
47,915
2186
276
45.6
5.8
Eastman
5,384
441
85
81.9
15.8
East Point
35,929
3756
935
104.5
26.0
Eatonton
6,542
254
47
38.8
7.2
Edison
1,477
9
4
6.1
2.7
Elberton
4,500
320
50
71.1
11.1
Ellaville
1,867
23
4
12.3
2.1
Ellijay
1,640
61
13
37.2
7.9
Emerson
1,490
86
10
57.7
6.7
Fairburn
13,851
528
141
38.1
10.2
Fayetteville
16,424
462
39
28.1
2.4
Fitzgerald
9,073
561
130
61.8
14.3
Flowery Branch
6,259
76
6
12.1
1.0
Folkston
5,641
63
20
11.2
3.5
Forest Park
18,855
1042
239
55.3
12.7
Forsyth
4,039
227
18
56.2
4.5
Fort Oglethorpe
9,573
808
50
84.4
5.2
Fort Valley
8,925
366
132
41.0
14.8
Franklin Springs
1,116
12
1
10.8
0.9
Gainesville
35,967
1492
214
41.5
5.9
Garden City
8,931
524
210
58.7
23.5
Gordon
2,017
12
0
5.9
0.0
Grantville
3,142
53
23
16.9
7.3
Greensboro
3,487
112
9
32.1
2.6
Griffin
23,279
1552
266
66.7
11.4
Grovetown
12,676
119
47
9.4
3.7
Guyton
1,720
18
4
10.5
2.3
Hahira
2,850
51
9
17.9
3.2
Hapeville
6,755
498
70
73.7
10.4
Harlem
2,890
36
6
12.5
2.1
Hartwell
4,517
356
45
78.8
10.0
Hazlehurst
4,245
214
50
50.4
11.8
Hinesville
34,525
1426
347
41.3
10.1
Hiram
3,684
374
18
101.5
4.9
Hogansville
3,092
135
37
43.7
12.0
Holly Springs
9,925
176
18
17.7
1.8
Homerville
2,444
185
38
75.7
15.5
Jackson
4,902
85
14
17.3
2.9
Jefferson
9,802
161
31
16.4
3.2
Jesup
10,323
782
98
75.8
9.5
Johns Creek
84,256
594
92
7.0
1.1
Jonesboro
4,567
176
31
38.5
6.8
Kennesaw
32,429
508
77
15.7
2.4
Kingsland
16,309
487
81
29.9
5.0
Lafayette
7,062
355
57
50.3
8.1
LaGrange
30,679
1770
367
57.7
12.0
Lake City
2,634
435
91
165.1
34.5
Lakeland
3,407
80
31
23.5
9.1
Lavonia
2,147
76
13
35.4
6.1
Lilburn
12,610
696
75
55.2
5.9
Lincolnton
1,499
46
10
30.7
6.7
Lithonia
1,997
452
93
226.3
46.6
Locust Grove
5,704
361
32
63.3
5.6
Loganville
10,898
243
29
22.3
2.7
Lumber City
1,255
5
2
4.0
1.6
Madison
3,970
224
24
56.4
6.0
Manchester
4,083
157
39
38.5
9.6
Marietta
59,663
2654
366
44.5
6.1
Maysville
1,834
14
0
7.6
0.0
McCaysville
1,061
18
1
17.0
0.9
McDonough
23,001
832
77
36.2
3.3
McRae
6,141
82
29
13.4
4.7
Meigs
1,031
20
10
19.4
9.7
Midway
2,064
24
5
11.6
2.4
Milledgeville
19,519
729
149
37.3
7.6
Milton
36,702
365
53
9.9
1.4
Montezuma
3,251
192
88
59.1
27.1
Morrow
6,745
770
43
114.2
6.4
Moultrie
14,691
997
165
67.9
11.2
Mountain City
1,057
0
0
0.0
0.0
Mount Airy
1,280
12
5
9.4
3.9
Mount Zion
1,720
20
10
11.6
5.8
Nahunta
1,050
16
8
15.2
7.6
Nashville
4,890
225
63
46.0
12.9
Newnan
35,232
1032
184
29.3
5.2
Nicholls
3,373
41
15
12.2
4.4
Norcross
16,363
659
138
40.3
8.4
Ocilla
3,485
129
18
37.0
5.2
Oglethorpe
1,235
85
25
68.8
20.2
Oxford
2,137
51
7
23.9
3.3
Palmetto
4,846
104
20
21.5
4.1
Peachtree City
34,989
443
27
12.7
0.8
Pelham
3,897
124
33
31.8
8.5
Pembroke
2,377
48
19
20.2
8.0
Pine Mountain
1,343
79
18
58.8
13.4
Pooler
21,707
620
170
28.6
7.8
Porterdale
1,458
32
8
21.9
5.5
Port Wentworth
6,840
108
22
15.8
3.2
Powder Springs
14,524
635
164
43.7
11.3
Quitman
3,693
236
64
63.9
17.3
Ray City
1,052
17
3
16.2
2.9
Remerton
1,135
92
19
81.1
16.7
Reynolds
1,045
0
0
0.0
0.0
Ringgold
3,689
516
37
139.9
10.0
Riverdale
15,607
919
263
58.9
16.9
Rochelle
1,114
35
9
31.4
8.1
Rockmart
4,159
379
80
91.1
19.2
Roswell
95,387
1789
372
18.8
3.9
Sandersville
5,822
303
39
52.0
6.7
Sandy Springs
101,184
2745
639
27.1
6.3
Savannah-Chatham Metropolitan
236,682
8507
1681
35.9
7.1
Senoia
3,855
29
4
7.5
1.0
Smyrna
53,965
1552
308
28.8
5.7
Snellville
19,480
698
37
35.8
1.9
Social Circle
4,311
112
38
26.0
8.8
Sparks
1,995
64
18
32.1
9.0
Sparta
1,322
49
15
37.1
11.3
Springfield
2,800
68
27
24.3
9.6
Statesboro
30,298
1084
177
35.8
5.8
Statham
2,571
83
19
32.3
7.4
Summerville
4,402
31
0
7.0
0.0
Suwanee
18,313
465
93
25.4
5.1
Swainsboro
7,634
383
106
50.2
13.9
Sylvania
2,577
102
15
39.6
5.8
Tallapoosa
3,137
171
35
54.5
11.2
Temple
4,278
150
28
35.1
6.5
Tennille
1,619
59
19
36.4
11.7
Thomaston
9,066
436
56
48.1
6.2
Thomasville
18,752
1243
299
66.3
15.9
Thunderbolt
2,592
85
14
32.8
5.4
Tifton
16,414
1060
198
64.6
12.1
Toccoa
8,346
457
59
54.8
7.1
Trenton
2,252
32
6
14.2
2.7
Trion
1,786
66
15
37.0
8.4
Tybee Island
3,056
114
7
37.3
2.3
Tyrone
7,107
94
23
13.2
3.2
Union City
20,691
1743
399
84.2
19.3
Valdosta
56,862
3289
542
57.8
9.5
Vidalia
10,724
730
149
68.1
13.9
Vienna
3,819
99
13
25.9
3.4
Villa Rica
14,570
719
69
49.3
4.7
Walthourville
4,102
168
76
41.0
18.5
Warner Robins
73,418
4524
867
61.6
11.8
Watkinsville
2,910
45
5
15.5
1.7
Waycross
14,149
1007
130
71.2
9.2
Waynesboro
5,789
334
80
57.7
13.8
West Point
3,763
171
23
45.4
6.1
Willacoochee
1,369
43
20
31.4
14.6
Winder
14,799
609
94
41.2
6.4
Winterville
1,158
9
2
7.8
1.7
Woodstock
27,665
648
51
23.4
1.8
Wrens
2,090
89
15
42.6
7.2
Wrightsville
3,684
41
22
11.1
6.0
Zebulon
1,153
31
5
26.9
4.3
Idaho
Aberdeen
1,944
12
0
6.2
0.0
American Falls
4,351
75
7
17.2
1.6
Bellevue
2,278
14
3
6.1
1.3
Blackfoot
11,833
314
74
26.5
6.3
Boise
216,260
4511
693
20.9
3.2
Bonners Ferry
2,454
65
8
26.5
3.3
Buhl
4,235
80
26
18.9
6.1
Caldwell
49,597
1379
246
27.8
5.0
Challis
1,081
12
4
11.1
3.7
Chubbuck
14,159
661
51
46.7
3.6
Coeur d'Alene
46,952
1822
334
38.8
7.1
Emmett
6,513
73
13
11.2
2.0
Filer
2,622
12
4
4.6
1.5
Fruitland
4,768
55
19
11.5
4.0
Garden City
11,332
430
58
37.9
5.1
Gooding
3,452
93
26
26.9
7.5
Grangeville
3,117
46
10
14.8
3.2
Hailey
8,034
58
23
7.2
2.9
Heyburn
3,189
44
20
13.8
6.3
Homedale
2,608
58
24
22.2
9.2
Idaho Falls
58,606
1502
239
25.6
4.1
Jerome
11,064
229
73
20.7
6.6
Kamiah
1,327
26
15
19.6
11.3
Kellogg
2,118
64
23
30.2
10.9
Ketchum
2,705
61
11
22.6
4.1
Kimberly
3,472
27
13
7.8
3.7
Lewiston
32,521
1133
212
34.8
6.5
McCall
2,918
84
15
28.8
5.1
Meridian
85,733
1187
189
13.8
2.2
Montpelier
2,532
48
6
19.0
2.4
Moscow
24,705
703
88
28.5
3.6
Mountain Home
13,695
248
43
18.1
3.1
Nampa
87,735
2415
554
27.5
6.3
Orofino
3,096
70
26
22.6
8.4
Osburn
1,544
39
26
25.3
16.8
Parma
2,058
20
10
9.7
4.9
Payette
7,417
153
45
20.6
6.1
Pinehurst
1,619
29
18
17.9
11.1
Ponderay
1,104
149
66
135.0
59.8
Post Falls
29,776
841
126
28.2
4.2
Preston
5,161
64
18
12.4
3.5
Priest River
1,714
40
8
23.3
4.7
Rathdrum
7,147
140
50
19.6
7.0
Rexburg
26,773
219
11
8.2
0.4
Rigby
4,061
75
8
18.5
2.0
Rupert
5,633
143
65
25.4
11.5
Salmon
3,006
34
15
11.3
5.0
Sandpoint
7,629
250
70
32.8
9.2
Shelley
4,389
52
10
11.8
2.3
Shoshone
1,502
12
4
8.0
2.7
Soda Springs
2,954
26
11
8.8
3.7
Spirit Lake
2,016
29
7
14.4
3.5
St. Anthony
3,446
44
6
12.8
1.7
St. Maries
2,317
26
4
11.2
1.7
Sun Valley
1,409
12
5
8.5
3.5
Twin Falls
46,358
1459
288
31.5
6.2
Weiser
5,292
99
27
18.7
5.1
Wendell
2,691
27
8
10.0
3.0
Wilder
1,587
22
5
13.9
3.2
Illinois
Addison
37,480
612
89
16.3
2.4
Albers
1,179
0
0
0.0
0.0
Aledo
3,641
34
5
9.3
1.4
Algonquin
30,566
447
29
14.6
0.9
Alsip
19,493
567
92
29.1
4.7
Altamont
2,301
35
10
15.2
4.3
Alton
27,157
1198
244
44.1
9.0
Amboy
2,369
18
10
7.6
4.2
Anna
4,369
187
28
42.8
6.4
Antioch
14,398
225
21
15.6
1.5
Arlington Heights
76,200
743
134
9.8
1.8
Arthur
2,286
10
2
4.4
0.9
Ashland
1,300
10
3
7.7
2.3
Athens
1,961
11
1
5.6
0.5
Atwood
1,195
12
2
10.0
1.7
Aurora
200,419
2982
509
14.9
2.5
Aviston
2,093
8
0
3.8
0.0
Bannockburn
1,575
10
0
6.3
0.0
Barrington
10,368
106
11
10.2
1.1
Barrington Hills
4,237
19
5
4.5
1.2
Bartlett
41,784
236
15
5.6
0.4
Bartonville
6,473
223
30
34.5
4.6
Batavia
26,445
372
23
14.1
0.9
Beardstown
5,919
41
10
6.9
1.7
Beecher
4,470
46
3
10.3
0.7
Bellwood
19,181
434
106
22.6
5.5
Benld
1,512
39
10
25.8
6.6
Berkeley
5,243
73
12
13.9
2.3
Berwyn
56,778
1163
262
20.5
4.6
Bethalto
9,410
115
17
12.2
1.8
Bloomingdale
22,412
566
35
25.3
1.6
Bloomington
79,451
1668
298
21.0
3.8
Bolingbrook
74,049
986
95
13.3
1.3
Bourbonnais
18,565
380
37
20.5
2.0
Bradley
15,766
651
51
41.3
3.2
Braidwood
6,148
87
24
14.2
3.9
Breese
4,524
23
0
5.1
0.0
Brighton
2,218
12
1
5.4
0.5
Broadview
7,980
389
34
48.7
4.3
Brookfield
19,052
220
52
11.5
2.7
Buffalo Grove
41,840
287
41
6.9
1.0
Bull Valley
1,108
2
0
1.8
0.0
Burbank
29,276
392
70
13.4
2.4
Burnham
4,236
122
31
28.8
7.3
Burr Ridge
10,794
102
26
9.4
2.4
Byron
3,669
30
5
8.2
1.4
Cahokia
14,616
475
97
32.5
6.6
Cairo
2,580
168
32
65.1
12.4
Calumet City
37,281
1560
294
41.8
7.9
Cambridge
2,124
12
3
5.6
1.4
Campton Hills
11,351
34
9
3.0
0.8
Canton
14,371
265
43
18.4
3.0
Carbondale
26,370
940
335
35.6
12.7
Carlinville
5,787
156
31
27.0
5.4
Carlyle
3,242
46
3
14.2
0.9
Carol Stream
40,536
383
60
9.4
1.5
Carpentersville
38,363
589
91
15.4
2.4
Carterville
5,710
64
17
11.2
3.0
Carthage
2,530
13
3
5.1
1.2
Cary
17,961
119
11
6.6
0.6
Caseyville
4,080
97
15
23.8
3.7
Catlin
2,042
12
5
5.9
2.4
Centralia
12,727
617
162
48.5
12.7
Champaign
83,995
2255
531
26.8
6.3
Channahon
12,605
61
4
4.8
0.3
Charleston
21,985
106
45
4.8
2.0
Chatham
12,186
87
16
7.1
1.3
Chenoa
3,270
12
2
3.7
0.6
Chester
8,418
75
10
8.9
1.2
Chicago
2,724,121
85161
14537
31.3
5.3
Chicago Heights
30,456
915
200
30.0
6.6
Chicago Ridge
14,482
591
35
40.8
2.4
Chillicothe
6,185
107
8
17.3
1.3
Cicero
84,147
1800
384
21.4
4.6
Clarendon Hills
8,684
15
3
1.7
0.3
Clinton
7,128
119
62
16.7
8.7
Coal City
5,524
78
9
14.1
1.6
Coal Valley
3,748
32
4
8.5
1.1
Cobden
1,130
12
3
10.6
2.7
Collinsville
24,941
753
118
30.2
4.7
Colona
5,075
78
12
15.4
2.4
Columbia
10,070
100
39
9.9
3.9
Cortland
4,332
47
9
10.8
2.1
Country Club Hills
16,969
614
80
36.2
4.7
Crest Hill
20,763
224
54
10.8
2.6
Crete
8,216
136
28
16.6
3.4
Crystal Lake
40,294
842
57
20.9
1.4
Danvers
1,168
6
5
5.1
4.3
Danville
32,404
1878
630
58.0
19.4
Darien
22,423
330
42
14.7
1.9
Decatur
74,373
2225
644
29.9
8.7
Deerfield
18,309
129
21
7.0
1.1
De Kalb
43,791
1166
156
26.6
3.6
Delavan
1,678
44
23
26.2
13.7
De Pue
1,755
11
1
6.3
0.6
De Soto
1,591
6
2
3.8
1.3
Des Plaines
59,041
718
129
12.2
2.2
Diamond
2,497
31
0
12.4
0.0
Divernon
1,163
13
2
11.2
1.7
Dixon
15,240
232
32
15.2
2.1
Downers Grove
49,860
652
84
13.1
1.7
Dupo
3,969
66
10
16.6
2.5
Du Quoin
5,946
95
17
16.0
2.9
Dwight
4,128
26
5
6.3
1.2
Earlville
1,651
32
8
19.4
4.8
East Alton
6,141
169
37
27.5
6.0
East Dubuque
1,678
18
2
10.7
1.2
East Hazel Crest
1,560
53
23
34.0
14.7
East Moline
21,373
441
73
20.6
3.4
East Peoria
23,519
649
204
27.6
8.7
East St. Louis
26,523
1095
314
41.3
11.8
Edinburg
1,062
5
1
4.7
0.9
Edwardsville
24,757
331
56
13.4
2.3
Effingham
12,619
409
45
32.4
3.6
Eldorado
4,125
132
34
32.0
8.2
Elgin
110,595
1997
299
18.1
2.7
Elk Grove Village
33,485
508
52
15.2
1.6
Elmhurst
45,906
506
63
11.0
1.4
Elmwood
2,117
9
7
4.3
3.3
Elmwood Park
25,007
328
54
13.1
2.2
El Paso
2,825
45
14
15.9
5.0
Elwood
2,264
16
0
7.1
0.0
Energy
1,154
5
2
4.3
1.7
Erie
1,567
7
2
4.5
1.3
Eureka
5,397
60
5
11.1
0.9
Evanston
75,817
1900
334
25.1
4.4
Evergreen Park
19,980
569
43
28.5
2.2
Fairfield
5,105
118
29
23.1
5.7
Fairmont City
2,521
27
11
10.7
4.4
Fairview Heights
16,885
677
39
40.1
2.3
Farmington
2,362
57
21
24.1
8.9
Fisher
1,966
34
13
17.3
6.6
Flora
4,977
117
9
23.5
1.8
Flossmoor
9,540
125
16
13.1
1.7
Forest Park
14,223
529
70
37.2
4.9
Fox River Grove
4,698
54
12
11.5
2.6
Frankfort
18,255
148
23
8.1
1.3
Freeburg
4,290
33
9
7.7
2.1
Freeport
24,891
638
111
25.6
4.5
Fulton
3,393
34
13
10.0
3.8
Galena
3,347
29
5
8.7
1.5
Galesburg
31,538
1035
257
32.8
8.1
Geneseo
6,537
103
12
15.8
1.8
Geneva
21,739
177
20
8.1
0.9
Genoa
5,187
44
8
8.5
1.5
Georgetown
3,408
56
16
16.4
4.7
Germantown
1,299
11
2
8.5
1.5
Gibson City
3,342
56
31
16.8
9.3
Gilberts
7,570
26
1
3.4
0.1
Gillespie
3,226
55
8
17.0
2.5
Gilman
1,760
44
5
25.0
2.8
Glasford
1,015
0
0
0.0
0.0
Glen Carbon
12,948
105
16
8.1
1.2
Glencoe
8,885
94
22
10.6
2.5
Glendale Heights
34,715
510
60
14.7
1.7
Glen Ellyn
27,854
340
41
12.2
1.5
Glenview
45,588
386
105
8.5
2.3
Glenwood
9,066
183
28
20.2
3.1
Godfrey
17,841
310
38
17.4
2.1
Grandview
1,437
25
12
17.4
8.4
Grayslake
21,132
272
34
12.9
1.6
Grayville
1,653
22
2
13.3
1.2
Greenfield
1,043
8
2
7.7
1.9
Greenup
1,500
21
4
14.0
2.7
Gurnee
31,273
1387
56
44.4
1.8
Hampshire
5,782
18
0
3.1
0.0
Hampton
1,860
32
11
17.2
5.9
Hanover Park
38,640
337
55
8.7
1.4
Harrisburg
9,031
161
99
17.8
11.0
Hartford
1,392
18
1
12.9
0.7
Harvard
9,217
103
20
11.2
2.2
Harvey
25,377
1210
380
47.7
15.0
Havana
3,176
113
19
35.6
6.0
Hawthorn Woods
7,861
22
5
2.8
0.6
Hazel Crest
14,223
473
121
33.3
8.5
Henry
2,338
30
9
12.8
3.8
Herrin
12,914
386
109
29.9
8.4
Herscher
1,572
11
0
7.0
0.0
Heyworth
2,934
35
7
11.9
2.4
Hickory Hills
14,208
170
21
12.0
1.5
Highland
9,838
172
7
17.5
0.7
Highland Park
29,920
333
46
11.1
1.5
Highwood
5,328
35
6
6.6
1.1
Hillsboro
6,123
68
20
11.1
3.3
Hinckley
2,051
10
1
4.9
0.5
Hinsdale
17,369
176
19
10.1
1.1
Hodgkins
1,865
335
4
179.6
2.1
Hoffman Estates
52,512
558
78
10.6
1.5
Homer
1,198
5
1
4.2
0.8
Homer Glen
24,333
167
35
6.9
1.4
Hometown
4,377
49
3
11.2
0.7
Homewood
19,470
573
60
29.4
3.1
Hoopeston
5,241
190
47
36.3
9.0
Hudson
1,883
14
4
7.4
2.1
Huntley
25,502
208
19
8.2
0.7
Indian Head Park
3,847
28
5
7.3
1.3
Island Lake
7,999
76
26
9.5
3.3
Itasca
8,849
124
15
14.0
1.7
Jacksonville
19,176
508
95
26.5
5.0
Jerome
1,650
39
10
23.6
6.1
Jerseyville
8,589
249
41
29.0
4.8
Johnsburg
6,293
122
8
19.4
1.3
Joliet
147,838
2988
642
20.2
4.3
Kankakee
27,026
1232
292
45.6
10.8
Kenilworth
2,564
45
9
17.6
3.5
Kewanee
12,621
425
60
33.7
4.8
Kildeer
3,970
33
4
8.3
1.0
Kincaid
1,464
11
2
7.5
1.4
Kingston
1,160
6
0
5.2
0.0
Kirkland
1,727
8
2
4.6
1.2
Lacon
1,833
16
7
8.7
3.8
La Grange
15,774
162
22
10.3
1.4
La Grange Park
13,676
82
3
6.0
0.2
La Harpe
1,195
20
8
16.7
6.7
Lake Forest
19,343
145
19
7.5
1.0
Lake in the Hills
28,925
140
18
4.8
0.6
Lakemoor
6,004
36
8
6.0
1.3
Lake Villa
8,847
68
10
7.7
1.1
Lakewood
3,799
5
2
1.3
0.5
Lake Zurich
20,057
309
21
15.4
1.0
La Salle
9,368
172
29
18.4
3.1
Lawrenceville
4,308
58
27
13.5
6.3
Lemont
16,620
171
12
10.3
0.7
Le Roy
3,627
32
8
8.8
2.2
Libertyville
20,456
265
21
13.0
1.0
Lincoln
14,234
412
59
28.9
4.1
Lincolnshire
7,279
40
6
5.5
0.8
Lincolnwood
12,721
435
57
34.2
4.5
Lindenhurst
14,519
53
6
3.7
0.4
Lockport
25,059
300
42
12.0
1.7
Lombard
44,026
877
71
19.9
1.6
Loves Park
23,629
659
109
27.9
4.6
Lovington
1,113
9
4
8.1
3.6
Lyons
10,793
134
26
12.4
2.4
Machesney Park
23,134
386
71
16.7
3.1
Macomb
19,262
300
50
15.6
2.6
Mahomet
7,843
39
6
5.0
0.8
Malta
1,154
1
1
0.9
0.9
Manhattan
7,205
43
11
6.0
1.5
Maple Park
1,311
1
0
0.8
0.0
Marengo
7,499
70
9
9.3
1.2
Maroa
1,755
13
5
7.4
2.8
Marseilles
5,012
104
28
20.8
5.6
Martinsville
1,153
10
1
8.7
0.9
Maryville
7,846
76
20
9.7
2.5
Mascoutah
7,963
40
4
5.0
0.5
Matteson
19,182
904
69
47.1
3.6
Mattoon
18,318
309
74
16.9
4.0
Maywood
24,174
680
207
28.1
8.6
McHenry
26,590
332
38
12.5
1.4
Melrose Park
25,541
386
48
15.1
1.9
Mendota
7,318
111
39
15.2
5.3
Metropolis
6,442
270
39
41.9
6.1
Midlothian
14,948
317
132
21.2
8.8
Milan
5,130
140
41
27.3
8.0
Minooka
11,174
118
7
10.6
0.6
Mokena
19,271
202
22
10.5
1.1
Moline
43,017
1447
232
33.6
5.4
Monmouth
9,462
197
29
20.8
3.1
Montgomery
19,305
254
36
13.2
1.9
Morris
13,993
324
50
23.2
3.6
Morrison
4,106
39
9
9.5
2.2
Morton
16,586
165
46
9.9
2.8
Morton Grove
23,575
303
81
12.9
3.4
Mount Carmel
7,071
153
38
21.6
5.4
Mount Carroll
1,642
18
2
11.0
1.2
Mount Olive
2,041
4
1
2.0
0.5
Mount Prospect
54,891
582
79
10.6
1.4
Mount Pulaski
1,534
9
0
5.9
0.0
Mount Vernon
15,232
948
194
62.2
12.7
Mount Zion
5,931
32
9
5.4
1.5
Moweaqua
1,775
3
0
1.7
0.0
Mundelein
31,464
256
45
8.1
1.4
Naperville
145,510
1634
176
11.2
1.2
New Athens
1,981
22
3
11.1
1.5
New Berlin
1,366
0
0
0.0
0.0
New Lenox
25,093
305
36
12.2
1.4
Newton
2,806
54
13
19.2
4.6
Niles
30,071
700
86
23.3
2.9
Nokomis
2,212
34
6
15.4
2.7
Normal
55,185
1058
156
19.2
2.8
Norridge
14,712
464
36
31.5
2.4
North Aurora
17,216
221
36
12.8
2.1
Northbrook
33,698
356
43
10.6
1.3
Northfield
5,496
87
18
15.8
3.3
Northlake
12,392
254
25
20.5
2.0
North Riverside
6,712
492
23
73.3
3.4
Oak Brook
8,077
421
14
52.1
1.7
Oakbrook Terrace
2,165
117
10
54.0
4.6
Oak Forest
28,252
336
65
11.9
2.3
Oak Lawn
57,159
1011
121
17.7
2.1
Oak Park
52,109
1564
401
30.0
7.7
Oakwood
1,542
21
7
13.6
4.5
Oakwood Hills
2,079
7
0
3.4
0.0
Oblong
1,429
27
9
18.9
6.3
O'Fallon
29,255
432
68
14.8
2.3
Okawville
1,405
13
5
9.3
3.6
Olney
9,108
279
43
30.6
4.7
Olympia Fields
5,056
119
14
23.5
2.8
Oregon
3,602
70
9
19.4
2.5
Orion
1,845
7
2
3.8
1.1
Orland Hills
7,307
37
3
5.1
0.4
Orland Park
59,056
1293
27
21.9
0.5
Oswego
32,599
498
40
15.3
1.2
Ottawa
18,517
487
52
26.3
2.8
Palatine
69,533
623
34
9.0
0.5
Palestine
1,331
22
3
16.5
2.3
Palos Heights
12,633
146
9
11.6
0.7
Palos Hills
17,673
105
23
5.9
1.3
Palos Park
4,918
30
1
6.1
0.2
Pana
5,704
111
28
19.5
4.9
Paris
8,497
189
43
22.2
5.1
Park Forest
22,073
383
109
17.4
4.9
Park Ridge
37,919
451
79
11.9
2.1
Pawnee
2,732
11
1
4.0
0.4
Paxton
4,400
55
12
12.5
2.7
Pekin
34,080
723
110
21.2
3.2
Peoria
116,923
4858
1224
41.5
10.5
Peoria Heights
6,074
156
31
25.7
5.1
Peotone
4,129
30
4
7.3
1.0
Peru
10,061
210
14
20.9
1.4
Phoenix
1,978
56
27
28.3
13.7
Pinckneyville
5,552
15
5
2.7
0.9
Pingree Grove
5,702
16
3
2.8
0.5
Plainfield
42,196
322
37
7.6
0.9
Plano
11,147
113
19
10.1
1.7
Polo
2,278
29
6
12.7
2.6
Pontiac
11,635
327
43
28.1
3.7
Pontoon Beach
5,651
137
17
24.2
3.0
Posen
6,037
137
49
22.7
8.1
Princeton
7,418
120
15
16.2
2.0
Prospect Heights
16,442
157
23
9.5
1.4
Quincy
40,972
1363
234
33.3
5.7
Rantoul
13,060
297
121
22.7
9.3
Red Bud
3,602
27
5
7.5
1.4
Richmond
1,892
17
1
9.0
0.5
Richton Park
13,792
326
82
23.6
5.9
Riverdale
13,640
415
155
30.4
11.4
River Forest
11,218
243
73
21.7
6.5
River Grove
10,291
118
19
11.5
1.8
Riverside
8,899
106
16
11.9
1.8
Riverton
3,470
35
6
10.1
1.7
Riverwoods
3,654
22
8
6.0
2.2
Robinson
7,654
151
35
19.7
4.6
Rochester
3,786
13
4
3.4
1.1
Rockdale
1,952
6
4
3.1
2.0
Rock Falls
9,169
134
64
14.6
7.0
Rockford
149,586
6401
1708
42.8
11.4
Rock Island
38,844
875
157
22.5
4.0
Rockton
7,595
124
4
16.3
0.5
Rolling Meadows
24,333
246
26
10.1
1.1
Roscoe
10,654
95
24
8.9
2.3
Roselle
23,095
246
24
10.7
1.0
Rosemont
4,244
234
7
55.1
1.6
Round Lake
18,503
151
16
8.2
0.9
Round Lake Beach
28,067
662
60
23.6
2.1
Round Lake Heights
2,736
28
4
10.2
1.5
Round Lake Park
7,352
81
16
11.0
2.2
Roxana
1,500
62
3
41.3
2.0
Sandwich
7,353
77
30
10.5
4.1
Sauk Village
10,558
494
285
46.8
27.0
Savanna
2,918
61
18
20.9
6.2
Schaumburg
75,060
1870
146
24.9
1.9
Schiller Park
11,892
262
72
22.0
6.1
Seneca
2,312
58
15
25.1
6.5
Shiloh
12,991
184
42
14.2
3.2
Shorewood
16,490
136
22
8.2
1.3
Silvis
7,627
250
29
32.8
3.8
Skokie
65,263
1353
259
20.7
4.0
Sleepy Hollow
3,338
17
2
5.1
0.6
Smithton
3,729
15
1
4.0
0.3
South Barrington
4,745
56
6
11.8
1.3
South Beloit
7,744
151
31
19.5
4.0
South Elgin
22,248
237
27
10.7
1.2
South Holland
22,201
380
82
17.1
3.7
South Jacksonville
3,281
15
4
4.6
1.2
South Roxana
2,004
38
20
19.0
10.0
Springfield
117,134
5535
1110
47.3
9.5
Spring Grove
5,718
41
7
7.2
1.2
Spring Valley
5,365
65
10
12.1
1.9
St. Anne
1,233
28
7
22.7
5.7
Staunton
5,077
67
25
13.2
4.9
St. Charles
33,335
490
63
14.7
1.9
Steger
9,561
422
74
44.1
7.7
St. Elmo
1,416
15
2
10.6
1.4
Sterling
15,084
548
87
36.3
5.8
Stickney
6,833
78
6
11.4
0.9
Stockton
1,816
31
3
17.1
1.7
Streamwood
40,456
664
67
16.4
1.7
Streator
13,355
459
92
34.4
6.9
Summit
11,561
272
34
23.5
2.9
Swansea
13,741
211
38
15.4
2.8
Sycamore
17,540
208
21
11.9
1.2
Taylorville
11,049
141
27
12.8
2.4
Thomasboro
1,131
16
6
14.1
5.3
Thornton
2,349
25
4
10.6
1.7
Tilton
2,654
62
16
23.4
6.0
Tinley Park
57,405
929
102
16.2
1.8
Tolono
3,471
26
11
7.5
3.2
Tower Lakes
1,275
4
1
3.1
0.8
Troy
10,014
111
28
11.1
2.8
Urbana
41,805
1467
327
35.1
7.8
Valmeyer
1,261
20
2
15.9
1.6
Vandalia
7,045
187
34
26.5
4.8
Vernon Hills
25,759
517
49
20.1
1.9
Vienna
1,453
8
2
5.5
1.4
Villa Park
22,136
496
43
22.4
1.9
Virden
3,441
45
12
13.1
3.5
Virginia
1,564
1
0
0.6
0.0
Walnut
1,367
14
3
10.2
2.2
Warrensburg
1,186
4
1
3.4
0.8
Warrenville
13,400
100
13
7.5
1.0
Warsaw
1,550
2
2
1.3
1.3
Washington
15,836
166
62
10.5
3.9
Washington Park
4,046
142
31
35.1
7.7
Watseka
5,109
171
60
33.5
11.7
Waukegan
88,747
2576
654
29.0
7.4
Waverly
1,271
5
1
3.9
0.8
Wayne
2,458
7
6
2.8
2.4
Westchester
16,849
158
27
9.4
1.6
West Chicago
27,636
346
55
12.5
2.0
West Dundee
7,375
181
11
24.5
1.5
Western Springs
13,217
44
8
3.3
0.6
West Frankfort
8,092
155
40
19.2
4.9
Westmont
25,047
279
35
11.1
1.4
Westville
3,147
49
17
15.6
5.4
Wheaton
53,806
370
48
6.9
0.9
Wheeling
38,095
498
99
13.1
2.6
White Hall
2,465
28
13
11.4
5.3
Willowbrook
8,675
120
8
13.8
0.9
Willow Springs
5,722
28
5
4.9
0.9
Wilmette
27,427
352
57
12.8
2.1
Wilmington
5,709
48
14
8.4
2.5
Winfield
9,582
42
8
4.4
0.8
Winnebago
3,043
46
6
15.1
2.0
Winnetka
12,477
101
16
8.1
1.3
Winthrop Harbor
6,726
46
5
6.8
0.7
Wood Dale
14,016
150
22
10.7
1.6
Woodridge
33,510
373
29
11.1
0.9
Wood River
10,370
455
77
43.9
7.4
Woodstock
25,222
359
55
14.2
2.2
Worth
10,859
131
22
12.1
2.0
Yorkville
17,929
166
23
9.3
1.3
Zion
24,316
817
275
33.6
11.3
Indiana
Alexandria
5,075
109
20
21.5
3.9
Anderson
55,545
2490
553
44.8
10.0
Angola
8,661
367
18
42.4
2.1
Auburn
12,797
270
30
21.1
2.3
Aurora
3,731
127
14
34.0
3.8
Avon
14,009
617
38
44.0
2.7
Bargersville
6,554
134
18
20.4
2.7
Bedford
13,372
508
49
38.0
3.7
Beech Grove
14,536
625
87
43.0
6.0
Berne
4,035
32
4
7.9
1.0
Bloomington
83,075
2466
487
29.7
5.9
Bluffton
9,959
349
45
35.0
4.5
Boonville
6,198
165
23
26.6
3.7
Bremen
4,619
65
10
14.1
2.2
Brownsburg
23,539
360
40
15.3
1.7
Brownstown
2,995
103
13
34.4
4.3
Carmel
87,555
816
72
9.3
0.8
Cedar Lake
11,736
222
37
18.9
3.2
Charlestown
8,091
229
31
28.3
3.8
Clarksville
21,858
1752
112
80.2
5.1
Clinton
4,759
101
28
21.2
5.9
Columbia City
8,816
143
17
16.2
1.9
Columbus
46,196
2001
204
43.3
4.4
Crawfordsville
16,017
454
65
28.3
4.1
Cumberland
5,386
201
40
37.3
7.4
Danville
9,519
103
22
10.8
2.3
Decatur
9,419
191
20
20.3
2.1
Delphi
2,887
60
12
20.8
4.2
Dyer
16,244
189
14
11.6
0.9
East Chicago
29,089
1222
301
42.0
10.3
Edinburgh
4,538
431
37
95.0
8.2
Elkhart
51,366
2283
615
44.4
12.0
Elwood
8,493
164
50
19.3
5.9
Evansville
120,372
6883
1087
57.2
9.0
Fairmount
2,895
53
23
18.3
7.9
Fishers
85,597
814
50
9.5
0.6
Fort Wayne
257,172
8352
1765
32.5
6.9
Frankfort
16,205
821
115
50.7
7.1
Franklin
24,310
952
83
39.2
3.4
Garrett
6,290
188
36
29.9
5.7
Gary
78,013
4052
1312
51.9
16.8
Gas City
6,075
168
25
27.7
4.1
Goshen
32,337
1240
240
38.3
7.4
Greenfield
21,381
363
55
17.0
2.6
Greensburg
11,800
76
11
6.4
0.9
Greenwood
54,345
1921
172
35.3
3.2
Griffith
16,552
464
69
28.0
4.2
Hagerstown
1,754
25
7
14.3
4.0
Hammond
78,526
2841
530
36.2
6.7
Hartford City
6,053
204
36
33.7
5.9
Highland
23,179
617
83
26.6
3.6
Hobart
28,389
1740
126
61.3
4.4
Indianapolis
858,238
41394
12125
48.2
14.1
Jasper
15,370
145
16
9.4
1.0
Jeffersonville
46,117
1441
225
31.2
4.9
Kendallville
9,904
271
23
27.4
2.3
Kokomo
56,904
2074
501
36.4
8.8
Lafayette
70,749
3426
634
48.4
9.0
Lake Station
12,170
616
74
50.6
6.1
La Porte
22,002
747
121
34.0
5.5
Lawrenceburg
5,027
138
18
27.5
3.6
Ligonier
4,373
12
2
2.7
0.5
Linton
5,326
207
29
38.9
5.4
Logansport
17,973
829
94
46.1
5.2
Lowell
9,403
82
9
8.7
1.0
Marion
29,475
1253
193
42.5
6.5
Merrillville
35,714
1230
183
34.4
5.1
Michigan City
31,508
1382
167
43.9
5.3
Mishawaka
47,933
2352
244
49.1
5.1
Mooresville
9,636
318
40
33.0
4.2
Mount Vernon
6,566
337
113
51.3
17.2
Muncie
70,347
2899
490
41.2
7.0
Munster
23,187
386
24
16.6
1.0
Nappanee
6,705
115
16
17.2
2.4
New Albany
36,908
2075
320
56.2
8.7
New Haven
15,635
331
41
21.2
2.6
New Whiteland
5,793
38
9
6.6
1.6
North Judson
1,762
55
10
31.2
5.7
North Liberty
1,911
6
1
3.1
0.5
North Manchester
5,989
76
7
12.7
1.2
Peru
11,101
356
62
32.1
5.6
Plainfield
30,727
892
77
29.0
2.5
Plymouth
10,036
214
23
21.3
2.3
Portage
36,805
786
99
21.4
2.7
Porter
4,899
70
8
14.3
1.6
Portland
6,275
167
9
26.6
1.4
Rensselaer
5,874
247
18
42.0
3.1
Rushville
6,173
281
59
45.5
9.6
Scottsburg
6,720
258
34
38.4
5.1
Sellersburg
6,167
114
16
18.5
2.6
Seymour
19,050
951
131
49.9
6.9
Shelbyville
19,278
559
78
29.0
4.0
South Bend
100,853
4744
1222
47.0
12.1
South Whitley
1,753
22
3
12.5
1.7
Speedway
12,120
620
81
51.2
6.7
St. John
15,870
101
26
6.4
1.6
Tell City
7,298
140
19
19.2
2.6
Terre Haute
61,085
3012
758
49.3
12.4
Tipton
4,970
94
18
18.9
3.6
Union City
3,496
91
15
26.0
4.3
Valparaiso
32,382
619
55
19.1
1.7
Walkerton
2,276
16
6
7.0
2.6
Warsaw
14,160
449
55
31.7
3.9
Washington
11,982
624
113
52.1
9.4
Waterloo
2,235
68
13
30.4
5.8
Westfield
34,214
421
31
12.3
0.9
West Lafayette
31,192
349
44
11.2
1.4
Whitestown
4,276
119
10
27.8
2.3
Whiting
4,866
152
14
31.2
2.9
Winchester
4,829
230
43
47.6
8.9
Winona Lake
4,945
53
11
10.7
2.2
Zionsville
25,574
149
6
5.8
0.2
Iowa
Adel
4,133
91
46
22.0
11.1
Albia
3,800
38
4
10.0
1.1
Algona
5,504
35
11
6.4
2.0
Altoona
15,924
476
60
29.9
3.8
Ames
62,514
1117
191
17.9
3.1
Anamosa
5,544
78
16
14.1
2.9
Ankeny
53,099
682
108
12.8
2.0
Atlantic
6,898
98
16
14.2
2.3
Audubon
2,049
32
14
15.6
6.8
Bettendorf
35,045
461
76
13.2
2.2
Bloomfield
2,644
10
5
3.8
1.9
Boone
12,627
240
92
19.0
7.3
Buffalo
1,294
11
3
8.5
2.3
Burlington
25,762
871
201
33.8
7.8
Camanche
4,385
49
10
11.2
2.3
Carlisle
3,970
50
22
12.6
5.5
Carroll
9,988
94
23
9.4
2.3
Carter Lake
3,737
146
24
39.1
6.4
Cedar Falls
40,883
786
115
19.2
2.8
Cedar Rapids
128,901
4953
933
38.4
7.2
Centerville
5,429
225
69
41.4
12.7
Chariton
4,238
126
28
29.7
6.6
Charles City
7,495
114
13
15.2
1.7
Cherokee
5,163
61
14
11.8
2.7
Clarinda
5,505
157
34
28.5
6.2
Clear Lake
7,673
255
69
33.2
9.0
Clinton
26,375
1218
229
46.2
8.7
Clive
16,881
365
40
21.6
2.4
Coralville
20,392
563
46
27.6
2.3
Council Bluffs
61,864
4108
744
66.4
12.0
Cresco
3,883
57
14
14.7
3.6
Creston
7,904
148
48
18.7
6.1
Davenport
102,715
4190
932
40.8
9.1
Decorah
8,079
97
5
12.0
0.6
Des Moines
208,250
8841
1888
42.5
9.1
De Witt
5,275
74
32
14.0
6.1
Dubuque
58,421
1513
383
25.9
6.6
Dyersville
4,129
46
5
11.1
1.2
Eagle Grove
3,472
42
12
12.1
3.5
Eldridge
6,126
21
4
3.4
0.7
Emmetsburg
3,791
43
9
11.3
2.4
Estherville
6,073
68
25
11.2
4.1
Evansdale
4,775
126
68
26.4
14.2
Fairfield
9,451
285
79
30.2
8.4
Forest City
3,969
50
16
12.6
4.0
Fort Dodge
24,524
1221
187
49.8
7.6
Fort Madison
11,041
215
45
19.5
4.1
Glenwood
5,271
81
31
15.4
5.9
Grinnell
9,009
232
59
25.8
6.5
Hawarden
2,553
24
14
9.4
5.5
Hiawatha
7,177
164
62
22.9
8.6
Humboldt
4,623
27
6
5.8
1.3
Independence
5,970
39
11
6.5
1.8
Indianola
15,183
351
86
23.1
5.7
Iowa City
72,522
1756
269
24.2
3.7
Iowa Falls
5,212
119
8
22.8
1.5
Jefferson
4,236
57
13
13.5
3.1
Johnston
20,435
173
29
8.5
1.4
Keokuk
10,767
440
115
40.9
10.7
Le Claire
3,955
32
13
8.1
3.3
Le Mars
9,821
225
46
22.9
4.7
Manchester
5,095
92
16
18.1
3.1
Maquoketa
6,044
188
52
31.1
8.6
Marengo
2,511
6
4
2.4
1.6
Marion
36,481
526
113
14.4
3.1
Marshalltown
27,913
804
145
28.8
5.2
Mason City
27,618
943
217
34.1
7.9
Monticello
3,816
42
12
11.0
3.1
Mount Pleasant
8,662
253
70
29.2
8.1
Mount Vernon
4,602
61
2
13.3
0.4
Muscatine
23,057
462
93
20.0
4.0
New Hampton
3,570
23
6
6.4
1.7
Newton
15,111
583
133
38.6
8.8
North Liberty
15,359
133
22
8.7
1.4
Norwalk
9,797
90
5
9.2
0.5
Oelwein
6,224
142
31
22.8
5.0
Ogden
2,033
16
2
7.9
1.0
Onawa
2,923
58
12
19.8
4.1
Orange City
6,211
38
14
6.1
2.3
Osage
3,637
41
13
11.3
3.6
Osceola
5,041
88
23
17.5
4.6
Ottumwa
24,792
1073
190
43.3
7.7
Pella
10,347
166
26
16.0
2.5
Perry
8,204
161
26
19.6
3.2
Pleasant Hill
9,149
95
24
10.4
2.6
Polk City
4,123
34
6
8.2
1.5
Prairie City
1,687
29
14
17.2
8.3
Red Oak
5,531
156
50
28.2
9.0
Sergeant Bluff
4,349
92
20
21.2
4.6
Sheldon
5,068
86
26
17.0
5.1
Shenandoah
5,051
47
5
9.3
1.0
Sioux City
82,372
3166
533
38.4
6.5
Spencer
11,138
260
90
23.3
8.1
Spirit Lake
4,974
105
21
21.1
4.2
State Center
1,481
8
0
5.4
0.0
Storm Lake
10,819
217
40
20.1
3.7
Story City
3,434
29
5
8.4
1.5
Tipton
3,193
63
12
19.7
3.8
Toledo
2,262
46
8
20.3
3.5
Urbandale
42,336
697
69
16.5
1.6
Vinton
5,163
60
17
11.6
3.3
Walcott
1,624
5
3
3.1
1.8
Washington
7,397
70
15
9.5
2.0
Waterloo
68,358
2673
795
39.1
11.6
Waukee
17,952
147
29
8.2
1.6
Waukon
3,858
2
0
0.5
0.0
Waverly
10,118
151
31
14.9
3.1
Webster City
7,836
144
33
18.4
4.2
West Burlington
3,027
254
20
83.9
6.6
West Des Moines
62,359
1562
136
25.0
2.2
West Liberty
3,724
33
6
8.9
1.6
Williamsburg
3,146
21
2
6.7
0.6
Wilton
2,809
16
3
5.7
1.1
Windsor Heights
4,897
184
10
37.6
2.0
Winterset
5,068
81
23
16.0
4.5
Kansas
Abilene
6,617
135
30
20.4
4.5
Andover
12,376
279
38
22.5
3.1
Anthony
2,251
58
19
25.8
8.4
Arkansas City
12,282
478
98
38.9
8.0
Arma
1,466
22
4
15.0
2.7
Atchison
10,908
386
91
35.4
8.3
Atwood
1,235
12
2
9.7
1.6
Basehor
4,958
49
11
9.9
2.2
Baxter Springs
4,098
131
25
32.0
6.1
Bel Aire
6,950
73
21
10.5
3.0
Belleville
1,910
61
34
31.9
17.8
Beloit
3,852
43
12
11.2
3.1
Bonner Springs
7,518
276
34
36.7
4.5
Burlington
2,620
48
7
18.3
2.7
Cheney
2,141
25
2
11.7
0.9
Clay Center
4,213
108
35
25.6
8.3
Clearwater
2,540
42
9
16.5
3.5
Coffeyville
9,873
743
202
75.3
20.5
Colby
5,417
150
34
27.7
6.3
Columbus
3,203
92
23
28.7
7.2
Concordia
5,229
206
61
39.4
11.7
Council Grove
2,098
37
9
17.6
4.3
Derby
23,195
565
79
24.4
3.4
Dodge City
28,325
773
148
27.3
5.2
Edwardsville
4,357
114
20
26.2
4.6
Ellis
2,098
19
2
9.1
1.0
Ellsworth
3,065
38
10
12.4
3.3
Fairway
3,983
45
5
11.3
1.3
Fort Scott
7,897
365
95
46.2
12.0
Fredonia
2,369
54
16
22.8
6.8
Frontenac
3,430
58
24
16.9
7.0
Galena
2,973
127
41
42.7
13.8
Garden City
27,010
811
79
30.0
2.9
Garnett
3,281
72
23
21.9
7.0
Girard
2,776
45
15
16.2
5.4
Goddard
4,624
68
6
14.7
1.3
Goodland
4,574
100
21
21.9
4.6
Grandview Plaza
1,722
34
5
19.7
2.9
Great Bend
15,876
889
222
56.0
14.0
Halstead
2,081
64
23
30.8
11.1
Haven
1,231
17
5
13.8
4.1
Hays
21,167
443
55
20.9
2.6
Haysville
11,046
289
89
26.2
8.1
Herington
2,429
56
18
23.1
7.4
Hesston
3,739
60
14
16.0
3.7
Hiawatha
3,180
111
18
34.9
5.7
Hoisington
2,680
91
33
34.0
12.3
Holcomb
2,123
30
6
14.1
2.8
Holton
3,264
57
15
17.5
4.6
Horton
1,772
34
11
19.2
6.2
Hugoton
3,994
11
0
2.8
0.0
Inman
1,395
11
4
7.9
2.9
Iola
5,590
189
29
33.8
5.2
Junction City
25,786
587
101
22.8
3.9
Kansas City
149,103
7316
1663
49.1
11.2
Kingman
3,155
51
17
16.2
5.4
Lansing
11,727
126
29
10.7
2.5
Larned
4,042
117
30
28.9
7.4
Leavenworth
36,018
1175
251
32.6
7.0
Leawood
33,266
408
72
12.3
2.2
Lenexa
50,876
807
84
15.9
1.7
Liberal
21,054
586
102
27.8
4.8
Lindsborg
3,488
65
16
18.6
4.6
Louisburg
4,293
47
7
10.9
1.6
Maize
3,915
92
11
23.5
2.8
Marion
1,846
22
9
11.9
4.9
Marysville
3,296
103
21
31.3
6.4
Medicine Lodge
2,051
44
10
21.5
4.9
Minneapolis
2,014
30
11
14.9
5.5
Mission Hills
3,602
56
16
15.5
4.4
Mulvane
6,322
138
13
21.8
2.1
Neodesha
2,406
51
10
21.2
4.2
North Newton
1,800
7
1
3.9
0.6
Norton
2,876
41
11
14.3
3.8
Oakley
2,089
26
2
12.4
1.0
Oberlin
1,757
7
2
4.0
1.1
Olathe
133,341
1746
199
13.1
1.5
Osage City
2,888
44
12
15.2
4.2
Osawatomie
4,369
111
23
25.4
5.3
Oswego
1,765
9
3
5.1
1.7
Ottawa
12,439
381
66
30.6
5.3
Overland Park
183,108
3033
384
16.6
2.1
Oxford
1,014
4
1
3.9
1.0
Paola
5,634
179
23
31.8
4.1
Park City
7,535
168
29
22.3
3.8
Peabody
1,142
28
12
24.5
10.5
Pittsburg
20,431
1169
198
57.2
9.7
Plainville
1,903
6
2
3.2
1.1
Prairie Village
21,999
224
36
10.2
1.6
Pratt
7,026
213
53
30.3
7.5
Rose Hill
3,944
56
9
14.2
2.3
Russell
4,466
62
16
13.9
3.6
Scott City
3,905
33
10
8.5
2.6
Seneca
2,005
12
3
6.0
1.5
Shawnee
64,834
1051
180
16.2
2.8
South Hutchinson
2,575
71
11
27.6
4.3
Sterling
2,290
54
35
23.6
15.3
St. John
1,255
15
4
12.0
3.2
St. Marys
2,688
28
8
10.4
3.0
Tonganoxie
5,202
80
27
15.4
5.2
Topeka
127,673
6260
1007
49.0
7.9
Ulysses
6,299
93
36
14.8
5.7
Valley Center
7,056
106
9
15.0
1.3
Victoria
1,240
2
2
1.6
1.6
Wa Keeney
1,844
16
4
8.7
2.2
Wamego
4,654
66
8
14.2
1.7
Wathena
1,348
30
8
22.3
5.9
Wellington
7,919
301
83
38.0
10.5
Wellsville
1,829
23
6
12.6
3.3
Westwood
2,081
36
11
17.3
5.3
Winfield
12,330
413
87
33.5
7.1
Albany
2,003
0
0
0.0
0.0
Alexandria
8,768
182
15
20.8
1.7
Anchorage
2,415
33
10
13.7
4.1
Ashland
21,321
1074
160
50.4
7.5
Auburn
1,349
17
1
12.6
0.7
Audubon Park
1,501
62
16
41.3
10.7
Augusta
1,177
29
5
24.6
4.2
Barbourville
3,152
23
11
7.3
3.5
Bardstown
13,005
354
99
27.2
7.6
Beattyville
1,263
4
4
3.2
3.2
Beaver Dam
3,566
31
1
8.7
0.3
Bellevue
5,887
188
35
31.9
5.9
Benton
4,369
87
28
19.9
6.4
Berea
14,571
319
105
21.9
7.2
Bloomfield
1,042
7
1
6.7
1.0
Bowling Green
62,117
2938
440
47.3
7.1
Brandenburg
2,933
31
10
10.6
3.4
Burkesville
1,525
10
3
6.6
2.0
Cadiz
2,665
90
20
33.8
7.5
Calvert City
2,512
50
19
19.9
7.6
Campbellsville
10,840
388
100
35.8
9.2
Carlisle
1,983
29
11
14.6
5.5
Carrollton
4,009
68
14
17.0
3.5
Catlettsburg
1,820
45
9
24.7
4.9
Cave City
2,305
35
13
15.2
5.6
Central City
5,882
60
3
10.2
0.5
Clay
1,165
1
0
0.9
0.0
Clay City
1,066
44
5
41.3
4.7
Clinton
1,343
12
3
8.9
2.2
Cloverport
1,160
0
0
0.0
0.0
Coal Run Village
1,644
53
4
32.2
2.4
Cold Spring
6,191
152
10
24.6
1.6
Columbia
4,526
50
19
11.0
4.2
Corbin
7,380
242
41
32.8
5.6
Covington
41,072
1680
427
40.9
10.4
Cumberland
2,157
12
3
5.6
1.4
Cynthiana
6,334
226
35
35.7
5.5
Danville
16,455
434
97
26.4
5.9
Dawson Springs
2,752
39
20
14.2
7.3
Dayton
5,377
243
56
45.2
10.4
Dry Ridge
2,217
17
3
7.7
1.4
Earlington
1,408
0
0
0.0
0.0
Eddyville
2,642
38
8
14.4
3.0
Edgewood
8,752
147
11
16.8
1.3
Edmonton
1,578
4
3
2.5
1.9
Elizabethtown
30,208
1069
154
35.4
5.1
Elkton
2,179
25
7
11.5
3.2
Elsmere
8,497
177
41
20.8
4.8
Eminence
2,517
22
9
8.7
3.6
Erlanger
22,610
522
74
23.1
3.3
Falmouth
2,138
37
13
17.3
6.1
Flatwoods
7,436
37
15
5.0
2.0
Flemingsburg
2,699
30
15
11.1
5.6
Florence
31,769
1480
163
46.6
5.1
Fort Mitchell
8,288
124
20
15.0
2.4
Fort Thomas
16,228
117
25
7.2
1.5
Fort Wright
5,781
183
31
31.7
5.4
Frankfort
27,489
1022
202
37.2
7.3
Franklin
8,745
297
58
34.0
6.6
Fulton
2,258
78
14
34.5
6.2
Georgetown
31,280
936
119
29.9
3.8
Glasgow
14,315
456
72
31.9
5.0
Graymoor-Devondale
2,940
30
11
10.2
3.7
Grayson
4,073
88
34
21.6
8.3
Greensburg
2,158
28
5
13.0
2.3
Greenup
1,167
1
0
0.9
0.0
Greenville
4,408
19
2
4.3
0.5
Guthrie
1,432
15
7
10.5
4.9
Hardinsburg
2,339
11
6
4.7
2.6
Harlan
1,681
90
10
53.5
5.9
Harrodsburg
8,380
274
72
32.7
8.6
Hartford
2,707
17
10
6.3
3.7
Hawesville
1,005
7
1
7.0
1.0
Hazard
5,415
331
42
61.1
7.8
Henderson
28,843
981
200
34.0
6.9
Heritage Creek
1,114
1
0
0.9
0.0
Highland Heights
6,934
71
12
10.2
1.7
Hillview
7,980
155
50
19.4
6.3
Hodgenville
3,219
11
6
3.4
1.9
Hopkinsville
32,697
1021
220
31.2
6.7
Horse Cave
2,376
0
0
0.0
0.0
Hurstbourne Acres
1,870
5
1
2.7
0.5
Independence
26,433
203
47
7.7
1.8
Indian Hills
2,949
25
10
8.5
3.4
Irvine
2,444
3
1
1.2
0.4
Irvington
1,196
4
0
3.3
0.0
Jackson
2,157
29
13
13.4
6.0
Jamestown
1,823
13
8
7.1
4.4
Jeffersontown
27,124
637
129
23.5
4.8
Jenkins
2,101
0
0
0.0
0.0
Junction City
2,229
0
0
0.0
0.0
La Center
1,021
8
2
7.8
2.0
La Grange
8,426
121
19
14.4
2.3
Lakeside Park-Crestview Hills
5,945
108
19
18.2
3.2
Lancaster
3,788
116
29
30.6
7.7
Lawrenceburg
11,120
81
30
7.3
2.7
Lebanon
5,653
103
29
18.2
5.1
Lebanon Junction
1,883
32
11
17.0
5.8
Leitchfield
6,854
245
61
35.7
8.9
Lewisport
1,712
5
0
2.9
0.0
Lexington
311,848
12134
2393
38.9
7.7
Liberty
2,203
11
5
5.0
2.3
London
8,115
270
37
33.3
4.6
Louisa
2,485
22
9
8.9
3.6
Louisville Metro
677,710
28364
6417
41.9
9.5
Ludlow
4,552
142
44
31.2
9.7
Madisonville
19,760
393
83
19.9
4.2
Manchester
1,413
22
4
15.6
2.8
Marion
3,015
54
12
17.9
4.0
Mayfield
10,130
285
61
28.1
6.0
Maysville
8,895
335
68
37.7
7.6
Middlesboro
9,867
656
53
66.5
5.4
Monticello
6,155
125
49
20.3
8.0
Morehead
6,935
155
18
22.4
2.6
Morganfield
3,555
40
10
11.3
2.8
Morgantown
2,462
62
19
25.2
7.7
Mount Sterling
7,165
356
46
49.7
6.4
Mount Vernon
2,456
22
11
9.0
4.5
Mount Washington
12,170
116
33
9.5
2.7
Muldraugh
1,070
16
3
15.0
2.8
Munfordville
1,660
25
11
15.1
6.6
Murray
18,188
556
105
30.6
5.8
Newport
15,357
941
166
61.3
10.8
Nicholasville
28,889
1071
212
37.1
7.3
Northfield
1,050
14
0
13.3
0.0
Nortonville
1,201
0
0
0.0
0.0
Oak Grove
7,461
282
96
37.8
12.9
Olive Hill
1,612
20
6
12.4
3.7
Owensboro
58,659
2252
385
38.4
6.6
Owenton
1,524
12
0
7.9
0.0
Owingsville
1,573
7
4
4.5
2.5
Paducah
25,017
1358
147
54.3
5.9
Paintsville
4,294
72
7
16.8
1.6
Paris
9,754
241
52
24.7
5.3
Park Hills
3,004
55
14
18.3
4.7
Pewee Valley
1,512
3
1
2.0
0.7
Pikeville
6,908
574
50
83.1
7.2
Pineville
1,789
33
7
18.4
3.9
Pioneer Village
2,792
17
3
6.1
1.1
Prestonsburg
3,298
78
20
23.7
6.1
Princeton
6,232
160
45
25.7
7.2
Prospect
4,877
23
3
4.7
0.6
Providence
3,134
29
12
9.3
3.8
Raceland
2,376
16
4
6.7
1.7
Radcliff
23,242
536
139
23.1
6.0
Richmond
32,828
1264
241
38.5
7.3
Russell
3,292
50
7
15.2
2.1
Russell Springs
2,509
61
16
24.3
6.4
Russellville
7,053
203
41
28.8
5.8
Salyersville
1,829
9
6
4.9
3.3
Scottsville
4,360
96
22
22.0
5.0
Shelbyville
14,925
280
60
18.8
4.0
Shepherdsville
11,788
316
55
26.8
4.7
Shively
15,669
632
153
40.3
9.8
Silver Grove
1,104
29
8
26.3
7.2
Simpsonville
2,645
42
4
15.9
1.5
Somerset
11,503
649
70
56.4
6.1
Southgate
3,819
29
8
7.6
2.1
South Shore
1,109
2
0
1.8
0.0
Springfield
2,630
17
10
6.5
3.8
Stanford
3,654
8
4
2.2
1.1
Stanton
2,716
44
9
16.2
3.3
St. Matthews
17,945
687
80
38.3
4.5
Sturgis
1,900
11
2
5.8
1.1
Taylor Mill
6,746
62
7
9.2
1.0
Tompkinsville
2,276
0
0
0.0
0.0
Vanceburg
1,459
6
2
4.1
1.4
Versailles
8,973
433
110
48.3
12.3
Villa Hills
7,440
58
17
7.8
2.3
Vine Grove
5,479
74
20
13.5
3.7
Warsaw
1,668
4
1
2.4
0.6
West Buechel
1,270
381
10
300.0
7.9
West Liberty
3,269
16
4
4.9
1.2
Whitesburg
2,038
6
2
2.9
1.0
Wilder
3,098
51
4
16.5
1.3
Williamsburg
5,314
68
13
12.8
2.4
Williamstown
3,958
78
16
19.7
4.0
Wilmore
6,124
63
13
10.3
2.1
Winchester
18,387
835
113
45.4
6.1
Worthington
1,593
1
0
0.6
0.0
Louisiana
Abbeville
12,489
539
213
43.2
17.1
Addis
4,327
3
0
0.7
0.0
Alexandria
48,618
3761
1073
77.4
22.1
Baker
13,811
381
86
27.6
6.2
Baldwin
2,361
62
5
26.3
2.1
Ball
4,017
33
15
8.2
3.7
Bastrop
10,857
1327
412
122.2
37.9
Baton Rouge
229,387
10270
2772
44.8
12.1
Berwick
4,815
88
33
18.3
6.9
Blanchard
2,896
32
3
11.0
1.0
Bogalusa
11,960
672
199
56.2
16.6
Bossier City
67,469
3204
457
47.5
6.8
Broussard
9,653
350
155
36.3
16.1
Brusly
2,596
1
1
0.4
0.4
Bunkie
4,070
251
44
61.7
10.8
Carencro
8,466
265
42
31.3
5.0
Clinton
1,585
4
2
2.5
1.3
Cottonport
1,957
78
25
39.9
12.8
Covington
9,496
385
46
40.5
4.8
Denham Springs
10,131
785
169
77.5
16.7
De Quincy
3,165
76
29
24.0
9.2
De Ridder
10,830
287
57
26.5
5.3
Erath
2,113
25
10
11.8
4.7
Eunice
10,328
660
224
63.9
21.7
Farmerville
3,802
251
47
66.0
12.4
Ferriday
3,437
220
96
64.0
27.9
Franklin
7,407
316
97
42.7
13.1
Franklinton
3,777
132
36
34.9
9.5
French Settlement
1,108
17
7
15.3
6.3
Golden Meadow
2,064
1
0
0.5
0.0
Gonzales
10,426
712
91
68.3
8.7
Gramercy
3,469
91
9
26.2
2.6
Greenwood
3,220
158
29
49.1
9.0
Gretna
17,818
499
107
28.0
6.0
Hammond
20,416
2152
782
105.4
38.3
Harahan
9,319
143
22
15.3
2.4
Haughton
3,410
15
2
4.4
0.6
Houma
34,129
1390
191
40.7
5.6
Independence
1,665
90
28
54.1
16.8
Iowa
3,147
89
17
28.3
5.4
Jena
3,379
0
0
0.0
0.0
Jennings
10,138
293
62
28.9
6.1
Jonesville
2,211
124
58
56.1
26.2
Kenner
67,037
2419
326
36.1
4.9
Kentwood
2,295
162
44
70.6
19.2
Killian
1,294
31
15
24.0
11.6
Kinder
2,422
53
2
21.9
0.8
Krotz Springs
1,202
22
1
18.3
0.8
Lafayette
125,122
6800
1186
54.3
9.5
Lake Providence
3,815
32
12
8.4
3.1
Leesville
6,632
497
54
74.9
8.1
Mamou
3,171
77
10
24.3
3.2
Mandeville
12,251
255
32
20.8
2.6
Mansfield
5,061
286
126
56.5
24.9
Many
2,806
165
16
58.8
5.7
Marksville
5,565
372
73
66.8
13.1
Minden
12,922
280
54
21.7
4.2
Monroe
49,900
5098
1299
102.2
26.0
Morgan City
12,020
407
43
33.9
3.6
Natchitoches
18,248
1238
360
67.8
19.7
New Orleans
387,113
16382
3458
42.3
8.9
Oil City
1,005
15
5
14.9
5.0
Opelousas
16,455
1174
287
71.3
17.4
Patterson
6,111
67
6
11.0
1.0
Pearl River
2,562
87
19
34.0
7.4
Pineville
14,464
885
155
61.2
10.7
Ponchatoula
6,901
505
121
73.2
17.5
Port Allen
5,128
183
26
35.7
5.1
Rayne
8,048
389
59
48.3
7.3
Scott
8,805
205
37
23.3
4.2
Shreveport
200,184
9204
2087
46.0
10.4
Sibley
1,195
5
3
4.2
2.5
Slidell
27,624
1470
174
53.2
6.3
Springhill
5,200
137
7
26.3
1.3
St. Francisville
1,743
80
12
45.9
6.9
St. Gabriel
6,918
83
32
12.0
4.6
Sulphur
20,084
1106
217
55.1
10.8
Tallulah
7,185
318
116
44.3
16.1
Thibodaux
14,565
612
65
42.0
4.5
Vidalia
4,181
135
36
32.3
8.6
Vinton
3,179
69
34
21.7
10.7
Walker
6,187
270
31
43.6
5.0
West Monroe
13,096
1096
257
83.7
19.6
Westwego
8,534
234
49
27.4
5.7
White Castle
1,877
64
20
34.1
10.7
Winnfield
4,615
265
72
57.4
15.6
Zachary
16,125
487
56
30.2
3.5
Maine
Ashland
1,251
18
9
14.4
7.2
Auburn
22,973
886
113
38.6
4.9
Augusta
18,717
1092
126
58.3
6.7
Baileyville
1,487
6
2
4.0
1.3
Bangor
32,586
1678
182
51.5
5.6
Bar Harbor
5,334
97
4
18.2
0.7
Bath
8,325
195
26
23.4
3.1
Belfast
6,659
180
27
27.0
4.1
Berwick
7,502
107
35
14.3
4.7
Biddeford
21,304
881
111
41.4
5.2
Boothbay Harbor
2,135
24
2
11.2
0.9
Brewer
9,335
247
27
26.5
2.9
Bridgton
5,337
176
41
33.0
7.7
Brownville
1,204
8
0
6.6
0.0
Brunswick
20,354
391
63
19.2
3.1
Bucksport
4,964
69
18
13.9
3.6
Buxton
8,096
121
27
14.9
3.3
Calais
3,030
118
17
38.9
5.6
Camden
4,824
59
4
12.2
0.8
Cape Elizabeth
9,151
87
18
9.5
2.0
Caribou
7,899
138
22
17.5
2.8
Clinton
3,363
40
6
11.9
1.8
Cumberland
7,441
29
6
3.9
0.8
Damariscotta
2,208
76
8
34.4
3.6
Dexter
3,828
82
14
21.4
3.7
Dixfield
2,490
36
8
14.5
3.2
Dover-Foxcroft
4,051
84
10
20.7
2.5
East Millinocket
3,002
52
7
17.3
2.3
Eastport
1,284
9
5
7.0
3.9
Eliot
6,257
18
5
2.9
0.8
Ellsworth
7,911
338
41
42.7
5.2
Fairfield
6,623
206
37
31.1
5.6
Falmouth
11,585
124
20
10.7
1.7
Farmington
7,595
154
13
20.3
1.7
Fort Fairfield
3,426
63
19
18.4
5.5
Fort Kent
4,013
9
2
2.2
0.5
Freeport
8,169
160
18
19.6
2.2
Fryeburg
3,384
38
7
11.2
2.1
Gardiner
5,669
149
19
26.3
3.4
Gorham
16,958
200
61
11.8
3.6
Gouldsboro
1,746
16
8
9.2
4.6
Greenville
1,608
27
4
16.8
2.5
Hallowell
2,335
43
4
18.4
1.7
Hampden
7,303
81
14
11.1
1.9
Holden
3,078
44
8
14.3
2.6
Houlton
5,974
132
13
22.1
2.2
Jay
4,813
51
9
10.6
1.9
Kennebunk
11,095
72
18
6.5
1.6
Kennebunkport
3,552
29
1
8.2
0.3
Kittery
9,599
152
6
15.8
0.6
Lewiston
36,402
894
220
24.6
6.0
Limestone
2,245
16
3
7.1
1.3
Lincoln
5,068
110
13
21.7
2.6
Lisbon
8,881
77
17
8.7
1.9
Livermore Falls
3,141
78
25
24.8
8.0
Machias
2,146
47
5
21.9
2.3
Madawaska
3,915
39
2
10.0
0.5
Madison
4,742
104
17
21.9
3.6
Mechanic Falls
3,009
52
17
17.3
5.6
Mexico
2,611
157
27
60.1
10.3
Milbridge
1,320
16
5
12.1
3.8
Millinocket
4,401
68
18
15.5
4.1
Milo
2,271
56
8
24.7
3.5
Monmouth
4,068
27
12
6.6
2.9
Mount Desert
2,074
38
6
18.3
2.9
Newport
3,231
75
5
23.2
1.5
North Berwick
4,630
30
11
6.5
2.4
Norway
4,937
103
19
20.9
3.8
Oakland
6,210
65
10
10.5
1.6
Old Orchard Beach
8,705
199
36
22.9
4.1
Old Town
7,692
125
23
16.3
3.0
Orono
10,757
129
25
12.0
2.3
Oxford
4,041
208
12
51.5
3.0
Paris
5,116
123
23
24.0
4.5
Phippsburg
2,223
13
5
5.8
2.2
Pittsfield
4,135
35
5
8.5
1.2
Portland
66,380
2134
246
32.1
3.7
Presque Isle
9,337
209
16
22.4
1.7
Rangeley
1,176
9
1
7.7
0.9
Richmond
3,367
28
5
8.3
1.5
Rockland
7,190
195
22
27.1
3.1
Rockport
3,320
29
0
8.7
0.0
Rumford
5,705
243
45
42.6
7.9
Sabattus
5,027
51
12
10.1
2.4
Saco
18,974
378
66
19.9
3.5
Sanford
20,848
735
130
35.3
6.2
Scarborough
19,454
370
48
19.0
2.5
Searsport
2,627
39
10
14.8
3.8
Skowhegan
8,518
475
66
55.8
7.7
South Berwick
7,305
64
16
8.8
2.2
South Portland
25,327
797
107
31.5
4.2
Southwest Harbor
1,780
34
4
19.1
2.2
Thomaston
2,757
159
10
57.7
3.6
Topsham
8,690
136
26
15.7
3.0
Van Buren
2,093
26
7
12.4
3.3
Veazie
1,881
37
15
19.7
8.0
Waldoboro
4,991
69
19
13.8
3.8
Washburn
1,626
28
5
17.2
3.1
Waterville
16,022
690
98
43.1
6.1
Wells
9,930
127
54
12.8
5.4
Westbrook
17,809
580
85
32.6
4.8
Wilton
4,033
41
10
10.2
2.5
Windham
17,556
393
83
22.4
4.7
Winslow
7,643
130
19
17.0
2.5
Winthrop
5,992
98
26
16.4
4.3
Wiscasset
3,645
56
14
15.4
3.8
Yarmouth
8,517
74
11
8.7
1.3
York
12,736
215
84
16.9
6.6
Maryland
Aberdeen
15,157
496
59
32.7
3.9
Annapolis
38,803
949
176
24.5
4.5
Baltimore
623,513
29420
6926
47.2
11.1
Bel Air
10,338
316
29
30.6
2.8
Berlin
4,580
80
25
17.5
5.5
Berwyn Heights
3,233
58
13
17.9
4.0
Bladensburg
9,498
361
57
38.0
6.0
Boonsboro
3,474
27
6
7.8
1.7
Bowie
57,188
845
135
14.8
2.4
Brentwood
3,146
5
2
1.6
0.6
Brunswick
6,111
80
19
13.1
3.1
Cambridge
12,669
776
141
61.3
11.1
Capitol Heights
4,508
65
14
14.4
3.1
Centreville
4,533
53
6
11.7
1.3
Chestertown
5,281
130
41
24.6
7.8
Cheverly
6,396
157
28
24.5
4.4
Chevy Chase Village
2,039
29
8
14.2
3.9
Colmar Manor
1,447
18
2
12.4
1.4
Cottage City
1,349
36
4
26.7
3.0
Crisfield
2,689
14
0
5.2
0.0
Cumberland
20,364
1306
292
64.1
14.3
Delmar
3,045
90
20
29.6
6.6
Denton
4,347
245
33
56.4
7.6
District Heights
6,053
107
22
17.7
3.6
Easton
16,793
520
80
31.0
4.8
Edmonston
1,498
75
12
50.1
8.0
Elkton
15,770
1160
165
73.6
10.5
Fairmount Heights
1,548
4
0
2.6
0.0
Federalsburg
2,685
90
12
33.5
4.5
Forest Heights
2,534
56
21
22.1
8.3
Frederick
67,257
1556
205
23.1
3.0
Frostburg
8,626
195
50
22.6
5.8
Fruitland
5,183
381
15
73.5
2.9
Glenarden
6,238
67
10
10.7
1.6
Greenbelt
23,918
790
130
33.0
5.4
Greensboro
1,859
45
7
24.2
3.8
Hagerstown
40,781
1476
367
36.2
9.0
Hampstead
6,360
66
15
10.4
2.4
Hancock
1,561
13
6
8.3
3.8
Havre de Grace
13,625
308
53
22.6
3.9
Hurlock
2,063
56
7
27.1
3.4
Hyattsville
18,159
1173
123
64.6
6.8
Landover Hills
1,780
43
4
24.2
2.2
La Plata
9,100
329
24
36.2
2.6
Laurel
25,954
914
115
35.2
4.4
Lonaconing
1,158
0
0
0.0
0.0
Manchester
4,816
36
11
7.5
2.3
Morningside
2,070
58
7
28.0
3.4
Mount Rainier
8,349
299
41
35.8
4.9
New Carrollton
12,603
309
47
24.5
3.7
North East
3,705
114
20
30.8
5.4
Oakland
1,915
23
0
12.0
0.0
Ocean City
7,089
1320
220
186.2
31.0
Ocean Pines
12,100
104
32
8.6
2.6
Perryville
4,423
103
18
23.3
4.1
Pocomoke City
4,163
245
26
58.9
6.2
Princess Anne
3,245
151
41
46.5
12.6
Ridgely
1,608
35
6
21.8
3.7
Rising Sun
2,884
38
5
13.2
1.7
Riverdale Park
7,192
149
25
20.7
3.5
Rock Hall
1,306
34
8
26.0
6.1
Salisbury
31,779
1835
311
57.7
9.8
Seat Pleasant
4,710
125
24
26.5
5.1
Smithsburg
3,002
17
5
5.7
1.7
Snow Hill
2,140
80
30
37.4
14.0
St. Michaels
1,003
41
8
40.9
8.0
Sykesville
4,447
21
2
4.7
0.4
Takoma Park
17,967
591
123
32.9
6.8
Taneytown
6,743
74
17
11.0
2.5
Thurmont
6,463
76
16
11.8
2.5
Trappe
1,048
18
4
17.2
3.8
University Park
2,628
48
10
18.3
3.8
Westminster
18,654
745
101
39.9
5.4
Massachusetts
Abington
16,200
338
56
20.9
3.5
Acton
23,193
179
27
7.7
1.2
Acushnet
10,392
91
36
8.8
3.5
Adams
8,296
120
37
14.5
4.5
Amherst
38,977
284
95
7.3
2.4
Andover
34,882
252
22
7.2
0.6
Arlington
44,439
382
62
8.6
1.4
Ashburnham
6,190
56
22
9.0
3.6
Ashland
17,333
137
33
7.9
1.9
Athol
11,655
191
57
16.4
4.9
Attleboro
44,084
846
182
19.2
4.1
Auburn
16,392
490
85
29.9
5.2
Avon
4,490
132
19
29.4
4.2
Ayer
7,938
132
55
16.6
6.9
Barnstable
44,642
1080
223
24.2
5.0
Barre
5,473
61
18
11.1
3.3
Becket
1,779
24
14
13.5
7.9
Bedford
14,179
66
5
4.7
0.4
Belchertown
14,758
157
34
10.6
2.3
Bellingham
16,801
272
50
16.2
3.0
Belmont
25,550
174
37
6.8
1.4
Berkley
6,559
40
10
6.1
1.5
Bernardston
2,122
18
11
8.5
5.2
Beverly
41,023
472
58
11.5
1.4
Billerica
42,393
387
64
9.1
1.5
Blackstone
9,118
97
16
10.6
1.8
Bolton
5,128
58
13
11.3
2.5
Boston
654,413
17269
2680
26.4
4.1
Bourne
19,781
309
103
15.6
5.2
Boxborough
5,185
27
6
5.2
1.2
Boxford
8,233
18
1
2.2
0.1
Boylston
4,463
40
25
9.0
5.6
Braintree
37,067
802
97
21.6
2.6
Brewster
9,765
115
38
11.8
3.9
Brimfield
3,731
25
7
6.7
1.9
Brockton
94,427
2900
572
30.7
6.1
Brookline
59,413
765
92
12.9
1.5
Burlington
25,765
490
37
19.0
1.4
Cambridge
108,201
2607
291
24.1
2.7
Canton
22,441
226
55
10.1
2.5
Carver
11,521
137
23
11.9
2.0
Charlton
13,258
100
40
7.5
3.0
Chatham
6,150
120
22
19.5
3.6
Chelmsford
35,037
565
39
16.1
1.1
Chelsea
38,396
1054
195
27.5
5.1
Chicopee
55,831
1477
455
26.5
8.1
Clinton
13,755
50
7
3.6
0.5
Concord
19,753
160
21
8.1
1.1
Dalton
6,717
49
19
7.3
2.8
Danvers
27,809
682
37
24.5
1.3
Dartmouth
34,703
919
125
26.5
3.6
Dedham
25,495
525
21
20.6
0.8
Deerfield
5,080
58
19
11.4
3.7
Dennis
14,074
361
114
25.7
8.1
Dighton
7,267
23
7
3.2
1.0
Douglas
8,687
55
24
6.3
2.8
Dover
5,864
27
3
4.6
0.5
Dracut
31,067
485
69
15.6
2.2
Dudley
11,562
75
29
6.5
2.5
Dunstable
3,396
30
3
8.8
0.9
Duxbury
15,385
88
13
5.7
0.8
East Bridgewater
14,203
156
38
11.0
2.7
East Brookfield
2,189
17
2
7.8
0.9
Eastham
4,940
88
16
17.8
3.2
Easthampton
15,954
167
36
10.5
2.3
Easton
23,928
244
69
10.2
2.9
Edgartown
4,331
95
12
21.9
2.8
Egremont
1,224
13
6
10.6
4.9
Erving
1,795
34
6
18.9
3.3
Essex
3,640
35
8
9.6
2.2
Everett
43,368
870
147
20.1
3.4
Fairhaven
16,157
422
49
26.1
3.0
Fall River
88,915
2187
527
24.6
5.9
Falmouth
31,760
760
386
23.9
12.2
Fitchburg
40,492
1161
301
28.7
7.4
Franklin
32,857
105
41
3.2
1.2
Freetown
9,100
133
37
14.6
4.1
Gardner
20,462
605
175
29.6
8.6
Georgetown
8,559
71
17
8.3
2.0
Grafton
18,301
84
34
4.6
1.9
Granby
6,303
44
12
7.0
1.9
Great Barrington
6,971
78
21
11.2
3.0
Groton
11,260
60
11
5.3
1.0
Hadley
5,277
174
19
33.0
3.6
Halifax
7,648
78
24
10.2
3.1
Hamilton
8,191
58
7
7.1
0.9
Hampden
5,188
51
8
9.8
1.5
Hanover
14,418
189
14
13.1
1.0
Hanson
10,379
74
19
7.1
1.8
Hardwick
3,008
41
8
13.6
2.7
Harvard
6,597
43
17
6.5
2.6
Harwich
12,224
204
91
16.7
7.4
Hatfield
3,284
14
3
4.3
0.9
Haverhill
62,552
1402
351
22.4
5.6
Hingham
22,940
270
65
11.8
2.8
Holden
18,208
100
36
5.5
2.0
Holliston
14,352
62
23
4.3
1.6
Holyoke
40,336
2252
320
55.8
7.9
Hopedale
5,982
35
10
5.9
1.7
Hopkinton
16,209
43
1
2.7
0.1
Hull
10,370
135
51
13.0
4.9
Ipswich
13,707
114
15
8.3
1.1
Kingston
12,902
171
23
13.3
1.8
Lakeville
11,287
144
44
12.8
3.9
Lancaster
8,075
69
20
8.5
2.5
Lawrence
78,169
2042
393
26.1
5.0
Lee
5,914
75
13
12.7
2.2
Leicester
11,342
233
38
20.5
3.4
Lenox
4,973
101
15
20.3
3.0
Leominster
41,179
1171
162
28.4
3.9
Leverett
1,863
13
4
7.0
2.1
Lexington
33,047
220
34
6.7
1.0
Lincoln
6,632
41
7
6.2
1.1
Littleton
9,350
68
23
7.3
2.5
Longmeadow
15,901
137
25
8.6
1.6
Lowell
109,729
2792
638
25.4
5.8
Ludlow
21,528
297
65
13.8
3.0
Lunenburg
11,238
293
59
26.1
5.3
Lynn
92,131
2283
445
24.8
4.8
Lynnfield
12,635
93
18
7.4
1.4
Malden
60,925
1108
186
18.2
3.1
Manchester-by-the-Sea
5,290
15
1
2.8
0.2
Mansfield
23,727
245
64
10.3
2.7
Marblehead
20,332
224
37
11.0
1.8
Marion
4,935
70
19
14.2
3.9
Marlborough
39,748
691
99
17.4
2.5
Marshfield
25,657
178
37
6.9
1.4
Mashpee
14,123
236
34
16.7
2.4
Mattapoisett
6,219
109
23
17.5
3.7
Maynard
10,463
89
13
8.5
1.2
Medfield
12,415
61
15
4.9
1.2
Medford
57,551
851
98
14.8
1.7
Medway
13,159
58
19
4.4
1.4
Melrose
27,940
265
44
9.5
1.6
Mendon
5,936
37
16
6.2
2.7
Methuen
48,950
746
123
15.2
2.5
Middleboro
23,784
299
46
12.6
1.9
Milford
28,434
461
79
16.2
2.8
Millbury
13,473
290
53
21.5
3.9
Millville
3,224
16
12
5.0
3.7
Milton
27,405
269
76
9.8
2.8
Monson
8,762
69
31
7.9
3.5
Montague
8,365
200
56
23.9
6.7
Nahant
3,464
20
4
5.8
1.2
Natick
35,879
497
43
13.9
1.2
Needham
29,990
195
32
6.5
1.1
New Bedford
95,366
3363
866
35.3
9.1
Newbury
6,917
36
9
5.2
1.3
Newburyport
17,941
162
14
9.0
0.8
Newton
88,881
750
154
8.4
1.7
Norfolk
11,835
22
7
1.9
0.6
North Adams
13,471
495
111
36.7
8.2
Northampton
28,465
693
144
24.3
5.1
North Andover
29,502
318
24
10.8
0.8
Northborough
14,900
154
31
10.3
2.1
Northbridge
16,245
327
41
20.1
2.5
North Reading
15,537
99
11
6.4
0.7
Norton
19,477
96
26
4.9
1.3
Norwell
10,806
86
18
8.0
1.7
Norwood
29,114
329
43
11.3
1.5
Orange
7,737
158
64
20.4
8.3
Orleans
5,878
117
17
19.9
2.9
Oxford
13,869
220
50
15.9
3.6
Palmer
12,161
156
50
12.8
4.1
Paxton
4,875
19
10
3.9
2.1
Peabody
52,366
882
75
16.8
1.4
Pelham
1,319
5
2
3.8
1.5
Pembroke
18,207
130
18
7.1
1.0
Pepperell
11,999
118
21
9.8
1.8
Pittsfield
43,895
1341
459
30.6
10.5
Plainville
8,991
156
36
17.4
4.0
Plympton
2,875
31
16
10.8
5.6
Provincetown
2,980
92
19
30.9
6.4
Quincy
94,035
1499
405
15.9
4.3
Raynham
13,635
289
37
21.2
2.7
Rehoboth
11,924
106
24
8.9
2.0
Revere
54,402
1086
196
20.0
3.6
Rockport
7,193
15
4
2.1
0.6
Salem
42,847
1157
103
27.0
2.4
Salisbury
8,676
171
45
19.7
5.2
Sandwich
20,628
192
57
9.3
2.8
Saugus
28,078
706
72
25.1
2.6
Scituate
18,385
105
23
5.7
1.3
Seekonk
14,568
373
47
25.6
3.2
Sharon
18,177
81
18
4.5
1.0
Shelburne
1,894
11
5
5.8
2.6
Sherborn
4,280
24
9
5.6
2.1
Shirley
7,716
35
10
4.5
1.3
Shrewsbury
36,578
209
52
5.7
1.4
Somerset
18,363
286
43
15.6
2.3
Somerville
79,798
1224
192
15.3
2.4
Southampton
6,030
30
5
5.0
0.8
Southborough
9,956
45
16
4.5
1.6
Southbridge
16,858
373
140
22.1
8.3
South Hadley
17,747
237
66
13.4
3.7
Southwick
9,666
89
24
9.2
2.5
Spencer
11,819
160
33
13.5
2.8
Springfield
153,766
5903
1793
38.4
11.7
Sterling
7,937
84
32
10.6
4.0
Stockbridge
1,967
33
11
16.8
5.6
Stoneham
21,905
211
62
9.6
2.8
Stoughton
28,451
482
96
16.9
3.4
Stow
7,010
37
8
5.3
1.1
Sturbridge
9,467
162
31
17.1
3.3
Sudbury
18,592
59
23
3.2
1.2
Sutton
9,200
118
54
12.8
5.9
Swampscott
14,028
249
36
17.8
2.6
Swansea
16,177
333
40
20.6
2.5
Taunton
56,277
636
209
11.3
3.7
Tewksbury
30,461
418
53
13.7
1.7
Townsend
9,279
89
49
9.6
5.3
Truro
2,019
19
8
9.4
4.0
Tyngsboro
12,263
101
16
8.2
1.3
Upton
7,719
49
17
6.3
2.2
Uxbridge
13,732
164
42
11.9
3.1
Wakefield
26,394
277
50
10.5
1.9
Wales
1,884
9
1
4.8
0.5
Walpole
25,063
332
37
13.2
1.5
Waltham
62,756
747
109
11.9
1.7
Ware
9,838
174
33
17.7
3.4
Wareham
22,585
683
172
30.2
7.6
Watertown
33,353
439
49
13.2
1.5
Wayland
13,592
13
6
1.0
0.4
Webster
16,869
347
78
20.6
4.6
Wellesley
29,412
178
39
6.1
1.3
Wellfleet
2,737
35
4
12.8
1.5
Wenham
5,114
7
0
1.4
0.0
Westborough
18,773
195
41
10.4
2.2
West Boylston
7,971
135
38
16.9
4.8
West Bridgewater
7,018
111
34
15.8
4.8
West Brookfield
3,784
19
5
5.0
1.3
Westfield
41,348
533
107
12.9
2.6
Westford
23,654
105
29
4.4
1.2
Westminster
7,455
108
11
14.5
1.5
West Newbury
4,498
21
4
4.7
0.9
Weston
12,015
42
13
3.5
1.1
Westport
15,785
221
73
14.0
4.6
West Springfield
28,767
1290
236
44.8
8.2
West Tisbury
2,908
24
8
8.3
2.8
Westwood
14,978
124
27
8.3
1.8
Weymouth
55,996
677
117
12.1
2.1
Whately
1,508
9
1
6.0
0.7
Whitman
14,786
175
46
11.8
3.1
Wilbraham
14,541
150
36
10.3
2.5
Williamsburg
2,462
20
9
8.1
3.7
Williamstown
7,561
143
17
18.9
2.2
Wilmington
23,410
250
37
10.7
1.6
Winchendon
10,628
237
25
22.3
2.4
Winchester
22,313
151
14
6.8
0.6
Winthrop
18,314
182
58
9.9
3.2
Woburn
39,401
514
62
13.0
1.6
Worcester
183,248
5604
1414
30.6
7.7
Wrentham
11,375
206
25
18.1
2.2
Yarmouth
23,683
579
202
24.4
8.5
Albion
8,516
266
51
31.2
6.0
Allegan
5,059
85
7
16.8
1.4
Allen Park
27,549
555
88
20.1
3.2
Alma
9,260
139
15
15.0
1.6
Almont
2,668
71
8
26.6
3.0
Alpena
10,253
236
22
23.0
2.1
Ann Arbor
117,768
2200
320
18.7
2.7
Armada
1,745
16
1
9.2
0.6
Auburn Hills
21,859
678
46
31.0
2.1
Bad Axe
3,038
53
4
17.4
1.3
Bangor
1,860
68
4
36.6
2.2
Baroda-Lake Township
3,784
41
14
10.8
3.7
Barry Township
3,388
38
17
11.2
5.0
Battle Creek
61,225
2350
770
38.4
12.6
Bay City
34,307
1003
272
29.2
7.9
Beaverton
1,062
18
3
16.9
2.8
Belding
5,776
197
20
34.1
3.5
Bellaire
1,079
1
0
0.9
0.0
Belleville
3,857
63
9
16.3
2.3
Benton Harbor
10,014
539
175
53.8
17.5
Berkley
15,323
137
13
8.9
0.8
Berrien Springs-Oronoko Township
9,138
41
6
4.5
0.7
Beverly Hills
10,493
86
11
8.2
1.0
Birch Run
1,500
62
2
41.3
1.3
Birmingham
20,606
206
26
10.0
1.3
Blackman Township
38,025
1113
117
29.3
3.1
Blissfield
3,265
29
4
8.9
1.2
Bloomfield Hills
3,987
44
7
11.0
1.8
Bloomfield Township
42,112
330
67
7.8
1.6
Boyne City
3,770
48
9
12.7
2.4
Breckenridge
1,311
21
3
16.0
2.3
Bridgeport Township
10,247
172
64
16.8
6.2
Bridgman
2,264
24
4
10.6
1.8
Brighton
7,615
145
7
19.0
0.9
Bronson
2,329
56
5
24.0
2.1
Brown City
1,275
21
2
16.5
1.6
Brownstown Township
30,577
340
78
11.1
2.6
Buchanan
4,388
177
15
40.3
3.4
Buena Vista Township
8,348
231
87
27.7
10.4
Burton
28,996
1220
272
42.1
9.4
Cadillac
10,261
339
52
33.0
5.1
Cambridge Township
5,687
20
3
3.5
0.5
Canton Township
89,073
1327
184
14.9
2.1
Capac
1,856
32
5
17.2
2.7
Caro
4,116
149
16
36.2
3.9
Carrollton Township
5,927
68
18
11.5
3.0
Cass City
2,359
33
3
14.0
1.3
Cassopolis
1,744
15
2
8.6
1.1
Center Line
8,318
242
41
29.1
4.9
Charlevoix
2,540
128
10
50.4
3.9
Charlotte
9,046
227
35
25.1
3.9
Cheboygan
4,772
137
18
28.7
3.8
Chelsea
5,146
34
5
6.6
1.0
Chesaning
2,325
21
5
9.0
2.2
Chesterfield Township
44,211
797
93
18.0
2.1
Chocolay Township
6,001
43
6
7.2
1.0
Clare
3,072
81
5
26.4
1.6
Clawson
12,103
87
9
7.2
0.7
Clayton Township
7,253
68
37
9.4
5.1
Clay Township
8,895
135
24
15.2
2.7
Clinton
2,289
34
12
14.9
5.2
Clinton Township
98,897
2094
356
21.2
3.6
Clio
2,555
73
19
28.6
7.4
Coldwater
10,826
215
22
19.9
2.0
Coloma Township
6,429
110
31
17.1
4.8
Colon
1,164
38
3
32.6
2.6
Columbia Township
7,450
44
12
5.9
1.6
Constantine
2,053
30
2
14.6
1.0
Corunna
3,401
40
6
11.8
1.8
Covert Township
2,837
50
22
17.6
7.8
Croswell
2,351
67
17
28.5
7.2
Crystal Falls
1,423
18
5
12.6
3.5
Davison
5,008
63
32
12.6
6.4
Davison Township
19,057
284
103
14.9
5.4
Dearborn
95,396
3135
338
32.9
3.5
Dearborn Heights
56,366
1208
331
21.4
5.9
Decatur
1,776
62
16
34.9
9.0
Denton Township
5,404
63
12
11.7
2.2
Detroit
684,694
32983
9177
48.2
13.4
Dewitt
4,663
31
10
6.6
2.1
Dryden Township
4,786
23
4
4.8
0.8
Durand
3,341
48
9
14.4
2.7
East Grand Rapids
11,306
137
19
12.1
1.7
East Jordan
2,365
40
7
16.9
3.0
East Lansing
48,555
698
147
14.4
3.0
Eastpointe
32,674
1025
184
31.4
5.6
Edmore
1,192
3
1
2.5
0.8
Elk Rapids
1,629
53
6
32.5
3.7
Emmett Township
11,642
571
88
49.0
7.6
Erie Township
4,435
38
16
8.6
3.6
Essexville
3,439
72
8
20.9
2.3
Evart
1,887
22
3
11.7
1.6
Farmington
10,603
97
13
9.1
1.2
Farmington Hills
81,682
977
190
12.0
2.3
Fenton
11,533
223
29
19.3
2.5
Ferndale
20,346
550
84
27.0
4.1
Flat Rock
9,819
165
23
16.8
2.3
Flint
99,166
3891
1677
39.2
16.9
Flushing
8,158
82
15
10.1
1.8
Flushing Township
10,324
38
12
3.7
1.2
Forsyth Township
6,238
89
19
14.3
3.0
Fowlerville
2,955
98
10
33.2
3.4
Frankenmuth
4,883
65
1
13.3
0.2
Franklin
3,235
25
3
7.7
0.9
Fraser
14,632
340
36
23.2
2.5
Fremont
4,043
185
10
45.8
2.5
Frost Township
1,023
6
0
5.9
0.0
Fruitport
1,104
592
39
536.2
35.3
Gaines Township
6,268
16
8
2.6
1.3
Galesburg
2,033
54
14
26.6
6.9
Garden City
27,035
381
91
14.1
3.4
Gaylord
3,635
213
22
58.6
6.1
Genesee Township
20,665
395
163
19.1
7.9
Gerrish Township
2,938
17
1
5.8
0.3
Gibraltar
4,544
45
11
9.9
2.4
Gladstone
4,915
73
7
14.9
1.4
Gladwin
2,918
87
10
29.8
3.4
Grand Blanc
8,054
114
27
14.2
3.4
Grand Blanc Township
36,613
579
115
15.8
3.1
Grand Haven
11,020
217
31
19.7
2.8
Grand Ledge
7,779
33
8
4.2
1.0
Grandville
15,830
686
63
43.3
4.0
Grayling
1,859
90
7
48.4
3.8
Green Oak Township
18,151
183
26
10.1
1.4
Greenville
8,449
284
52
33.6
6.2
Grosse Ile Township
10,150
41
5
4.0
0.5
Grosse Pointe
5,293
104
13
19.6
2.5
Grosse Pointe Farms
9,273
116
20
12.5
2.2
Grosse Pointe Park
11,281
284
27
25.2
2.4
Grosse Pointe Shores
2,946
15
2
5.1
0.7
Grosse Pointe Woods
15,807
191
24
12.1
1.5
Hamburg Township
21,676
97
23
4.5
1.1
Hampton Township
9,535
171
23
17.9
2.4
Hamtramck
22,036
664
217
30.1
9.8
Hancock
4,584
35
12
7.6
2.6
Harbor Beach
1,646
39
5
23.7
3.0
Harbor Springs
1,211
13
1
10.7
0.8
Harper Woods
13,897
895
142
64.4
10.2
Hart
2,108
152
14
72.1
6.6
Hartford
2,629
32
1
12.2
0.4
Hastings
7,296
107
6
14.7
0.8
Hazel Park
16,668
368
90
22.1
5.4
Hillsdale
8,188
138
25
16.9
3.1
Holland
33,588
1005
135
29.9
4.0
Holly
6,218
96
25
15.4
4.0
Houghton
7,632
96
3
12.6
0.4
Howell
9,577
142
16
14.8
1.7
Hudson
2,265
45
5
19.9
2.2
Huntington Woods
6,385
76
3
11.9
0.5
Huron Township
15,637
179
52
11.4
3.3
Imlay City
3,589
43
4
12.0
1.1
Inkster
24,745
765
330
30.9
13.3
Ionia
11,433
184
23
16.1
2.0
Iron River
2,931
122
32
41.6
10.9
Ironwood
5,134
93
4
18.1
0.8
Ishpeming
6,547
90
5
13.7
0.8
Jackson
33,404
1428
232
42.7
6.9
Kalamazoo
75,857
2901
677
38.2
8.9
Kalamazoo Township
24,304
431
121
17.7
5.0
Kalkaska
2,039
25
0
12.3
0.0
Keego Harbor
3,034
36
7
11.9
2.3
Kentwood
50,617
1469
236
29.0
4.7
Kinross Township
7,756
12
1
1.5
0.1
Laingsburg
1,258
14
3
11.1
2.4
Lake Odessa
2,026
14
4
6.9
2.0
Lake Orion
3,085
33
2
10.7
0.6
Lansing
113,901
3576
955
31.4
8.4
Lapeer
8,799
333
18
37.8
2.0
Lapeer Township
5,076
24
7
4.7
1.4
Lathrup Village
4,166
46
3
11.0
0.7
Laurium
1,942
23
6
11.8
3.1
Lawton
1,880
35
3
18.6
1.6
Lincoln Park
37,129
1208
288
32.5
7.8
Lincoln Township
14,510
156
21
10.8
1.4
Linden
3,856
28
1
7.3
0.3
Litchfield
1,355
21
3
15.5
2.2
Livonia
94,833
1772
207
18.7
2.2
Lowell
3,879
90
10
23.2
2.6
Ludington
8,030
169
20
21.0
2.5
Luna Pier
1,394
26
1
18.7
0.7
Madison Heights
30,358
705
89
23.2
2.9
Madison Township
8,558
130
7
15.2
0.8
Mancelona
1,376
27
4
19.6
2.9
Manistee
6,093
119
17
19.5
2.8
Manistique
2,989
59
11
19.7
3.7
Marenisco Township
1,712
2
1
1.2
0.6
Marine City
4,164
85
22
20.4
5.3
Marlette
1,805
33
1
18.3
0.6
Marquette
21,524
265
28
12.3
1.3
Marshall
7,028
96
15
13.7
2.1
Marysville
9,790
138
22
14.1
2.2
Mason
8,271
104
12
12.6
1.5
Mattawan
1,951
20
5
10.3
2.6
Melvindale
10,428
261
58
25.0
5.6
Menominee
8,473
241
53
28.4
6.3
Meridian Township
41,133
926
141
22.5
3.4
Metamora Township
4,237
36
18
8.5
4.2
Midland
42,256
546
57
12.9
1.3
Milan
5,917
130
14
22.0
2.4
Milford
16,470
91
21
5.5
1.3
Montrose Township
7,638
113
44
14.8
5.8
Morenci
2,201
18
5
8.2
2.3
Mount Morris
2,993
97
37
32.4
12.4
Mount Morris Township
20,820
800
312
38.4
15.0
Mount Pleasant
26,227
491
68
18.7
2.6
Mundy Township
14,723
310
67
21.1
4.6
Munising
2,324
27
3
11.6
1.3
Muskegon
36,964
1764
443
47.7
12.0
Muskegon Heights
10,826
814
259
75.2
23.9
Muskegon Township
17,767
788
102
44.4
5.7
Napoleon Township
6,782
51
9
7.5
1.3
Nashville
1,625
21
4
12.9
2.5
Negaunee
4,626
78
17
16.9
3.7
Newaygo
1,965
55
8
28.0
4.1
New Baltimore
12,244
101
17
8.2
1.4
Niles
11,389
332
57
29.2
5.0
North Branch
1,033
12
0
11.6
0.0
Northfield Township
8,490
89
10
10.5
1.2
North Muskegon
3,786
107
3
28.3
0.8
Northville
6,015
66
13
11.0
2.2
Northville Township
28,801
355
38
12.3
1.3
Norton Shores
24,005
691
82
28.8
3.4
Novi
58,654
853
53
14.5
0.9
Oak Park
29,971
554
129
18.5
4.3
Ontwa Township-Edwardsburg
6,519
106
23
16.3
3.5
Orchard Lake
2,426
24
1
9.9
0.4
Oscoda Township
6,858
174
64
25.4
9.3
Otsego
3,967
49
13
12.4
3.3
Ovid
1,615
19
2
11.8
1.2
Owosso
14,685
381
70
25.9
4.8
Oxford
3,526
20
2
5.7
0.6
Paw Paw
3,474
124
16
35.7
4.6
Petoskey
5,779
53
8
9.2
1.4
Pinckney
2,483
37
8
14.9
3.2
Pinconning
1,285
16
4
12.5
3.1
Pittsfield Township
36,722
726
65
19.8
1.8
Plainwell
3,802
66
11
17.4
2.9
Pleasant Ridge
2,580
26
6
10.1
2.3
Plymouth
8,912
70
10
7.9
1.1
Plymouth Township
26,973
295
45
10.9
1.7
Portage
47,819
1497
187
31.3
3.9
Port Huron
29,145
843
210
28.9
7.2
Prairieville Township
3,403
22
20
6.5
5.9
Quincy
1,637
22
7
13.4
4.3
Raisin Township
7,547
12
0
1.6
0.0
Reading
1,063
21
0
19.8
0.0
Reed City
2,403
37
5
15.4
2.1
Richfield Township, Genesee County
8,429
76
33
9.0
3.9
Richfield Township, Roscommon County
3,652
61
13
16.7
3.6
Richland Township, Saginaw County
4,040
22
5
5.4
1.2
Richmond
5,828
74
8
12.7
1.4
River Rouge
7,625
187
53
24.5
7.0
Riverview
12,205
181
35
14.8
2.9
Rochester
13,057
107
21
8.2
1.6
Rockford
6,016
74
5
12.3
0.8
Rockwood
3,212
36
1
11.2
0.3
Rogers City
2,751
46
1
16.7
0.4
Romeo
3,580
45
5
12.6
1.4
Romulus
23,415
546
114
23.3
4.9
Roosevelt Park
3,830
275
29
71.8
7.6
Roseville
47,618
1862
251
39.1
5.3
Royal Oak
59,377
594
76
10.0
1.3
Saginaw
50,030
1209
555
24.2
11.1
Saginaw Township
40,228
868
99
21.6
2.5
Saline
9,146
97
13
10.6
1.4
Sandusky
2,609
88
7
33.7
2.7
Saugatuck-Douglas
2,182
56
9
25.7
4.1
Sault Ste. Marie
14,084
316
35
22.4
2.5
Schoolcraft
1,558
21
3
13.5
1.9
Scottville
1,214
51
3
42.0
2.5
Sebewaing
1,703
19
5
11.2
2.9
Shelby Township
76,556
760
102
9.9
1.3
Shepherd
1,525
35
7
23.0
4.6
Somerset Township
4,585
16
0
3.5
0.0
Southfield
73,321
2150
321
29.3
4.4
Southgate
29,365
907
99
30.9
3.4
South Haven
4,375
275
32
62.9
7.3
South Lyon
11,698
64
4
5.5
0.3
Sparta
4,257
84
9
19.7
2.1
Spring Arbor Township
8,267
28
9
3.4
1.1
Stanton
1,411
19
4
13.5
2.8
St. Charles
1,990
56
19
28.1
9.5
St. Clair
5,401
66
9
12.2
1.7
St. Clair Shores
60,157
764
145
12.7
2.4
Sterling Heights
131,604
2026
221
15.4
1.7
St. Ignace
2,435
70
8
28.7
3.3
St. Johns
7,983
90
18
11.3
2.3
St. Joseph
8,247
231
24
28.0
2.9
St. Joseph Township
9,919
184
26
18.6
2.6
St. Louis
7,395
76
8
10.3
1.1
Stockbridge
1,217
15
2
12.3
1.6
Sturgis
10,913
319
41
29.2
3.8
Sumpter Township
9,332
105
32
11.3
3.4
Swartz Creek
5,607
87
23
15.5
4.1
Sylvan Lake
1,761
34
6
19.3
3.4
Tawas
4,543
102
12
22.5
2.6
Taylor
61,527
1797
435
29.2
7.1
Tecumseh
8,407
86
11
10.2
1.3
Thetford Township
6,788
17
6
2.5
0.9
Thomas Township
11,718
154
17
13.1
1.5
Three Rivers
7,743
313
22
40.4
2.8
Tittabawassee Township
9,835
75
15
7.6
1.5
Traverse City
15,105
278
34
18.4
2.3
Trenton
18,404
210
32
11.4
1.7
Troy
83,279
1359
156
16.3
1.9
Tuscarora Township
2,989
101
5
33.8
1.7
Unadilla Township
3,449
24
4
7.0
1.2
Union City
1,584
48
12
30.3
7.6
Utica
4,783
172
12
36.0
2.5
Van Buren Township
28,269
585
116
20.7
4.1
Vassar
2,625
22
3
8.4
1.1
Vicksburg
3,146
51
6
16.2
1.9
Walker
24,443
589
91
24.1
3.7
Walled Lake
7,158
64
15
8.9
2.1
Warren
135,080
3427
742
25.4
5.5
Waterford Township
73,308
930
164
12.7
2.2
Waterloo Township
2,833
8
4
2.8
1.4
Watervliet
1,706
22
4
12.9
2.3
Wayland
4,077
56
9
13.7
2.2
Wayne
17,067
387
134
22.7
7.9
West Bloomfield Township
66,222
514
83
7.8
1.3
West Branch
2,089
55
7
26.3
3.4
Westland
82,246
1906
361
23.2
4.4
White Cloud
1,385
41
8
29.6
5.8
Whitehall
2,697
51
5
18.9
1.9
White Lake Township
30,940
375
40
12.1
1.3
White Pigeon
1,513
29
3
19.2
2.0
Wixom
13,804
271
32
19.6
2.3
Wolverine Lake
4,405
31
7
7.0
1.6
Woodhaven
12,583
237
19
18.8
1.5
Wyandotte
25,082
572
107
22.8
4.3
Wyoming
74,603
1518
313
20.3
4.2
Yale
1,916
26
5
13.6
2.6
Ypsilanti
19,901
684
195
34.4
9.8
Zeeland
5,630
136
65
24.2
11.5
Zilwaukee
1,608
5
0
3.1
0.0
Minnesota
Albany
2,622
31
1
11.8
0.4
Albert Lea
17,833
398
36
22.3
2.0
Alexandria
11,713
439
46
37.5
3.9
Annandale
3,302
0
0
0.0
0.0
Anoka
17,295
564
52
32.6
3.0
Appleton
1,360
39
10
28.7
7.4
Apple Valley
50,472
1042
99
20.6
2.0
Arden Hills
9,764
115
18
11.8
1.8
Austin
24,766
585
101
23.6
4.1
Avon
1,424
18
4
12.6
2.8
Babbitt
1,549
22
3
14.2
1.9
Baxter
7,815
391
8
50.0
1.0
Bayport
3,698
25
3
6.8
0.8
Becker
4,668
41
6
8.8
1.3
Belle Plaine
6,880
87
21
12.6
3.1
Bemidji
14,513
1174
91
80.9
6.3
Benson
3,124
27
3
8.6
1.0
Big Lake
10,348
143
20
13.8
1.9
Blaine
61,187
1840
182
30.1
3.0
Blooming Prairie
1,962
8
3
4.1
1.5
Bloomington
87,163
3202
203
36.7
2.3
Blue Earth
3,251
50
7
15.4
2.2
Brainerd
13,462
655
114
48.7
8.5
Breckenridge
3,362
56
7
16.7
2.1
Brooklyn Center
30,858
1215
156
39.4
5.1
Brooklyn Park
78,986
2373
444
30.0
5.6
Buffalo
15,909
306
21
19.2
1.3
Burnsville
61,693
1699
139
27.5
2.3
Caledonia
2,794
2
1
0.7
0.4
Cambridge
8,244
411
30
49.9
3.6
Canby
1,734
16
2
9.2
1.2
Cannon Falls
4,077
122
19
29.9
4.7
Centennial Lakes
10,867
148
25
13.6
2.3
Champlin
23,965
324
62
13.5
2.6
Chaska
24,603
214
28
8.7
1.1
Chisholm
5,035
79
6
15.7
1.2
Cloquet
12,030
491
45
40.8
3.7
Cold Spring/Richmond
5,460
59
9
10.8
1.6
Corcoran
5,545
63
8
11.4
1.4
Cottage Grove
35,577
674
55
18.9
1.5
Crookston
7,905
68
15
8.6
1.9
Crosby
2,362
99
11
41.9
4.7
Crystal
22,692
587
89
25.9
3.9
Dawson
1,467
6
1
4.1
0.7
Dayton
4,934
40
7
8.1
1.4
Deephaven
3,772
15
2
4.0
0.5
Detroit Lakes
8,978
333
18
37.1
2.0
Dilworth
4,148
148
9
35.7
2.2
Duluth
86,106
3650
503
42.4
5.8
Eagan
65,754
1177
152
17.9
2.3
Eagle Lake
2,563
14
2
5.5
0.8
East Grand Forks
8,598
200
39
23.3
4.5
Eden Prairie
63,036
849
98
13.5
1.6
Edina
49,727
889
104
17.9
2.1
Elk River
23,548
475
57
20.2
2.4
Ely
3,454
55
7
15.9
2.0
Eveleth
3,693
145
43
39.3
11.6
Fairmont
10,380
323
47
31.1
4.5
Falcon Heights
5,546
103
26
18.6
4.7
Faribault
23,424
614
90
26.2
3.8
Farmington
22,428
197
37
8.8
1.6
Fergus Falls
13,408
475
73
35.4
5.4
Forest Lake
19,316
513
62
26.6
3.2
Fridley
27,778
1289
143
46.4
5.1
Gilbert
1,802
69
16
38.3
8.9
Glencoe
5,507
71
6
12.9
1.1
Glenwood
2,523
11
4
4.4
1.6
Golden Valley
20,959
491
81
23.4
3.9
Goodview
4,029
55
10
13.7
2.5
Grand Rapids
11,020
387
19
35.1
1.7
Granite Falls
2,784
49
3
17.6
1.1
Hastings
22,484
604
54
26.9
2.4
Hermantown
9,648
270
28
28.0
2.9
Hibbing
16,289
293
36
18.0
2.2
Hopkins
18,131
466
92
25.7
5.1
Hoyt Lakes
2,016
0
0
0.0
0.0
Hutchinson
13,803
323
24
23.4
1.7
International Falls
6,336
163
31
25.7
4.9
Inver Grove Heights
34,454
679
108
19.7
3.1
Isanti
5,416
75
10
13.8
1.8
Janesville
2,243
27
3
12.0
1.3
Jordan
5,977
75
11
12.5
1.8
Kasson
6,071
67
10
11.0
1.6
La Crescent
4,799
0
0
0.0
0.0
Lake City
4,961
70
4
14.1
0.8
Lake Crystal
2,535
25
6
9.9
2.4
Lakefield
1,681
14
5
8.3
3.0
Lakes Area
9,341
142
22
15.2
2.4
Lakeville
59,194
679
87
11.5
1.5
Lauderdale
2,480
48
6
19.4
2.4
Lester Prairie
1,681
30
1
17.8
0.6
Le Sueur
4,037
66
12
16.3
3.0
Lewiston
1,585
0
0
0.0
0.0
Litchfield
6,678
135
31
20.2
4.6
Little Canada
10,207
310
74
30.4
7.2
Little Falls
8,198
148
6
18.1
0.7
Long Prairie
3,361
66
6
19.6
1.8
Madison Lake
1,066
8
0
7.5
0.0
Mankato
40,959
1429
214
34.9
5.2
Maple Grove
66,354
1181
119
17.8
1.8
Mapleton
1,751
18
1
10.3
0.6
Maplewood
40,295
1915
310
47.5
7.7
Marshall
13,433
329
56
24.5
4.2
Medina
5,304
103
9
19.4
1.7
Melrose
3,594
36
6
10.0
1.7
Mendota Heights
11,196
219
26
19.6
2.3
Milaca
2,892
77
6
26.6
2.1
Minneapolis
404,461
19123
4112
47.3
10.2
Minnetonka
51,769
790
142
15.3
2.7
Minnetrista
9,235
68
3
7.4
0.3
Montevideo
5,178
156
21
30.1
4.1
Montgomery
2,942
49
9
16.7
3.1
Moose Lake
2,795
90
4
32.2
1.4
Morris
5,348
105
15
19.6
2.8
Mounds View
12,645
421
57
33.3
4.5
Mountain Lake
2,136
15
1
7.0
0.5
New Brighton
22,276
548
88
24.6
4.0
New Hope
20,895
325
41
15.6
2.0
Newport
3,466
75
9
21.6
2.6
New Prague
7,542
85
10
11.3
1.3
New Richland
1,197
1
1
0.8
0.8
New Ulm
13,136
263
58
20.0
4.4
North Branch
10,076
272
53
27.0
5.3
Northfield
20,714
274
58
13.2
2.8
North Mankato
13,448
255
44
19.0
3.3
North Oaks
4,757
34
7
7.1
1.5
North St. Paul
11,948
317
47
26.5
3.9
Oakdale
27,870
1210
120
43.4
4.3
Oak Park Heights
4,877
265
10
54.3
2.1
Olivia
2,374
56
7
23.6
2.9
Orono
21,288
184
22
8.6
1.0
Ortonville
1,842
13
0
7.1
0.0
Osakis
1,716
13
3
7.6
1.7
Osseo
2,487
10
0
4.0
0.0
Owatonna
25,544
619
79
24.2
3.1
Park Rapids
3,912
276
34
70.6
8.7
Paynesville
2,421
46
8
19.0
3.3
Plainview
3,284
5
1
1.5
0.3
Plymouth
74,833
1059
177
14.2
2.4
Princeton
4,683
155
12
33.1
2.6
Prior Lake
24,779
371
33
15.0
1.3
Proctor
3,075
116
10
37.7
3.3
Ramsey
25,250
348
29
13.8
1.1
Red Wing
16,528
509
82
30.8
5.0
Redwood Falls
5,107
148
22
29.0
4.3
Richfield
36,408
877
174
24.1
4.8
Robbinsdale
14,387
377
83
26.2
5.8
Rochester
111,712
2223
338
19.9
3.0
Rogers
12,180
285
13
23.4
1.1
Roseau
2,629
59
3
22.4
1.1
Rosemount
22,850
199
31
8.7
1.4
Roseville
35,332
1854
257
52.5
7.3
Sartell
16,358
345
25
21.1
1.5
Sauk Centre
4,317
114
13
26.4
3.0
Sauk Rapids
13,382
250
40
18.7
3.0
Savage
29,065
597
76
20.5
2.6
Shakopee
39,632
768
116
19.4
2.9
Shoreview
26,209
290
47
11.1
1.8
Silver Bay
1,848
5
2
2.7
1.1
Slayton
2,090
37
3
17.7
1.4
Sleepy Eye
3,481
3
1
0.9
0.3
South Lake Minnetonka
12,096
121
25
10.0
2.1
South St. Paul
20,504
483
103
23.6
5.0
Springfield
2,092
0
0
0.0
0.0
Spring Grove
1,302
0
0
0.0
0.0
Spring Lake Park
6,469
266
42
41.1
6.5
St. Anthony
8,680
247
49
28.5
5.6
Staples
2,890
70
9
24.2
3.1
St. Charles
3,685
0
0
0.0
0.0
St. Cloud
66,366
2510
382
37.8
5.8
St. Francis
7,349
130
9
17.7
1.2
Stillwater
18,770
269
27
14.3
1.4
St. James
4,540
103
29
22.7
6.4
St. Joseph
6,678
20
0
3.0
0.0
St. Louis Park
47,957
1304
156
27.2
3.3
St. Paul
297,984
10383
2330
34.8
7.8
St. Paul Park
5,346
117
16
21.9
3.0
St. Peter
11,502
179
33
15.6
2.9
Thief River Falls
8,740
302
40
34.6
4.6
Tracy
2,116
16
3
7.6
1.4
Two Harbors
3,648
35
5
9.6
1.4
Vadnais Heights
13,182
313
39
23.7
3.0
Virginia
8,650
523
100
60.5
11.6
Wabasha
2,489
49
11
19.7
4.4
Wadena
4,145
55
3
13.3
0.7
Waite Park
6,668
693
35
103.9
5.2
Warroad
1,779
43
3
24.2
1.7
Waseca
9,329
189
16
20.3
1.7
Wayzata
4,363
104
23
23.8
5.3
Wells
2,256
14
2
6.2
0.9
West Hennepin
5,497
33
3
6.0
0.5
West St. Paul
19,808
1043
123
52.7
6.2
Wheaton
1,367
30
5
21.9
3.7
White Bear Lake
24,802
656
130
26.4
5.2
White Bear Township
11,498
182
27
15.8
2.3
Willmar
19,696
552
52
28.0
2.6
Windom
4,562
55
11
12.1
2.4
Winnebago
1,386
13
1
9.4
0.7
Winona
27,546
72
12
2.6
0.4
Winsted
2,294
30
4
13.1
1.7
Woodbury
66,539
1177
147
17.7
2.2
Worthington
12,984
201
36
15.5
2.8
Wyoming
7,737
92
6
11.9
0.8
Zumbrota
3,360
48
16
14.3
4.8
Mississippi
Aberdeen
5,433
151
36
27.8
6.6
Ackerman
1,471
23
8
15.6
5.4
Amory
7,122
278
70
39.0
9.8
Batesville
7,456
460
119
61.7
16.0
Biloxi
45,008
2689
822
59.7
18.3
Brandon
22,707
204
60
9.0
2.6
Byhalia
1,291
50
16
38.7
12.4
Byram
11,628
227
46
19.5
4.0
D'Iberville
10,595
729
54
68.8
5.1
Flora
1,899
34
13
17.9
6.8
Florence
4,310
26
10
6.0
2.3
Flowood
8,521
348
64
40.8
7.5
Fulton
4,011
67
9
16.7
2.2
Gautier
18,526
559
153
30.2
8.3
Greenville
32,917
2353
812
71.5
24.7
Hattiesburg
47,930
2760
398
57.6
8.3
Holly Springs
7,528
338
91
44.9
12.1
Horn Lake
26,766
541
92
20.2
3.4
Indianola
10,175
734
239
72.1
23.5
Iuka
3,007
80
35
26.6
11.6
Jackson
172,376
10382
2952
60.2
17.1
Laurel
19,080
884
219
46.3
11.5
Leland
4,290
172
48
40.1
11.2
Long Beach
15,571
321
57
20.6
3.7
Louisville
6,422
31
12
4.8
1.9
Madison
25,572
263
20
10.3
0.8
Magee
4,454
67
23
15.0
5.2
McComb
12,731
853
205
67.0
16.1
Meridian
40,873
2002
624
49.0
15.3
Natchez
15,446
1068
133
69.1
8.6
Ocean Springs
17,514
623
119
35.6
6.8
Olive Branch
35,314
948
295
26.8
8.4
Pascagoula
22,215
1472
254
66.3
11.4
Pass Christian
5,261
164
55
31.2
10.5
Petal
10,898
83
41
7.6
3.8
Philadelphia
7,422
313
84
42.2
11.3
Picayune
10,792
554
129
51.3
12.0
Ridgeland
24,511
689
44
28.1
1.8
Starkville
24,990
834
137
33.4
5.5
Summit
1,682
49
15
29.1
8.9
Vicksburg
23,460
1523
369
64.9
15.7
West Point
11,202
306
101
27.3
9.0
Missouri
Adrian
1,624
40
12
24.6
7.4
Advance
1,340
16
5
11.9
3.7
Anderson
1,972
91
16
46.1
8.1
Appleton City
1,089
45
13
41.3
11.9
Archie
1,188
15
8
12.6
6.7
Arnold
21,207
784
53
37.0
2.5
Ashland
3,850
46
4
11.9
1.0
Aurora
7,493
450
106
60.1
14.1
Ava
2,964
109
8
36.8
2.7
Ballwin
30,517
210
18
6.9
0.6
Battlefield
5,945
94
24
15.8
4.0
Belle
1,534
12
0
7.8
0.0
Bellefontaine Neighbors
10,815
307
120
28.4
11.1
Bel-Nor
1,488
48
20
32.3
13.4
Bel-Ridge
2,724
115
51
42.2
18.7
Belton
23,182
746
119
32.2
5.1
Berkeley
9,093
466
199
51.2
21.9
Bethany
3,182
68
10
21.4
3.1
Billings
1,066
39
3
36.6
2.8
Bismarck
1,490
23
7
15.4
4.7
Bloomfield
1,894
16
5
8.4
2.6
Blue Springs
53,440
1372
224
25.7
4.2
Bolivar
10,523
522
96
49.6
9.1
Bonne Terre
7,310
31
7
4.2
1.0
Boonville
8,388
312
28
37.2
3.3
Bourbon
1,617
34
10
21.0
6.2
Bowling Green
5,553
116
12
20.9
2.2
Branson
11,168
1195
121
107.0
10.8
Breckenridge Hills
4,716
110
42
23.3
8.9
Brentwood
8,027
296
20
36.9
2.5
Bridgeton
11,721
834
52
71.2
4.4
Brookfield
4,365
125
30
28.6
6.9
Buckner
3,071
53
11
17.3
3.6
Buffalo
3,064
94
19
30.7
6.2
Butler
4,109
183
37
44.5
9.0
Byrnes Mill
2,789
22
3
7.9
1.1
Cabool
2,122
63
9
29.7
4.2
California
4,363
44
10
10.1
2.3
Calverton Park
1,291
20
17
15.5
13.2
Camdenton
3,827
160
16
41.8
4.2
Cameron
9,851
148
20
15.0
2.0
Campbell
1,967
77
13
39.1
6.6
Canton
2,368
36
11
15.2
4.6
Cape Girardeau
39,012
1793
336
46.0
8.6
Carl Junction
7,571
139
42
18.4
5.5
Carrollton
3,682
60
16
16.3
4.3
Carterville
1,835
55
13
30.0
7.1
Carthage
14,185
546
71
38.5
5.0
Caruthersville
6,003
242
100
40.3
16.7
Cassville
3,275
221
25
67.5
7.6
Centralia
4,188
94
8
22.4
1.9
Chaffee
2,964
26
5
8.8
1.7
Charlack
1,366
43
13
31.5
9.5
Charleston
5,924
142
27
24.0
4.6
Chesterfield
47,811
730
42
15.3
0.9
Chillicothe
9,282
179
32
19.3
3.4
Clarkton
1,261
22
3
17.4
2.4
Claycomo
1,465
50
8
34.1
5.5
Clayton
15,871
265
72
16.7
4.5
Clever
2,454
8
6
3.3
2.4
Clinton
9,032
517
118
57.2
13.1
Cole Camp
1,114
29
6
26.0
5.4
Columbia
116,847
3988
750
34.1
6.4
Concordia
2,404
30
9
12.5
3.7
Cool Valley
1,192
48
7
40.3
5.9
Cottleville
3,836
23
3
6.0
0.8
Country Club Hills
1,266
52
15
41.1
11.8
Country Club Village
2,492
18
4
7.2
1.6
Crane
1,399
26
13
18.6
9.3
Crestwood
11,950
229
9
19.2
0.8
Creve Coeur
17,874
245
26
13.7
1.5
Crocker
1,113
46
15
41.3
13.5
Crystal City
4,851
215
20
44.3
4.1
Cuba
3,376
157
18
46.5
5.3
Desloge
4,924
321
23
65.2
4.7
De Soto
6,490
264
27
40.7
4.2
Des Peres
8,488
358
10
42.2
1.2
Dexter
7,953
262
41
32.9
5.2
Dixon
1,553
38
5
24.5
3.2
Doniphan
2,008
181
16
90.1
8.0
Duenweg
1,304
32
2
24.5
1.5
Duquesne
1,723
58
9
33.7
5.2
Edina
1,148
14
4
12.2
3.5
Eldon
4,665
207
37
44.4
7.9
El Dorado Springs
3,571
176
18
49.3
5.0
Ellisville
9,183
81
12
8.8
1.3
Elsberry
1,969
29
4
14.7
2.0
Eureka
10,531
173
8
16.4
0.8
Excelsior Springs
11,496
404
71
35.1
6.2
Fair Grove
1,425
25
9
17.5
6.3
Farmington
18,171
759
74
41.8
4.1
Fayette
2,744
52
11
19.0
4.0
Ferguson
21,090
1027
326
48.7
15.5
Festus
11,883
243
37
20.4
3.1
Florissant
52,387
912
195
17.4
3.7
Forsyth
2,327
63
14
27.1
6.0
Fredericktown
4,105
186
22
45.3
5.4
Frontenac
3,806
65
6
17.1
1.6
Fulton
12,757
394
51
30.9
4.0
Garden City
1,626
22
4
13.5
2.5
Gerald
1,323
13
5
9.8
3.8
Gideon
1,041
14
4
13.4
3.8
Gladstone
26,330
738
134
28.0
5.1
Glasgow
1,123
2
0
1.8
0.0
Glendale
5,921
51
4
8.6
0.7
Goodman
1,229
27
16
22.0
13.0
Gower
1,507
18
3
11.9
2.0
Grain Valley
13,188
204
33
15.5
2.5
Granby
2,147
27
3
12.6
1.4
Grandview
25,512
854
191
33.5
7.5
Greenfield
1,305
19
6
14.6
4.6
Greenwood
5,427
33
5
6.1
0.9
Hallsville
1,548
14
2
9.0
1.3
Hamilton
1,711
24
2
14.0
1.2
Hannibal
17,875
852
119
47.7
6.7
Harrisonville
9,993
330
66
33.0
6.6
Hayti
2,829
231
41
81.7
14.5
Hazelwood
25,662
829
136
32.3
5.3
Herculaneum
3,860
62
8
16.1
2.1
Hermann
2,379
43
8
18.1
3.4
Higginsville
4,704
69
9
14.7
1.9
Hillsboro
3,017
59
10
19.6
3.3
Hillsdale
1,527
20
9
13.1
5.9
Holden
2,329
119
24
51.1
10.3
Hollister
4,468
109
34
24.4
7.6
Holts Summit
3,461
28
3
8.1
0.9
Houston
2,072
123
10
59.4
4.8
Humansville
1,033
15
3
14.5
2.9
Independence
117,321
6582
1128
56.1
9.6
Ironton
1,416
19
5
13.4
3.5
Jackson
14,535
240
45
16.5
3.1
Jefferson City
43,372
1331
166
30.7
3.8
Jennings
14,762
731
247
49.5
16.7
Joplin
50,751
3948
611
77.8
12.0
Kahoka
2,035
4
0
2.0
0.0
Kansas City
468,417
22648
5659
48.4
12.1
Kearney
9,191
112
16
12.2
1.7
Kennett
10,912
966
219
88.5
20.1
Kimberling City
2,308
45
10
19.5
4.3
King City
1,020
0
0
0.0
0.0
Kirksville
17,594
515
110
29.3
6.3
Kirkwood
27,610
486
34
17.6
1.2
Knob Noster
2,801
81
30
28.9
10.7
Ladue
8,569
121
20
14.1
2.3
Lake Lotawana
1,954
53
12
27.1
6.1
Lake Ozark
1,670
61
4
36.5
2.4
Lakeshire
1,426
15
7
10.5
4.9
Lake St. Louis
14,888
302
20
20.3
1.3
Lamar
4,504
186
36
41.3
8.0
La Monte
1,130
0
0
0.0
0.0
La Plata
1,354
7
2
5.2
1.5
Lathrop
2,052
20
8
9.7
3.9
Lawson
2,422
40
8
16.5
3.3
Leadwood
1,237
28
6
22.6
4.9
Lebanon
14,818
631
74
42.6
5.0
Lee's Summit
93,594
1797
245
19.2
2.6
Liberty
30,316
550
113
18.1
3.7
Licking
3,104
64
11
20.6
3.5
Lincoln
1,191
30
5
25.2
4.2
Linn
1,434
7
1
4.9
0.7
Lone Jack
1,077
8
2
7.4
1.9
Louisiana
3,355
27
5
8.0
1.5
Macon
5,511
137
36
24.9
6.5
Malden
4,230
77
27
18.2
6.4
Manchester
18,207
289
14
15.9
0.8
Mansfield
1,270
85
10
66.9
7.9
Maplewood
7,957
564
25
70.9
3.1
Marble Hill
1,537
22
6
14.3
3.9
Marceline
2,152
25
10
11.6
4.6
Marionville
2,190
62
1
28.3
0.5
Marshall
12,992
335
59
25.8
4.5
Marshfield
6,814
329
39
48.3
5.7
Marthasville
1,140
5
1
4.4
0.9
Maryland Heights
27,428
506
57
18.4
2.1
Maryville
12,076
177
42
14.7
3.5
Maysville
1,107
5
0
4.5
0.0
Memphis
1,867
22
4
11.8
2.1
Merriam Woods
1,738
2
2
1.2
1.2
Mexico
11,535
374
60
32.4
5.2
Milan
1,862
18
4
9.7
2.1
Moberly
13,679
414
54
30.3
3.9
Moline Acres
2,438
93
23
38.1
9.4
Monett
8,949
337
85
37.7
9.5
Monroe City
2,496
24
8
9.6
3.2
Montgomery City
2,786
47
10
16.9
3.6
Moscow Mills
2,517
39
7
15.5
2.8
Mound City
1,065
19
4
17.8
3.8
Mountain Grove
4,710
138
22
29.3
4.7
Mountain View
2,704
118
24
43.6
8.9
Mount Vernon
4,519
83
21
18.4
4.6
Neosho
12,234
568
93
46.4
7.6
Nevada
8,257
569
120
68.9
14.5
New Franklin
1,104
29
11
26.3
10.0
New Haven
2,099
33
2
15.7
1.0
New Madrid
3,007
35
6
11.6
2.0
Nixa
20,469
318
38
15.5
1.9
Noel
1,803
30
12
16.6
6.7
Normandy
4,982
115
24
23.1
4.8
North Kansas City
4,345
313
33
72.0
7.6
Northwoods
4,202
137
46
32.6
10.9
Oak Grove
7,874
161
35
20.4
4.4
Oakland
1,381
4
1
2.9
0.7
O'Fallon
83,550
1079
101
12.9
1.2
Olivette
7,840
173
43
22.1
5.5
Oran
1,290
0
0
0.0
0.0
Oronogo
2,333
21
1
9.0
0.4
Osage Beach
4,377
279
31
63.7
7.1
Overland
15,997
602
87
37.6
5.4
Owensville
2,612
9
1
3.4
0.4
Ozark
18,775
556
71
29.6
3.8
Pacific
7,095
159
27
22.4
3.8
Pagedale
3,307
140
41
42.3
12.4
Palmyra
3,635
88
5
24.2
1.4
Park Hills
8,651
190
27
22.0
3.1
Parkville
6,018
112
8
18.6
1.3
Peculiar
4,842
82
12
16.9
2.5
Perryville
8,359
150
23
17.9
2.8
Pevely
5,587
111
11
19.9
2.0
Piedmont
1,972
34
8
17.2
4.1
Pierce City
1,263
29
7
23.0
5.5
Pine Lawn
3,464
88
44
25.4
12.7
Platte City
4,822
83
24
17.2
5.0
Plattsburg
2,285
45
7
19.7
3.1
Pleasant Hill
8,240
103
25
12.5
3.0
Pleasant Valley
3,048
43
6
14.1
2.0
Poplar Bluff
17,345
1466
221
84.5
12.7
Portageville
3,148
21
1
6.7
0.3
Potosi
2,691
153
15
56.9
5.6
Purdy
1,101
24
9
21.8
8.2
Raymore
19,878
352
31
17.7
1.6
Raytown
29,502
1243
267
42.1
9.1
Republic
15,794
322
44
20.4
2.8
Rich Hill
1,334
29
8
21.7
6.0
Richland
1,874
58
18
30.9
9.6
Richmond
5,651
273
38
48.3
6.7
Richmond Heights
8,495
469
21
55.2
2.5
Riverside
3,071
212
19
69.0
6.2
Riverview
2,836
154
71
54.3
25.0
Rock Hill
4,640
90
13
19.4
2.8
Rock Port
1,255
11
2
8.8
1.6
Rogersville
3,314
65
15
19.6
4.5
Rolla
19,876
790
108
39.7
5.4
Salem
5,020
220
32
43.8
6.4
Salisbury
1,560
14
0
9.0
0.0
Savannah
5,144
49
12
9.5
2.3
Scott City
4,550
109
31
24.0
6.8
Sedalia
21,513
1367
204
63.5
9.5
Senath
1,752
1
0
0.6
0.0
Seneca
2,423
80
13
33.0
5.4
Seymour
1,929
41
13
21.3
6.7
Shelbina
1,645
14
4
8.5
2.4
Shrewsbury
6,216
73
14
11.7
2.3
Sikeston
16,530
1026
176
62.1
10.6
Slater
1,837
34
6
18.5
3.3
Smithville
9,084
86
15
9.5
1.7
Springfield
165,280
12638
1814
76.5
11.0
St. Ann
12,960
234
55
18.1
4.2
St. Charles
67,970
1699
178
25.0
2.6
St. Clair
4,707
350
32
74.4
6.8
Steelville
1,706
81
23
47.5
13.5
Ste. Genevieve
4,405
81
4
18.4
0.9
St. James
4,148
109
12
26.3
2.9
St. John
6,479
215
31
33.2
4.8
St. Joseph
77,269
4294
680
55.6
8.8
St. Louis
318,574
19919
4209
62.5
13.2
Stover
1,078
32
9
29.7
8.3
St. Peters
55,362
1116
92
20.2
1.7
Strafford
2,373
88
16
37.1
6.7
St. Robert
5,375
350
55
65.1
10.2
Sugar Creek
3,337
171
30
51.2
9.0
Sullivan
7,070
403
73
57.0
10.3
Sunset Hills
8,529
208
20
24.4
2.3
Sweet Springs
1,468
16
4
10.9
2.7
Tarkio
1,503
17
3
11.3
2.0
Terre du Lac
2,347
6
2
2.6
0.9
Thayer
2,258
19
3
8.4
1.3
Tipton
3,303
29
2
8.8
0.6
Town and Country
10,939
115
5
10.5
0.5
Trenton
6,068
128
32
21.1
5.3
Troy
11,359
278
34
24.5
3.0
Union
10,645
551
73
51.8
6.9
Unionville
1,810
29
9
16.0
5.0
University City
35,099
1341
288
38.2
8.2
Vandalia
4,229
88
11
20.8
2.6
Velda City
1,408
33
19
23.4
13.5
Velda Village Hills
1,051
22
15
20.9
14.3
Versailles
2,437
97
6
39.8
2.5
Vinita Park
1,881
51
14
27.1
7.4
Warrensburg
20,190
645
143
31.9
7.1
Warrenton
8,072
447
34
55.4
4.2
Warsaw
2,133
88
16
41.3
7.5
Warson Woods
1,953
15
0
7.7
0.0
Washington
14,043
472
64
33.6
4.6
Waynesville
5,415
87
13
16.1
2.4
Weatherby Lake
1,806
12
1
6.6
0.6
Webb City
10,977
631
37
57.5
3.4
Webster Groves
23,258
230
44
9.9
1.9
Wellston
2,337
125
39
53.5
16.7
Wellsville
1,172
8
4
6.8
3.4
Wentzville
33,282
500
45
15.0
1.4
Weston
1,717
10
2
5.8
1.2
West Plains
12,321
724
92
58.8
7.5
Willard
5,514
86
7
15.6
1.3
Willow Springs
2,173
70
9
32.2
4.1
Winfield
1,421
14
2
9.9
1.4
Winona
1,309
19
6
14.5
4.6
Woodson Terrace
4,065
141
31
34.7
7.6
Wright City
3,431
47
8
13.7
2.3
Montana
Baker
1,909
10
2
5.2
1.0
Belgrade
7,677
215
12
28.0
1.6
Billings
110,245
4935
631
44.8
5.7
Boulder
1,197
17
1
14.2
0.8
Bozeman
40,525
1115
71
27.5
1.8
Colstrip
2,337
9
0
3.9
0.0
Columbia Falls
4,824
128
5
26.5
1.0
Columbus
2,013
30
6
14.9
3.0
Conrad
2,607
61
2
23.4
0.8
Cut Bank
3,014
125
32
41.5
10.6
Deer Lodge
3,084
116
4
37.6
1.3
Dillon
4,239
35
1
8.3
0.2
East Helena
2,061
17
1
8.2
0.5
Eureka
1,112
7
0
6.3
0.0
Fort Benton
1,478
23
5
15.6
3.4
Glasgow
3,406
57
0
16.7
0.0
Glendive
5,479
169
26
30.8
4.7
Great Falls
59,501
2561
314
43.0
5.3
Hamilton
4,604
146
21
31.7
4.6
Havre
9,848
355
30
36.0
3.0
Helena
29,928
1137
155
38.0
5.2
Kalispell
21,238
983
108
46.3
5.1
Laurel
7,113
133
11
18.7
1.5
Lewistown
5,900
72
10
12.2
1.7
Libby
2,704
81
7
30.0
2.6
Livingston
7,164
62
6
8.7
0.8
Manhattan
1,581
18
3
11.4
1.9
Miles City
8,707
215
10
24.7
1.1
Missoula
69,674
2869
295
41.2
4.2
Plains
1,067
21
3
19.7
2.8
Polson
4,630
250
24
54.0
5.2
Red Lodge
2,217
37
6
16.7
2.7
Ronan City
1,925
48
6
24.9
3.1
Sidney
6,540
80
15
12.2
2.3
Stevensville
1,895
37
5
19.5
2.6
Thompson Falls
1,342
26
5
19.4
3.7
West Yellowstone
1,334
13
0
9.7
0.0
Whitefish
6,725
223
22
33.2
3.3
Wolf Point
2,830
103
11
36.4
3.9
Nebraska
Alliance
8,502
176
44
20.7
5.2
Ashland
2,526
8
2
3.2
0.8
Aurora
4,460
38
13
8.5
2.9
Beatrice
12,092
405
71
33.5
5.9
Bennington
1,485
9
2
6.1
1.3
Blair
7,986
106
16
13.3
2.0
Bridgeport
1,517
15
1
9.9
0.7
Central City
2,917
50
4
17.1
1.4
Chadron
5,773
108
7
18.7
1.2
Columbus
22,614
385
49
17.0
2.2
Cozad
3,919
60
16
15.3
4.1
Crete
7,171
233
27
32.5
3.8
Falls City
4,192
65
10
15.5
2.4
Fremont
26,322
627
90
23.8
3.4
Gering
8,469
166
33
19.6
3.9
Gothenburg
3,554
75
7
21.1
2.0
Grand Island
50,999
2223
403
43.6
7.9
Hastings
25,070
952
169
38.0
6.7
Holdrege
5,536
128
39
23.1
7.0
Imperial
2,097
8
0
3.8
0.0
Kearney
32,513
674
88
20.7
2.7
Kimball
2,407
10
4
4.2
1.7
Lexington
10,195
286
39
28.1
3.8
Lincoln
271,208
9082
1305
33.5
4.8
McCook
7,697
237
19
30.8
2.5
Minden
3,002
61
8
20.3
2.7
Mitchell
1,680
7
0
4.2
0.0
Nebraska City
7,243
276
150
38.1
20.7
Norfolk
24,588
604
48
24.6
2.0
North Platte
24,490
1021
174
41.7
7.1
Ogallala
4,575
118
14
25.8
3.1
Omaha
438,465
19053
2997
43.5
6.8
O'Neill
3,697
13
0
3.5
0.0
Plainview
1,210
3
0
2.5
0.0
Ralston
7,586
203
28
26.8
3.7
Scottsbluff
15,009
554
107
36.9
7.1
Seward
7,155
80
10
11.2
1.4
Sidney
6,853
183
43
26.7
6.3
South Sioux City
13,436
492
33
36.6
2.5
Superior
1,908
24
3
12.6
1.6
Valentine
2,802
23
2
8.2
0.7
Valley
2,033
50
5
24.6
2.5
Wahoo
4,509
86
17
19.1
3.8
Wilber
1,875
13
0
6.9
0.0
York
8,012
219
43
27.3
5.4
Nevada
Boulder City
15,233
138
37
9.1
2.4
Carlin
2,424
22
7
9.1
2.9
Elko
20,528
795
247
38.7
12.0
Fallon
8,342
511
107
61.3
12.8
Henderson
274,121
5423
1397
19.8
5.1
Las Vegas Metropolitan Police Department
1,530,899
44754
14150
29.2
9.2
Lovelock
1,976
33
14
16.7
7.1
Mesquite
16,734
257
53
15.4
3.2
North Las Vegas
229,436
5508
2019
24.0
8.8
Reno
235,055
6798
1312
28.9
5.6
Sparks
94,012
2494
545
26.5
5.8
West Wendover
4,519
162
47
35.8
10.4
Winnemucca
8,144
140
32
17.2
3.9
Yerington
3,031
20
3
6.6
1.0
New Hampshire
Alexandria
1,613
28
17
17.4
10.5
Alstead
1,930
3
1
1.6
0.5
Alton
5,295
75
13
14.2
2.5
Amherst
11,275
189
17
16.8
1.5
Antrim
2,640
38
11
14.4
4.2
Ashland
2,069
39
5
18.8
2.4
Atkinson
6,844
27
12
3.9
1.8
Auburn
5,216
49
24
9.4
4.6
Barnstead
4,602
69
27
15.0
5.9
Barrington
8,736
129
22
14.8
2.5
Bedford
21,709
330
35
15.2
1.6
Belmont
7,257
198
32
27.3
4.4
Bennington
1,469
34
10
23.1
6.8
Berlin
9,513
143
35
15.0
3.7
Bethlehem
2,559
28
5
10.9
2.0
Boscawen
3,900
47
8
12.1
2.1
Bow
7,694
71
19
9.2
2.5
Brentwood
4,751
37
8
7.8
1.7
Bristol
3,063
96
27
31.3
8.8
Campton
3,311
48
19
14.5
5.7
Candia
3,937
51
1
13.0
0.3
Canterbury
2,399
22
0
9.2
0.0
Center Harbor
1,100
22
4
20.0
3.6
Charlestown
4,950
37
11
7.5
2.2
Chester
4,914
23
13
4.7
2.6
Claremont
12,981
351
41
27.0
3.2
Colebrook
2,218
48
8
21.6
3.6
Concord
42,358
969
140
22.9
3.3
Conway
10,002
359
43
35.9
4.3
Danville
4,457
21
5
4.7
1.1
Deerfield
4,384
43
11
9.8
2.5
Deering
1,896
21
4
11.1
2.1
Derry
33,329
618
102
18.5
3.1
Dover
30,633
461
53
15.0
1.7
Dublin
1,579
13
4
8.2
2.5
Dunbarton
2,797
37
18
13.2
6.4
Durham
15,571
104
18
6.7
1.2
Effingham
1,560
22
3
14.1
1.9
Enfield
4,566
47
8
10.3
1.8
Epping
6,714
187
17
27.9
2.5
Epsom
4,598
48
14
10.4
3.0
Exeter
14,607
116
18
7.9
1.2
Farmington
6,800
132
27
19.4
4.0
Franconia
1,114
26
1
23.3
0.9
Fremont
4,464
42
9
9.4
2.0
Gilford
7,122
186
15
26.1
2.1
Gilmanton
3,779
31
15
8.2
4.0
Goffstown
17,835
269
46
15.1
2.6
Grantham
2,948
13
1
4.4
0.3
Hampstead
8,587
50
10
5.8
1.2
Hampton
15,245
293
37
19.2
2.4
Hampton Falls
2,308
30
7
13.0
3.0
Hancock
1,639
24
5
14.6
3.1
Hanover
11,337
168
13
14.8
1.1
Haverhill
4,637
94
16
20.3
3.5
Henniker
4,773
35
4
7.3
0.8
Hillsborough
6,031
100
23
16.6
3.8
Hinsdale
3,956
144
15
36.4
3.8
Hooksett
13,784
390
39
28.3
2.8
Hopkinton
5,597
36
5
6.4
0.9
Hudson
24,685
430
63
17.4
2.6
Jaffrey
5,392
53
13
9.8
2.4
Keene
23,408
933
172
39.9
7.3
Kingston
6,114
45
9
7.4
1.5
Laconia
16,043
601
76
37.5
4.7
Lancaster
3,421
62
8
18.1
2.3
Lebanon
13,716
436
34
31.8
2.5
Lincoln
1,664
77
9
46.3
5.4
Lisbon
1,579
31
9
19.6
5.7
Litchfield
8,363
63
19
7.5
2.3
Londonderry
24,380
258
59
10.6
2.4
Loudon
5,349
83
12
15.5
2.2
Lyndeborough
1,692
16
4
9.5
2.4
Madison
2,525
27
12
10.7
4.8
Manchester
110,571
4009
730
36.3
6.6
Marlborough
2,047
12
7
5.9
3.4
Meredith
6,318
126
27
19.9
4.3
Merrimack
25,620
189
19
7.4
0.7
Middleton
1,781
34
16
19.1
9.0
Milford
15,141
227
25
15.0
1.7
Milton
4,570
162
44
35.4
9.6
Mont Vernon
2,443
9
1
3.7
0.4
Moultonborough
4,022
54
5
13.4
1.2
Nashua
87,279
1855
271
21.3
3.1
New Boston
5,432
35
11
6.4
2.0
Newbury
2,122
16
5
7.5
2.4
New Durham
2,653
47
13
17.7
4.9
Newfields
1,703
19
3
11.2
1.8
New Hampton
2,196
39
9
17.8
4.1
New Ipswich
5,135
36
10
7.0
1.9
New London
4,620
30
3
6.5
0.6
Newport
6,352
188
51
29.6
8.0
Newton
4,788
36
9
7.5
1.9
Northfield
4,810
154
31
32.0
6.4
North Hampton
4,394
57
13
13.0
3.0
Northumberland
2,216
32
15
14.4
6.8
Northwood
4,295
61
13
14.2
3.0
Nottingham
4,909
28
8
5.7
1.6
Ossipee
4,255
87
6
20.4
1.4
Pelham
13,133
144
19
11.0
1.4
Pembroke
7,125
79
15
11.1
2.1
Peterborough
6,442
64
10
9.9
1.6
Pittsfield
4,077
76
27
18.6
6.6
Plaistow
7,636
175
22
22.9
2.9
Plymouth
6,989
189
17
27.0
2.4
Portsmouth
21,521
500
42
23.2
2.0
Raymond
10,247
133
30
13.0
2.9
Rindge
5,865
89
13
15.2
2.2
Rochester
29,746
1245
129
41.9
4.3
Rollinsford
2,522
23
6
9.1
2.4
Rye
5,344
58
7
10.9
1.3
Salem
28,921
750
50
25.9
1.7
Sanbornton
2,973
44
13
14.8
4.4
Sandown
6,239
41
6
6.6
1.0
Sandwich
1,316
30
11
22.8
8.4
Somersworth
11,736
465
73
39.6
6.2
Strafford
4,030
27
6
6.7
1.5
Stratham
7,367
63
10
8.6
1.4
Sunapee
3,346
21
6
6.3
1.8
Thornton
2,507
20
7
8.0
2.8
Tilton
3,585
257
18
71.7
5.0
Wakefield
4,997
87
26
17.4
5.2
Warner
2,873
21
4
7.3
1.4
Washington
1,106
19
11
17.2
9.9
Weare
8,916
49
15
5.5
1.7
Webster
1,908
20
4
10.5
2.1
Wilton
3,668
76
14
20.7
3.8
Winchester
4,265
93
21
21.8
4.9
Windham
14,259
99
20
6.9
1.4
Wolfeboro
6,202
92
22
14.8
3.5
Woodstock
1,388
32
6
23.1
4.3
New Jersey
Aberdeen Township
18,215
227
32
12.5
1.8
Absecon
8,399
280
78
33.3
9.3
Allendale
6,760
43
8
6.4
1.2
Allentown
1,812
11
2
6.1
1.1
Alpha
2,316
18
6
7.8
2.6
Alpine
1,905
3
1
1.6
0.5
Andover Township
6,164
28
10
4.5
1.6
Asbury Park
15,789
814
169
51.6
10.7
Atlantic City
39,544
2450
282
62.0
7.1
Atlantic Highlands
4,346
68
10
15.6
2.3
Audubon
8,774
346
36
39.4
4.1
Audubon Park
1,018
21
2
20.6
2.0
Avalon
1,304
193
58
148.0
44.5
Avon-by-the-Sea
1,909
43
1
22.5
0.5
Barnegat Township
22,136
200
63
9.0
2.8
Barrington
6,865
70
20
10.2
2.9
Bayonne
65,618
803
115
12.2
1.8
Beach Haven
1,178
93
15
78.9
12.7
Beachwood
11,198
132
13
11.8
1.2
Bedminster Township
8,233
36
12
4.4
1.5
Belleville
36,286
831
131
22.9
3.6
Bellmawr
11,548
209
59
18.1
5.1
Belmar
5,721
209
27
36.5
4.7
Belvidere
2,622
21
6
8.0
2.3
Bergenfield
27,326
116
12
4.2
0.4
Berkeley Township
41,957
595
132
14.2
3.1
Berlin
7,614
151
29
19.8
3.8
Berlin Township
5,370
214
28
39.9
5.2
Bernards Township
26,980
141
33
5.2
1.2
Bernardsville
7,776
56
6
7.2
0.8
Beverly
2,562
53
20
20.7
7.8
Blairstown Township
5,848
53
15
9.1
2.6
Bloomfield
47,715
1115
219
23.4
4.6
Bloomingdale
7,772
32
14
4.1
1.8
Bogota
8,318
44
9
5.3
1.1
Boonton
8,449
79
9
9.4
1.1
Boonton Township
4,374
25
4
5.7
0.9
Bordentown
3,912
9
1
2.3
0.3
Bordentown Township
11,438
153
36
13.4
3.1
Bound Brook
10,504
214
44
20.4
4.2
Bradley Beach
4,270
138
16
32.3
3.7
Branchburg Township
14,581
65
17
4.5
1.2
Brick Township
75,995
1169
202
15.4
2.7
Bridgeton
25,243
978
396
38.7
15.7
Bridgewater Township
45,083
536
75
11.9
1.7
Brielle
4,770
26
9
5.5
1.9
Brigantine
9,396
234
87
24.9
9.3
Brooklawn
1,945
146
27
75.1
13.9
Buena
4,629
82
26
17.7
5.6
Burlington
9,835
178
53
18.1
5.4
Burlington Township
22,649
400
56
17.7
2.5
Butler
7,636
68
25
8.9
3.3
Byram Township
8,117
33
6
4.1
0.7
Caldwell
7,882
58
10
7.4
1.3
Califon
1,056
1
1
0.9
0.9
Cape May
3,546
156
28
44.0
7.9
Carlstadt
6,245
103
6
16.5
1.0
Carney's Point Township
7,936
171
45
21.5
5.7
Carteret
24,264
290
73
12.0
3.0
Cedar Grove Township
12,501
73
19
5.8
1.5
Chatham
9,058
64
17
7.1
1.9
Chatham Township
10,698
41
11
3.8
1.0
Cherry Hill Township
72,058
1854
232
25.7
3.2
Chesilhurst
1,640
36
18
22.0
11.0
Chester
1,681
14
4
8.3
2.4
Chesterfield Township
7,770
28
7
3.6
0.9
Chester Township
7,970
30
10
3.8
1.3
Cinnaminson Township
17,069
408
63
23.9
3.7
Clark Township
15,308
131
1
8.6
0.1
Clayton
8,236
159
36
19.3
4.4
Clementon
4,979
182
49
36.6
9.8
Cliffside Park
25,665
225
34
8.8
1.3
Clifton
85,822
1427
228
16.6
2.7
Clinton
2,690
35
7
13.0
2.6
Clinton Township
13,257
61
12
4.6
0.9
Closter
8,598
53
5
6.2
0.6
Collingswood
13,855
315
78
22.7
5.6
Colts Neck Township
10,084
59
11
5.9
1.1
Cranbury Township
3,929
43
9
10.9
2.3
Cranford Township
23,488
172
36
7.3
1.5
Cresskill
8,759
40
9
4.6
1.0
Delanco Township
4,569
82
35
17.9
7.7
Delaware Township
4,535
26
20
5.7
4.4
Delran Township
16,825
198
40
11.8
2.4
Demarest
4,971
22
6
4.4
1.2
Denville Township
16,917
107
19
6.3
1.1
Deptford Township
30,639
1340
191
43.7
6.2
Dover
18,419
259
56
14.1
3.0
Dumont
17,848
82
10
4.6
0.6
Dunellen
7,388
150
47
20.3
6.4
Eastampton Township
6,085
96
23
15.8
3.8
East Brunswick Township
48,391
697
88
14.4
1.8
East Greenwich Township
10,359
106
22
10.2
2.1
East Hanover Township
11,338
195
34
17.2
3.0
East Newark
2,706
28
5
10.3
1.8
East Orange
64,758
1100
311
17.0
4.8
East Windsor Township
27,678
261
36
9.4
1.3
Eatontown
12,204
474
48
38.8
3.9
Edgewater
12,327
190
19
15.4
1.5
Edgewater Park Township
8,836
137
33
15.5
3.7
Edison Township
101,965
1105
269
10.8
2.6
Egg Harbor City
4,247
78
19
18.4
4.5
Egg Harbor Township
43,992
868
213
19.7
4.8
Elizabeth
128,345
3846
836
30.0
6.5
Elk Township
4,262
63
19
14.8
4.5
Elmwood Park
20,293
341
52
16.8
2.6
Elsinboro Township
1,013
8
1
7.9
1.0
Emerson
7,617
33
3
4.3
0.4
Englewood
27,665
511
101
18.5
3.7
Englewood Cliffs
5,378
47
3
8.7
0.6
Englishtown
1,974
19
1
9.6
0.5
Evesham Township
45,623
511
81
11.2
1.8
Ewing Township
36,787
719
195
19.5
5.3
Fairfield Township, Essex County
7,531
226
26
30.0
3.5
Fair Haven
6,070
22
4
3.6
0.7
Fair Lawn
33,174
331
50
10.0
1.5
Fairview
14,352
185
45
12.9
3.1
Fanwood
7,567
58
10
7.7
1.3
Flemington
4,531
72
13
15.9
2.9
Florence Township
12,409
52
21
4.2
1.7
Florham Park
11,863
102
10
8.6
0.8
Fort Lee
36,226
256
50
7.1
1.4
Franklin
4,907
117
12
23.8
2.4
Franklin Lakes
10,816
67
8
6.2
0.7
Franklin Township, Gloucester County
16,746
276
80
16.5
4.8
Franklin Township, Hunterdon County
3,140
34
3
10.8
1.0
Franklin Township, Somerset County
65,999
940
283
14.2
4.3
Freehold
12,042
139
28
11.5
2.3
Frenchtown
1,351
16
2
11.8
1.5
Galloway Township
37,716
669
196
17.7
5.2
Garfield
31,417
656
108
20.9
3.4
Garwood
4,318
74
3
17.1
0.7
Glassboro
19,082
353
79
18.5
4.1
Glen Ridge
7,658
165
40
21.5
5.2
Glen Rock
11,912
67
9
5.6
0.8
Gloucester Township
64,322
1267
309
19.7
4.8
Green Brook Township
7,265
90
20
12.4
2.8
Greenwich Township, Gloucester County
4,873
110
29
22.6
6.0
Greenwich Township, Warren County
5,583
130
18
23.3
3.2
Guttenberg
11,508
101
27
8.8
2.3
Hackensack
44,451
642
37
14.4
0.8
Hackettstown
9,576
145
20
15.1
2.1
Haddonfield
11,506
154
20
13.4
1.7
Haddon Heights
7,430
93
15
12.5
2.0
Haddon Township
14,632
335
59
22.9
4.0
Haledon
8,413
166
35
19.7
4.2
Hamburg
3,173
23
5
7.2
1.6
Hamilton Township, Atlantic County
26,802
1027
143
38.3
5.3
Hammonton
14,800
155
29
10.5
2.0
Hanover Township
14,352
181
12
12.6
0.8
Harding Township
3,884
20
2
5.1
0.5
Hardyston Township
8,056
77
10
9.6
1.2
Harrington Park
4,778
5
0
1.0
0.0
Harrison
15,686
271
42
17.3
2.7
Harrison Township
12,812
146
38
11.4
3.0
Hasbrouck Heights
12,083
57
3
4.7
0.2
Haworth
3,447
15
4
4.4
1.2
Hawthorne
19,062
184
25
9.7
1.3
Hazlet Township
20,192
249
26
12.3
1.3
Helmetta
2,217
31
10
14.0
4.5
High Bridge
3,593
35
10
9.7
2.8
Highland Park
14,478
161
32
11.1
2.2
Highlands
4,949
64
23
12.9
4.6
Hightstown
5,592
64
13
11.4
2.3
Hillsborough Township
39,522
206
37
5.2
0.9
Hillsdale
10,487
41
7
3.9
0.7
Hillside Township
21,908
555
123
25.3
5.6
Hoboken
53,303
1033
127
19.4
2.4
Ho-Ho-Kus
4,142
22
7
5.3
1.7
Holland Township
5,211
28
8
5.4
1.5
Holmdel Township
16,699
190
18
11.4
1.1
Hopatcong
14,724
94
17
6.4
1.2
Hopewell
1,922
14
1
7.3
0.5
Hopewell Township
18,416
97
27
5.3
1.5
Howell Township
51,884
573
112
11.0
2.2
Independence Township
5,551
54
8
9.7
1.4
Irvington
54,377
1836
587
33.8
10.8
Island Heights
1,683
8
1
4.8
0.6
Jackson Township
56,347
557
143
9.9
2.5
Jamesburg
6,022
41
12
6.8
2.0
Jefferson Township
21,573
169
38
7.8
1.8
Jersey City
260,005
4240
887
16.3
3.4
Keansburg
9,991
212
29
21.2
2.9
Kearny
41,964
898
82
21.4
2.0
Kenilworth
8,143
148
22
18.2
2.7
Keyport
7,183
126
24
17.5
3.3
Kinnelon
10,436
56
19
5.4
1.8
Lacey Township
28,100
444
65
15.8
2.3
Lake Como
1,717
22
5
12.8
2.9
Lakehurst
2,711
23
3
8.5
1.1
Lakewood Township
93,749
1118
223
11.9
2.4
Lambertville
3,853
44
5
11.4
1.3
Laurel Springs
1,895
35
12
18.5
6.3
Lavallette
1,862
39
6
20.9
3.2
Lawnside
2,932
95
27
32.4
9.2
Lawrence Township, Mercer County
33,133
684
74
20.6
2.2
Lebanon Township
6,492
26
7
4.0
1.1
Leonia
9,121
58
28
6.4
3.1
Lincoln Park
10,456
70
22
6.7
2.1
Linden
41,550
1080
136
26.0
3.3
Lindenwold
17,503
553
212
31.6
12.1
Linwood
7,069
70
28
9.9
4.0
Little Egg Harbor Township
20,401
339
94
16.6
4.6
Little Falls Township
14,564
140
28
9.6
1.9
Little Ferry
10,863
63
13
5.8
1.2
Little Silver
5,895
58
9
9.8
1.5
Livingston Township
29,694
309
45
10.4
1.5
Lodi
24,648
363
48
14.7
1.9
Logan Township
6,016
171
32
28.4
5.3
Long Beach Township
3,064
112
32
36.6
10.4
Long Branch
30,302
741
173
24.5
5.7
Long Hill Township
8,838
46
12
5.2
1.4
Lopatcong Township
8,056
71
2
8.8
0.2
Lower Alloways Creek Township
1,735
17
8
9.8
4.6
Lower Township
22,344
467
115
20.9
5.1
Lumberton Township
12,486
291
18
23.3
1.4
Lyndhurst Township
21,550
247
33
11.5
1.5
Madison
16,380
131
19
8.0
1.2
Magnolia
4,324
105
42
24.3
9.7
Mahwah Township
26,502
124
9
4.7
0.3
Manalapan Township
40,063
237
51
5.9
1.3
Manasquan
5,721
139
27
24.3
4.7
Manchester Township
43,394
370
92
8.5
2.1
Mansfield Township, Burlington County
8,568
91
13
10.6
1.5
Mansfield Township, Warren County
7,550
167
15
22.1
2.0
Manville
10,439
255
25
24.4
2.4
Maple Shade Township
19,024
373
98
19.6
5.2
Maplewood Township
24,689
402
75
16.3
3.0
Margate City
6,339
257
57
40.5
9.0
Marlboro Township
40,351
263
42
6.5
1.0
Matawan
8,741
73
32
8.4
3.7
Maywood
9,735
89
19
9.1
2.0
Medford Lakes
4,134
21
6
5.1
1.5
Medford Township
23,343
171
41
7.3
1.8
Mendham
5,029
44
5
8.7
1.0
Mendham Township
5,909
31
12
5.2
2.0
Merchantville
3,807
101
26
26.5
6.8
Metuchen
13,823
145
31
10.5
2.2
Middlesex
13,876
130
31
9.4
2.2
Middle Township
18,883
628
107
33.3
5.7
Middletown Township
66,223
546
111
8.2
1.7
Midland Park
7,318
45
3
6.1
0.4
Millburn Township
20,265
344
31
17.0
1.5
Milltown
7,032
58
6
8.2
0.9
Millville
28,759
1934
373
67.2
13.0
Mine Hill Township
3,696
30
19
8.1
5.1
Monmouth Beach
3,293
59
8
17.9
2.4
Monroe Township
36,933
684
178
18.5
4.8
Monroe Township, Middlesex County
42,333
208
31
4.9
0.7
Montclair
38,030
566
146
14.9
3.8
Montgomery Township
22,547
116
28
5.1
1.2
Montvale
8,072
42
9
5.2
1.1
Montville Township
21,901
145
26
6.6
1.2
<