Study: Average Cost of a Home Security System
Ad Disclosure: This article contains references to products from our partners. We may receive compensation if you apply or shop through links in our content. You help support CreditDonkey by using our links.
(read more)
The average home security system cost $30 per month. But that's not all. Read this article to find out how much a home security system will really cost you.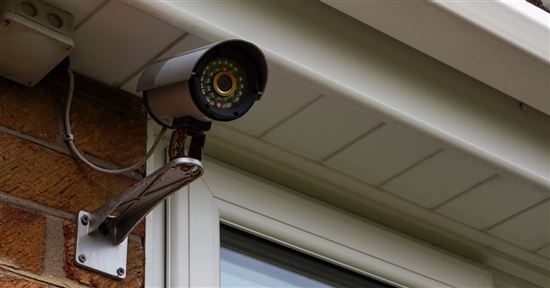 What is the average setup cost of a home security system? Protecting your home is priceless. Of course, it'll cost you, though. The average homeowner pays around $900 for professional installation. But you can find basic installation for as low as $300 and more sophisticated installations for as much as $1,500.
How much is the average monthly monitoring cost? Without monitoring, your security system isn't very helpful. It may make noise, but the police won't be alerted. Monthly monitoring could cost you between $14.99 and $60.99 if you choose one of the top five alarm companies.
How much do Americans spend on home security per year? On average, Americans spend $20.64 billion on home security systems.
How much does it cost to install a video surveillance system? Video surveillance tends to be all over the place. Let's consider ADT. They are the largest security company out there. The ADT Pulse with Video will run you $499 for installation. However, if you are a DIY-type person, check out Blink. Their camera prices range around $129 - $479.99. You install the cameras yourself and handle the monitoring too.
Can signs and dummy video cameras deter burglars? Studies show alarm signs or "dummy" video cameras are often enough. 60% of burglars reported they choose other homes if they see an alarm system. Chances are, a burglar will think twice before testing to see if the alarm is real. Dummy cameras can have the same impact.
Where should I mount security cameras?
There are three important places to place security cameras:

Near the front door

Near the back door

On all first floor windows

81% of burglars gain access on the first floor, so it makes sense to focus on this area.

Where is the best place to put motion sensors?
Motion sensors are one of the most effective ways to protect your home. However, if you don't place them properly, they won't do their job. Place the sensors where the burglar would have to walk parallel to them. Utilizing corners, preferably high up, provides the most coverage. Focus on key areas such as:

Front hallway

Master bedroom

Near any valuables

Keep them away from any areas with drastic temperature changes. Doorways and vents could falsely trigger the alarm.

Why is home security monitoring so important? You might consider not paying for security alarm monitoring. We get it: you don't want another monthly payment. But, without monitoring, the only sign of an intruder will be the loud, piercing sound from the alarm. It won't signal the security company. When the alarm is monitored, the security company helps instantly. They try to contact the emergency contact on the account first. If it's an emergency, the security company will alert the authorities right away.
How often is a home burglarized? Still struggling with the thought of paying for a security system? Consider the fact that one home is burglarized every 18 seconds. That's 3 1/3 burglaries every minute.
How much does homeowner's insurance increase after one claim? You have insurance to help you in the face of loss. Unfortunately, your premiums may increase after filing one claim. Quadrant Information Services found that a theft claim can raise your rates 13 percent. That's $130 for every $1,000 you pay in homeowner's insurance.
How much can you save on homeowner's insurance with a monitored security system? A monitored home security system may save you money on your homeowner's insurance. On average, homeowner's save 20% on their premium. On a $1,000 premium, that's a $200 savings. This brings the average cost of a home security setup down to around $700.
How much does the risk of burglary decrease with a home security system? A security system (monitored or not) can decrease your risk of a break-in by as much as 60%. Of course, you must make it obvious that you have a system. Signs and obvious door/window alarms deter burglars who plan their attack.
How can changing up your routine deter burglars? 33% of burglars watch their targets before acting. Simply changing up your routine can protect your home. Burglars will be less likely to determine if you are home or not. This may make them more likely to move elsewhere.
What other precautions can you take along with a security system?
A security alarm is a deterrent, but it's not 100% foolproof. Combine it with things like:

A car in the driveway

Lights on around the house

Deadbolt locks

These precautions can help prevent a home invasion.

How much do you stand to lose in a burglary? The average household loses an average of $2,120 during a burglary. Of course, that's just the physical items. This doesn't take into account the mental anguish homeowners experience.
How many home burglaries include the theft of electronic devices? Burglars often come after the big stuff. In 34% of robberies, an electronic device, such as a TV, DVD player, or tablet, are stolen. The next largest items stolen are personal belongings. This includes things like jewelry, furs, and antiques.
What are other advantages of a home security system? The obvious benefit of a home security system is alerting the police of a break-in. But you can also benefit from the system while you are away. With your smartphone, you can program the alarm. Some systems allow you to monitor your home via video as well. If something doesn't seem right, you can even alert the authorities yourself.
What is cellular monitoring? Cellular monitoring doesn't use your landline or internet connection. It also has nothing to do with your cell phone. It's a standalone system that sends signals between the sensors, control panel, and the monitoring station.
Why is cellular monitoring the safest type of home security monitoring? Cellular monitoring deters the typical workaround burglars use. Landline monitored systems can easily have their cords cut. Internet-connected systems rely on an internet connection that can easily be stopped. Even loss of power can make these systems useless. Cellular monitoring isn't affected by any of these factors. It can provide you with 24/7 protection.
What's the best type of alarm for older or rented homes? Installing an alarm system used to require hardwiring, which meant a lot of drilling. What if you live in an older home where this isn't possible? Worse yet, what if you rent and your landlord won't allow the installation? Wireless home security alarms solve the issue. As an added benefit, you can easily expand the system as you see fit. Most systems, like ADT, allow you to add the additional monitors yourself, saving you on installation costs.
What are the top home security companies?
CreditDonkey conducted research on today's home security companies. Among those studied, we found the following to be the top-rated:
How much does ADT cost per month? ADT's plans start at $28.99 per month. They can cost as much as $58.99 per month if you have video monitoring or home automation, though.
How much does ADT installation cost? ADT charges $99 for equipment installation. There's a catch, though. You must sign a 36-month contract. You do get a 6-month money back guarantee, but it only applies to faulty systems or issues with the service.
Bottom Line
Buying a home security system can protect your home and provide you peace of mind. You don't have to break the bank on the most sophisticated system. Focus on monitoring and placement for the best outcome. Even DIY systems can provide you with the security you need. The success relies on how you use the system and how many other precautions you take.
Sources and References:
Write to Kim P at feedback@creditdonkey.com. Follow us on Twitter and Facebook for our latest posts.
Note: This website is made possible through financial relationships with some of the products and services mentioned on this site. We may receive compensation if you shop through links in our content. You do not have to use our links, but you help support CreditDonkey if you do.
Read Next: