Best Mobile Security You're Missing Out On
---
Protect your devices and those of your employees with the CreditDonkey Best in Mobile Security winners. These companies are on top of the latest ways to secure your mobile devices.

Best in Mobile Security

© CreditDonkey
Top Mobile Security Innovators to Secure Your Devices
There's a downside to all that convenience that mobile devices and smart products bring to your life and business. They're vulnerable. If one of your employees leaves a phone in the back of an Uber, someone could see all his emails - the emails you've been sending him with sensitive company information. Or, even worse, they could gain access to one of your business accounts and make transactions you certainly don't want.
In the race to keep up with and outsmart hackers, many companies have come up with ways to avoid such scenarios, with authentication software, location tools, and ways to use devices for business more securely. But who has time to sift through all the competitors to find the mobile security provider that will best help you?
We took the time for you! It's what we do. At CreditDonkey, we believe one of the most effective ways to spend wisely - whether you're purchasing something as a consumer or the owner of a small business - is to narrow down the options and comparison shop.
So, here's a list of the very best in mobile security, to help you bring more protection to your devices.
Related: Best Home Security Systems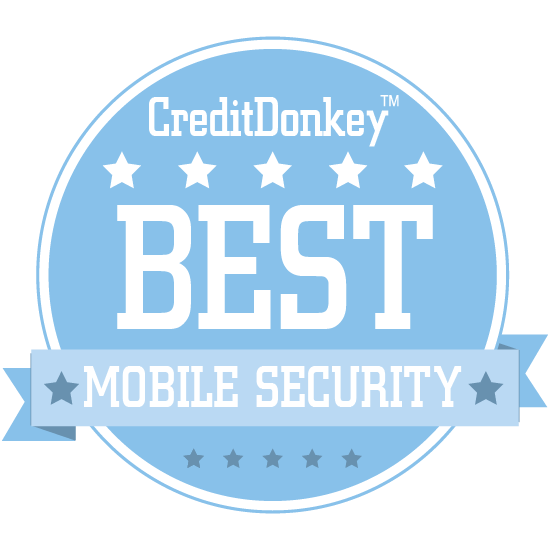 Best Mobile Security

© CreditDonkey
Note: This website is made possible through financial relationships with some of the products and services mentioned on this site. We may receive compensation if you shop through links in our content. You do not have to use our links, but you help support CreditDonkey if you do.
Read Next: