Best Home Audio: Top Industry Experts
---
Listen to this: CreditDonkey is announcing the Best in Home Audio to help you choose your next awesome set of speakers, headphones, and related technology.

Best Home Audio © CreditDonkey
Top Innovative Audio Options for Your Home
You can make the most of your music library when you trick out your home with the latest in audio technologies and gadgets. Listen to what you want wherever you are in your home.
But here's the thing about modern-day audio options: There are so many products and accessories to purchase for your home audio needs that it's dizzying to research them all and make a choice.
Make a bad decision and you're basically throwing money away—that's not something the folks at CreditDonkey, which helps consumers make smart buying decisions, can stand by. So, we're doing the initial legwork for you with our list of the best in home audit innovations. We're helping you invest wisely in your home audio needs and presenting the very best home audio innovations on the market today.
Choose a few on the list below that fit your needs and then compare before putting your credit card down. Then you'll soon be ready for some sweet listening at home!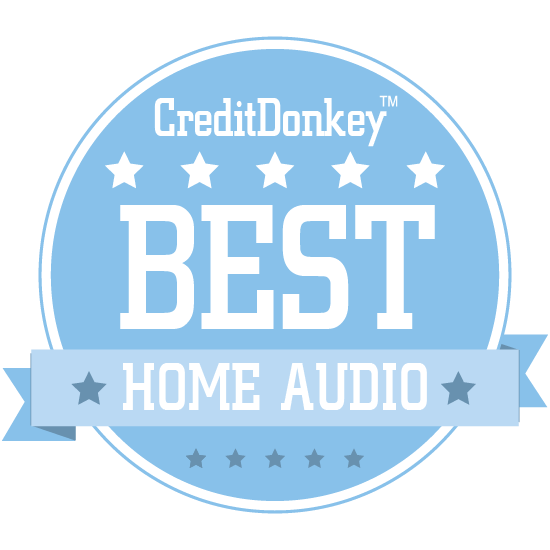 Best Home Audio © CreditDonkey
Bag End
Bag End has been manufacturing a full line of passive and self-powered loudspeaker systems since their founding in 1976, and currently offer both analog and digital options.

Why Bag End is Best in Home Audio: In addition to their consumer-grade line of products, they also manufacture custom systems for architects and engineers for specialty applications, making them a great choice for venue speaker systems. Check out their website to see their full line, which includes amps, processors, home speaker systems, and much, much more.

Oppo


Oppo offers a line of portable audio products for discerning audiophiles, with attractive design, impeccable sound, and comfort always in mind.

Why Oppo is Best in Home Audio: With their two lightweight headphone designs, they're taking planar magnetic sound to a new level. They also offer the Sonica Wi-Fi Speaker, which you can control via a mobile device to stream music throughout your home.

Read: OPPO Digital 4K/UHD Blu-ray Player
Follow @OPPODIGITAL

Aerial Acoustics
With over 40 years of a design and engineering behind them, Aerial Acoustics' speakers are built to provide crystal-clear reproduction that will transform your music and film experience.

Why Aerial Acoustics is Best in Home Audio: They have solutions to provide music in one room, integrated speakers throughout your home, or an impressive showpiece audio system for your media room. With custom integration options as well as free-standing speakers, Aerial Acoustics offers a wide range of high-quality audio solutions, and you can view them all on their website.

RCF


For over 60 years, RCF has been engineering high-tech professional and commercial audio products, from single sound systems to large-scale, complex projects.

Why RCF is Best in Home Audio: Whether you're trying to fill a stadium with top-notch sound or need a conference system for city hall, RCF's wide-ranging and ever-expanding suite of products will have a solution for you. They offer high-definition audio for theatres, loudspeakers and systems for live performers, recording monitors for studio use, and much more.

Read: M 18-Digital Mixer
Follow RCF.proaudio

Mirage
Mirage believes that home audio should always be omnidirectional and completely immersive, and their exclusive Omnipolar technology distributes audio directly to you, wherever you are in a room.

Why Mirage is Best in Home Audio: This results in a completely immersive audio experience; you'll be surrounded by sound, and with options for any size room, you won't be overwhelmed by it. Their vast range of products includes speakers to suit just about any need: sound bars, floor speakers, shelf speakers, and in-wall and outdoor solutions, too.

Gallo Acoustics


Gallo Acoustics' founder, Anthony Gallo, helped to create the proprietary CDTII tweeter and, coupled with the use of spherical speakers, fashioned a uniquely high quality sound that has made the company famous among audiophiles.

Why Gallo Acoustics is Best in Home Audio: Their speakers offer high-end sound in a surprisingly small package, making them perfect for sound aficionados who want to save space. Offering reference speakers, home theater systems, subwoofers, and more, Gallo's unique products are all built using this proprietary technology to achieve top-notch audio.

Follow @AGASpeakers

Orb Audio


Orb Audio offers speakers with a perfect combination of compact size and a big, room-filling sound; you won't believe how much sound can come from such small speakers.

In addition to building small, stylish speakers, Orb Audio also produces compact integrated amplifiers with industry leading features like an optical input, subwoofer output and a programmable remote control. These amplifiers are a great solution for watching movies and TV with a pair of speakers as well as streaming content via Bluetooth and the internet when connected to devices like the Amazon Echo.

Why Orb Audio is Best in Home Audio: Their speaker systems are modular, meaning that you can build each speaker with one, two, or four Orbs, so you can expand from a single speaker all the way up to 5.1 surround sound, or anything in between. Using a direct-web business model, Orb Audio can bring you great sound at low prices by cutting out retailer markups.

Read: Booster1 Sound(bar)
Follow @OrbAudio

JansZen Electrostatic Speakers
JansZen Electrostatic Speakers' products are all made using electrostatic technology, which provides the highest in fidelity with none of the drawbacks associated with other electrostatic brands. Company founder Arthur A. Janszen is known for inventing the first practical electrostatic hi-fi speaker in the mid-1950s, and the company still uses his technology today. A. A. Janszen's eldest son, David, now helms the company.

Why JansZen Electrostatic Speakers is Best in Home Audio: JansZen's innovative designs eliminate the nasty habit some speakers have of overloading and fuzzing out; instead, the loudest moments in your music will be as loud and clear as they're supposed to be. You can even use amplifiers with plenty of headroom without worrying about damaging your equipment.

HSU Research
HSU Research offers high-tech subwoofers and speakers that are driven by engineering and innovation. HSU Research was founded in 1991 by Dr. Hsu (who holds a PhD in engineering from MIT) to fulfill his dream of creating the world's best subwoofers.

Why HSU Research is Best in Home Audio: This means that instead of focusing on aesthetics, they are obsessed with providing the best-quality sound and great reliability, with each product carefully engineered to bring high-end sound to its specified room type. If you've been in search of the deepest bass without unpleasant rattling, Hsu Research's website should be your next stop.

Read: VTF-15H MK2 Subwoofer


Rogue Audio
Rogue Audio offers a line of high-quality amplifiers with obsessive attention paid to the integrity of the audio signal path and power supplies.

Why Rogue Audio is Best in Home Audio: Anyone recording audio will be blown away by the fidelity of the recordings that can be reproduced through their integrated amplifiers, stereo amplifiers, preamplifiers, and more. With electronic components rated far beyond their intended use, Rogue Audio's products are also supremely reliable.

Eminent Technology
Eminent Technology has been building innovative audio products for 35 years, including creating the world's first full-range, push-pull planar magnetic speaker and the first flat panel computer multimedia speaker.

Why Eminent Technology is Best in Home Audio: Their TRW-17 subwoofer offers true 5Hz technology, making it the world's first infrasonic home audio and home theater subwoofer. They even offer a high-end tonearm for turntables, for those who want true high-end audio from their vinyl collection.

Genesis Loudspeakers
Genesis Loudspeakers aims to stand out from the crowd by perfectly reproducing sound, capturing the spark of emotion and life that lesser speakers can't touch.

Why Genesis Loudspeakers is Best in Home Audio: Each component of their speaker is designed in-house, which results in a harmonic balance between all frequencies that you won't find elsewhere. Genesis is so dedicated to the quality of their speakers that they take the time to listen to each one before they ship it to ensure it's up to their high standards.

Leon Speakers


Leon Speakers handcrafts a full range of high-end audio equipment, all designed with an artistic eye to blend seamlessly into your environment.

Why Leon Speakers is Best in Home Audio: They offer outdoor, in-ceiling, in-wall, mounted speakers, and more, all beautifully designed and impeccably engineered, and customizable for your home. They also offer a range of media decor that can transform your TVs, speakers, and other media into design focal points in your home.

Read: Certified Systems
Follow @leonspeakers

ATI Amplifier Technology
ATI Amplifier Technology crafts heavy-duty amplifiers to deliver state-of-the-art audio, all designed and built in their Southern California factory for absolute quality control.

Why ATI Amplifier Technology is Best in Home Audio: They know that the heart of any amplifier is its transformer, and they wind their own with a process that helps to increase efficiency and reduce distortion. Their amps offer solutions for basic stereo, whole-home audio, and advanced home theater setups, all with top-notch sound quality and reliability.

Devore Fidelity
Devore Fidelity's line of floor speakers combine great design and physics to bring music to life in your home. Founder John Devore created Devore Fidelity to replicate, through high-end audio, the most ephemeral elements of music that can usually only be heard live.

Why Devore Fidelity is Best in Home Audio: Their smallest speaker puts out amazing sound for its size, while larger models like the O/96 and gibbon X convey subtle music nuance and micro-details that other speakers can only dream about. Check out their website to see their wide range of designs and find out where you can visit a dealer today.

Nola
Nola speakers use several technologies to set them apart from the competition, including dipole drivers that eliminate several mechanical problems that affect audio quality.

Why Nola is Best in Home Audio: They also incorporate Alnico Magnets that work to more naturally reproduce harmonic textures, resulting in lifelike sound. Their new Unison Crossover Technology, meanwhile, works to provide greater dynamic contrasts, greater efficiency, and better focus in sound.

Audible Illusions
Audible Illusions has been designing and crafting audio tube components for 35 years, bringing customers reference-level sound inside innovative designs.

Why Audible Illusions is Best in Home Audio: At the epicenter of the engineering and design work is a commitment to being true to the music, and their products offer a combination of quality, sonics, and great value. They have innovated the field time and again, revolutionizing component durability, power efficiency, and audio quality.

Daedalus Audio
Daedalus Audio builds high-efficiency loudspeakers that use their design experience so musicians can bring the nuances of voice and acoustic performance into the home. Founder Lou Hinkley is a musician who aims to bring the excitement and emotion of live performance to home audio equipment.

Why Daedalus Audio is Best in Home Audio: Their solid hardwood cabinets are highly sensitive, and their speakers are built to avoid any added resonance and harmonics while allowing the natural sound of the instruments to shine through. Each speaker is handcrafted to order, making them essentially artisan-made, commissioned works that are among the finest speakers available at any price.

Vandesteen
Vandesteen Audio creates unique, high-end speakers built around its founder's patented, reflection-free aerodynamic midrange drivers, which are paragons of low-distortion musicality.

Why Vandesteen is Best in Home Audio: Vandesteen prides itself on being a technology company; they are always innovating in the audio field, pushing the science of sound to new heights. Their latest innovation, the Perfect-Piston Driver, provides perfectly pistonic driver performance and accuracy without any of the sonic colorations attributed to metal drivers.

Dayton Audio


Dayton Audio manufactures a wide range of audio products, including speakers, drivers, speaker-building components, and more.

Why Dayton Audio is Best in Home Audio: Their loudspeaker systems offer astonishing audio quality at prices lower than their better-known competitors, with subwoofers and sound bars perfect for your home theater. Many of their audio driver components are even used by high-end speaker brands, and are perfect for DIY audio enthusiasts.

Read: iMM-6 iDevice Calibrated Measurement Microphone
Follow @Dayton_Audio

Placette Audio
Placette Audio offers preamplifiers and volume controls that will provide audio purists with the distortion-free sonic purity and clarity they crave.

Why Placette Audio is Best in Home Audio: Built and tested by hand, the Placette Audio Preamplifier makes distortion near immeasurable, and its specs and performance are guaranteed for ten years. They're so confident in their product that you can order one today and test it out with a risk-free, 30-day money back guarantee. For the last twenty years Placette Audio has concentrated on building volume controls that are literally transparent. What comes out of your source is what will go into your power amplifier with nothing added or taken away. If you are bothered by even the slightest trace of added brightness, coloration or distortion, the Placette will be a valued addition to your system.

Burwell & Sons Loudspeakers
Burwell & Sons Loudspeakers take the best vintage speaker components ever built and combine them into beautiful, sophisticated cabinets and handcrafted wooden horns.

Why Burwell & Sons Loudspeakers is Best in Home Audio: Their Homage series is built from components from the 50s, 60s, and 70s, repurposed and crafted into collector item, quality show pieces. They also know that the loudspeaker technology perfected in that era is still second to none, and aim to bring that level of audio quality back to the world.

NEAR
NEAR crafts rugged, durable outdoor speakers that offer high performance and reliability, even under extreme conditions. Founded by Bill Kieltyka in 1988, NEAR Outdoor Speakers have been used in Universal Studios and survived the worst weather conditions in North America atop New Hampshire's Mount Washington.

Why NEAR is Best in Home Audio: With a variety of bracket-mount, on-ground, and in-ground speaker designs, they're sure to have something that will fit in with your landscape and lifestyle. Their audio technology also rivals that of any indoor audiophile system, meaning that you can have perfect quality sound outside now, too.

Berkeley Audio Design
Berkeley Audio Design was founded with the goal of bringing master recording-level audio fidelity into the home.

Why Berkeley Audio Design is Best in Home Audio: Their Berkeley Audio Design Alpha DAC Reference Series 2 MQA, Alpha DAC Series 2 and Alpha USB products reproduce CD's and high-resolution, non-DRM recordings on optical disks and by download, offering unmatched sound quality for discerning ears. With Berkeley Audio Design's products, you'll be able to close your eyes and feel like you're hearing a live performance - it's that good.

Monster


Monster has long been an innovator in home audio, offering new standards in comfort, quality, and performance with products like Beats by Dre. Monster founder Noel Lee holds over 500 patents, and helped create a new industry with his high-quality Monster audio cables.

Why Monster is Best in Home Audio: They continue to craft trailblazing headphones and home speakers, most recently with Pure Monster Sound, the technology that powers speakers that can fit on a shelf or even in your pocket. Their wireless home audio speakers are sleek and stylish, too, and will fill every room in your house with unmatched sound.

Follow @monsterproducts

AmpMe


AmpMe is an innovative mobile app that syncs devices together to play the same audio, letting you enjoy louder sound even without a standalone speaker.

Why AmpMe is Best in Home Audio: You and your friends just download the app, and whoever is the host can fill a playlist and control the music. It's compatible with smartphones, tablets, and Bluetooth speakers, and works anywhere you can take those devices.

Read: Work at AmpMe and We'll Send You on Vacation
Follow @ampme

Vinnie Rossi
Vinnie Rossi offers custom, modular home audio components like amplifiers, preamplifiers, and source components. Vinnie Rossi is an electrical engineer with a passion for audio equipment that engages the listener on a whole new level; he also founded Red Wine Audio in 2004.

Why Vinnie Rossi is Best in Home Audio: Their pure DC-4-EVR ultracapacitor technology uses a new kind of power supply that isolates your audio circuitry from all AC power mains, which means no interference and no noise. This provides a perfectly "black" background to your audio so you can hear every subtlety and nuance of your favorite music.

Read: LIO Headphone Amplifier


Soundsmith
Soundsmith crafts top-quality turntable components, including handcrafted phono cartridges and tonearms.

Why Soundsmith is Best in Home Audio: Their phono cartridges adorn some of the world's best turntables; these cartridges do the heavy lifting of converting physical information into sound, so if you want the best sound, you need the best cartridge. They also offer amps, preamps, speakers, and more, and their website is a great resource to learn about all of these audio components.

Read: Stylus Shape Information


Ayre Acoustics


Ayre Acoustics has been designing and building superior quality audio and video equipment since 1993, including sources, amplifiers, and preamplifiers.

Why Ayre Acoustics is Best in Home Audio: Offering real-world realism and stunning clarity combined with a relaxed presentation, their equipment has the power to pull you into your favorite music and films like never before. With an emphasis on the power supply, they insist on zero feedback and fully-balanced sound in every unit they ship.

Read: Roon
Follow @AyreAcoustics

David Berning
The David Berning Company crafts tube amplifiers for high-end audio system.

Why David Berning is Best in Home Audio: In 1996, company founder David Berning invented the Zero Hysteresis Transformer-Less (ZOTL) architecture for tube amplifiers, which continues to garner stellar reviews from publications and audiophiles alike. Berning's products are high-quality and timeless, continuing to be prized by audio enthusiasts everywhere, even years after their release.

Fern & Roby


Fern & Roby offers high-end furniture, audio products, and hardware; their audio products range from speakers and headphones to components.

Why Fern & Roby is Best in Home Audio: Their cube speakers are impeccably designed with two beautiful wood options, and top-notch audio performance means they sound as great as they look. They also offer the NightOwl Carbon Headphones, which feature high-tech noise cancellation along with comfort and durability that are second to none.

Read: A PARTNERSHIP IN STYLE
Follow @FernAndRoby

Perla Audio


Perla Audio aims to provide the world's finest upgradeable audio components, with a focus on superior audio quality and a beautiful design that complements it. Owner and President Shane Duffy established Perla audio in 2012, and previously had been a DIY expert in high-end home audio equipment.

Why Perla Audio is Best in Home Audio: They offer sleek, beautiful amplifiers, preamplifiers, speakers, phono-stages, and more, all handcrafted to provide uniquely superior sound. Every product is designed and manufactured in the USA with oversight from Perla's experts, ensuring the highest quality.

Follow @perlacompany

Sutherland
Sutherland Engineering crafts preamplifiers with simplicity and elegance in mind.

Why Sutherland is Best in Home Audio: They have refined their products to just the essential elements, and aim to execute their design to perfection, with nothing extra getting between you and your music. By using only the best components in a conservative way, they offer top quality and a long life for all of their products.

Tekton Design
Tekton Design uses patented technology that allows them to align the moving mass of speaker cones to the harmonic spectra of your music's instruments, resulting in higher-quality sound than most would even think possible. Company founder and president Eric Alexander has been building speakers for more than 30 years, and has designed over 60 commercially available speaker models to date.

Why Tekton Design is Best in Home Audio: With their speakers, you'll hear every note exactly as it was played, with no distortion, volume diminishment, or other loss of quality. Offering floor speakers, subwoofers, home theater packages, and much more, you'll find an amazing speaker to suit your needs on their website.

Read: Impulse


Von Gaylord
Von Gaylord Audio is one of a few audio companies to produce a full range of audio components and accessories, from speakers and subs to amplifiers and even cabling.

Why Von Gaylord is Best in Home Audio: They offer digital audio converters than can make your digital music files sound like vinyl for hours of fatigue-free listening. Their speakers, meanwhile, are beautifully designed with simplicity in mind, for effortless high quality sound.

Read: Beta


Pro Audio Technology
Pro Audio Technology offers a full range of audio products that combine lively dynamics, high maximum output levels, and durability for amazing sound and quality. President and product designer L. Paul Hales has been designing audio equipment for almost 30 years and has worked on audio systems for companies like Samsung and BMW.

Why Pro Audio Technology is Best in Home Audio: Their suite of amplifiers, subwoofers, and loudspeakers is designed to work in concert, with each piece a part of a whole that provides incomparable audio. Bringing all of these products together under one roof eliminates problems like speaker/amplifier matching, which can leave sound muddy and lifeless.

ESS Lab
ESS Labs crafts high-end speakers and headphones, but is known for the Heil Air-Motion transformer, which uses unique technology to concentrate sound that conventional transducers never even touch.

Why ESS Lab is Best in Home Audio: In the Heil, the sound signal moves five times faster than with the air-motion of a conventional cone driver, resulting in unsurpassed audio quality. Their headphones, meanwhile, use a large wood chamber to produce a wider sound domain, letting you hear subtle musical details usually lost with headphones.

Enclave Audio


Enclave Audio offers a truly wireless home theater system that sets up in minutes with no cables required.

Why Enclave Audio is Best in Home Audio: Their system uses 6 individual speaker enclosures and 14 distinct drivers to immerse you in sound, not in wires. Even with the easy set-up and top-notch audio performance, you can get their home theater audio system for far less than the price of their competitors.

Read: Enclave Wireless Audio System
Follow @enclaveaudio

Vapor Audio
Vapor Audio makes high-end speakers and speaker systems to order, working with each customer to craft the perfect audio experience for them.

Why Vapor Audio is Best in Home Audio: Their custom RAAL tweeter beats all challengers with unparalleled speed and accuracy to create sound that makes you feel like you're really there. They may not have a showroom to test out their products, but they maintain a network of happy customers that will allow you to give their products a test-listen.

JDS Labs


JDS Labs is constantly testing and refining their amplifiers and DACS to provide equipment that presents music as exactly as it was recorded.

Why JDS Labs is Best in Home Audio: They use a PrismSound dScope Series III audio analyzer to conduct professional sound quality benchmarks to ensure that everything they sell is up their impeccable standards. This results in a perfectly "black" background along with excellent crosstalk and channel balance to produce a flawless stereo image.

Indy Audio Labs
Indy Audio Labs' surround processors, pre-amplifiers, and amplifiers not only provide crystal-clear audio and video playback, but also take advantage of network connectivity to bring a new level of control to their customers. Co-founder and CEO Rick Santiago has more than 25 years experience both designing and leading the development of audio electronics products, while co-founder and CTO bring his over 30 years of expertise in semiconductor manufacturing, consumer and industrial product development, and audio product development.

Why Indy Audio Labs is Best in Home Audio: With mobile integration, their products offer radically simplified ease-of-use alongside great performance and elegant design. Their Acurus line of products aims to bring compelling audio performance to the masses with high-end performance at an affordable price point.

Eco Made


Eco Made offers custom-branded "eco-amps" for mobile devices, which make great giveaways for businesses and nonprofits. Founded by David LeGrand and Hayley Strauss in 2012, Eco-Made aims to bring environmentally-friendly, locally-manufactured products that anyone can enjoy.

Why Eco Made is Best in Home Audio: Their eco-amps attach to mobile devices to provide a superior listening experience on the go, and they're all made from 100% recycled paper. Whether you're looking for giveaways for an industry event or a unique gift for clients, Eco Made's amps are a great choice.

Follow @ecomadeLA

Reference Audio


Reference Audio crafts a huge array of audio products, including high-end speakers, DACs, cables, cabinets, turntables, and much more.

Why Reference Audio is Best in Home Audio: Their Magico loudspeaker sits at the intersection of technology and design, using high-end materials like nano tubing inside a stylish casing to provide unparalleled sound. Their heirloom-quality turntables offer classic beauty, and the company's years of history in analog playback systems provides impeccable quality.

Follow @ReferenceAudio2

Exogal
Exogal is reimagining the world of digital audio, building their products from the ground up to provide a transformational listening experience. Founded by audio industry veterans Jim Kinne, Larry Jacoby, Jeff Haagenstad, and Jan Larsen, Exogal is aiming to reinvent audio product engineering to provide extraordinary sound at a fraction of the cost of their competitors.

Why Exogal is Best in Home Audio: Built with an open architecture, you can use their products to listen to whichever format you choose, whether streaming or with local files. Their technology lets you hear the music exactly as the artists intended, and audiophiles have even said it produces analog-quality sound.

Tavish Design
Tavish Design creates unique, affordable, and high-end audio equipment that combines modern technology with the best features of vacuum tube and transistor audio power amplifiers. Founded by Scott Reynolds in 2011, Tavish Design brings his 35 years of audio equipment building experience to bear on high-quality, beautifully-designed products.

Why Tavish Design is Best in Home Audio: They offer amplifiers at variety of price points, from high-end products to amps that just about anybody could afford. They're so confident in the quality of their products that they allow customers to try them for 30 days, risk-free; check out their website to get started.

Ammo Audio
Ammo Audio offers high-quality, veteran-made ammo can speakers with Bluetooth functionality. Co-founder Spike Curtis is a DIY warrior who spent 10 years flying and instructing in fighter aircraft in the USAF, while co-founder Bart Hancock is a law enforcement professional currently employed with a governmental security agency.

Why Ammo Audio is Best in Home Audio: Built to resemble an ammo can, these speakers are rugged and can provide up to 20 hours of battery life with excellent sound quality. 1% of the company's profits each year are donated to The Fisher House to help veterans, so your purchase will also be going toward a worthy cause.

Auratone
Family-owned for 50 years, Auratone is bringing back their 5C Super Sound Cube reference speaker.

Why Auratone is Best in Home Audio: Famous in the 70s and 80s, the Super Cube has been used in almost every major recording studio worldwide. Thanks to its durability, flat full range, response, power range, and portability, it's still the industry standard.

Riva Audio


Riva Audio offers a range of multi-room Wi-Fi speakers that bring listeners first-class audio that they can control with their smart device, anywhere in the house.

Why Riva Audio is Best in Home Audio: Their "Trillium" method of audio reproduction creates a stereophonic image much larger than the speaker itself, which means a much larger listening area that can fill up a whole room. In addition to Trillium, you can also set your Riva speakers to dedicated left/right channels or to Power Mode, which is perfect for outdoor listening.

Follow @RIVAaudio

Aperion Audio


Aperion Audio offers top-notch home theater surround sound systems, and by purchasing direct from their website you can avoid retail markups.

Why Aperion Audio is Best in Home Audio: Every speaker they manufacture is engineered for top-quality sound, and they're so confident in that that you can even test a system in your home risk-free for 60 days. With a ten-year transferable warranty and lifetime customer support via phone, you can make your purchase with confidence.

Read: Aperion Audio Our Founder Speaks On CES 2017
Follow @aperionaudio

Artison
Artison crafts acoustically brilliant audio components that are built to blend in beautifully with your home. Founded in 2003 by speaker designer Cary Christie, Artison is always aiming to lead the way in lifestyle-enhancing home entertainment solutions.

Why Artison is Best in Home Audio: They offer in-wall speaker solutions that make your home audio equipment disappear, and integrated TV speakers with custom grilles to match your decor. Artison's unique combination of hi-tech audio and aesthetics has won them numerous industry awards; visit their website to find a dealer near you.

Read: Nano

MartinLogan


MartinLogan makes premium, high fidelity speakers for home theater and stereo with a philosophy of "truth in sound."

Why MartinLogan is Best in Home Audio: Their electrostatic speakers have the power of 30 years of innovation dedication behind them. With top-notch speakers for home theater, your stereo system, or the outdoors, audiophiles owe it to themselves to checkout MartinLogan's products.

Read: The History of MartinLogan
Follow @MartinLoganLtd
Note: This website is made possible through financial relationships with some of the products and services mentioned on this site. We may receive compensation if you shop through links in our content. You do not have to use our links, but you help support CreditDonkey if you do.
More from CreditDonkey: