Best in Hotel: Most Innovative Companies
---
Your next hotel booking and stay will be made easier if one of the following new hotel services is involved. These new services are transforming the hospitality industry.

Best in Hotel Innovation

© CreditDonkey
Top Happenings at Hotels
When you stay in a hotel, you don't want any trouble. You don't want to have to think about the inner workings of the place you're staying at. You just want to easily make reservations, and when you get there, you want room service when you need it and a clean room when you return from your day out. Sounds easy enough but there are, in fact, complexities behind your stay, with the hotel company, manager, cleaners, and staff all scrambling 24/7 to make your stay is an enjoyable one.
Advances in technology and innovative startups have led to new services that are making reservation systems and hotel management simpler and as seamless as ever. Many companies go to market claiming to make improvements, but few make it past the idea stage. We're showcasing only the hotel startups that have a promising future because of all the benefits and amenities they are bringing to this space.
At CreditDonkey, we present ideas for saving and spending money wisely on your trips, from travel rewards credit cards to advice on how to book the perfect trip. Some of the apps on this list will reward you for using them, while other services here work in the background to make your stay as valuable as possible.
Read on for the latest and greatest changes happening in the hotel industry right now.
Related: Best Hotel Credit Cards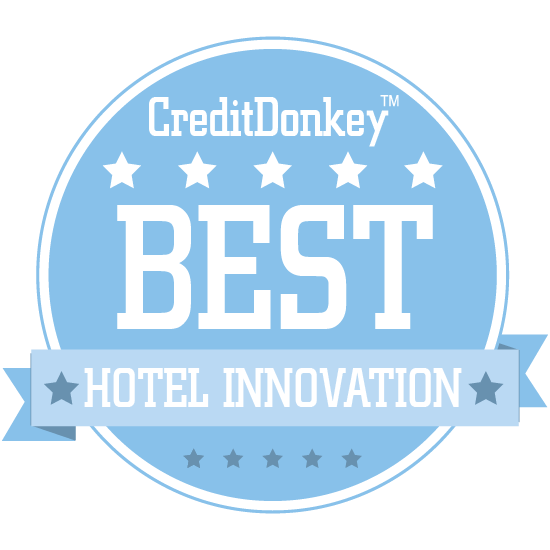 Best Hotel Innovation

© CreditDonkey
Note: This website is made possible through financial relationships with some of the products and services mentioned on this site. We may receive compensation if you shop through links in our content. You do not have to use our links, but you help support CreditDonkey if you do.
Read Next: