How to Buy an
Engagement Ring

the Smart Way

This article contains references to products from our partners. We may receive compensation if you apply or shop through links in our content. You help support CreditDonkey by reading our website and using our links.

(read more)
---
Ready to pop the question? Buying an engagement ring online is a brilliant way to save big. Read on for the ultimate guide, so you don't get ripped off.

How to Buy an Engagement Ring © CreditDonkey
So, you've found the love of your life and are ready to propose. Congrats! That's an accomplishment in itself.
And if you're reading this article, you're considering buying the ring online. It's a smart financial move as you'll save money and have better selections.
Our goal is to help you through the process of buying an engagement online. So you know what to look for and not get ripped off. Scroll down to read the whole article, or, if you have a specific question, click on a link below to jump to that topic.
Do you already have your budget determined? Check out our in-depth guide to shopping for the
best engagement ring
at every price point. We offer suggestions for how to get the best ring for your budget, from $1,000 to $10,000.
Buying a diamond from a website is intimidating. After all, a ring is a huge purchase and a symbol of your love. Can you really buy it without seeing it in person?
However, buying the ring online has its advantages, especially in the savings department. Buying online can save you up to 40%. That's a significant discount. And you don't have to deal with any pushy salesmen.
Of course, the biggest concern is whether diamonds bought online are legit. We absolutely believe it can be. However, you need to do your research carefully and buy with the reputable online retailers and certified diamonds. Make sure you understand the retailer's return policy. We will walk you through all this later.
This guide is designed to take you through everything you need to know about buying the perfect engagement ring online. So you can confidently hit "confirm purchase" on one of the biggest decisions of your life.
How Buying Online is Different Than Buying in a Store
Does the mere thought of walking into a jewelry store make you nervous? Then you'll appreciate the ease of ring shopping online. Online retailers have made the experience easier, cheaper, and sometimes, even more fun. But there are some drawbacks.
Let's break down the pros and cons of buying diamonds online.
Pros of shopping online:
A wider selection: Online jewelry stores offer an unbeatable selection. You'll be able to find diamonds and ring styles at every price point. This is particularly good if you have specific characteristics in mind or are looking for a particular style.

For example, let's say you already know you want an ideal cut diamond around 1.3 carat. A jeweler may only have a couple of diamonds matching such specs in his collection. And you'd be forced to just pick the one that looks best. But an online store could have dozens (even hundreds) of options. You can spend time seeing which one you like best for your budget.

A better price: The other big plus is that prices tend to be lower when you're buying online. A website doesn't have the same overhead costs of a physical retail store. In our independent study, we found that online stores have prices as much as 40% lower. And another advantage is that many do not collect sales tax outside their state.

No matter what, it's much easier to comparison shop online than it is to go to several physical stores.

No pressure: Online, you won't have a pushy salesperson following you around. No one pushing the hard sell or trying to convince you to spend more than your budget. You can take the time you need to choose a ring on your terms. Plus, if you are a less traditional couple (LGBT, have a huge age gap, etc), you can feel comfortable shopping online instead of feeling the stares in a conventional jewelry store.
Cons of shopping online:
A leap of faith: Buying a ring online means you can't hold the ring up close to examine flaws or see how it sparkles. You also can't compare physical stones to see which looks best in person. Most sites let you custom build a ring but again, you won't know what the finished product actually looks like until it arrives on your doorstep. Make sure you understand the company's return policy in case you're not happy with what you get.

One thing you could do is purchase the loose diamond online and have it mounted at a local jeweler. This way, you'll save some money on the stone itself and you won't be designing the entire ring blind. But if you choose to do this, make sure that the jeweler you're buying the setting from is trustworthy.

Some jewelers do not want the responsibility of possibly damaging someone else's diamond during the setting process. We recommend that if possible, buy your diamond and setting with the same jeweler.

More likely to deal with an unknown company: Not all diamond online jewelers are trustworthy. Do your homework first to check that the company is reputable, especially if you're going with a smaller company. Reputable brand name online retailers that we're partial to are James Allen and Blue Nile.
Don't worry, we'll go into what kind of online retailers to look for later.
HOW MUCH TO SPEND
OK, so you're ready to buy online. First things first: determine how much you want to spend on the bling.
It probably won't come as much of a surprise, but diamonds aren't cheap. On average, guys spend over $5,000 on an engagement ring. But don't let the national average pressure you into spending the same amount. It's more important that you're realistic about how much you can afford.
Tip
: You've probably heard of the commonly accepted "
2 months' rule
". This says you should spend 2 months' of your salary on the engagement ring. The sentiment is nice, but quite unrealistic for the average person. On top of that, the figure was invented by diamond retailer DeBeers to make you spend more.
So, what should you really spend? It's a personal decision. It depends on two things:
Your financial ability

Her expectations
The right amount (for you) would be something that shows your beloved that you are serious about the commitment, but within what you can afford without going into debt. For example, let's say you already have $1,000 in savings. You estimate that you can put aside $300 a month. After five months of saving, you'll have $2,500 total to spend on the ring. That might be the right budget for you.
Remember, you have your future ahead of you. You may also want to start saving for a down payment on a house, your future children's college education, or your retirement. The last thing you want is to start off your married life being in debt because of the ring.
Tip
: A diamond ring is not an investment. A diamond should be treated as a depreciating asset like a car. Look at it as simply a gift to your beloved to make her happy and show your commitment. If you're looking to build wealth,
invest in stocks
instead.
How to decide if you should finance the ring
A diamond ring is a big purchase. The reality might be that you just can't pay straight up cash for one. Most of us have multiple loans already. And it may be unreasonable to wait until you're debt free to pop the question.
In this case, borrowing money for the ring could be an option. Just make sure that you can pay it off within the term. Don't think just because you're financing a ring, you can now go and pick out the largest, most expensive diamond out there!
Here are some things to consider if you're thinking about financing a ring:
This is another area where buying online has advantages. You don't have to listen to the spiel from a store salesperson about your financing options because they are totally in your control. A low interest credit card is the way many people go.

Another good option is to a 0% interest promotional deal on a new card. This will give you time to pay off the big purchase. Be sure you can pay off the full balance by the time the promotional period ends.

Many credit cards offer protection. This could come in handy if the retailer doesn't send you what you ordered or sends you nothing at all.
You might be able to get extra value out of your purchase. Why not get something in return for your ring purchase? A smart move is to use a card that offers rewards on your purchases. For example, some American Express credit cards (a CreditDonkey partner) offer additional cash back or rewards at select department stores, such as Bloomingdales (which also happens to sell engagement rings).
Consider the retailer's financing option: Some retailers offer nice financing deals. But do some math to see whether you'd pay more under their terms or your credit card. It can be worth factoring in to your purchase, but pursue this route carefully.
Tip: If you have saved up the cash, some online retailers will offer a 1.5% - 3% discount if you pay upfront by wire transfer.

How to find the best place to buy the ring
HOW TO CHOOSE A RETAILER

© CreditDonkey
Now comes the really tricky part: choosing a retailer you're comfortable with.
Not all online jewelers are trustworthy or provide good service. Do some shopping around and see which retailer gets your vote of confidence.
Here are questions to ask about the retailer (and most of this also goes for if you're buying a ring from a physical store!):
Does the retailer get decent, credible reviews? This is self-explanatory. You only want to work with retailers who get good reviews from happy, satisfied customers.
Are the pictures you see online of the actual stone you'll be getting or are they just sample photos? Our favorite retailers like James Allen and Whiteflash provide actual photos of the diamonds. This way, you're not buying blind.
How long has the retailer been in business and do they have an actual store? Make sure it's an established company. The last thing you want is to buy a diamond ring from someone and later find that the store has magically disappeared. What if you want to trade-up the diamond or need servicing? If the retailer has been in business for years and have a physical presence, then it's likely they're staying put.
What lab grading does the retailer use? You want to make sure you are buying a certified diamond by a reputable lab. Stay away from jewelers who don't provide a lab report with their diamonds. We recommend buying GIA or AGS certified diamonds, as these are the two most trustworthy labs. It costs more money to get diamonds graded by them, so if a jeweler uses them, it generally means they're trustworthy.
Does the retailer offer customer assistance? Buying such a huge purchase sight unseen is scary, so you want to make sure you can get help. Good online retailers will have experienced reps ready to answer your questions. Also check if the jeweler has a GIA-grad as part of the team.
Is the return policy clear and reasonable? It's important that you are able to return the diamond/ring for a full no-questions-asked refund if you don't want to keep it.
How long does the warranty last? Some offer lifetime warranties, while some are just one year. Think about what you're okay with.
Does the retailer have a lifetime exchange policy? If you're not happy with the diamond anymore at some point in your life and want something better, will you be able to make an exchange for 100% of your purchase value? A trustworthy jeweler will stand by his diamonds and offer a lifetime exchange.
Here are three reputable online diamond jewelry stores we recommend:
Blue Nile's wide selection of diamonds simply cannot be beat. They also have some of the most competitive pricing around. They are able to offer a huge selection because they do not actually own their diamonds, so the downside is that you won't be able to see actual photos of the diamond you're buying.
James Allen takes the online diamond shopping experience to a whole new level. They offer an HD 360-degree interactive video for every diamond they sell. Certified diamond experts are available online to help you compare diamonds. You can be confident about your purchase as you can see the actual diamond you'll be buying.
Whiteflash specializes in ideal cut diamonds. This means that the diamonds are cut in ideal proportions to reflect the maximum light (which means more brilliant). Each diamond comes with actual photos and light performance imagery. If quality and brilliance are your top priorities, we highly recommend Whiteflash.
Tip
: Don't forget about the wedding ring. You can score a huge discount by buying the wedding bands online. Confused about the difference between engagement ring and wedding ring? Don't worry, a lot of first-time ring buyers are. Here's an article where we go over the
difference
.
Benefits and Features

Selection

Largest selection of online diamonds, sourced from suppliers around the world

Inventory sourced from local diamond suppliers

Data

Grading report

Grading report, 360-degree HD video

Return Policy

30-day money back guarantee. You will pay for shipping and insurance fees. Items must be in their original purchase condition, including all product documentation.

If you are not 100% satisfied with your purchase, you may return it in its original, unworn condition within 30 days for a full refund or exchange. Free return shipping only applies to U.S customers and is limited to three per customer.
Warranty

Lifetime manufacturer warranty. Terms and exclusions apply.

James Allen warrant that all items will be free from any manufacturing defects at time of delivery. James Allen will repair and maintain your jewelry for a lifetime. Lifetime warranty offers free prong tightening, re-polishing, rhodium plating and cleaning services.

Buyback

Diamond buyback program through Mondiamo based on market value.

Customer Service

24/7 customer service

24/7 customer service

Resizing

Blue Nile provides complimentary resizing for Build Your Own Rings®, and Diamond Bands when within the manufacturer's recommended sizing range, during the first year.

All engagement rings and wedding bands, excluding eternity bands and alternative metals, may be resized once for free within the first 60 days of purchase.

Upgrade Policy

Lifetime diamond upgrade program on all GIA and AGSL graded diamonds. You will receive credit equal to 100% of the original price toward the purchase of a new diamond. The price of your new diamond must be at least twice the price of your original diamond. Your diamond must be in its original condition with the original diamond grading report.

Any loose diamond purchased from James Allen can be exchanged at 100% credit for any replacement diamond of at least 2X or greater value. The diamond that is being upgraded must be in original condition and accompanied by the original laboratory grading document.

Price
Selection
Data
Customer Service

Blank fields may indicate the information is not available, not applicable, or not known to CreditDonkey. Please visit the product website for details.

KNOW THE RETURN POLICY

© CreditDonkey
There are many reasons why you may want to return a ring: you're not happy with how it looks, you change your mind about proposing, your bride-to-be doesn't like it, or (we hate to say it) you didn't get the yes.
In any case, it's extremely important that you know the store's return policy.
Tip
: It may be tempting to buy from an online site like eBay and Craigslist. But watch out. You are at the mercy of the seller. There are reports of scams and rip offs. If the price seems too good to be true, it probably is. We recommend readers buy from
reputable online diamond jewelers
.
Online diamond retailers usually have generous return policies. But they tend to come with a time limit and some conditions. Make sure you read the fine print carefully. Some rings may not be eligible for returns.
The return policies are usually very strict. Some will say that it needs to be returned in original packaging, so do not damage the packaging when you open it. The return package will also need to be postmarked before a certain date. Some jewelers will also require that you get a Return Authorization Number from them first and write it on the package. This may take a few days, so you'd need to factor that in.
Make sure you fully understand the process of a return. The last thing you want is for the time to lapse as you're trying to figure it out. So before you even place your order, factor in enough time to examine the ring, take it to an appraiser, and propose. You'd need to do all this within the timeframe of the return policy!
HOW TO FIND OUT HER RING SIZE
Before you purchase, first, you need to know what size ring you need to buy. There are certain settings that are hard to resize or require a custom fitting. So, you don't want to take that gamble if you can help it.
So how can you find out her ring size? It will take a little detective work, but it can be done.
Did you know?
Over 40% of brides-to-be
want to involved in the ring selection process. After all, this is a piece of jewelry she'll wear for the rest of her life, so she wants to know she's getting a ring she'll love. It's something to consider when deciding if a surprise proposal is the right way to go.
If you are set on a surprise romantic proposal but ALSO want to make sure she gets the ring of her dreams, a good compromise could be to pick out the diamond and get it in a temporary setting. After she says yes, you can take your time looking for a permanent setting together.

Check out her jewelry box for any other rings she wears. If there's one that she doesn't wear that often, discreetly steal it. You can then take it to a jeweler to find out the size or use a cool online tool like this one .
If you can't get away with borrowing the ring for a bit, you can trace it carefully on a piece of paper. Be sure to trace both the inside and outside for accuracy. While it may not be exact, it'll still give the jeweler a rough idea.
Another good idea is to take an impression of the ring in a soft bar of soap.
Or you can slip the ring on one of your own fingers (like your pinky) and mark the place where it sits comfortably. Then go to a jeweler and try on different sizes until you find one that falls in the same place.
For all these methods, just make sure you choose a ring that she wears on her left ring finger. If you're not sure which rings she wears on what fingers, start paying attention.
As a general rule, the average woman's ring size is 6 to 6.5. If you're not able to score any intel on her actual ring size, you can use this as a guide. If you really have no idea, estimate larger and get it resized later. It's much easier and cheaper to make a ring smaller than bigger. But watch out, not all settings are resizable.
Read: Everything to Know About Ring Resizing: Costs and Tips
Did you know
the holidays are
peak proposal season
? Christmas Eve and New Year's Eve are two of the most popular days to propose.
FINDING HER PERFECT STYLE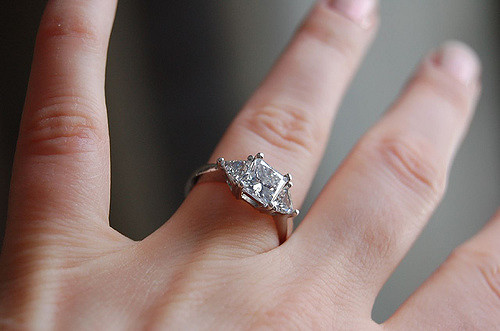 Shiney #1 (Returned) © ilovebutter (CC BY 2.0) via Flickr
This is actually one of the hardest parts for most men! This is a ring she will wear for the rest of her life, so it should match her personal style. How can you guess what she'll love?
Here are some things to consider:
What is her personal style? Does she have an elegant, classy style? If so, she may prefer a classic round solitaire or a princess cut. Is she bohemian and free-spirited? If so, she may not even want a diamond or want a more unique shape. Check out her current jewelry to get an idea of what she may like.
What is her personality? Is she more reserved? Something with simple elegance may suit her well. Or does she love being the center of attention? Then she'll probably appreciate a ring with major bling like a halo.
Does she have a color preference? You'll also need to decide on the metal. Silver colored bands (white gold or platinum) are the most popular nowadays. They will always be trendy and classy. However, if you know she has more vintage tastes, she may prefer yellow gold or rose gold. Read about the differences between white gold and yellow gold.
What is her lifestyle and career? This actually has a huge impact. If she is very active, a high-set ring that's always getting caught on stuff will become super annoying. If she works with children, a ring with sharp corners won't be ideal. If she has a high-power career, it may be more important to wear something flashier. Think about her work and hobbies and what kind of ring will best suit that.
What is her finger and hand type? Does she have tiny slender fingers? Or larger chubby ones? Long or short? Don't forget to consider her hand type! Believe it or not, ring styles make a difference to how flattering it looks on the hand. Read our guide on the most flattering rings for every hand type.
As you can see, there is a lot to consider! Are you overwhelmed yet? Don't worry, in the next sections, we'll go more in detail on how to pick the right diamond and ring for her.
HOW TO CHOOSE A DIAMOND SHAPE
The first thing you want to do is decide on the shape of the diamond. This should reflect her personality. Here are some general ideas:
Round: This will always be the most timeless and classic shape. Perfect for the girl with traditional tastes. If you are really clueless about what she likes, it's hard to go wrong with round.
Princess: Edgy and contemporary, yet still feminine and delicate, this is perfect for the trendy girl.
Cushion: Quickly becoming one of the most popular cuts, the cushion (or pillow) cut is great for the girl just slightly on the edge of convention.
Oval: Oval diamonds are for the girl who appreciates tradition, but also wants to express individuality. They also make a woman's finger look longer and more slender.
Pear: Just like this shape, the wearer of a pear diamond is elegant but also has a lot of character.
Marquise: This is for the girl who loves attention and who's not afraid to stand out. A marquise diamond screams to be seen.
Emerald: The ultimate vintage cut, an emerald diamond is sophisticated and exudes old-world glamour. Perfect for the girl who loves all things art-deco.
Asscher: The asscher diamond can be seen as a 21st-century update to the emerald. It's square-shaped and more sparkly. Ideal for the girl with vintage tastes, but also with modern flair.
Radiant: Somewhat a cross between the round brilliant, princess, and asscher cuts, the radiant diamond is for a girl just as unique as this cut is. It's also a good choice for active girls who prefer a square shaped diamond.
Heart: Who else but for the hardcore romantics? A heart shaped diamond is super sweet, just like her.
To learn about each shape, read our full guide on diamond shapes, including special tips to watch out for with each.
HOW TO CHOOSE A DIAMOND
After you've decided on a shape, it's time to select an actual diamond.
You need to diligently do your homework and study up on the 4Cs. Diamonds can run from a few hundred dollars all the way up to millions of bucks. These 4Cs are the major factors that influence the price. What you want is to find a balance to get best value.
This is a very fast crash course on the 4Cs. For a more detailed guide, we strongly suggest you take some time to read our guide on what affects diamond prices. We show you real examples of how the factors affect cost and how much you can save.
Blue Nile: Search for Diamonds

Shop for diamonds at Blue Nile, a CreditDonkey recommended partner for the largest selection of diamonds.
James Allen: Search for Diamonds

Shop for diamonds at James Allen, a CreditDonkey #1 recommended partner for the best online experience.
Tip
: Our suggestion is to always go with a GIA or AGS certified diamond. These are the world's two most trusted laboratories. Even if you see the diamond in person, we would never recommend buying a diamond that's not certified by GIA or AGS.
If you're having trouble choosing a diamond, many online retailers offer customer support from their in-house diamond experts. James Allen even offers a real time diamond consultation where you can get advice as you're considering your options.

HOW TO CHOOSE THE SETTING
Once you've settled on a certified diamond, the next step is to pick out the right setting. It's important that the setting reflects her personal style.
Tip
: If you already have a loose diamond and just need a setting, you can just purchase a setting from
James Allen
. For certain settings, you'll need to mail in your diamond so they can properly mount it (for a $100 setting fee). If you already have a setting,
Whiteflash
can set one of their loose diamonds into your own setting for a $100 mounting fee.
Here are the factors to consider when making your choice:
The size and shape of the diamond

The color of the diamond

The metal your significant other prefers

Her lifestyle and personal tastes

How it coordinates with the wedding band
Diamonds can chip and break. Consider your future wife's lifestyle when choosing a setting. Over time, the diamond may also become duller due to exposure to dirt, sweat, makeup and other environment factors. Regular cleaning is a good idea, but be careful not to use any harsh chemicals. Cleaning your diamond over the drain is just an accident waiting to happen.

Here's a rundown of the types of settings that are most popular:
Prong: The classic prong setting is the best for showcasing the diamond. Both 4-prong or 6-prongs are popular. The downside is that this setting leaves the stone more exposed to potential chips.
Bezel: In this setting, a metal rim surrounds the diamond for a contemporary look. This is a good choice for active girls, nurses, and those who work in childcare as it protects the stone. However, the wrong color metal can accentuate any existing tint in the stone.
Tension: The diamond is suspended between the two band ends for a unique, modern look. But this setting has to be custom-sized, which makes a surprise proposal out of the question.
Pavé: This setting makes the center stone pop by featuring small diamonds on each side of the band. Keep in mind there's more potential to lose one this way.
Channel: This setting has a band of small diamonds set into a "channel". The small diamonds are more secure than on a pavé band, but this kind of band can be difficult to resize.
Halo: A halo setting has a ring of small diamonds around the center stone. This popular setting makes the center stone appear larger. It's a relatively inexpensive way to get a ring with massive bling. It's also great for the girl with slightly vintage tastes.
Three stone: This setting has two slightly smaller stones on either side of the center diamond (all same shape - the most popular are round or princess). The three stones represent the past, present, and future of the relationship. It's best for girls who like meaning and sentimentality.
Cluster: A cluster setting groups several smaller diamonds together to give the appearance of one large stone. You'll save money on the diamonds because multiple smaller stones cost less than one large one. This is also great for vintage style rings.
Did you know
? Men often get hung up about the diamond size and characteristics, but most brides (a whopping 88%) care more about the overall design of the ring. This includes the
shape of the diamond
and setting. Both of those should reflect her personal style.

Tip
: Does your girlfriend prefer white gold, yellow gold, or platinum? Many people prefer gold as it's usually easier to resize than platinum. If you go with gold, 14k may offer a better value than 18k. For most non-experts, it's difficult to tell the difference with the naked eye. 14k gold is also more practical for active lifestyles as 18k may show marks after rough use. Learn more about the
pros and cons of each
.
Are There Cheaper Alternatives to Diamonds?
If you want the look of a diamond (i.e. not a colored gemstone) but not the heavy price tag, there are a few options:
Moissanite: This rare natural mineral is literally a space rock. It was first discovered in a meteor crater a century ago. Of course, natural moissanite is incredibly rare, so what's available today is laboratory-created. Moissanite has similar properties to a diamond in terms of brilliance and hardness. That's how it has become a fairly popular, budget-friendly "diamond alternative".
Of course, there are some key differences:
Type of sparkle: A diamond displays brilliance (colorless sparkles caused by reflecting light), fire (rainbow sparkles), and scintillation (flashes of light on the surface). All three together contributes to the diamond's sparkle. Moissanite displays incredible fire, more than any other gemstone. This means that moissanite creates more rainbow sparkles than colorless sparkles. You can especially notice this in sunlight. Some people love this, while others think it's a bit too much and looks "fake".
Price: Moissanite is just a fraction of the price of a diamond. A 1-carat moissanite gem starts at just $500. In comparison, a 1-carat nearly colorless, well-cut diamond with slight inclusions start at over $5,000.
Moissanite is a gorgeous gem in its own right. It is not meant to be thought of as a fake diamond. Enjoy moissanite for the beautiful properties it has. The cheaper price point is just a bonus!
Did you know? When moissanite was discovered in 1893, it was the most brilliant gem ever to have been unearthed. Its brilliance and fire far surpassed that of a diamond's, causing amazed scientists to name it a gem "born from the stars".

Cubic zirconia: Unlike moissanite, this man-made material is basically a fake diamond. It's a way cheaper alternative that performs almost exactly like a diamond. It's very difficult for the average person to tell the difference. You'd have to perform some tests or use a loupe (a jeweler's magnifying glass).
The selling point of cubic zirconia is that they are virtually colorless (the perfect D) and flawless (the perfect F). Their brilliance rivals that of diamonds. In fact, CZs can be even more brilliant and fiery. Most people will not be able to tell the difference easily, but CZs do shine in more of a colorful rainbow brilliance. You have to decide if you're okay with that.
Of course, the cheaper price is attractive too. A 1-carat flawless cubic zirconia can be as low as $20. If you do decide to go for a CZ ring, we recommend getting it in a nice setting that you'd put a diamond in.
One thing to be careful of is that CZ is not as hard as diamonds. It's graded as 8.5 on the Moh's Hardness Scale, as opposed to the diamond's 10. This makes it more prone to chipping and scratching.
White sapphire: This is also quite a popular option as a cheaper diamond alternative. But to us, it's the weakest. White sapphires are colorless sapphires untouched by trace elements from the earth. But they are not completely colorless and often have a slight cloudiness.
Again, the major difference is in the brilliance. You can get a 1-carat white sapphire stone for under $1,000. But they simply don't have the brilliance and light performance of a diamond. White sapphires do not give off any fire or scintillation. So if sparkle is what you're after, you'll be sorely disappointed.
Thinking about going the diamond alternative route? Make sure you have discussed it with your sweetie. Our society puts a lot of pressure on proposing with a diamond. It's supposed to symbolize an investment in your future, after all. Your sweetie may not think a $20 CZ is enough of an investment (even if you send them an article on why diamonds are bad investment). Make sure you are both happy with this decision. Personally, we think it's responsible to be open about affording something within your budget.
What to do After You Get Your Ring
Get it appraised: You want to make sure you get the ring appraised as soon as you get it. An appraisal is a formal piece of paper that states the value of the ring. You want to do this for a few reasons:

To make sure that the jeweler sold you the diamond that you paid for
To get a value for insurance purposes (the insurance is for the value of the ring, not the price you paid)
To have proof in case the ring is stolen and later recovered by the police

Just make sure to go to a trustworthy appraiser (as there are horror stories of shady appraisers swapping out your diamond for a fake). It you truly want to protect yourself, have them first make a plot of your diamond with the dimensions and flaws. Keep this with you. Then when you pick up the diamond later (if the appraisal cannot be done in front of you), match up the diamond to the diagram so you know you got the same one back. AGS has a directory of their certified appraisers.

Get it insured: After you get the big yes, consider getting the ring insured as soon as possible (especially if you spent a significant chunk on the ring). Getting a ring insured provides financial protection if you ever damage or accidentally lose the ring, or if it gets stolen. The insurance should be for the appraised value of the ring.

Usually, the price to insure a ring is about 1-2% of its value (insuring a $3,000 ring will cost $30-$60 annually). Some insurance policies will give you cash for the ring, while others will cover for a replacement. And there may be some terms on where you can get a new ring. And some policies will factor in depreciation when paying out.

Here are a couple of options for insuring a ring:

The easiest way is to just add it to your homeowner's/renter's insurance if you already have one. However, this insurance may only cover it in case of theft or a natural disaster.
You can also get jewelry insurance with some insurance companies. Shop around and see which one offers the coverage you like best. Some won't cover accidental loss. And some will only insure for a fraction of the value.
BOTTOM LINE
A diamond engagement ring is meant to be a once-in-a-lifetime purchase. It's a deep, meaningful symbol to the woman you love. It deserves careful thought.
Buying an engagement ring and wedding band online is not as intimidating as it sounds if you do your homework. Take the time to research the company carefully. Make sure it's a reputable company that sells GIA or AGS certified diamonds. Also, review their return policy before you hit "confirm purchase". You don't want to spend thousands of dollars on a ring only to find that you can't take it back if you need to (for whatever reason).
Do your research and have fun selecting the perfect ring. We wish you the best of luck!
Search James Allen for the Best Online Experience
James Allen: Search for Diamonds

Shop for diamonds at James Allen, a CreditDonkey #1 recommended partner for the best online experience.
Search Blue Nile for the Biggest Selection
Blue Nile: Search for Diamonds

Shop for diamonds at Blue Nile, a CreditDonkey recommended partner for the largest selection of diamonds.
Search Whiteflash for the Most Brilliant Diamonds
Rebecca Lake is a journalist at CreditDonkey, a diamond jeweler comparison and financial education website. Write to Rebecca Lake at rebecca@creditdonkey.com. Our data-driven analysis has been recognized by major news outlets across the country and has helped young adults make savvy financial and lifestyle decisions. (read more)
Disclaimer: Opinions expressed here are those of the author's alone. Please support CreditDonkey on our mission to help you make savvy financial decisions. Our free online service is made possible through financial relationships with some of the products and services mentioned on this site. We may receive compensation if you shop through links in our content.
More from CreditDonkey:
---