Diamond Cut Explained, So You Don't Overpay
This article contains references to products from our partners. We may receive compensation if you apply or shop through links in our content. You help support CreditDonkey by reading our website and using our links.
(read more)
---
Why do diamonds sparkle? Diamond cut is the single most important factor to consider if you want a sparkly brilliant diamond. Read on.
"I want a dull looking diamond"... said nobody ever.
Of course everyone wants the sparkliest diamond possible. But sadly, this is also where a lot of people make a costly mistake.
Many people think that a more colorless diamond or a more flawless diamond will sparkle more. But in fact, it all comes down to the cut of the diamond.
Cut is the most important factor, and you should never skimp on it.
In this article, we're going to explain exactly what cut is, why it's so important, and what you should be looking for.
In this guide:
What Is Cut and Why It's So Important
The term "cut" is often used to talk about the shape of a diamond (such as "round brilliant cut" or "princess cut"). But cut actually refers to proportion, symmetry, and polish.
If you are looking for an article about the different diamond shapes, see
here
for a detailed rundown. We go through all the most popular shapes, including the pros and cons of each.
A rough diamond has no shine. Instead, a diamond sparkles so much because of how it's cut and how light bounces off each angle and facet. In a well-cut diamond, the light will enter from the top, bounce around, and exit again through the top. This returns almost all light into the viewer's eyes.
On the other hand, a poorly cut diamond will leak light and therefore seem dull.

Diamond Cut Scale © CreditDonkey
A perfectly-cut diamond will have the most ideal proportions (explained later) and excellent symmetry and polish. Each facet is precisely cut so that the light can reflect back to the viewer in just the right way. This means that the diamond will give off the most brilliance, fire, and scintillation.
The above shows some examples of diamonds of different cut grades (Good / Very Good / Ideal / TrueHearts) on James Allen. You can easily see that the better the cut, the more beautiful the diamond.
Even the most colorless and flawless diamond will be wasted if the cut is poor.
For example, take a look at the pictures below. Which diamond looks better to you?
The diamond on the left is completely colorless (D) and virtually flawless (VVSI). And yet because of the poor cut, it doesn't look good. The diamond on the right is near colorless (G) and very slightly included (VS2). But because of the excellent cut, it's a beautiful diamond that will sparkle.
For almost $4,000 less, it's clear which is the better choice.
And another huge plus: a well-cut diamond is literally so sparkly that it hides inclusions and masks slight color. This means you can save money in color and clarity. This article offers a detailed guide to buying a diamond for the best value.
Tip: Only round and princess shaped diamonds are given a cut grade by the GIA and AGS. And if you ask us, even though they call it "good cut," it is not good enough for your engagement ring. Aim for a cut of Excellent from GIA and AGS.

An Ideal Cut Makes the Diamond Appear Larger
Or rather... an ideal cut makes the diamond the right size for its carat weight.
Because you see, diamond cutters have a lot of pressure to cut stones as large as possible from a rough. Especially to hit a desirable carat weight (such as 1 carat) in order to fetch the highest price. Sadly, this means that a lot of diamonds are cut for maximum weight instead of for maximum brilliance.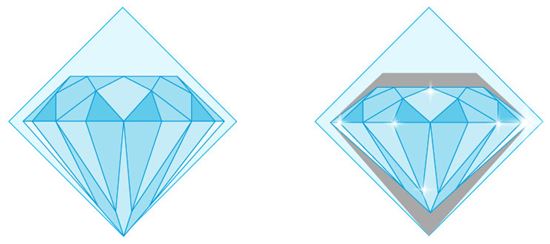 © CreditDonkey
The diagram above shows how a rough stone can be cut in two ways. It can either yield a deep diamond with a heavier carat weight, or a smaller ideal-cut diamond. Can you see how much of the weight is wasted on the deep cut? And yet, both diamonds are the exact same size face-up.
Let's look at this example:
The diamond on the left is 1.00 carat and has a "good" cut. The surface area is 6.23x6.26mm.

The diamond on the right weighs in at 0.92 carats and has an "excellent" cut. The surface area is 6.23x6.2mm.
In other words, the two diamonds have the same surface area. Face-up, they are both look the same size. But because of the poorer cut of the first one, about 10% of the carat weight is wasted on the deep cut. It hits the coveted 1-carat mark, but it's not going to sparkle as much.
For about $500 cheaper, the smaller diamond on the right is a much better buy.
This is why you should not place so much importance on carat weight. What's the use of having weight where you can't even see it? And no one wants a lackluster diamond.
Ideal Proportions for Maximum Bling
You can either trust the GIA or AGS grading reports. Or you can do a bit of homework yourself by looking at the proportions.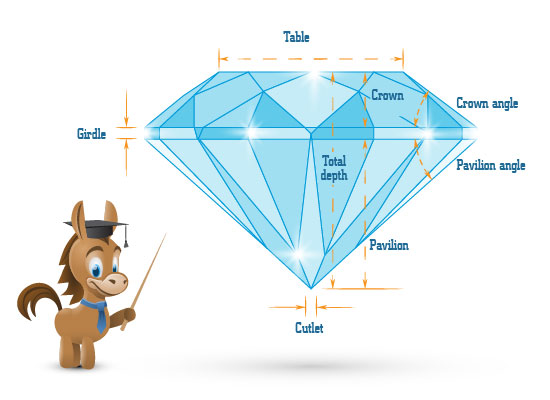 © CreditDonkey
For reference only - here are proportions you should look for in a well-cut diamond.
| | |
| --- | --- |
| Table Percentage | 53% - 58% |
| Depth Percentage | 59% - 62% |
| Crown Angle | 34o - 35.5o |
| Pavilion Angle | 40.6o - 41 degrees |
| Girdle Thickness | Thin - Slightly Thick |
| Cutlet | None |
| Symmetry | Very Good - Excellent |
| Polish | Very Good - Excellent |
All these measurements and angles work together to reflect light back into the viewer's eyes. It's just physics.
Now, let's explain the terms:
Table refers to the flat surface on top of the diamond. This is the diamond's largest facet. The table percentage is the width of this compared to the entire width.

Depth refers to the diamond from top to bottom when viewed from the side. The depth percentage is when you divide the depth by the entire width. Too deep or too shallow cuts will leak light through the sides.

Crown is the top part of the diamond (the part you see).

Pavilion is the bottom part of the diamond (the part you don't see).

Cutlet is very bottom tip of the diamond. Sometimes, this is cut into a very small facet. If it's too large, then light can pass through it. Or it can be seen from the top and look like an inclusion.

Girdle is the edge that divides the crown and the pavilion. You don't want it to be too thin because it'll be easy to chip. You also don't want it to be too thick because then weight is added where you can't see it.

Symmetry is basically what it sounds like. Everything should be nice and centered and all facets should be the same and in line. This affects light performance, because if a facet is slightly out of place, it can completely misdirect the light. You'll want a grade of "very good" or "excellent".

Polish refers to the smoothness and shine of the finished surface. You also want a grade of "very good" or "excellent" for this.
Using Idealscope to Understand Light Performance
Yes, you can use dimension charts to gauge how well cut a diamond is. But the best way is to study Idealscope and/or ASET images.
Both Idealscope and ASET measure light performance by showing you areas of light leakage and light return. We'll give you a brief lesson on how to evaluate these images.
Here are Idealscope and ASET images of a diamond that shows a bit of light leakage (images from Whiteflash diamonds):
And compared to a super ideal diamond with perfect light performance:
Tip: Keep in mind that Whiteflash has super strict cut requirements. Even their lowest quality line is still better than a lot of jewelers. We're not saying the first diamond is poor quality at all. This is just an example to show what light leakage looks like.

In a nutshell, here's what you're looking at:
For the Idealscope images (on left), the amount of light return is shown in red. You can see that the center of the first diamond has a lot of white, which means light leakage. The super ideal cut diamond, on the other hand, is all red. This means that all light is returned to the viewer (i.e., super sparkly).
The ASET image (on right) pretty much shows the same thing. It provides more information than the Idealscope. But for the normal person, you only need to know that you want as much red and green as possible. In the case of the first diamond, light leakage is represented by the dark areas.
These images truly reveal everything. So don't trust a jeweler's word unless you can see proof.
Tip: Unfortunately, most diamond retailers do not provide this light performance data. If you're buying online, always request Idealscope and/or ASET images. And if you're shopping in person, make sure the jeweler will let you examine the diamond with an Idealscope.

Price Differences Between Cut Grades
Price-wise, here's an example of what the differences between cut grades look like. All diamonds are 1 carat, have color of H and clarity of VS2.
It is quite a jump to the "excellent" cut (and even more to super ideal - what James Allen calls "TrueHearts"). But in our opinion, this extra money is well worth it, as the difference in quality is very visible. If you're working on a tight budget, go down grades in the other areas before you go down in cut.
Where to Find Ideal Cut Diamonds
A high-quality cut is the hardest of the 4C's to find. Only about 3% of the world's diamonds are ideal cut, simply because most diamonds are not cut for beauty and maximum brilliance.
If you're buying from a jeweler, be very careful if they claim the diamond is ideal-cut. Only trust it if the diamond is graded as Ideal by AGS or Excellent by GIA. And if the jeweler refuses to show you Idealscope or ASET images, then stay far away!
If you're shopping online, we've got our most trusted suggestions for where to shop for ideal cut diamonds.
Whiteflash A CUT ABOVE®: Whiteflash is our favorite diamond retailer for high-quality cut. They have one of the largest inventory of ideal cut diamonds in the world. They are especially known for their signature A CUT ABOVE® super-ideal cut diamonds. These are their hearts & arrows (H&A) diamonds that have received perfect ratings in light performance, symmetry, and polish.

Whiteflash also offers a great Expert Selection. This contains diamonds that just didn't quite make it into the A CUT ABOVE® line. This is where you can find a high-quality diamond for a more budget-friendly price.

Each of Whiteflash's in-house diamonds comes with light performance and H&A imagery upfront. So you can be confident in your purchase.

James Allen True Hearts: This is James Allen's line of hearts & arrows diamonds. The selection is somewhat limited, but their user-friendly website is unmatched when it comes to diamond shopping online. Their True Hearts diamonds all come with Idealscope and H&A imagining.

Or if you've got your eye on another diamond, you can request up to 3 Idealscope images for free. This way, you can compare and see which has the best light performance.
Bottom Line
The cut of the diamond is the single factor that makes the largest impact on appearance. Even the most colorless and flawless diamond will look dull if the cut is poor.
So we highly suggest that you prioritize cut above all else - even above carat weight. Don't try to skimp here. Instead, save your money in the color and clarity areas, as an excellent cut will mask color and hide flaws. And everyone wants their diamond to sparkle.
Disclaimer: Opinions expressed here are those of the author's alone. Please support CreditDonkey on our mission to help you make savvy financial decisions. Our free online service is made possible through financial relationships with some of the products and services mentioned on this site. We may receive compensation if you shop through links in our content.
More from CreditDonkey: