James Allen vs Blue Nile: Which Is Better?
This article contains references to products from our partners. We may receive compensation if you apply or shop through links in our content. You help support CreditDonkey by reading our website and using our links.
(read more)
---
You want to buy an engagement ring online, but which online diamond store can really go the distance: Blue Nile or James Allen? Read on for a comparison of these 2 top online diamonds retailers.
It used to be that the only place to buy high-quality jewelry was in a jewelry store — a place in the mall you breezed past on your way to the food court. In recent years, however, purchasing diamonds, engagement rings and other precious jewels has become more mainstream in the online shopping world.
In one corner, we have Blue Nile, an aggressive but tight fighter with a winning record when it comes to engagement rings. In the opposite corner, the heavyweight opponent James Allen is ready to come out swinging, with its second-to-none HD diamond images.
CreditDonkey wanted to give you a ringside seat into the world of these two online diamond juggernauts, so that when you ask your significant other to marry you (or to keep your current relationship a happy one), you know which jeweler might score a knockout.
DIAMONDS — AND THE FIRST ROUND GOES TO: JAMES ALLEN
After the match begins, who shines brightest? James Allen really packs the power punch here, but Blue Nile is nowhere near throwing in the towel.
Diamonds are categorized by what's known as the "4 Cs" — cut, color, clarity, and carat. Both retailers offer diamonds that are GIA (Gemological Institute of America) and AGS (American Gem Society) certified, so you're getting high quality from the start. When selecting a diamond, be careful to take notice of which lab the certificate came from.
The big difference in this online shopping experience, however, is in the HD photos that James Allen provides for every diamond it sells. When you can't get actual hands-on time with the rock, James Allen provides the next best thing — crystal-clear images, featuring 360-degree interactive views that allow you to see the actual diamond you're purchasing.
You also have the ability to zoom in on the stone, to get the best possible picture before you make the purchase. While this "virtual viewing" can't replace actually going into a store and seeing the diamond, it's fun to try even if you're just dreaming about the rock your soul mate is going to put on your finger some day. Check it out and see for yourself.
With Blue Nile, which uses third-party suppliers, you won't get to see your coveted diamond up close and personal. But you will be provided with a detailed list of characteristics, including cut, color, carat and clarity clearly spelled out, along with other specific details, so you'll know, at least in a certification sense, exactly what you're getting. If you're not a visual person and don't mind a more intellectualized buying experience, Blue Nile might suit you just fine. However, one can argue that, unless you're a gemologist or just someone who has a lot of time on your hands and appreciates every angle, nook, and cranny of a diamond, you'll probably be just fine purchasing the rock based on its certified characteristics, as thousands of happy Blue Nile customers have before you.
Another sense of assurance customers get is the pledge by both companies that they offer conflict-free diamonds — meaning, they will not sell diamonds that come from an area of the world known for human rights violations, environmental destruction or rebel-backed war zones, among other crimes.
ENGAGEMENT RINGS — ROUND 2: IT'S A TIE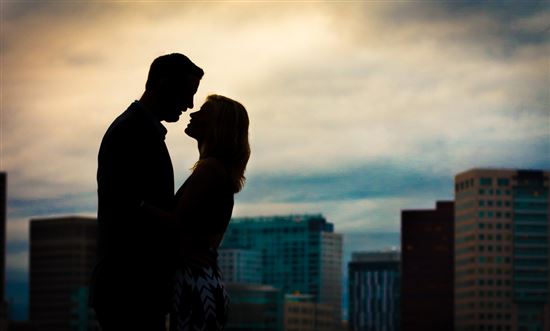 Ben & Caitlin © Jason Corey (CC BY 2.0) via Flickr
Both James Allen and Blue Nile excel in this arena, as engagement rings are their bread and butter. Both sites allow you to design your own ring, so you're not restrained by limited choices. While it's not rocket science, both sites offer a step-by-step guide on how to choose your setting and the stone you're adding to it. Even though Blue Nile doesn't have photos of each individual diamond, it does have a photo of your setting and what the ring will look like after you've built it, in a 360-degree view. However, using the website and building your own ring can be a little tricky — sometimes you'll select a diamond and it will tell you it's not available; other times, you think you've selected the diamond and the setting and it still will not let you complete the task.
And if you order a setting or diamond the site considers "special," you might have to call a customer service rep to complete your purchase. So on that front, the website isn't always that accommodating when creating your own ring. However, on the plus side, you can see a facsimile photo of what your newly created ring will look like before you pull the trigger and make the purchase.
James Allen makes designing your own ring slightly more user-friendly than Blue Nile, in a paint-by-numbers sort of way, as it gives you the option to choose the setting first, then the diamond, or vice versa. You'll also be able to see a detailed 360-view of your completed design. However some settings won't have a preview with your chosen shape. And sometimes you won't see the preview if you choose a different metal color. This could be a little disappointing not to be able to view your masterpiece. If you choose one of their preset rings instead, you'll be able to view it from many different angles.
Even if you're just considering a ring, the nice thing about both sites is the ability to build the ring of your dreams without monopolizing a sales rep's time at a jewelry store and feeling guilty for not making a purchase. If you're still unsure of where to place your bet, visit the CreditDonkey article on buying engagement rings for a more detailed analysis of the process.
PRODUCT SELECTION — ROUND 3 GOES TO: BLUE NILE
If you're only going to an online jewelry retailer to purchase an engagement ring or wedding band, you won't care too much about this section, as both retailers offer plenty.
However, Blue Nile offers a much bigger selection of fine jewelry than James Allen, so the spectators are in their corner on this one. In addition to engagement rings, they also have pendants, necklaces, earrings and bracelets, both pre-set and design-your-own. But their most notable addition is pearls — freshwater, Akoya, and Tahitian — something James Allen doesn't offer at all. And if you're on a tight budget, there's fine jewelry under $100, which includes sterling silver necklaces and earrings, as well as a few 14k gold and gemstone earrings in the mix.
James Allen doesn't offer nearly the variety of fine jewelry as Blue Nile, but it does have some pieces that you won't find on the Blue Nile site, such as gemstones (which you can then set into a ring that you design). Blue, pink and yellow sapphires, along with red rubies and green emeralds, are all available for purchase. You won't be able to turn a gemstone into a pendant or earrings, but there are pre-set designs available to choose from if you're so inclined.
Blue Nile does have gemstones but only in preset jewelry, not individual stones, so you're limited to its designs. The website offers a nice little feature of shopping by color, letting you find your jewelry by hue. So, if you're getting married and you already have your engagement ring, you might want to buy something blue.
Read: Blue Nile Review
Can't figure out which diamond to buy? We think you'll agree with us when we say: it's really hard to figure out which diamond to buy.
RETURN POLICY — ROUND 4 GOES TO: TIE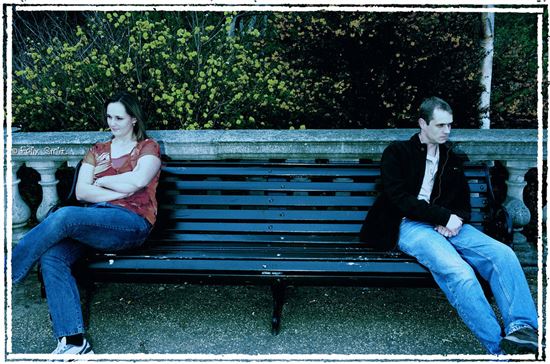 Monica & Quentin © monica & quentin (CC BY 2.0) via Flickr
Let's talk money-back guarantee. While you won't get one from a real prizefight if you don't like the outcome, that's not the case when you buy jewelry at James Allen and Blue Nile. Both offer peace of mind via their return policies, which allow you to return jewelry for a full refund or exchange if you're not happy with your purchase — no questions asked.
Both James Allen and Blue Nile offer a 30 day return period. In fairness, you should be able to determine whether you like that piece of jewelry within a 30-day period.
James Allen offers free shipping on its returns, but special orders are not returnable. (FYI, a design-your-own engagement ring is not considered a special order, so you can stop biting your nails.) Blue Nile also offers free shipping on its returns.
COST — ROUND 5 GOES TO: BLUE NILE
No question, both these online retailers offer great pricing compared to brick-and-mortar jewelry stores. But since each diamond is unique, a stone-to-stone comparison is not absolute. However, cost-wise, we give Blue Nile the slight edge here due to its Diamond Price Guarantee, which is similar to a price match on something like a TV, where you're refunded the difference if you find a lower price for the exact model.
But Blue Nile's Diamond Price Guarantee guidelines are more restrictive as you have to present the company with a diamond having the same 4 Cs as yours (or a close match), and it will send the details to the GIA or AGS to certify the specifications of the diamond. Once Blue Nile determines it's close to an exact match, you will be refunded the difference between what you paid and the cost of the current diamond. Also, if you find a diamond you like and place it in your cart, you will get email updates if the price of the diamond drops.
Blue Nile also makes fine jewelry shopping more available to the masses, as it has many pieces that are under $100 and still come with all the same perks as more costlier items, including free shipping and gift packaging.
James Allen isn't down for the count in this round, however, as it also offers some of the best prices around for engagement rings, diamonds, and other jewelry. Many customers boast of taking their James Allen-designed ring to a local jeweler where it was appraised higher than what they paid for it. Pricewise, James Allen can definitely hold its own with the best of them.
Tip
: Do you find that you still need help money-wise with a ring purchase? In that case,
financing a ring could be a good idea
, as long as you're smart about it. Learn about the different financing options you have and what to watch out for.
CUSTOMER SERVICE — ROUND 6: WE HAVE ANOTHER TIE, FOLKS
Call James Allen or Blue Nile day or night, seven days a week, and they both have certified, on-site diamond experts available to answer any questions you might have (related to their products, of course — so don't ask them why the sky is blue or where the nearest gas station is). You can also chat with certified diamond reps online, which is especially helpful when you're perusing their respective websites and need assistance with the purchase you're considering. There's something very reassuring about speaking with a certified expert, rather than someone who's merely reading off a script.
BOTTOM LINE: IT'S A SPLIT DECISION
If you're in the market for an engagement ring, loose diamond, or other fine jewelry, both James Allen and Blue Nile deliver knockout punches. Their prices are extremely competitive, and their jewelry is often appraised higher than what you paid for it. However, if being able to see the stone you're purchasing is particularly important to you, you'll appreciate James Allen more. You can buy with more confidence when you're able to cherry-pick the exact diamond you want. But even if you make a purchase and fall flat on your face, you can easily get back on your feet by returning the jewelry for a full refund or exchange. For those reasons, both James Allen and Blue Nile are winners.


Cynthia Cohen is a retail analyst at CreditDonkey, a diamond jeweler comparison and reviews website. Write to Cynthia Cohen at cynthia@creditdonkey.com
Disclaimer: Opinions expressed here are author's alone. Please support CreditDonkey on our mission to help you make savvy decisions. Our free online service is made possible through financial relationships with some of the products and services mentioned on this site. We may receive compensation if you shop through links in our content.
More from CreditDonkey: