How to Shop NYC Diamond District and
Not Overpay
This article contains references to products from our partners. We may receive compensation if you apply or shop through links in our content. You help support CreditDonkey by reading our website and using our links.
(read more)
---
Thinking of shopping for a diamond in the New York diamond district? This is a must-read guide before you go so you don't get ripped off.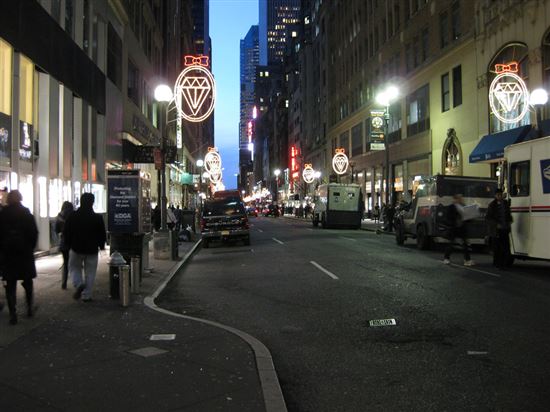 Diamond District NYC © Achim Hepp (CC BY-SA 2.0) via Flickr
New York is a dazzling city home to an iconic skyline. You'll find some of the world's top museums, famous landmarks, and the nation's top diamond district.
The Diamond District can be a very taxing experience. It is, unfortunately, notorious for touts and hustlers. Many shoppers feel completely overwhelmed and "preyed upon."
But it is possible to find your perfect engagement ring too. You just have to be informed so that you don't get ripped off. We hope this guide will help you have a good, memorable experience.
In this guide:
A Diamond District with History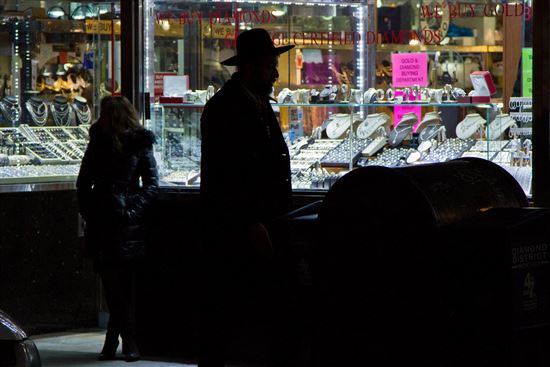 Diamond District at night © Lisa Larson-Walker (CC BY-SA 2.0) via Flickr
The world-famous New York Diamond District is made up of just one city block. Yet it's a major financial powerhouse for the State.
Visit Midtown Manhattan, on the bustling 47th Street between 5th and 6th Avenue. You'll find over 2,600 businesses specializing in diamonds, gemstones, fine jewelry, gold, watches, and estate jewelry. Some are individual stores, while some are in large exchanges where up to 100 jewelers sell under one roof.
This district has an interesting history. Jewelers started setting up there in the 1920's because rent was more affordable. It really bloomed in the 40's when Orthodox Jews in the diamond business in Belgium and the Netherlands fled to New York to escape the Nazi occupation. Most settled in NYC and thus the Diamond District was born.
Today, the New York Diamond District is the gateway to the world's largest consumer diamond market, with about 90% of the diamonds imported into the U.S. passing through it first. Diamonds are the state's largest export and this district alone generates over $24 billion in annual sales. The GIA lab in New York is also located right in the heart of the district.
Getting There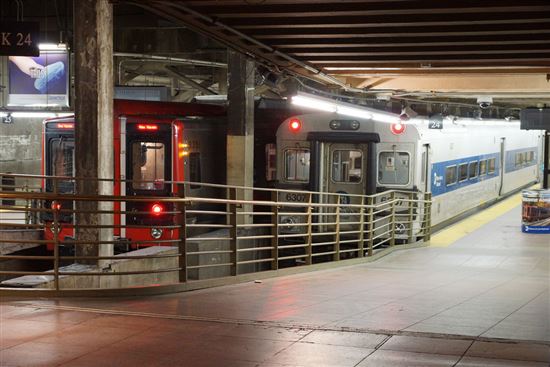 220714-190 CPS © Chris Sampson (CC BY 2.0) via Flickr
What You Should Know Before You Go
The New York Diamond District has a bad rep for sleazy salesmen who'll push you into making bad quality purchases at inflated prices. Unfortunately, this happens. There is no harm in going to take a look at diamonds and try on some styles, but make sure you do your homework before going. We can't stress it enough!
The number 1 rule is to never go unprepared. You don't have to walk into a store a complete expert, but if you sound like a total newbie, you may as well have a huge red target painted on your forehead.
At the very least, spend some time to:
To help you out, we've listed a few stores with good reputations below. But you'll also want to do your own research too in case you're looking for something specific.
Shops to Consider
The good shops are the ones that'll spend the time to understand your budget and style, compare diamonds with you with professional tools, and won't ever pressure you into making a purchase.
So how do you find the honest jewelers in the sea of hustlers and solicitors? To give you a starting point, here are some stores that have established a strong, trusted reputation in the New York Diamond District:
Tips for Shopping at the New York Diamond Center
The New York Diamond District can be described as a high-pressure zone. You'll see a lot of salesmen out on the sidewalk luring you in to show you their "great deals" and "lowest prices" on diamonds.
Hopefully, after reading this, you'll know not to fall for these traps. Here are some final tips to keep in mind in order to have a happy experience:
CONCLUSION
If you're not careful, the New York Diamond District can be a very overwhelming and stressful experience, almost designed to ensnare shoppers into its glittery web. We cannot stress it enough: research, research, and research. Learn about the 4C's and diamond prices, and read reviews of stores you may want to visit.
Just remember, you should feel comfortable every step of the way. Don't ever feel like you're being pressured. If a salesperson is making you tense, just walk out. There are hundreds of other stores you can visit instead. We hope we gave you a good starting point in our shortlist.
And lastly, are the prices at the New York Diamond District really cheaper? In our opinion, not really. Of course they're cheaper than prestigious branded stores, but for the most part, prices are on a par with online stores such as James Allen. So if you like being able to look at diamonds in person, you may find better prices compared to high-end stores, but don't expect outrageous deals either.
Have fun and good luck!
Disclaimer: Opinions expressed here are those of the author's alone. Please support CreditDonkey on our mission to help you make savvy financial decisions. Our free online service is made possible through financial relationships with some of the products and services mentioned on this site. We may receive compensation if you shop through links in our content.
More from CreditDonkey: