Study: Best Place to Buy Engagement Ring Online
This article contains references to products from our partners. We may receive compensation if you apply or shop through links in our content. You help support CreditDonkey by reading our website and using our links.
(read more)
---
Thinking of buying an engagement ring online? We've done the research and found the top 3 diamond stores for selection, quality, and overall experience.
Like you, many people are forgoing traditional jewelers to shop for diamond engagement rings online. You get to browse in peace, have access to a wider selection and more customization options, and often, get lower prices.
Where is the Best Place to Buy an Engagement Ring?
Buying a ring is no doubt one of the most important purchases you'll ever make, so you want to choose the best diamond jeweler. Not only do you want to make sure your soon-to-be fiancée will love it, you want your wallet to love it too.
There's a dizzying number of online diamond stores, so how do you select the best store to buy an engagement ring?
Best Jewelry Stores for Stunning Engagement Rings
Luckily, we have helped you with the research and narrowed it down to three of our favorites: Blue Nile, James Allen, and Whiteflash. Each takes a different approach, so you should be able to choose the one that suits your taste and budget.
Top Engagement Ring Stores Review
Price
Selection
Data
Customer Service
We'll go over what each diamond retailer offers, how they are different, and any downsides you should know.
Before You Begin: Factors to Consider
Shopping for a diamond ring is no easy task. Especially if you're not overly familiar with women's jewelry. For instance, do you know her ring size? You may want to start with reading our comprehensive guide on
how to buy an engagement ring online
first.
Here are key factors to consider while you shop:
Price: Let's face it, unless you literally have an unlimited budget, cost is going to be a major factor. You can usually find a better price for diamonds online, since the retailer doesn't have the kind of overhead that weighs down the local brick-and-mortar jewelers.

Remember, there is no correct answer for how much you should spend on an engagement ring. Our best advice is that the ring should cost what you can comfortably afford without going into debt, while at the same time showing her that you are serious about your future together.

Level of data: This is one of the biggest downsides when shopping for diamonds online. Through a screen, you can't see the diamond with your own eyes, and you can only rely on the specifications of the 4C's (clarity, color, cut, carat weight) and a photo. Many websites don't even provide an actual photo. Can you make such a big purchase based just on specs?

However, some websites are acknowledging this issue. Whether they provide life-like HD videos or imagery that the pros use, the best websites provides data to help you be confident in your jewelry purchase. If being able to "see" the actual diamond you're purchasing is especially important to you, you'll want to buy from a site that offers those features.

Selection: A bigger selection of diamonds gives you a bigger chance of finding one you want that's also within your budget. It also means you'll have more flexibility in custom-designing the perfect ring. Some websites offer more diamond shapes and setting options than others, so you can design a ring exactly how you want.

Tip

: Avoid getting ripped off buying diamonds online. Always go for a GIA certified or AGS

certified diamond

.

Customer service: This is an important factor, especially if you know very little about diamonds and need the help of a professional. Can you call, live chat, or email when you have questions? Additionally, buying an diamond engagement ring does come with risk (no matter if it's online or at a local jeweler), so you want to make sure you can easily return it if anything goes wrong.
My thoughts: decide which factors are most important to you - be it price, data, customer service, or some other priority. Each website we're featuring below has strong points and weak areas.
Related: Buy Diamond Ring Online
Now, you're ready to shop! With these thoughts in mind, let's go over the top engagement ring stores:
Best Diamond Store Online Experience: James Allen
James Allen, hands down, wins our title of best shopping experience. The entire website is extremely user-friendly, even if you're intimidated by the process of shopping for a ring.
What makes James Allen great:
James Allen provides an unmatched online shopping experience with its "Diamond Display Technology." This feature allows you to view a life-like, 360-degree, high-definition video for every single diamond in their collection. And if you create an account (for free with email registration), you can access a "super zoom" feature to examine the diamond with the tools of a professional jeweler.
This takes out the fear of buying blind as you can see the actual stone. You can feel confident in your purchase.
Another part of James Allen's excellent shopping experience is its ability for endless customizations. Do you want a specific engagement ring style? James Allen offers 10 diamond shapes and a huge selection of ring setting options (over 500!) in all materials. And you also get to view each setting in stunning 360-degree detail, so you can know what the entire ring will look like from every angle.
The website is virtually foolproof and easy to navigate. You can start with either selecting a loose diamond or a setting. Let's say you decided to choose a setting first. The website will then lead you to the next step by showing you diamonds that match it. So don't worry, you're not going to make a design faux pas. In addition, you might find it helpful to shop for the matching wedding ring.
But if you do feel stuck, you can get a Real-Time Diamond Consultation with an expert any time of day. A diamond pro can advise you in real-time as you consider your options. All in all, James Allen offers an excellent shopping experience.
The downsides:
There are very few downsides that we can think of for James Allen. Their inventory is actually sourced from local diamond suppliers, so it's not as large as Blue Nile's worldwide inventory, but it's not lacking either. In my opinion, whatever diamond shape you're after, there are still plenty to choose from at all qualities and price points, including fancy colored diamonds.
The biggest downside we'll say is that if you are looking for a high quality super ideal cut diamond, the selection isn't as good. In that case, you may be interested in Whiteflash, the next retailer on our shortlist.
Bottom Line:
You can shop with confidence with James Allen's 360-degree, HD videos of every diamond. It offers a smaller diamond inventory, but makes up for that with a greater selection of settings in a wide range of metal materials.

James Allen: Search for Diamonds

Shop for diamonds at James Allen, a CreditDonkey #1 recommended partner for the best online experience.
Other information:
Return policy: Free 30-day full-refund return policy

Resizing: 1 free resizing within the first 60 days. Exclusions apply, some rings cannot be resized such as eternity bands

Warranty: Lifetime warranty that covers cleaning, polishing, and maintenance

Diamond buyback: No longer offered as of 1/5/2016

Diamond upgrade: Return the diamond for 100% credit towards a bigger one, provided that it's twice the price of the original
Best Quality: Whiteflash
Want the perfect engagement ring? If brilliance is your top concern, then Whiteflash is a good place to check out. Whiteflash is known for its world-class A CUT ABOVE® super ideal cut diamonds.
What makes Whiteflash great:
Bigger is not always better. Too many jewelers sacrifice a diamond's potential by opting for a bigger diamond with a poorer cut.
But diamond experts know that cut is the most important C of the 4C's. A well-cut diamond can appear bigger, shinier, and hide imperfections. Whiteflash is one of the few stores that really puts the emphasis on cut.
Their A CUT ABOVE® diamonds have been cut and polished to the perfect ideal angles and proportions for maximum brilliance. Every single one of these diamonds have been certified by AGS Laboratory as Triple Ideal (highest rating possible in light performance, polish, and symmetry) and go through a series of further evaluations by Whiteflash's own experts. Only diamonds that pass every requirement are branded as A CUT ABOVE®.
Whiteflash is completely transparent about the quality of their diamonds by providing an exceptional amount of data for every in-house diamond. This goes beyond just providing you the carat, cut, color, and clarity. Along with actual photos and video, you also get light performance images (which show the amount of light leakage) and hearts and arrows patterning (which shows symmetry). This is very rare for any diamond seller.
Because the images speak for themselves, you can be confident in what you're getting.
Tip: If the A CUT ABOVE® diamonds are out of your price range, Whiteflash also offers an Expert Selection and Premium Selection. These are diamonds that didn't quite make it into the A CUT ABOVE® line. Because Whiteflash's requirements are extremely strict, even small reasons could put a diamond into these categories. This is where you can find a high-quality diamond at a great value.

Downsides:
Whiteflash's in-house diamond inventory is limited to only round or princess cuts (their specialties). For every single in-house diamond, you will receive actual photos, videos, and professional imagery.
If you need another shape, Whiteflash does have a wider selection of virtual inventory sourced from partner vendors. But you don't get an actual photo or imagery for their virtual inventory of diamonds in advance. If you do select one of these diamonds, it will still go through Whiteflash's expert evaluation and imaging before being sent to you.
Also, because of the skill and precision required to actually make super ideal cut diamonds, keep in mind that they are more expensive. You may be tempted to go over budget once you get started looking at those perfect rocks.
Bottom Line:
Whiteflash's super ideal cut diamonds will appeal to the Tiffany-type shoppers, as their standards are exceptionally high. Whiteflash offers the very best in cut and the imagery to prove it.

Whiteflash: Search for Diamonds

Shop for diamonds at Whiteflash, a CreditDonkey recommended partner for super ideal cut diamonds.
Other information:
Return policy: 30 days for in-house diamonds; 10 days for virtual inventory

Resizing: 1 free resizing within the first year. Exclusions apply, some rings cannot be resized such as eternity bands

Warranty: One-year service plan that covers refinishing and repairs for the metals and accent diamonds

Diamond buyback: Get 70% of the purchase price back within one year

Lifetime trade-up: Swap the existing eligible stone for a new one that's worth the same price or more
Best Selection of Engagement Rings: Blue Nile
When talking about diamond engagement rings online, you've undoubtedly heard of Blue Nile. Blue Nile is a huge, mega-online diamond jewelry giant. It offers the biggest selection of diamonds at some of the lowest prices.
What makes Blue Nile great:
Blue Nile gets its absolutely humongous inventory by signing exclusive contracts with diamond wholesalers all around the world. They have dominated the market. Not only are their diamonds sourced worldwide, no other retailers are allowed to sell them.
This also ensures that you get the lowest prices. In fact, Blue Nile offers a lowest price guarantee. If you see a lower-priced diamond with the same specs elsewhere, Blue Nile will match the price.
Tip: Blue Nile's Diamond Price Guarantee is only available before your purchase.

Blue Nile's huge inventory means that a search for a diamond with your specs will easily pull up hundreds of options, so you are practically guaranteed to find something within your budget.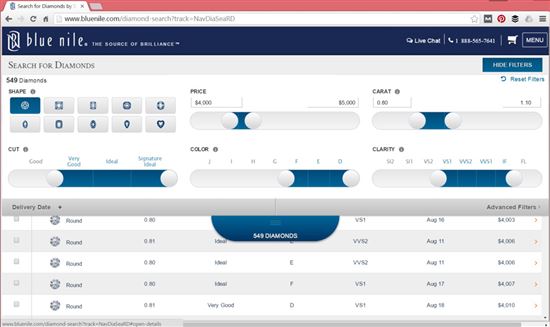 Screenshot of Blue Nile Website
The website is easy to use, with slider bars for adjusting your criteria. This simple search pulled up 549 diamonds.
Blue Nile offers 10 diamond shapes and has a decent selection of settings. It also offers a wide range of gemstones and fancy colored diamonds, so you can really go crazy and design something unique. And if you're more discerning, Blue Nile has a large Signature Collection (their super ideal cut diamonds) and selection of designer rings.
If you have a very specific style and budget in mind, you are bound to find something to your liking in Blue Nile's vast selection.
The downsides:
Blue Nile's large selection is no doubt its strongest point, but the fact that the diamonds aren't in-house works against it. You get very little data for each diamond, generally limited to just the 4C's and the GIA Grading Report. There's not even an actual photo, so you are basically buying blind. Would you buy a diamond without seeing it?
For high-grade diamonds, in my opinion, this usually isn't an issue. Most likely, you won't be able to see tiny imperfections anyway. But for clarity grades below VS1, the actual look varies wildly across individual diamonds, so ordering sight unseen can be quite a gamble. This may cause you to spend more money on a diamond rated higher in clarity and color to compensate for the lack of a photo.
Another option is to buy from Blue Nile's Signature Collection, which does offer an actual photo and 360 view for some diamonds. Even there, the data provided is rather bare compared to the other two sites on our list.
Bottom Line:
Blue Nile offers an unbeatable selection with attractive prices. But are you comfortable making this large purchase without seeing what the stone looks like?

Blue Nile: Search for Diamonds

Shop for diamonds at Blue Nile, a CreditDonkey recommended partner for the largest selection of diamonds.
Other information:
Return policy: 30-day full refund return policy; return shipping not covered

Resizing: 1 free resizing within the first year. Exclusions apply, some rings cannot be resized such as eternity bands

Warranty: Lifetime warranty and complimentary cleaning and inspection

Diamond buyback: Diamond buy back program through Mondiamo for current market value.

Diamond upgrade: Return the diamond for 100% credit towards a bigger one, provided that it's twice the price of the original
Frequently Asked Questions

© CreditDonkey
I'm worried about buying online without seeing the diamond, any tips?
We understand. James Allen lets you view each diamond in 360 degrees in an HD video, so you can see if the diamond is eye-clean to you. You can request Idealscope images from James Allen. They would provide Idealscope images (to help you examine light performance) for free for up to 3 diamonds. For even more data, Whiteflash provides light performance imagery, so you can see how the diamond performs.
I want to custom design the perfect engagement ring. I have a sketch in mind. Who can help me with that?
All three retailers will work with you to custom design the perfect ring from your sketch or simply an idea. Of course, you will have to purchase the diamond from the store.
I don't want a diamond. Where can I shop for gemstone engagement rings?
If you're looking for a gemstone instead, James Allen offers a huge selection. Like their diamonds, you can browse for gemstones and view each one in HD 360 degrees.
Where can I buy colored diamonds online?
Both Blue Nile and James Allen have a large selection of rare colored diamonds. But keep in mind that you only get a sample photo at Blue Nile, while James Allen lets you view each diamond in HD video.
I'm looking for a designer ring.


Whiteflash offers a large selection of brand name designer rings, with designs by Tacori, Verragio, Simon G., Vatché, Ritani, and Danhov.

James Allen offers brand name designer rings by Danhov, Jeff Cooper, Martin Flyer, and Verragio.

Blue Nile offers rings by Monique Lhuillier, Colin Cowie, Truly Zac Posen, and Blue Nile's own designer studio.

Why are ideal cut diamonds worth it and where can I get one I can trust?
Ideal cut diamonds have been cut and polished to the most ideal proportions to give off the most brilliance and fire. This is extremely hard to achieve. For true ideal cut diamonds, it's hard to beat Whiteflash's A CUT ABOVE® diamonds. And the most important thing is that Whiteflash provides you the imagery to prove the quality of their diamonds.
I have a diamond already. Where can I go to just find a ring setting?
Both James Allen and Whiteflash can set your diamond in one of their settings. Whiteflash requires that the diamond is either GIA certified or AGS certified. Some special cases may require a mounting fee, so check with a rep.
I have a setting already. Where can I go to mount a diamond?
Whiteflash can set one of their diamonds into your own ring setting for a $100 mounting fee.
Where can I buy loose diamonds?
Most online diamond jewelers will sell you loose diamonds. For instance, you might want to buy a loose diamond online and have it placed in a custom setting by your local jeweler. Plus, this way you can let your future fiancee pick the setting she wants while still giving her the surprise of a diamond.
I need a setting in rose gold band. Which site has those?
James Allen and Whiteflash both have a large selection of rose gold settings. Though if you're more on a budget, James Allen is your better bet.
Which jeweler offer engraving?
All three retailers offer engraving. James Allen offers it for free, while there is an engraving fee with Blue Nile and Whiteflash. Before you engrave that ring, please note that Blue Nile engraved rings can only be returned for credit. James Allen and Whiteflash engraved rings can be returned for refund.
Which diamond store offer discounts?
Blue Nile and James Allen offer a 1.5% discount if you pay by bank wire transfer. Whiteflash offers a 3% discount for wire transfers, but note that some designer settings are not eligible. That being said, we generally recommend folks pay with their credit card to get the various purchase protection benefits offered by their credit card issuer. Plus, when you pay with a cash back or airline miles credit card, you'll earn rewards that you can use toward your honeymoon.
Which diamond jeweler price match?
Blue Nile offers price matching. But there are strict terms to get this. The competing diamond must be GIA certified or AGS certified and must match on all 4C's. Other criteria may be compared too, such as symmetry, polish, and fluorescence.
I want a big diamond, but how can I save money?
Diamond prices increase significantly as they move up in weight categories. A .99 carat diamond is significantly cheaper than a 1 carat diamond. Likewise, a 1.99 carat is cheaper than a 2 carat diamond. Consider opting for a diamond just shy of the next weight category.
Why are round brilliant diamonds more expensive?
Round brilliant diamonds are the most popular shape and their price reflects the higher demand and higher costs. A fancy cut diamond may offer more bang for the buck since there's less manufacturing waste. But a round diamond's brilliance is hard to beat.
How much would a diamond ring sell for?
Don't treat your diamond like an investment. While your diamond is valuable, when it comes time to sell it, it's unlikely you'll recoup the emotional value associated with the diamond. If you want an investment, we recommend you consider investing in stocks.
Which diamond retailer collects sales tax?
Unlike a local brick and mortar, an online jewelry store usually only collects sales tax in certain states.

Blue Nile collects sales tax for orders shipped to Washington State, New York, and Virginia.

James Allen collects sales tax for orders shipped to New York and Maryland.

Whiteflash collects sales tax for orders shipped to Texas.
Bottom Line: James Allen vs Blue Nile vs Whiteflash
Which store is the best jeweler to buy diamond ring online?
Blue Nile has an unbeatable selection, so no matter your budget, you will find something to satisfy it. Or you can design the perfect ring on James Allen and view it from every angle. And if you know your sweetie has discerning tastes, you can't do better than a true hearts and arrows diamond from Whiteflash.
In my opinion, ultimately, the best store for you is the one that you feel most comfortable with. Before you buy, you may want to consider visiting all 3 retailers: Blue Nile, James Allen, and Whiteflash. Buying the perfect engagement ring is a huge purchase, so you want to feel confident throughout the process. And don't forget the wedding ring.

Good luck!
Disclaimer: Opinions expressed here are those of the author's alone. Please support CreditDonkey on our mission to help you make savvy financial decisions. Our free online service is made possible through financial relationships with some of the products and services mentioned on this site. We may receive compensation if you shop through links in our content.
More from CreditDonkey: