Summer Road Trip - 4 Credit Card Tips to Help You Save
---
Summer road trips are a fun way for family's to bond and explore the country during their summer break. But the once low-cost vacation can now present a hefty price-tag to a family of four.
As demonstrated in the illustration below, a family of four can easily rack up nearly $4,000 worth of expenses in a two-week road trip. Between the food and drinks, car rental, gas, accommodation and entertainment costs, the cash can run out fast when you're having fun. Even when you try to do the trip on the cheap (utilizing grocery stores and campsites along your route), it can cause serious strain on your wallet.
Thankfully, with the help of the right credit card, your family can save big on your upcoming getaway. In fact, as highlighted in our illustration, you can save more than $300 (that's nearly 10 percent!) simply by paying with plastic instead of cash.
(Click Image to Enlarge)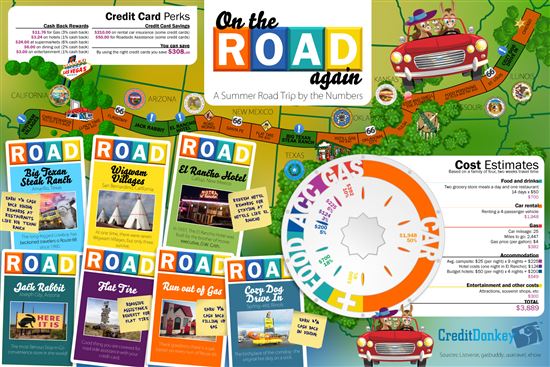 Infographics: On the Road Again © CreditDonkey
Here are just four ways you can save big with your credit card when you hit the road this summer.
Take advantage of promotional points

Cash back rewards programs pay you cash simply for using their card. While these programs typically offer 1% cash back for the balance charged to the card, many are now offering cardholders special promotional periods where consumers can earn 2, 3, even 6% back on purchases from specific merchant categories.

For example, as highlighted in the cash savings estimates, families could earn 3% on gas, 6% on supermarkets, and 2% on restaurants. Be sure to see what types of promotions are scheduled during your road trip so you can ensure you're using your plastic on the purchases that matter most.




Cash in on travel rewards

While typically thought of for airfare, travel rewards points can be cashed in on other travel expenses that impact your road trip. This included car rentals, hotels and planned entertainment like amusement park and move theater tickets.

If you find you haven't accrued enough points for this year's road trip, you can bring your rewards card along for the ride. Use it for your expenses and you will be earning points that you can contribute toward next year's expenses.




Free credit with introductory rates

With all of the competition out there, credit card companies are offering consumers special introductory rates to help entice them toward their card. If you are considering applying for a vacation loan to cover the costs of your trip, you may want to take advantage of an 0% introductory rate credit card instead. This will save you the potentially high interest you would be paying on a signature loan.

Of course, you want to review all of the card's offerings and details before accepting an offer to make sure the introductory rate savings aren't cancelled out by potentially high fees.




Don't forget the fringe benefits

Most credit cards provide their cardholders with an array of fringe benefits. Many consumers aren't aware of the benefits that their plastic packs, missing out on the savings that are available to them.

Look for cards that are heavy on the travel benefits including: car rental insurance, roadside assistance and baggage insurance. Taking advantage of these benefits will prevent you from have to shell out hundreds from your wallet while still allowing you to keep your family safe.