Why Home Automation is Needed
13 Reasons Why You'll Want Home Automation
---
Home automation: why do you need it and what are the advantages? Read on for 13 ways home automation can benefit you.
If you were a fan of The Jetsons cartoon series growing up, you likely have dreamt of flying cars, a fully automated home, and a world where anything is available at the push of a button. Cars certainly aren't flying yet, but automated driving isn't too far away. And neither is the ability to control many aspects of your home with a few clicks (however, there's no sign of a Rosie the robot for every household just yet).
Has enough progress in home automation technology occurred to make it worth your while to "smarten" up your home? If you like the idea of being able to control your security system from afar and cut your energy costs, then you'll want to pay attention.
Just What Is Home Automation Anyway?

© CreditDonkey
Ultimately, at some point, our various home appliances could be connected, allowing us to control them all from our phones or another type of device. For now, some appliances can be controlled by using a Wi-Fi connection, but you need separate smartphone apps or devices to tell them what to do. As Jennifer Tuohy of Network World writes, the goal of the Internet of Things (IoT) concept is to enable us to get our appliances to do what we want — and we won't even need to touch a button (for instance, you could simply walk into a room and your curtains would open, the temperature would turn up, and your favorite song would start playing).
Ultimately, if you get set up with compatible devices and connect with one software platform, you could have a controlled, "smart" environment. Some home security systems are getting pretty close, giving users the ability to control temperatures and see who knocks at their door when they're away from home.
Now that you understand how home automation works, here are 13 reasons you may want your home to keep up with The Jetsons' home … at least a "lite" version of it.
1. HEATING AND COOLING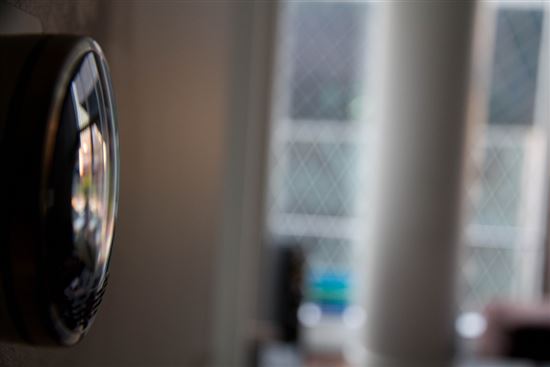 NEST Thermostat © Jeff Wilcox (CC BY 2.0) via Flickr
You can control for convenience.
Smart thermostats are the most prevalent option in the home automation space. You can set it up so the heat or air conditioner isn't running at full blast when you're away, and you can also conveniently crank up the energy levels when there's been a change in plans. Let's say you need to leave work early. Before you get in your car, you can use your smartphone app to turn the heat on so it's all cozy when you get home.
2. BETTER COMFORT LEVELS
You can wake up at just the right temp.
It's not just about convenience or energy savings. A smart thermostat can kick on the heat several minutes before you wake up in the morning, perhaps tied to the alarm clock setting on your smartphone. Other smart thermostats will use motion sensors in different rooms, determining which rooms are occupied, and then raising or lowering the temperature of the home to allow the occupied rooms to reach the desired temperature. This is especially helpful if you have a particular room that's always too hot or too cool.
3. AVOID WASTE
You can stop appliance vampire drain.
You can save energy in areas other than the heating and cooling systems of your home. Devices that draw energy even when in a standby mode or just when plugged in can be completely shut down when not in use, reducing your home's "vampire" load. The Department of Energy estimates that vampire devices (they suck up a lot of your power) account for about $100 on the average annual electrical bill in the United States.
4. SAVE ENERGY
You'll use your appliances at just the right time.
Some home automation systems can measure the energy usage of individual appliances, allowing you to figure out whether an older unit is draining too much energy. (Most of these units are extremely complex to set up and use right now, so easy DIY options are still a few years off, unless you want to try an option like the Aeon Labs Z-Wave Smart Energy Switch.) Or you may be able to connect your system to the power company, allowing the home automation system to determine when power rates are at their lowest and then run the appliances automatically at the desirable off-peak times.
5. SAVE WATER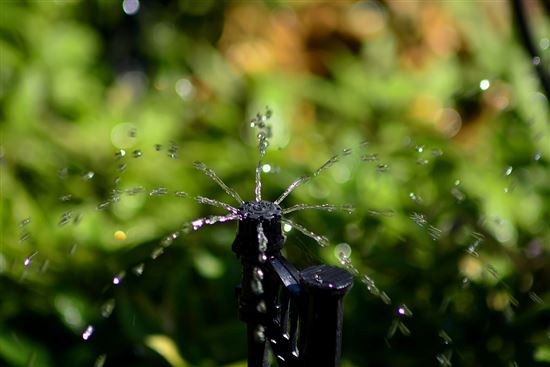 sprinkler_DSC1126 © ..Russ.. (CC BY-SA 2.0) via Flickr
You can be better about how much water you use.
In some locations, the cost of water can fluctuate during on- and off-peak times. Adding sprinkler control to your home automation system may qualify you for some rebates while allowing you to control, through a smartphone app, how long the water runs, potentially cutting your water bill significantly. A system like Rachio will even shut down the sprinklers automatically when rain is in the forecast.
6. WATCH YOUR HOME
You can answer the door when you're away.
Tying security cameras into your home automation system could allow you to use an app to see when a visitor arrives, whether it's an actual delivery person or a thief posing as a delivery person (a common trick among thieves to see if anyone is at home). By using the home automation system with a front door camera, you can see any visitors and respond to them audibly, making it appear as though you're home even when you're many miles away.
7. WATCH THE KIDS
You can see if your children get home on time.
Every parent knows that in the two to three hours between the time the kids arrive home from school and the parent arrives home from work, the kids do their homework and complete chores without breaking any house rules. And now that the fantasy portion of the article is completed, you can use a home automation system to make sure that things are going as they should be. With video cameras connected to your network and the use of a smartphone app, you can see what the kids are doing when you aren't home. And the same technology works to make sure your dog isn't excavating the interior of your couch. You might even be able to give voice commands to the dog through the speakers on the cameras.
8. SKIP KEY LOCKS
You don't have to worry about your keys.
You could make use of electronic door locks that have numeric keypads and tie those devices into your home automation system. You'll be able to unlock the doors through a smartphone app, allowing you to open the door for a repair person, even if you aren't quite home yet.
9. DON'T SWEAT
You don't have to worry about your door locks.
Are you someone who can never seem to remember if you've locked your home's doors or shut the garage door? Tying all of your home's locks into your home automation system can give you peace of mind, as you can check the status of these locks through a smartphone app at any time.
10. SAVE TIME
You'll be alerted to maintenance issues.
When your home has smart appliances, they can alert you to potential problems they're having, such as a filter that needs changing. Perhaps your freezer is not reaching the proper temperature. It can alert you to this problem through the home automation system. It's nice to have a warning about a potential impending failure of your freezer, versus having no warning and coming home to a puddle on the floor and a unit filled with thawed, ruined food.
11. PROTECT YOUR HOUSE
You can control security lights.
If you have a series of security lights at your home, you can turn them on and off using a smartphone app or a motion detection system. Or you could have the motion detectors alert you through the home automation system any time they detect movement on your property. And the detectors could automatically turn on any security cameras you have as soon as they activate the lights.
12. CONTROL SMALL APPLIANCES
You can fool potential burglars.
Going on vacation? Rather than plugging your lamps into traditional timers, causing the same pattern of lights to activate every night, you can use your home automation system to turn different lights inside the home on and off — not just lamps — and use varying patterns, just as if someone were home and turning lights on and off as she moves through the house. You can turn a TV and radio on and off through the home automation system too.
13. PROTECT YOUR HOME
You can activate your security system.
If you pay for a home security system, or if you have your own DIY solution, you can tie these devices into your home automation system, receiving alerts if anything goes wrong while you're away from home. Or you can make changes to the security system's settings from anywhere through a smartphone app, giving you an option for battling potential burglars.
BOTTOM LINE
Ultimately, having the opportunity to give your appliances voice commands or activating various features of your home automation system using a smartphone app can be incredibly convenient and could save you money over time. It can also be a lot of fun. Certainly, having fun isn't the primary reason to invest in a home automation system, but there's nothing wrong with having fun with technology. After all, Rosie was always good for a few wisecracks.
Write to Kyle Schurman at feedback@creditdonkey.com. Follow us on Twitter and Facebook for our latest posts.