Pay Student Loans With a Credit Card
---
Should you pay student loans with a credit card? Below we discuss how to pay your student loans with a credit card, and then we break down the advantages and disadvantages of doing so.

© CreditDonkey
If you're struggling to keep up with student loan payments, you may feel tempted to pay with a credit card. However, you might be surprised to learn that it's a less viable option than it sounds.
Read on for more on making student loan payments with a credit card, plus better options for loan forgiveness and refinance.
CAN I PAY MY STUDENT LOANS WITH A CREDIT CARD?
The U.S. Department of Treasury prohibits federal student loan servicers from accepting payment by credit card. Therefore, most major lenders or student loan servicers do not accept automatic credit card payments.
Despite federal regulations, there are several loopholes that allow you to use your credit account to make student loan payments. Although we detail these options below, keep in mind that they are NOT recommended:

Deposit a cash advance from your credit card account into your bank account.

Pay via telephone by authorizing it as a "one-time" credit card payment (contact your student loan servicer to verify).

Transfer the balance from your student loan servicer to your credit card account.

Use convenience checks to write checks from your credit card account.
These options may sound appealing if you're struggling to make student loan payments, but we advise you to carefully consider all factors before paying with a credit card.
Which loan servicers accept credit card payments?
Navient: No

Nelnet: No

FedLoan: No

Great Lakes: No

CommonBond: No

SoFi: No
As a reminder, we do not recommend paying student loans with a credit card and advise you not to rely on loopholes to make credit card payments.
ADVANTAGES OF PAYING WITH A CREDIT CARD
Avoid Default
When a student loan defaults, the balance of the loan becomes due in full and your loans end up with a collection agency. Federal student loans default 270 days after the first missed payment, while most private student loans default after just 120 days.
To avoid collection fees and wage garnishment, make the payment as soon as you receive notification of delinquency from the loan servicer or lender. If you cannot make your student loan payments, contact your servicer right away.
DISADVANTAGES OF PAYING WITH A CREDIT CARD
The disadvantages of paying student loans with a credit card far outweigh the advantages. Know that there are other options available, even if your student loan payments are delinquent.
Higher Interest Rates
The average annual percentage rate (APR) on a credit card towers above 15.09%, while the average interest rate on a student loan falls between 5% and 8%.
Plus, you'll pay the high credit card interest on top of the interest you're already being charged by the loan servicer.
Loss of Auto-Pay Discount
Many student loan servicers offer a modest interest rate discount for enrolling in online auto-pay. Keep in mind that not all lenders offer this discount, but the typical interest rate deduction is .25%. Auto-pay is only an option for payments from checking or savings accounts, so credit card payments are not eligible.
On a starting principal balance of $25,000, a .25% interest rate discount would save you nearly $380 over the life of the loan.

Loss of Tax Deduction
If you meet the specific requirements, you can write off a maximum of $2,500 paid in student loan interest on your Federal tax return. Unfortunately, interest paid on a credit card will not be eligible for a tax write-off.
To write off your student loan interest, you must meet the following requirements:
You are not claimed as a dependent on anyone's tax return.*

You are required to pay interest on a qualified student loan.

You paid interest on a qualified student loan.

Your filing status isn't married and filing separately.
*If you are a parent and claim the student loan, you MUST claim your child as a dependent on your tax return.
Damage to Credit Ratio
Credit ratio is the percentage of your income that is taken up by debt obligations. Lenders look at this figure to measure your reliability as a borrower. Student loans, considered "installment loans" by credit reporting companies, are considered less risky than revolving credit card debt.
Therefore, a high student loan balance is less damaging to your credit ratio than a high credit card balance.
Most lenders like to see a credit ratio of 36% or less.

EARNING CREDIT CARD POINTS ON STUDENT LOANS
Should I make my student loan payments with credit cards to earn rewards?
If you are able to pay the balance due before interest is charged on the credit card, you might consider this option.
Despite that, we still don't recommend using a credit card to make your student loan payments. You must avoid carrying a credit card balance from month to month to ensure you don't pay credit card interest on top of student loan interest.
Should I pay my student loans off with credit cards that offer introductory 0% APR?
The keyword here is "introductory." Once the 0% APR period expires, interest will retroactively apply to your entire balance as if the 0% APR never existed.
We do not recommend making student loan payments with a 0% introductory APR card. Once the introductory period ends, you'll owe interest on the payments made with the credit card. This is in addition to the interest you've already paid to the loan servicer.
On average, introductory periods last 10 to 12 months and as long as 18 months.

Ways to Avoid Paying Student Loans With a Credit Card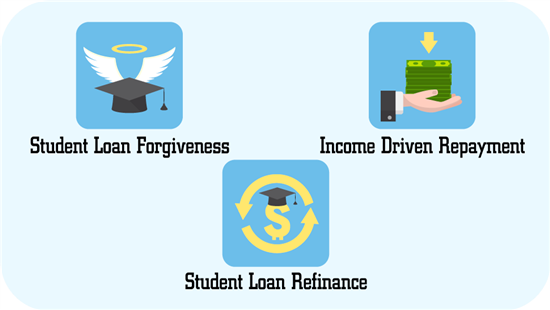 © CreditDonkey
While it feels easy to whip out a credit card, taking the time to research other options is a better choice in the long run. Below we cover several ways your loan can be forgiven or decreased.
Student Loan Forgiveness
Loan forgiveness programs can pay a portion of your student loan debt or relieve you of monthly payments altogether. Loan forgiveness eligibility is based on several requirements, such as income, career field, and more.
Take the time to understand all available student loan forgiveness options.

Income-Driven Repayment
There are four income-driven repayment plans available for federal student loans: income-based (IBR), pay-as-you-earn (PAYE), revised pay-as-you-earn (REPAYE), and income-contingent (ICR).
Some eligible borrowers can have their remaining loan balance forgiven after 20-25 years of repayment. If you earn very little, your student loan payment may be as low as $0.
Find out if you qualify for income-driven repayment before you make your next student loan payment.
Why you shouldn't pay off student loans with a credit card?
Ultimately, paying off your student loans with a credit card is not a wise choice. You'll rack up more interest, prevent eligibility for some loan forgiveness options and discounts, and likely fall into the trap of high credit card payments.

Student Loan Refinance
Refinance is an option that may help make your student loan payments more affordable.
By securing a lower fixed interest rate and a reasonable repayment term, you could lower your monthly payment and save thousands of dollars over the life of your loan.
Before you resort to paying student loans with a credit card, research your refinance options.
Forbearance or Deferment
If you'd like to temporarily postpone student loan payments, deferment or forbearance may be a viable option for you.
Deferment is a period during which your loan payments are temporarily halted. If you have federal subsidized student loans, you owe no interest during the deferment period.
During forbearance, payments are postponed. However, interest continues to accrue and is added to your loan balance at the end of the forbearance period.
If you are struggling to make your monthly student loan payments, a deferment or forbearance may give you time to resolve your financial difficulties.
Eligibility for Forbearance and Deferment Deferment
: Federal loans are eligible based on a variety of conditions, such as unemployment, economic hardship, Peace Corps involvement, or active military service.
Forbearance: Eligibility is based on financial situation, employment change, medical expenses, and other reasons specified by your loan servicer. Some private lenders may offer forbearance options based on their own qualifying criteria.

Bottom Line
After researching your repayment options, such as loan forgiveness, income-driven repayment, student loan refinance, and forbearance or deferment, you may still want to make your student loan payment with a credit card. We strongly advise against doing this, however, and there are better ways to make your student loan payments.
But, if your last option is to make a student loan payment with a credit card, make yourself a promise to not let your credit card debt spiral out of control. Also, save yourself some money. Pay for the credit card transaction before your credit card company charges interest for the month. Paying the transaction in full prevents you from paying credit card interest on top of the student loan interest.

Write to Mary Humphrey at feedback@creditdonkey.com. Follow us on Twitter and Facebook for our latest posts.
Read Next: