Military Student Loan Forgiveness
---
Learn how military student loan forgiveness programs can help pay off your student loans. Read this complete guide to forgiveness and repayment options.
Are you getting the most out of your military benefits? Find out if you qualify for student loan repayment or forgiveness programs.
You served your time; now reap the benefits. Ensure you are using your benefits to the fullest. Let's dive in.
Military Student Loan Forgiveness and Repayment Options
You sacrifice your life when joining the military. As a thank you, the government provides you with many benefits. This may include student loan forgiveness or repayment options.
Student loan repayment and forgiveness programs help with debt contracted before enlisting. While forgiveness is the favorable choice, there are repayment plans that help reduce debt.
Public Service Loan Forgiveness
Public Service Loan Forgiveness (PSLF) is not just for military members. However, they can benefit from it greatly. To qualify, 120 payments must be made on a consolidated federal loan on a repayment program. For example, the Income-Based Repayment Program. After 120 payments, the remaining balance is forgiven.
Also, you must be employed in the public sector for the entire 10 years. However, you do not have to hold the same job. Your time in the military can satisfy part of this requirement. After serving, you'll want a job in the public or non-profit sector. At the end of 120 months you will have fully satisfied the condition.
Perhaps the best benefit is the merging of federal loans into one Direct Consolidation Loan. You'll have one payment to make and one loan to pay down. As part of PSLF, you must enter into a repayment program. The repayment program bases your payment on your income.
Apart from PSLF, many other programs are available strictly for military members.
Service Members Civil Relief Act (SCRA) Interest Rate Cap
While on active duty, you have the benefit of a capped interest rate of 6%. This is only for student loans taken out before enlisting. It is for both private and federal student loans. To qualify, federal loans cannot have been disbursed prior to August 14, 2008.
Exhaust all military student loan benefits prior to applying for PSLF. For example, if you consolidate your loans for PSLF while on active duty, you will not will qualify the 6% rate cap.

Most service members are provided this benefit without question. Loan providers scan the database to determine if you are on active duty. If overlooked, provide a copy of your orders to cap your interest rate.
Military Service Deferment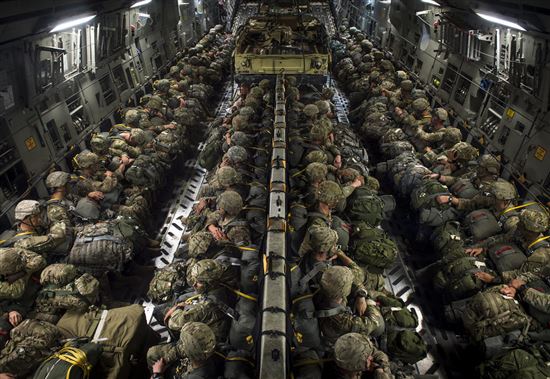 © U.S. Department of Defense Current Photos () via Flickr
Another benefit for active duty members is deferment of private and federal student loans. This pertains to members serving during a war or national emergency. Also, members assigned to a station that is not their home station may qualify. If you are in training, you will not qualify for this benefit.
To apply use the Military Service and Post-Active Duty Student Deferment Request form. You can also submit a formal request from your commanding officer.
Deferments After Active Duty
If planning to attend school after you leave active duty you have another option. You may apply to have your private and federal student loan payments deferred. To do so use the Military Service and Post-Active Duty Student Deferment Request form.
0% Interest During Hostile Duty
Members stationed on hostile duty can request 0% interest for up to five years. This pertains to Federal Direct Loans or Direct Consolidation Loans made after October 1, 2008.
To qualify, you'll need a statement from an official commander or military orders.
HEROES Act Waiver
The HEROES Act Waiver isn't a repayment or forgiveness plan. However, it allows you to keep your current plan without documentation. For example, if you are on a plan that requires annual verification you can use the HEROES Act Waiver. This allows you to continue on the plan without it. You must request continuation, but it is much easier than updating your paperwork. This is only available to those on active duty.
It should be automatic that loan providers apply this to military members. However, following up is always a good idea.
Veterans Total and Permanent Disability Discharge
Those who suffered a service connected disability may be able to have their loans forgiven. This applies to federal student loans, but some private loans may qualify.
To apply, you must have a disability rating and receive disability pay from the VA. You can then complete the Total and Permanent Disability Request Form. Once completed you may have your loans forgiven.
Army Loan Repayment Programs
The Army provides members with many programs to choose from. Each one can help with loan repayment.
The Active Duty Health Professions Loan Repayment Program is for medical school debt. This provides active Army members with up to $120,000 ($40,000 per year) for up to 3 years.
The Healthcare Professionals Loan Repayment Program is for specialty medical programs. This provides specialty physicians serving in certain areas with up to $40,000 per year in loan repayment. Eligible recipients may receive a total of $250,000 in their lifetime. To qualify, you must serve in the Army Reserve Troop Program, Army Management Command, or Mobilization Program.
Some members may qualify for the cancellation of their Federal Perkins Loans or Direct Student Loans. You must have incurred your student debt prior to enlisting and serve in a hostile situation to qualify.
The College Loan Repayment Program can repay your student loans. To qualify you must decline the GI Bill and request the Loan Payment Program before enlisting. Also, you must score at least a 50 on the Armed Services Vocational Aptitude Battery (ASVAB).
Army members who are now Reservists may qualify for the Prior Service Soldier Loan Repayment Program. This program provides Reservists with up to $50,000 in student loan repayment funds.
National Guard Student Loan Repayment
The National Guard offers Student Loan Repayment. To qualify, your loans must be listed in the Department of Education's database. Also, you must have no prior National Guard service.
In addition, you must enlist for at least six years and score at least a 50 on the ASVAB. Only federal student loans in the student's name are eligible.
Prior service members may qualify for the Student Loan Repayment Program as long as it was not already used. In order to receive this benefit, you must enlist for at least 6 years. You must enlist into the Guard within 365 days of your prior service. Your prior service cannot have exceed 16 years.
Navy Student Loan Repayment Program
The Navy offers a Student Loan Repayment Program. You may receive 3 payments paid to your loan provider annually on your enlistment date. Navy service members may receive up to $65,000 over the course of three years.
To qualify, you must have had the loan prior to enlisting in the Navy. Also, you must include your application for the Repayment Program prior to enlisting. The Navy will pay 33 1/3% of your loan balance each year you are on active duty.
Air Force College Loan Repayment Program
The Air Force also provides a Student Loan Repayment Program. Being part of the Air Force Judge Advocate General Corps may qualify you to receive a lifetime benefit of $65,000. This is paid directly to your student loan provider. You may receive 33 1/3% of that amount per year annually on your enlistment date.
Bottom Line
If you entered the military with student loans, exhaust all repayment options available. Discuss your options with your branch of the military. Also, inquire with the Department of Education regarding any other options at your disposal.
The more help you can get, the less interest you'll pay over the life of the loans. In turn, you can focus on saving for your future or retirement.
Write to Kim P at feedback@creditdonkey.com. Follow us on Twitter and Facebook for our latest posts.
Read Next: